Where Are The Women From Two And A Half Men Today?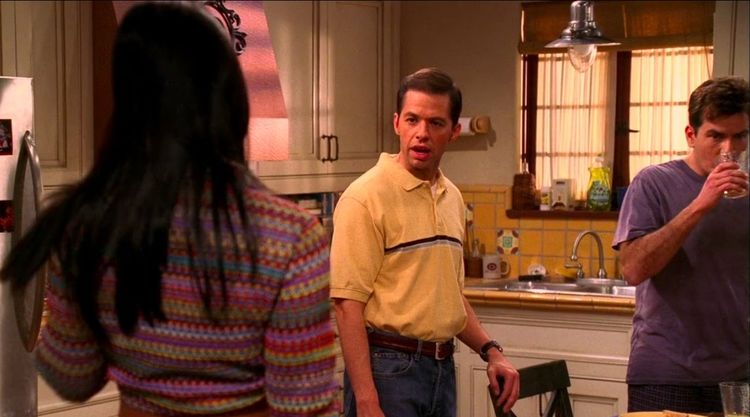 Two and a Half Men is an American sitcom that aired on CBS for 12 seasons from September 2003 to February 2015. In the eighth season, CBS producers and star Charlie Sheen had a very public falling out, resulting in Sheen being written off the show and being replaced with actor Ashton Kutcher.
Throughout the many dating escapades of characters Charlie, Alan, and Walden, the series featured a number of female characters, usually in one-episode stints. This entertainment encouraged huge audiences to tune in week after week to discover which famous female actress Charlie would turn his attention to next.
We've compiled a 'then and now' list of some of the most iconic women who've made an appearance on this show, and we've detailed their roles, along with their endeavors since that time. How many of these faces will you recognize…?
Gail O'Grady as Mandi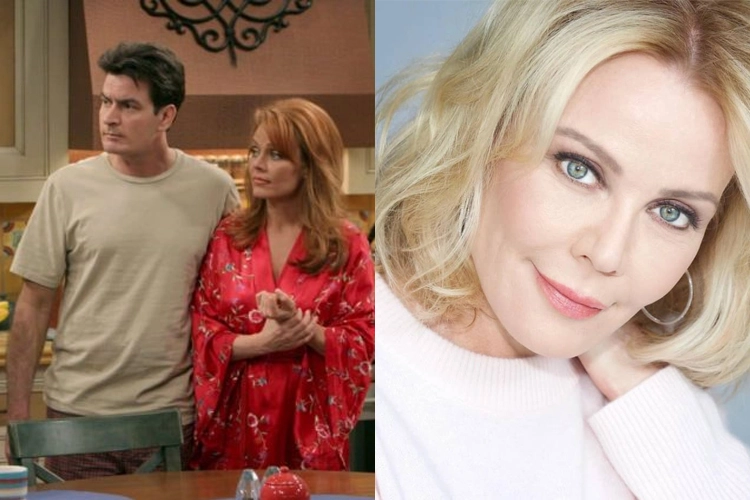 Mandi is Kandi's mother and Andy's ex-wife. Kandi was going out with Alan at the time. Mandi is first seen looking for Kandi in Charlie's House, eventually hanging out with Charlie the entire day. Kandi and Mandi looked so alike that strangers mistook them for sisters. This awkward scene ended with Jake joking about how Mandi could be his stepmother, stepsister, and step-cousin all at the same time.
Although she is both an actress and producer, Gail Ann O'Grady is best known for her appearances on television. To date, she has been nominated for a Primetime Emmy Award three times. Her personal life, however, is not so clear-cut, as she has been married six times. She has one son with an ex-boyfriend, Chris Byers. Their son is named after her late brother, Michael Colton O'Grady.
Denise Richards as Lisa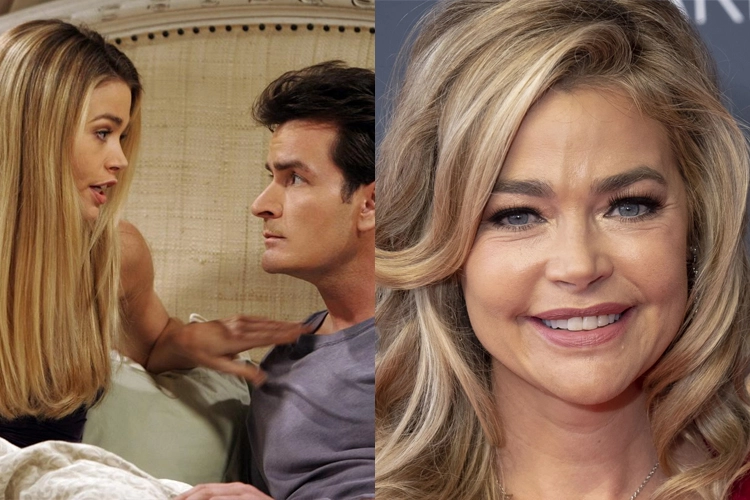 Played by Denise Richards, Lisa was one of Charlie's love interests in season one. She and Charlie lived together in Charlie's beach house until he realized he was unwilling to be in a committed relationship. She was around for three episodes before leaving the show.
Denise Richards is a unique addition to this list, as she was married to Charlie Sheen in real life. They were married for four years and had two daughters named Lola and Sam. The marriage has since ended, but Denise has enjoyed a successful career. Richards adopted Eloise Joni Richards, her third daughter, back in June 2011. She got married to Aaron Phypers on September 8th, 2018. Recently, Phypers announced that he is officially adopting Eloise.
Miley Cyrus as Missi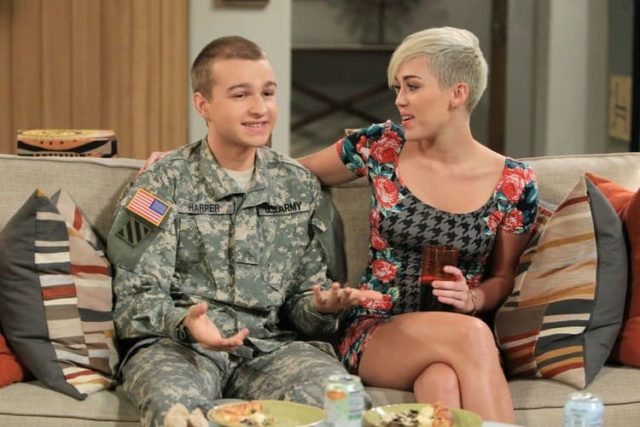 On his weekend leave from the Army, Jake meets an old family friend named Missi and quickly falls in love with her. The show reveals early on that although Missi may seem slightly odd, she is much smarter and kinder than most of the women on this list. Jake falls in love with her, but she doesn't have the same strong feelings as he does. Missi broke up with him in episode seven of season ten.
Miley Cyrus is one of the biggest celebrities to have ever appeared on the show. This was due to her already establishing herself as an actress and singer through her own Disney show, Hannah Montana. She's recently released an album called Younger Now. She was also married to Liam Hemsworth for about a year, between 2018 to 2019, but it didn't work out for them in the end. The two met back on the set of 'The Last Song,' which came out in 2010.
Megan Fox as Prudence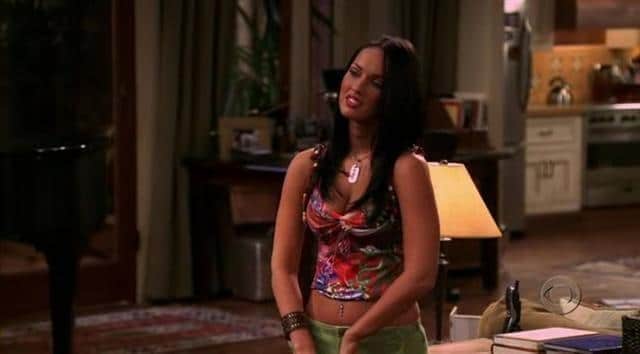 In season one, Berta ends up bringing her granddaughter, Prudence, to Charlie's beach house to avoid leaving her alone. Prudence's gorgeous looks and incredible figure leave all the men, including Jake, completely smitten.
Arguably one of the biggest Hollywood stars on this list, Megan Fox continued to lead a successful career after her cameo on the show. She landed a role in Hope & Faith and was even cast in the incredibly successful Steven Spielberg film, Transformers.
Fox has been dating Brian Austin Green from the original 90210 since 2004. She met him when she was 18, and he was 30. The couple has three sons together, Noah Shannon, Bodhi Ransom, and a third son born in 2016. The couple funded the creation of more than ten water wells for the organization 'Generosity Water.'
Holland Taylor as Evelyn Harper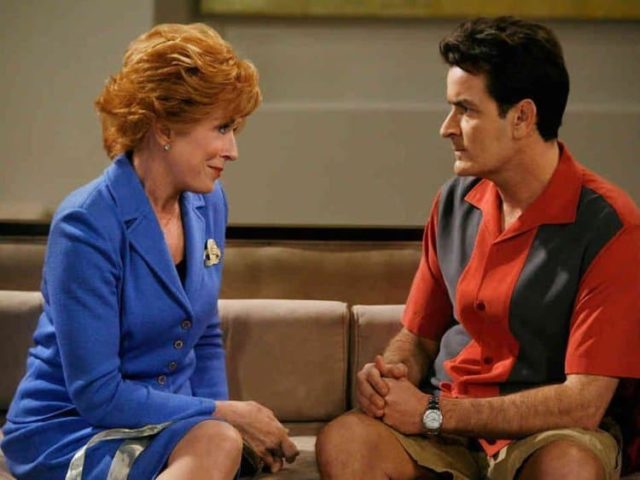 Arguably one of the funniest characters on the show, Evelyn Harper, was Alan and Charlie's neglectful mother. Evelyn's complicated relationship with both of her sons, who tried their best to avoid her as much as possible, made for some great entertainment. Charlie had her phone number saved under '666', and they would often refer to her as 'the devil.' Her character was the type of person who changes the year she was born every year, so that she comes off as younger. While she wasn't too close to her two sons, she loved her grandson Jake.
Today, Holland Taylor is aged 75 and still well-recognized for famous television roles that include Ruth Dunbar in Bosom Buddies, Judge Roberta Kittleson in The Practice, and of course, Evelyn Harper-Pepper in Two and a Half Men.
Jaime Pressly as Tammy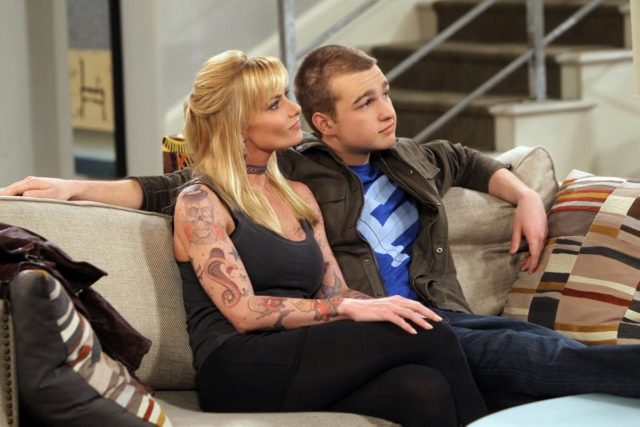 Tammy was a heavily tattooed girlfriend of Jake Harper, as well as the mother of three children. The two of them met through her parole officer. Tammy had Jake dress up for Christmas as her three different baby daddies, and the two almost got married in Vegas. At the end of the season, when she found out that Jake had relations with her daughter, Ashley, she was understandably heartbroken. Jake was going to date Ashley until her ex-boyfriend came and proposed to her.
Jaime Pressly went on to achieve remarkable success in her career, arguably best known for her role as Lola Sombrero in The Oogieloves in the Big Balloon Adventure, for which she received two Emmy Award nominations, as well as a Golden Globe Award and a Screen Actors Guild Award!
Allison Janney as Beverly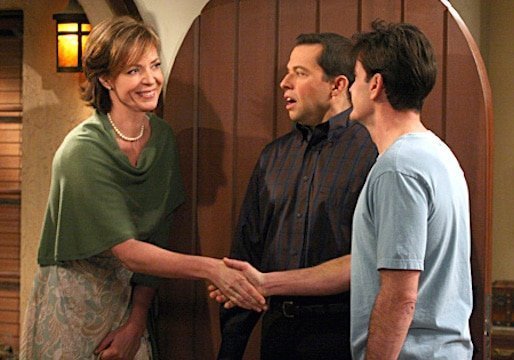 Beverly was a woman that Alan met on a dating network. In hopes of impressing her, Alan tricked her into thinking that the beach house was solely his – although he eventually admitted that it was, in fact, Charlie's.
Revered for her versatility, Allison Janney has appeared in hit films such as Hairspray, Juno, and The Girl on the Train since the show. She's won numerous accolades, including seven Primetime Emmy Awards, an Academy Award, a BAFTA Award, and a Golden Globe Award. She is currently a main character on the show 'Mom,' and Anna Faris plays her daughter Christy. Janney discussed her brother and his fight against his addiction in an interview in 2016. Unfortunately, her brother, Hal, has since committed suicide.
Paget Brewster as Jamie Eckleberry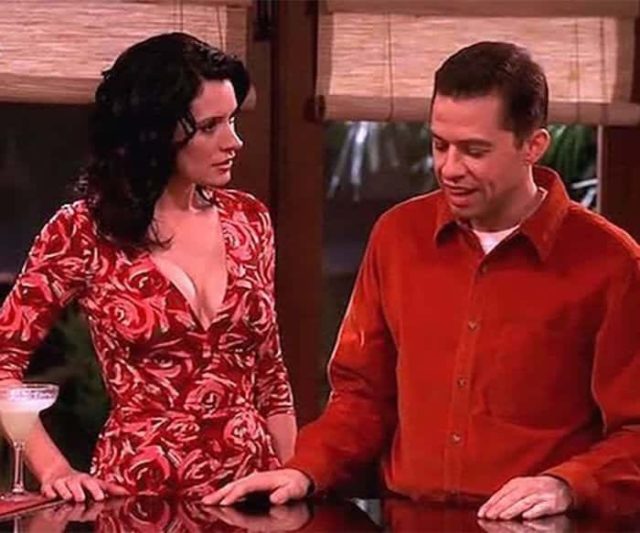 Growing up, Alan and Charlie knew Jamie Eckleberry as the chubby, unattractive girl with the nickname "Eckleberry hound." The three of them were high school classmates. It shocked them both when Jamie grew up to be stunning. They both try to hit on her, but she rejects them both.
Paget Brewster went on to land the part of Kathy on the popular sitcom Friends. She then starred as Special Agent Emily Prentiss on the CBS crime drama Criminal Minds, appearing regularly from 2006 to 2012. She married Steve Damstra on November 29th, 2014, and their ceremony was officiated by none other than Matthew Gray Gubler, her Criminal Minds co-star. The couple currently lives in Los Angeles.
Did you know that Paget was approached with a handwritten note from Hugh Hefner asking her to pose for Playboy? She gave it a lot of thought, and her parents even gave their blessings. Although she was interested in the offer, she turned it down.
Kristin Dattilo as Cindy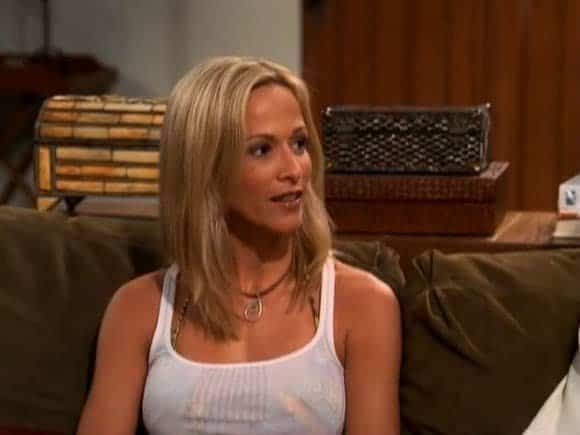 Cindy was one of the characters that stood out for not getting into bed with Charlie. Unsurprisingly, Charlie didn't take the rejection well. She ended up being Jake's first "crush," featuring in one of his erotic drawings.
Kristin Dattilo went on land a pivotal role as Yola Gaylen on The Chris Isaak Show. She also appeared on hit shows such as CSI: Crime Scene Investigation, Dexter, Beverly Hills, 90210, Friends, Hull High, Tracey Takes On…, Angel, The Drew Carey Show, Grounded for Life, and Veronica Mars. While she has small parts in a lot of different shows, she might be better described through her family. Kristin is the sister of Bryan Dattilo, who is known for his character on Days of Our Lives.
April Bowlby as Kandi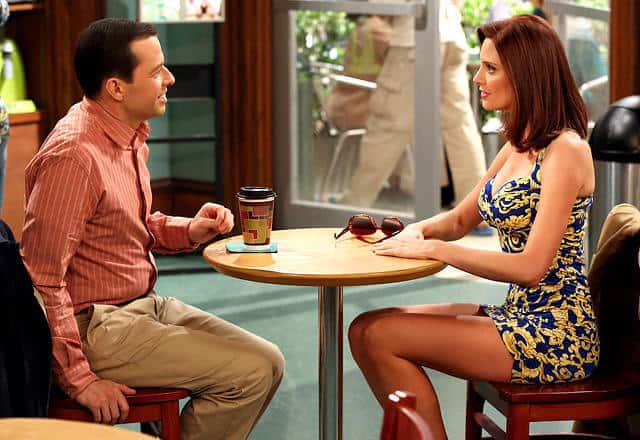 Because of her dashing looks and particularly large breasts, Kandi attracted the attention of many, including Charlie. Although she seemed sweet and somewhat innocent, she, of course, ended up having relations with Charlie – as well as Alan. Kandi and Alan's relationship was based mostly on more superficial things, but the two ended up getting married in Vegas. Alan was eventually kicked out because he didn't want to have a child with her.
April Bowlby is still very much active in her acting career, appearing in television series such as CSI, The Big Bang Theory, How I Met Your Mother, Psych, Mom, You're the Worst, and Drop Dead Diva. She also acted in films, including Love Me or Else, and Reunion.
Maggie Lawson as Ms. McMartin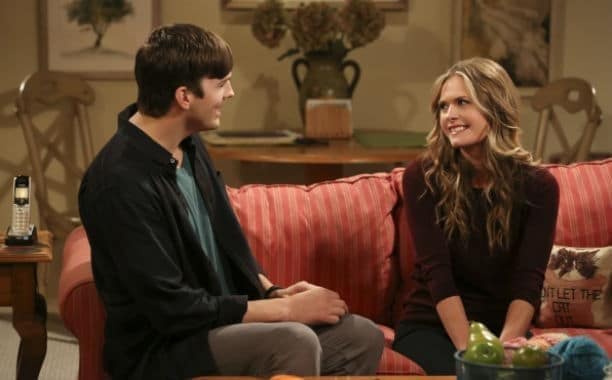 Ms. McMartin was the social worker who assigned Walden and Alan a six-year-old African American boy named Louis. Alan and Walden pretended to be gay for the adoption to work in their favor. However, when she realized that the "couple" deceived her, she instructed Louis to be removed from the house. In an attempt to change her mind, Alan slept with her. He ends up realizing that he is in love with her and tries to use Michael Bolton to get her back. Of course, she agreed to give him another chance because of this grand gesture.
As well as playing Juliet O'Hara in Psych, Maggie Lawson has kept up a successful career in television, appearing in shows such as Angel from Hell, Psych, and The Great Indoors. She's also starred in the sitcoms Crumbs, Inside Schwartz, and It's All Relative.
Krista Allen as Olivia Pearson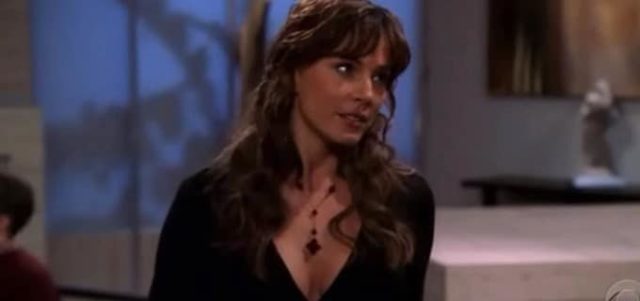 Although she was a past girlfriend of Charlie's, Olivia was formally introduced into the show when Charlie, Alan, and Jake visited their mother at a dinner – and their relationship ends prematurely when Olivia throws a drink in Charlie's face.
Krista Allen is a comedian and actress best known for starring in television series Days of Our Lives and Baywatch. She's also recognizable for her appearances in Hollywood blockbusters such as The Final Destinations and Anger Management. You can see her in the 'Friends' episode called 'The One Where Joey Dates Rachel' where she plays Joey's girlfriend.
Allen was married twice and had a son with her first husband. Her son's name is Jakob Nolan Morritt, and he was born on July 12th, 1997.
Jennifer Taylor as Chelsea Melini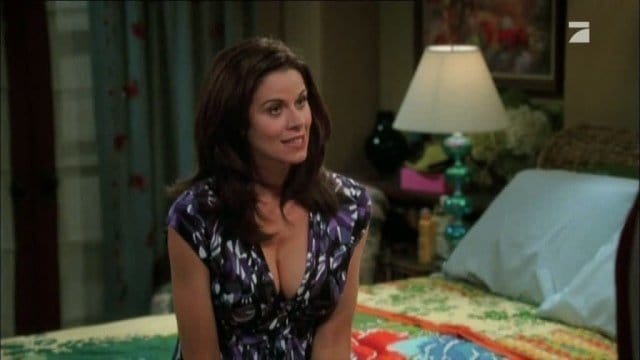 Chelsea Melini was the first woman Charlie confessed his love to without being prompted. Though it's said it was by accident, he later claims that he meant it. Although Chelsea was initially just another one-night stand, Charlie soon realized he was developing serious feelings for her.
Since then, Jennifer Taylor, who's married to Paul Taylor, has been involved in other television shows and films. Most recently, she appeared in the show Shameless but also has two upcoming shows still in post-production: Unfaithful and A Deadly Romance. Jennifer and Paul have two children together and currently live in Los Angeles. Jennifer went from Hoboken, New Jersey, over to Coral Springs, Florida, before finally settling down in LA. Before appearing on Two and a Half Men, she competed in Miss Florida UA pageants.
Paula Marshall as Paula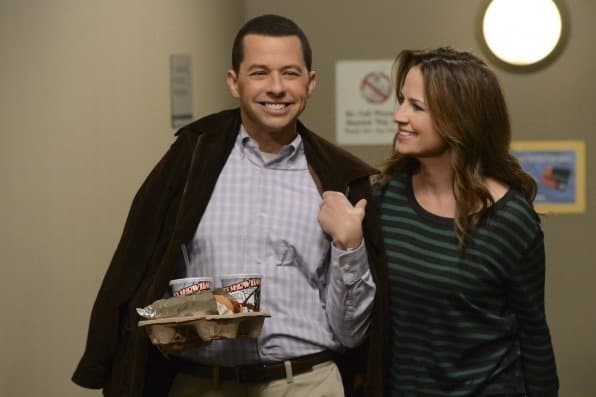 After meeting at a nightclub, Paula and Alan seemed to hit it off. Eventually, Paula revealed that she was once a man named Paul. Fortunately for her, Alan didn't seem to mind and continued to have a relationship with her.
Paula Marshall's acting career continues to thrive, as she has appeared in hit shows such as House, Law and Order, Murder in the First, The Mentalist, and Switched at Birth.
You might remember her being in the movie 'Cheaper by the Dozen' before appearing on this TV show. She's also done some recent work for a film called "We Love You, Sally Carmichael!"
Marshall has been married to Danny Nucci since 2003, and the couple has a daughter. Their daughter's name is Maya Nucci, who was born in March 2005.
Marin Hinkle as Judith Harper-Melnick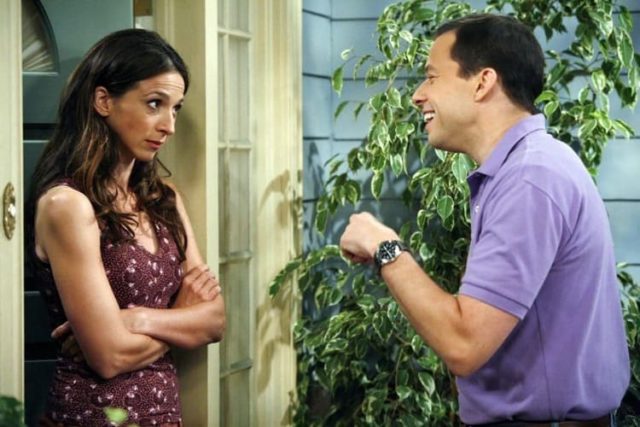 Judith was Alan's first wife, daughter of Lenore and Sheldon, and the biological mother of Jake Harper and Milly Melnick. The marriage was so cold that Judith claims the only time she ever felt happy being sexual was when she was pregnant with Jake. Judith lied about being gay as an excuse to end the marriage. Later, Alan catches her trying to pick up a lot of men. Judith ends up getting remarried with Herb, who was Jake's pediatrician. The only reason Alan was happy about this was that his alimony payments stopped.
Marin Hinkle, now aged 51, still has a successful acting career. As well as the series Madam Secretary on CBS, she also appeared on the shows Speechless and Homeland. Additionally, she just wrapped up a movie called Before/During/After.
Kimberly Williams-Paisley as Gretchen Martin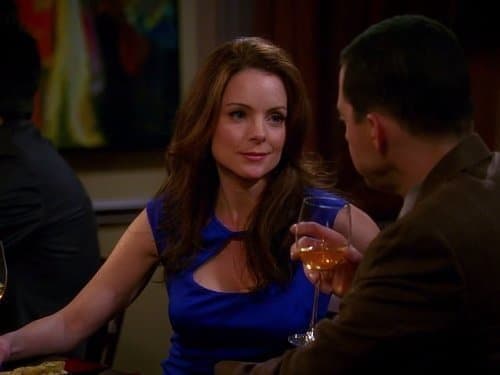 When Alan's ex-girlfriend Lindsey eventually got engaged to another guy named Larry, Alan began dating his sister Gretchen. She becomes a recurring character in season 11, keeping a relationship with "Jeff Strongman." This, apparently, was Alan's alter-ego – an identity that Alan gets very into. Brad Paisley played Gretchen's fiancé in the show, and he is also her husband in real life.
Brad and Kimberly have two sons together, William Huckleberry and Jasper Warren. Their second son, Jasper, was named after Paisley's grandfather. He says that they chose the name because his grandfather bought him his first guitar. Kimberly Williams-Paisley is best known for her co-starring roles in Nashville and According to Jim. She has also made guest appearances on television shows, including Tales from The Crypt, George Lopez, and Less Than Perfect.
Missi Pyle as Miss Pasternak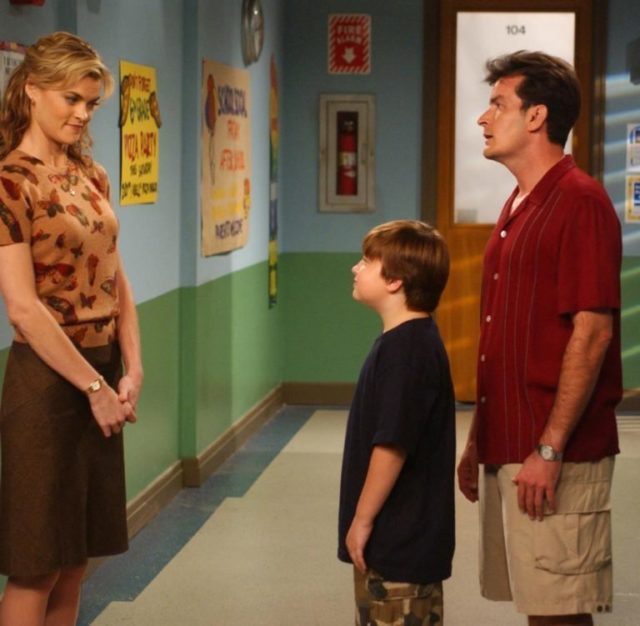 Miss Pasternak was Jake's fifth-grade teacher who suspended him. Shockingly, she began dating Charlie, who persuaded her to lift Jake's suspension and give him good grades. However, when Charlie realized she was mentally ill, he broke up with her.
Actress Andrea Kay Pyle – more popularly known as Missi Pyle – has since appeared in several films, including The Artist, Big Fish, 50 First Dates, Charlie and the Chocolate Factory, and Gone Girl.
Pyle was married twice before, to Antonio Sacre and Casey Anderson. As you might be able to tell hearing her accent, she was born in Houston, Texas, and raised in Memphis, Tennessee. Currently, she's working on many projects that are in the post-production process. More popularly, she was on the show 2 Broke Girls, which just recently ended, and she appears in the show 'Mom.'
Liz Vassey as Kate McLaughlin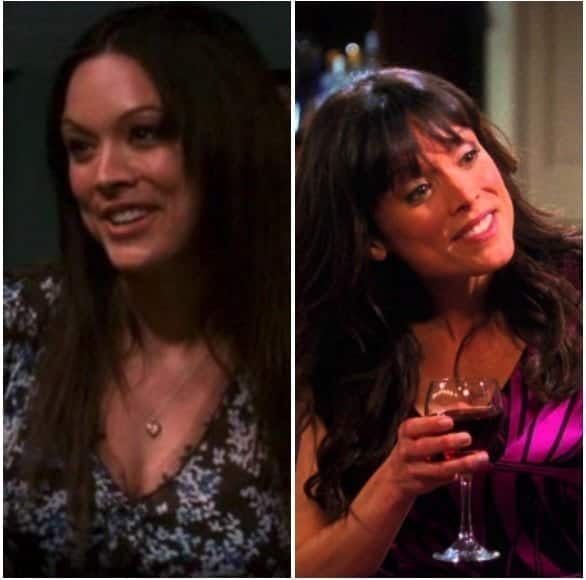 Kate, the pleasant single mother, was introduced to Charlie at Jake's soccer game. She found it hilarious that Charlie appeared to look drunk, and the two hit it off. She later made another appearance on the show but as Charlie's dermatologist, Michelle.
Vassey actually appeared in three different episodes, and she played a different character each time. She was in 'The Last Thing You Want Is to Wind Up With a Hump,' 'Twanging Your Magic Clanger,' and 'The Crazy Bitch Gazette.'
After the show, Liz Vassey was cast in the web series Nikki & Nora. However, she's best known for her role as Wendy Simms in CSI: Crime Investigation – a role she played for five continuous years! She is married to David Emmerichs, who is a camera operator, since 2004.
Justine Eyre as Gabrielle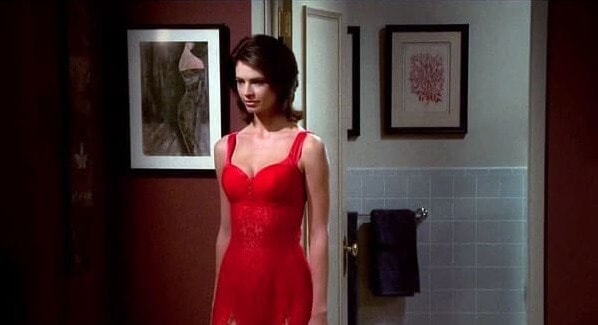 Gabrielle was Charlie's girlfriend until Alan decided to steal her out of revenge after finding out that it was Charlie who took his high school lover from him. Alan found out about her weird behavior in bed and wasn't into it. In the episode, Charlie refers to it as 'KindaLike Necrophilia,' so you can guess what happened. It turned out that Charlie knew, and he was still dating Alan's high school sweetheart. This was in the same episode where Jake's girlfriend dumped him.
Canadian actress and model Justine Eyre made a few television appearances after the show: for example, on hit shows such as Mad Men, The Secret Life of the American Teenager, and CSI: Miami. She recently took a break from acting.
Rachel Cannon as Chloe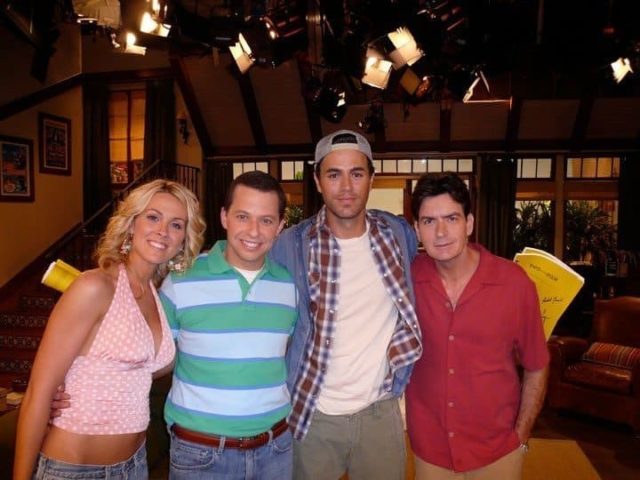 After dating Charlie for a while, Chloe was dumped for being too clingy. When she fell for Charlie's handyman, Charlie decided to win her back. Out of jealousy, he makes the effort of showing up to the handyman's house dressed up in trendy clothes.
After the show, Rachel Cannon became widely known for her roles on Mad Men, The Big Bang Theory, and Fresh Off the Boat. As a result, the American actress is recognized around the world. Cannon created a blog called Rachel Cannon: Behind the Scenes, which focuses on the scene of her life. Lately, she has been writing about her experience with a faith-based short film that she stars in, produced, and co-wrote. She is currently married and has a son.
Brooke Shields as Danielle Stewart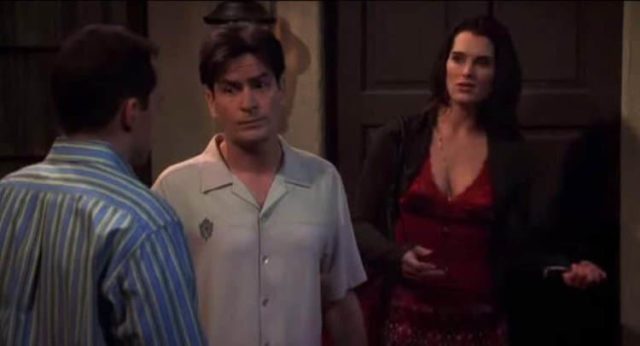 Danielle, the party girl, was set up with Alan by Charlie. However, after Charlie found out that she enjoyed drinking and she said to him: "I've slept with a lot of guys and even a few women and even with couples," the brothers end up fighting over Danielle. Danielle told them she wanted to sleep with them both, leading to neither of them wanting to be with her.
Brooke Shields was already a recognized actress and model before she appeared on the show, appearing in shows and films such as The Blue Lagoon, Endless Love, and NBC's Law & Order: Special Victims Unit.
Shields has been married twice, and she is still married to Chris Henchy since 2001. They have two daughters, Grier Hammond and Rowan Francis, and currently, live in Greenwich Village.
Sara Rue as Naomi*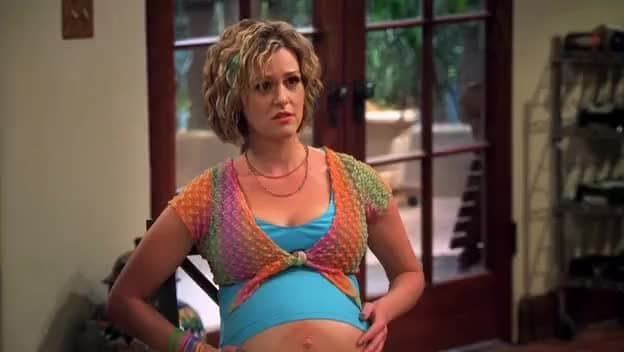 Naomi is Berta's daughter, who her mother describes as "a little angel who swooped down from Heaven and landed on a married rich man's penis." She is introduced to the Harper brothers and develops a crush on Alan, which she conceals from her mother.
She was pregnant when she was first starred in the show, and Berta takes Charlie with her to confront the baby's father. Alan spent some time with her, and that is when we learned about his pregnancy fetish. In the end, the guy they went to scare was not the baby's daddy.
After the show, Sara Rue became best known for her performances on the series Popular and Less than Perfect. She also hosted the reality series Shedding for the Wedding in 2011. Additionally, she's appeared in The Big Bang Theory, Eastwick, and Rules of Engagement.
Tammy Lauren as Shannon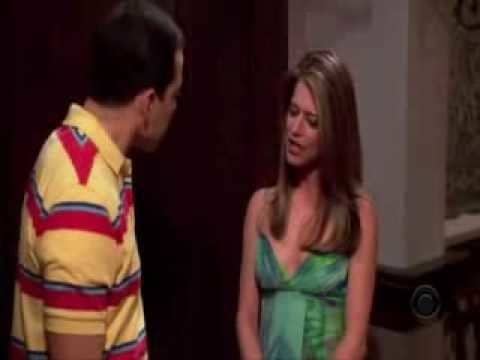 Shannon is the ex-fiancée of Herb, Judith's second ex-husband, who first met Alan at Herb and Judith's wedding. Charlie and Herb's sister was dating at the time, which didn't make Shannon or Alan happy as they were interested in the pair. Alan tried to go for Shannon, and she seemed to get very into it. The relationship went too fast for Alan, and he tried to take things slower. However, she was not happy about that and made voices of them pretending to have relations.
Before appearing on the show, Tammy Lauren starred in the 1997 horror film Wishmaster. She also appeared as a regular on The Young and the Restless, a long-running soap opera. Recently, however, she has only appeared on one episode of Criminal Minds.
Melanie Lynskey as Rose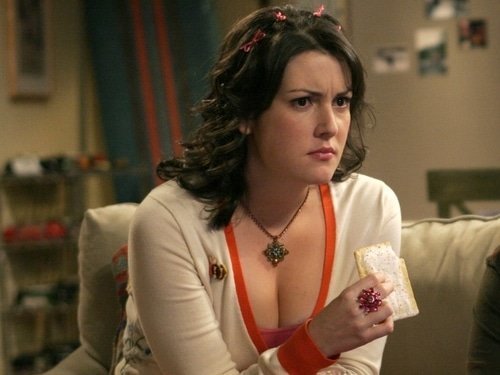 Rose was initially someone who Charlie thought would be a one-night stand. However, she ended up becoming his stalker. Later in the show, they got engaged and ran off to Paris together. She pops up a lot throughout the show and gets to meet Walden. She becomes Walden's stalker after Charlie "died." In the final episode of the show, they reveal that she had Charlie in her basement the whole time, and he didn't really die getting hit by a train.
Melanie Jayne Lynskey received numerous awards – including a New Zealand Film Award, a Hollywood Film Award, and a Sundance Special Jury Award – for the acting roles she has played since the show. She also received critical acclaim for her leading role in Hello I Must Be Going.
Kelly Stables as Melissa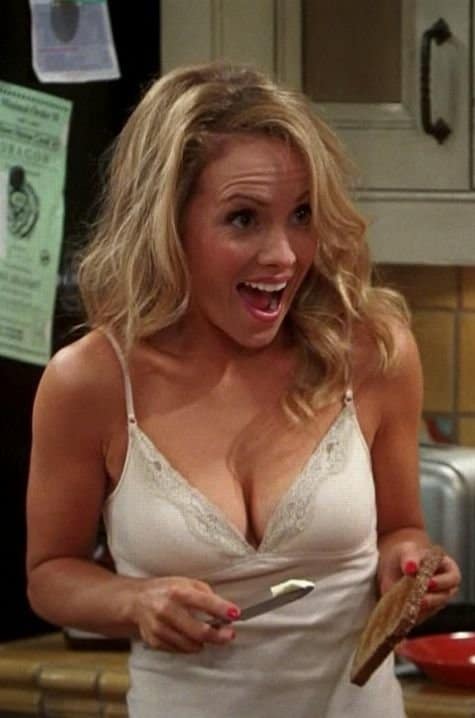 Melissa, played by actress Kelly Stables, was a recurring character throughout the show, playing as Alan Harper's receptionist. Eventually, Charlie was able to get her for himself until she began a relationship with Alan. Eventually, Melissa was humiliatingly dumped by Alan over a text. In season eight, Alan runs into her at the liquor store, but he was still in a relationship with Lyndsey. He didn't tell her and continued to get intimate with her in Charlie's house. She doesn't show up in any episodes after that.
Kelly Stables has since got married and now has a son. Additionally, she landed many acting roles throughout her career, including hit comedy movie, Horrible Bosses 2. Currently, she is working as a recurring character on the television show, Superstore.
Courtney Thorne-Smith as Lyndsey McElroy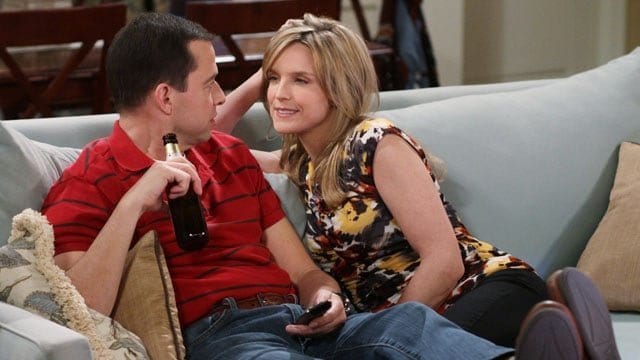 A slightly masculine girl who enjoys drinking beer, Lyndsey kept popping up on the show as Alan's on-and-off lover. Lyndsay is Jake's best friend, Eldridge's mom. Their relationship started a secret from the kids, which they figured out quickly. Constantly deliriously drunk, her drinking problem became apparent when she was caught vomiting all over the interior of Walden's private jet. Lyndsay showed up a lot throughout the show and dated Alan on and off for a while.
After five years of playing the role of Lyndsey on the show, Courtney Thorne-Smith took a break from Hollywood. Recently, however, she voiced a character on the animated series, Robot Chicken, and even appeared on ABC's hit comedy show Fresh Off the Boat.
Teri Hatcher as Liz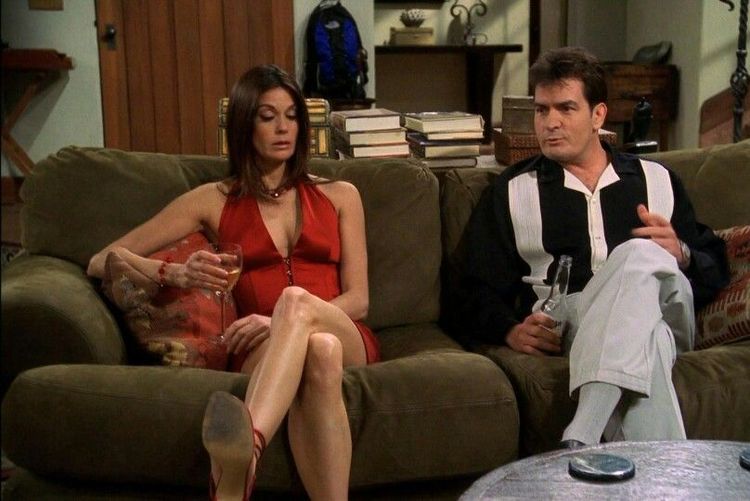 Teri Hatcher played Liz, Judith's sister and arguably seen as one of the "sleaze-balls" in the show. She is introduced for the first time at Jake's birthday party and ends up with Charlie in the coatroom during Alan and Judith's wedding – although he doesn't remember it.
Hatcher is probably best known for her portrayal of Lois Lane on Lois & Clark: The New Adventures of Superman, as well as being on the show Desperate Housewives, for which she won a Golden Globe Award. She also had a memorable guest-starring role on Seinfeld. In the last few years, Hatcher has gotten into baking, winning a celebrity episode of the show Chopped.
Kimberly Quinn as Donna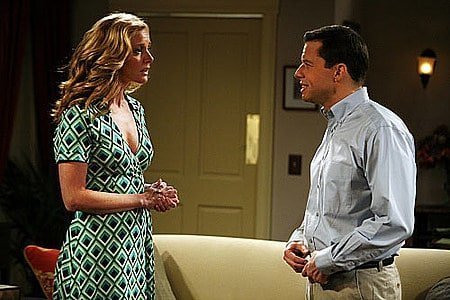 Donna first met Alan on a blind date, and they were together for a while before Alan became bored. Not wanting to hurt her feelings, he asked advice from Charlie on how to dump Donna in the nicest way possible. Unsurprisingly, Charlie's advice didn't suffice.
Proving to be as much of a force behind the camera as she is in front of it, Kimberly Quinn is renowned for engaging in acting, writing, producing, directing, and co-founding films with her husband, writer-director Theodore Melfi. Quinn has appeared on shows like Cold Case, CSI: NY, The Secret Life of the American Teenager, and even in Grey's Anatomy. If you don't remember her being in any of the above shows, she also starred in the amazing movie 'Hidden Figures,' like Ruth.
Emmanuelle Vaugier as Mia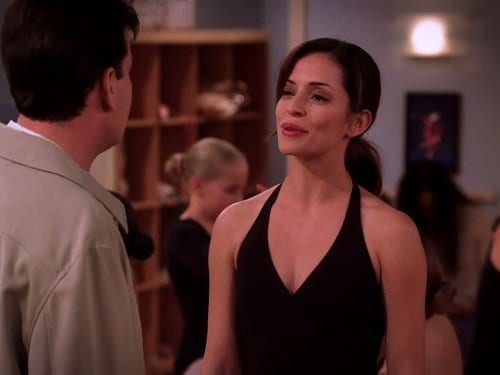 Mia was a dance teacher who initially had no interest in Charlie. However, when they got together, she made him give up eating meat, smoking, drinking and having relations. Charlie secretly continued all these activities behind her back. They were engaged on the show and went to Vegas to get married. When Mia found out that Alan wasn't moving out of the house, they split up. This is the same episode where Alan and Kandi get married, and they used the ring leftover from Charlie's break up.
Canadian actress, singer, and model Emmanuelle Vaugier secured several acting jobs after her appearance on the show, such as television shows Lost Girl and Mistresses. She recently starred in Killer Ending, and is set to appear in 'My Mother's Stalker, Masks Don't Lie and Don't Look There.
Ming-Na Wen as Linda Harris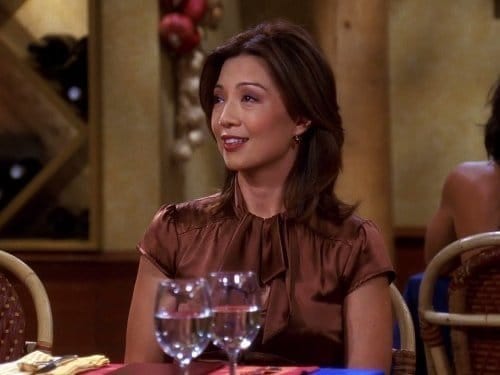 Linda Harris, a judge whom Charlie dated for a brief period, first entered the show after Alan planned a double date involving his brother. Although Charlie was fond of her, Linda found him repulsive due to his disgusting behavior. Charlie was arrested for a DUI, and Linda ended up being his judge.
Instead of thinking it was just a DUI, she thought that he did it to see her again and jus fined him $500. Charlie babysat for Linda's son and sang him a song to help him in the bathroom. Linda's ex-husband gave Charlie a job writing kid's songs. They broke up after he took a pill to relax for Linda's rewards show and ended up making a fool of himself.
Ming-Na-Wen was the voice of the Disney character Mulan, as well as Melinda May in the ABC action drama series Agents of S.H.I.E.L.D., and Dr. Jing-Mei Chen in medical drama series ER.
Judy Greer as Bridget Schmidt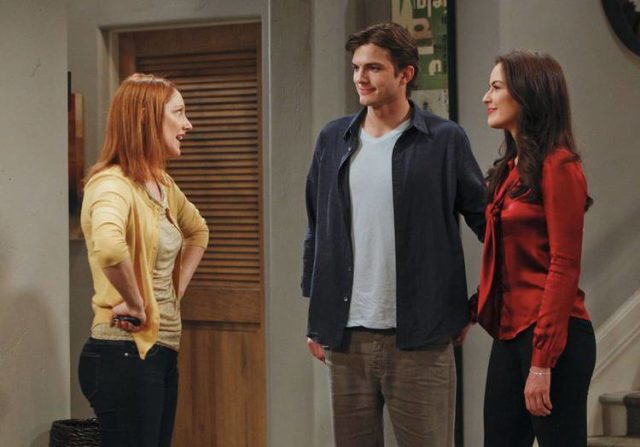 Ashton Kutcher's character was genuinely heartbroken over his divorce from Bridget, who initially refused to reconcile with him due to his immaturity. She eventually changed her mind and returned to the beach house, begging for him to take her back. Walden responded to her with the finalization of their divorce and tried to continue his relationship with Zoey.
Judy Greer also played Myra, Herb's sister, who had some on-show drama with Charlie and Alan. She appears one last time as 'Bridget Schmidt' in the final episode, where she is shown lying in bed with John Stamos.
Judy Greer has an astoundingly long filmography list. The actress, director, model, and author is well-known as a character actor, appearing in a wide variety of dramatic and comedic films.
Stephany Jacobsen as Penelope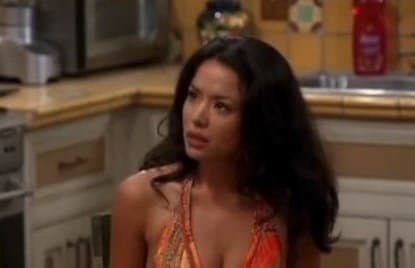 After Charlie's death, Alan moves out when Walden purchases the beach house. One night, Alan revisits the house to clean some of his clothes when a woman named Penelope suddenly enters. She was hoping to see Charlie and became distraught upon hearing about his death. She calmed down quickly when Walden walked in. Walkden's wife, Bridget, also came to talk to him. Alan pretended to be Penelope's boyfriend, so Bridget wouldn't get upset, and then his presence just made both women leave.
After the show, Stephany Jacobsen, a Hong Kong-born Australian actress, appeared in movies such as Battlestar Galactica, Razor, and Alex Cross. Though she went on an acting hiatus in 2014, Stephany made an appearance in the movie Occupation in 2018.
Jeri Ryan as Sherri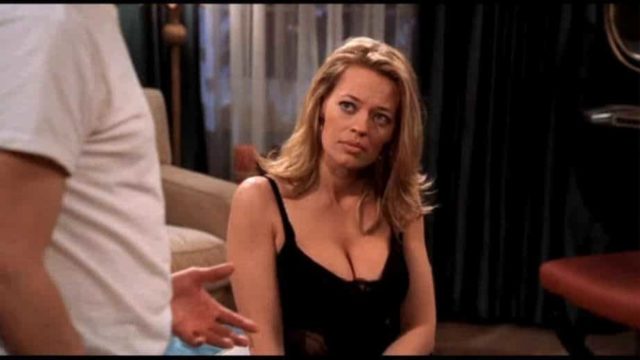 Sherri was the kind of girl that serial womanizer Charlie had never encountered before. She played hard to get, constantly leading Charlie on. However, because he was considered the one being used, Charlie decided he wanted to seek revenge. This ultimately led to their downfall. Sherri was basically the female version of Charlie and almost dated Alan, but he didn't like that she was with Charlie before. Sherri ended up getting sick of the lifestyle and doesn't appear anymore on the show.
Jeri Ryan is a German-born American actress who is best known for her role on Star Trek: Voyager, for which she received four nominations for a Saturn Award. She is also known for her performances on television series such as Boston Public, Dark Skies, and Shark.
Sophie Winkleman as Zoey Hyde-Tottingham-Pierce
Zoey was the gorgeous British ex-girlfriend that Walden was serious about after his divorce from Bridget. When they first went out, Walden would cry to her about how depressed he was that he and Bridget were over. She wanted to end things, but he insisted that things were over with him and his ex-wife. He helped get her daughter into the private school she wanted to attend, and they end up consummating the relationship on his private jet. After dating for two seasons, Zoey rejected his marriage proposal. Walden then discovered that Zoey had been dating another man and decided to seek revenge.
Interestingly, Sophie Winkleman is the wife of Lord Frederick Windsor, son of Prince Michael of Kent, Queen Elizabeth II's first cousin. Consequently, she's actually known as Lady Frederick Windsor. Currently, she's filming a new show called Trust, featuring Donald Sutherland and Hilary Swank.
Conchata Ferrell as Berta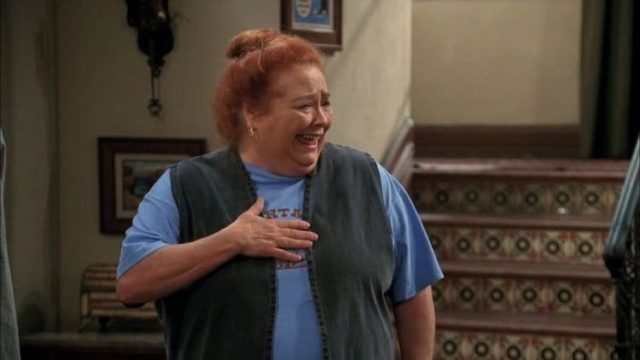 The cynical, sharp-tongued, sassy, hard-working character of Berta, the housekeeper, was probably the only woman in the show that Charlie didn't develop feelings for. However, she offered a lot of comic relief for the audience. She had three daughters on the show and a few grandchildren. Berta is said to have ten unnamed grandchildren and four unnamed great-grandchildren in the show. She was always bringing her children and grandkids around and involving Charlie and Alan in their life. At one point in the show, she quit in order to get Charlie to stop seeing a woman that she didn't like.
Conchata Ferrell has received two Primetime Emmy Award nominations for her exceptional performances. The American actress is still active in the industry, with the role of Shirley on Netflix comedy show The Ranch. She was also in the film Deported.
Heather Locklear as Laura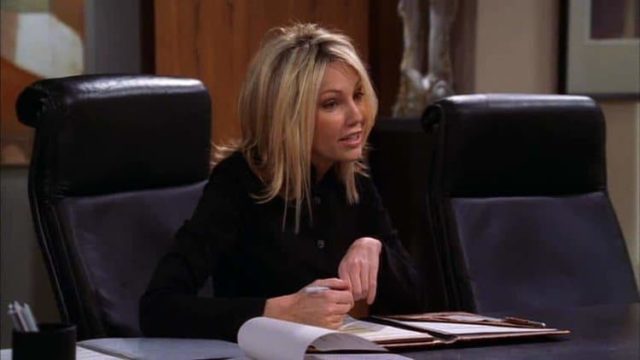 As Alan and Judy were going through their divorce settlement, Charlie slept with Alan's attorney, Laura Lang. Because Charlie broke his promise of making himself available to her whenever she wanted, Laura took revenge by ruining Judith and Alan's divorce proceedings. Alan fired her, which temporarily nullified her decisions. This is something he actually didn't deserve to happen since Charlie was the one who messed up.
Heather Locklear was already an accomplished television actress before her appearance on the show, renown for roles in Spin City and Melrose Place. Since a very publicized divorce and numerous health issues, she has appeared in Franklin & Bash and Tyler Perry's Too Close to Home.
Locklear was previously married to Tommy Lee, the Motley Crue drummer, and then she married Bon Jovi guitarist Richard Sambora. She had one daughter named Ava in 1997.
Jenny McCarthy as Courtney Leopold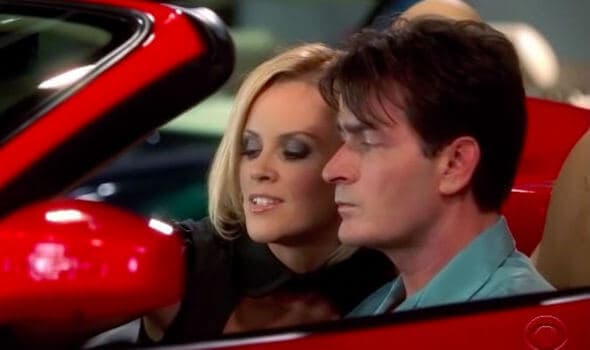 Courtney Leopold was a former professional con-artist who eventually became Charlie's temporary girlfriend. Alan warned Charlie of Courtney's sociopathic tendencies, but to no avail. Alan is, of course, proven right after Courtney successfully convinces Charlie to give her $50,000 and give her a Ferrari. This con-artist was really named Sylvia Fishman. Teddy, who Evelyn was about to marry, also turned out to also be a con artist named Nathan Krunk. He and Sylvia worked together, and the last time you see them, Nathan died of a heart attack while in bed with Sylvia.
Jenny McCarthy, sometimes credited as Jenny Wahlberg, is an actress, activist, model, television host, author, screenwriter, and former Playboy magazine model. She even won Playmate of the Year! She went on to appear in films such as Scream 3 and Santa Baby.
Cloris Leachman As Nora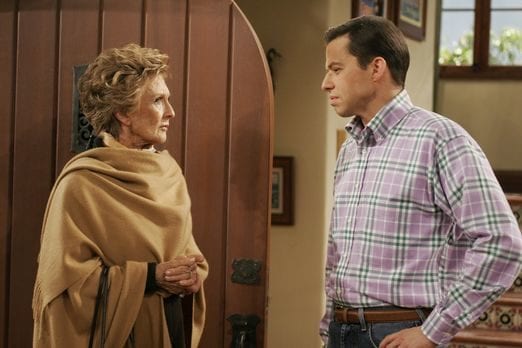 In an effort to change up the "sugar daddy" trope, Alan dated Norma, a much older, richer woman in Season 3. It sounded promising but ended up being a bad decision. She died in the middle of having relations with Alan. Oy vey!
Cloris Leachman is an actress and comedian. In a career of more than seven decades, she has won eight Primetime Emmy Awards, a Daytime Emmy Award, and an Academy Award for her role in The Last Picture Show.
Did you know that her former mother-in-law was actress Mabel Albertson? Leachman was married to George Unglund from 1953 to 1979. The couple had five children, four sons, and a daughter. Her daughter was named Dinah, and her sons named Bryan, Morgan, Adam, and George. Unfortunately, Bryan passed away in 1986.
Hilary Duff As Stacey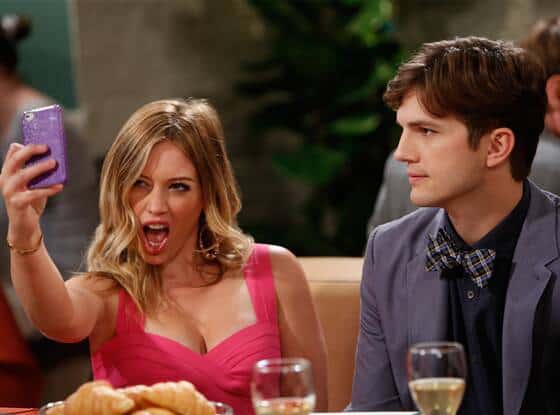 Stacey came along in the show for one episode in Season 10. Even though she earned a communications major at Arizona State, she couldn't hold a conversation. Duff played the ditzy one-night stand of Walden's with likable ease.
Duff began her career at a young age and quickly became a teen idol as the title character of her television series Lizzie McGuire and in the film based on the series, The Lizzie McGuire Movie. The Lizzie McGuire Show is set to come back shortly, starring Hilary Duff. There are rumors going around that the show will be set as if she aged along with all of us, and she is working in New York. I also heard that they will be bringing her signature bangs back.
Mila Kunis As Vivian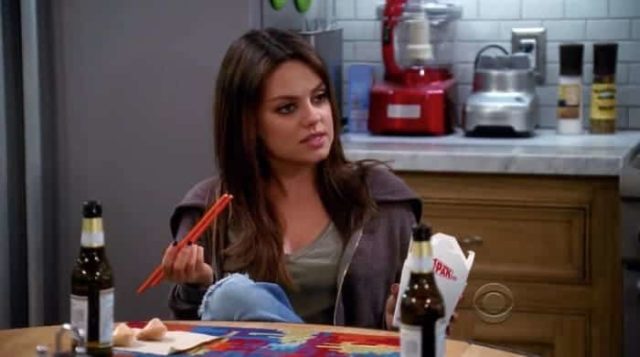 She played Vivian, a free-spirited hiker, and real-life love interest of husband, Ashton Kutcher. Walden was about to propose to his girlfriend of Season 10 when she got back from vacation, but he met Vivian instead. What more could you ask for with a Mila Kunis cameo? She isn't seen after this episode, but don't you love seeing Jackie and Kelso onscreen together? (There's even a That 70's Show nod in the episode)
In 1991, when she was seven, Kunis moved from Soviet Ukraine to the US with her family. After enrolling in acting classes as an after-school activity, she was discovered by an agent. She is currently married to Ashton Kutcher, and they have two kids together. Wyatt Isabelle was born in October 2014, and their son, Dimitri Portwood, was born in November 2016.
Jenna Elfman as Frankie and as Dharma Montgomery
On Season 1, her character Frankie was more of an afterthought. But years later, Elfman came back in Season 9 to play her character Dharma from the beloved sitcom, Dharma & Greg. It was a perfect collision of sitcom worlds.
Elfman is best known for her roles in TV comedies. Her first leading role was in the short-lived sitcom Townies in 1996, before she made her movie debut in the 1997 comedy Grosse Pointe Blank. She is married to Bodhi Elfman after the two met at a Sprite commercial audition. They have two sons, Elias and Easton Quinn Monroe. Elfman is a member of the Church of Scientology. She and Charlie Sheen co-hosted a Scientology-affiliated charity event at the Geisha House in Hollywood back in 2008.
Kathy Bates As Charlie Harper's Ghost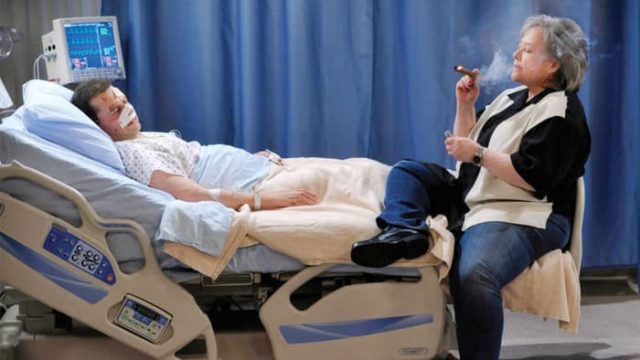 Bates played Charlie's ghost. She came to visit Alan in the hospital and explained to him, "I'm in hell. Walking around in this old broad's body is supposed to be some kind of eternal damnation. You know what? Jokes on them. Boobs are still boobs!"
The incredible actress is the recipient of numerous awards, including an Academy Award, three American Comedy Awards, two Emmy Awards, two Golden Globe Awards, an Obie Award, and two Screen Actors Guild Awards.
Bates has been in so many movies and shows that we know. You are bound to recognize a few of the following; P.S. I Love You, The Day the Earth Stood Still, The Blind Side, Failure to Launch, Rumor Has It…, Valentine's Day, Harry's Law, and The Office.
Janeane Garofalo as Sharon
Janeane Garofalo guest-starred as Sharon in a season 5 episode called "Media Room Slash Dungeon." In the episode, Alan goes to bed with this new woman, Sharon, who has self-esteem issues.
Garofalo has become an outspoken progressive activist. From March 2004 to July 2006, she hosted a show called Air America Radio's The Majority Report with Sam Seder.
Not only has she has been in over 50 movies, but she was also on the cast of The Ben Stiller Show, The Larry Sanders Show, and Saturday Night Live. Garofalo actually married one of the writers on The Ben Stiller Show, Robert Cohen, as a joke. They didn't think it would be considered a real marriage as they didn't file it at a local courthouse. They figured out that's not how it worked when Cohen went to get married again. They dissolved the marriage in 2012.
Mimi Rogers as Robin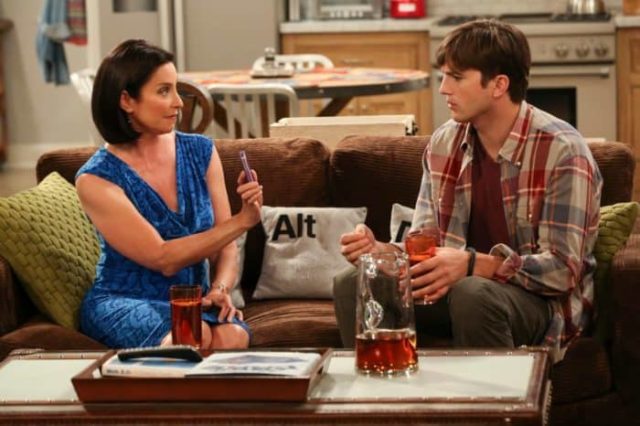 Mimi Rogers played Walden Schmidt's mother Robin Schmidt in a season finale episode called "A Chic Bar in Ibiza." She came for Christmas and ended up teaming up with Bridget. The two turned against Walden and took control of his company. Alan helped Walden fight back, but Bridget and Robin bought Alan a Porche and a happy ending in the men's room. Alan didn't fall for it, and the girls went a different route and assaulted him.
Rogers is a film and TV actress, producer, and professional poker player. Her most popular film roles include Gung Ho, Someone to Watch Over Me, and Desperate Hours. Rogers has been married three times. Her first husband was James Rogers. Her second husband was actually Tom Cruise, but it only lasted for two years. She got married to Chris Ciaffa, who she has been with since 1990, and they have two children together. Now that we've covered all these amazing women, it would be unfair to leave out some of the guys, right…?
Gary Busey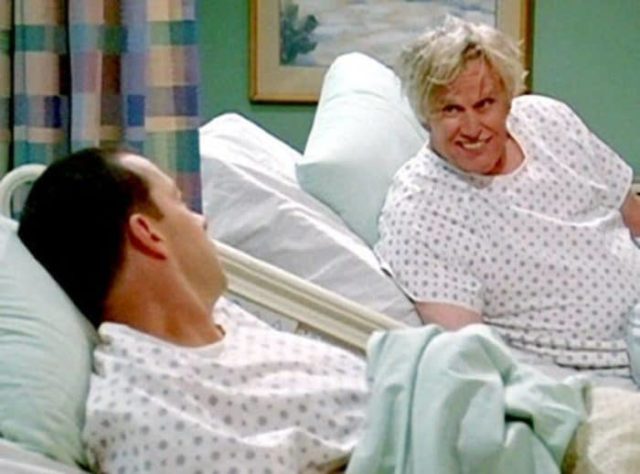 The Academy Award nominee made a short cameo in the Season 9 episode called "Frodo's Headshots" as a patient in the psych ward. It's where Alan wound up following a mental breakdown triggered by Charlie's shenanigans.
Busey has appeared in over 150 movies, including Lethal Weapon, Predator 2, Point Break, Under Siege, The Firm, Carried Away, Black Sheep, Lost Highway, Fear and Loathing in Las Vegas, The Gingerdead Man, Quigley, and Piranha 3DD. Busey has a daughter from a previous relationship named Alectra. He also has a son named William Jacob "Jake" Busey, who was born in 1971. This was back when Busey was married to Judy Helkenberg. He is engaged to Steffanie Sampson, and they had a son in February 2010 named Luke Sampson.
Jason Alexander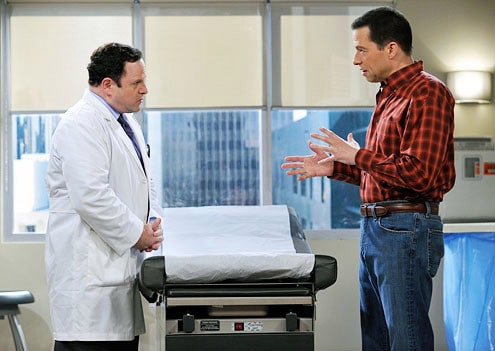 Our dear George from Seinfeld came to the Two and a Half Men set to play Dr. Goodman; an adulterous cardiologist Alan visited in the show's 200th episode. Alan had just gotten home from the hospital after having a heart attack, and everyone was giving him extra attention. After going to his cardiologist, Dr. Goodman, he finds out he has a clean bill of health. Of course, this is Alan, so he pretended that he might need a heart transplant. This obviously didn't go well, and Zoey ends up catching him in the lie.
His real name is Jason Greenspan, but he adopted the stage name Jason Alexander while in high school in New Jersey. He appeared in Broadway plays and movies, then in the hit TV series, Seinfeld, from 1990 to 1998. Along with directing and producing films, he can be seen in the Cinderella movie starring Brandi. He plays the right-hand man to the prince.
Elvis Costello and Sean Penn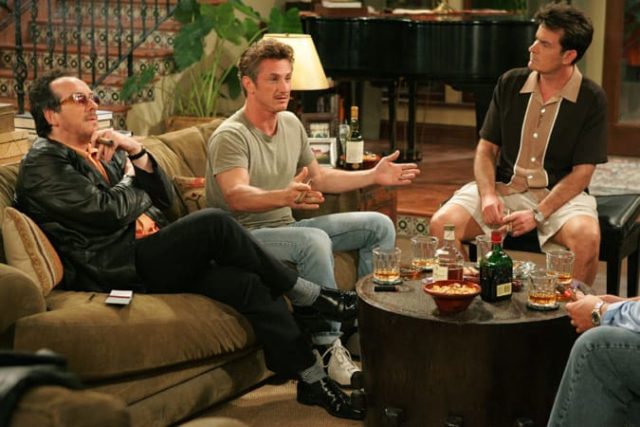 In the Season 2 premiere titled "Back Off Mary Poppins," the Grammy Award winner and Academy Award winner played themselves as part of Charlie's monthly guys' support group. In this episode, Alan gets jealous and wants to join the exclusive guys club. Charlie won't let him, and Alan tries to get in touch with them on his own. One of his ex's turned the guys against him. Eventually, they let him into the group, but Alan annoys everyone too much, and they tied him to the streetlamp. Sean Penn delivers the winning line that ended up being the title of the episode.
Penn won the two Academy Awards for his roles in 'Mystic River' and 'Milk.' He began his acting career in TV, with a brief appearance in 'Little House on the Prairie', directed by his father, Leo Penn. Penn's net worth is approximately $150 Million dollars.
Michael Clarke Duncan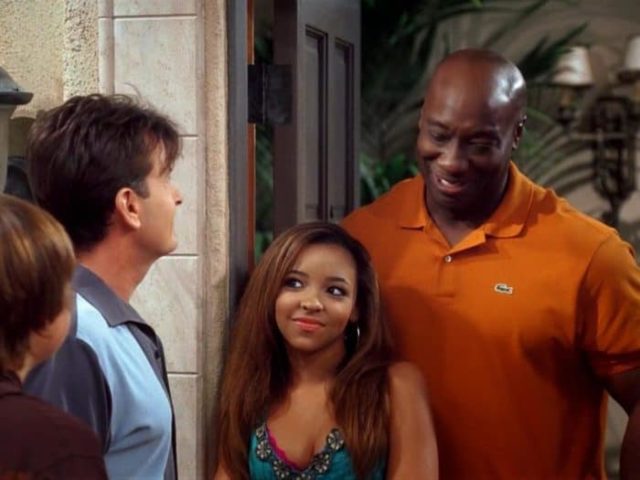 The late actor made a notable appearance in Season 6 as the intimidating new neighbor named Jerome. Jake was a retired football player, and he had a daughter named Celeste Burnette. When Jake showed interest in his daughter, Charlie had to cover for his nephew. Jake ended up taking his daughter for a walk on the beach as their first date, and when they didn't come back on time, Jerome asked Charlie to check on them for him. Charlie tried to call Jake, but he had left his phone at home. He then had to deal with listening to the over-protective rants of Jerome.
Sadly, Duncan passed away on July 13, 2012, as he was taken to Cedars Sinai Medical Center after suffering a heart attack. It is said that his girlfriend tried to perform CPR to save his life. He spent some a bit of time in the ICU before passing away. The actor was only 54 years old.
John Stamos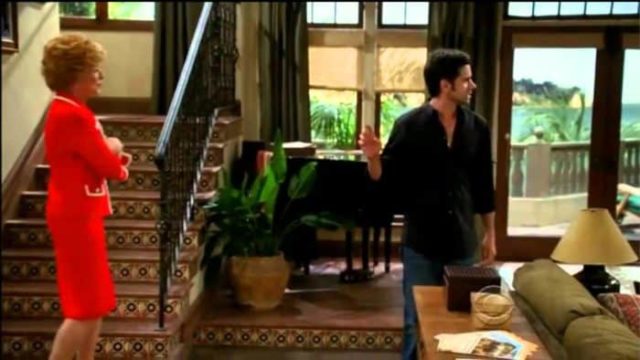 Uncle Jessie made an appearance in Kutcher's debut episode as a potential beach-house buyer, but he backed out after remembering a drunken threesome with Charlie. Stamos also shows up for the last episode of the whole show. Bridget, Walden's ex-wife, called him up, and you can see her lying in bed with Stamos.
John Stamos first gained recognition for his role as Blackie Parrish on the television series General Hospital, for which he was even nominated for the Daytime Emmy Award for Outstanding Supporting Actor in a Drama Series. Stamos is now married to Caitlin McHugh, and they have a son named Billy. Did you know that John Stamos is as big of an Elvis Presley fan as Uncle Jesse was? He was always using his role to reference him in Full House.
Jon Lovitz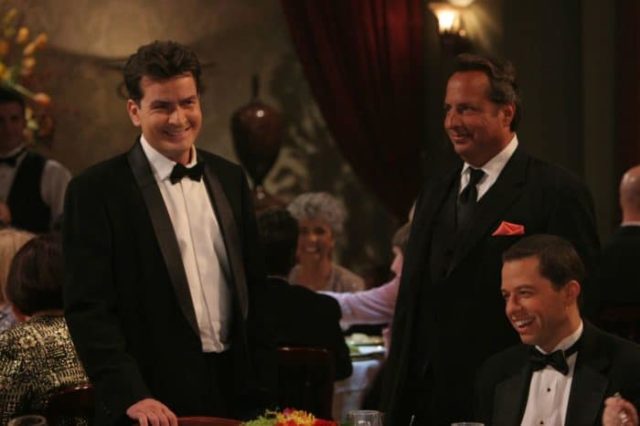 Jon Lovitz guest-starred as Charlie's jingle-writing enemy, Archie Baldwin, in the Season 3 episode titled "The Unfortunate Little Schnauser." Baldwin had a history of beating Charlie out for advertising awards. He did it again in this episode by singing 'Save the Orphans' and winning the award for the best jingle writer.
Lovitz also made a memorable appearance on Friends, but he's best known as a cast member of Saturday Night Live. He was part of the cast from 1985 to 1990. He also played Jay Sherman in The Critic and appeared in numerous other TV series and movies.
Did you know that Jon Lovitz has an ongoing feud with Andy Dick over an old friend? While they fight and make up a lot, in 2007, he smashed Dick's head into a bar.
Enrique Iglesias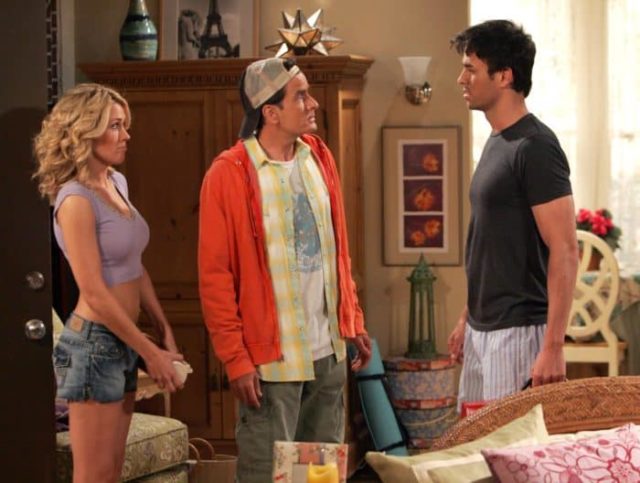 The hugely popular Latin singer also appeared in the show's fourth season. He portrays a handsome handyman named Fernando, who Charlie called after his deck collapsed with him on it. Fernando ended up winning Charlie's girlfriend's affection, as well as Berta's. Charlie fired Fernando and then slept with Chloe to celebrate. The episode ends with Charlie falling off the deck.
Enrique is widely regarded as the King of Latin Pop. He sold over 100 million records (both albums and singles combined) worldwide, which made him one of the best-selling Spanish speaking artists ever.
Enrique Iglesias has a relationship with Anna Kournikova, a Russian tennis player. The couple reportedly had twins at South Miami Hospital on December 16th, 2017. The couple kept their pregnancy a secret the whole time, which is usually something that's harder for celebrities.
Chris O'Donnell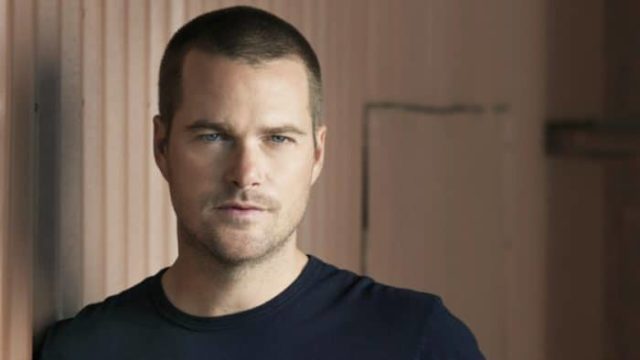 In a Season 1 episode, the NCIS: Los Angeles star played a former friend of Charlie's, Jill. Charlie goes to meet his old friend Jill at the bar and learns that Jill is now a trans man named Bill. Evelyn meets Bill, and the two hit it off. Of course, Berta gets a kick out of the whole situation being as Charlie dated him as Jill, and now Bill is into his mother.
O'Donnell was discovered when he was cast in a McDonald's commercial, where he served Michael Jordan! His first TV role was an appearance on the series Jack and Mike in 1986. Chris O'Donnell is married to Caroline Fentress since April 1997. They got married at St. Matthew's Cathedral and now have five kids.
Did you know that, according to Rolling Stone, Chris O'Donnell has acrophobia?