The Lavishly Expensive Mansions That Celebrities Call Home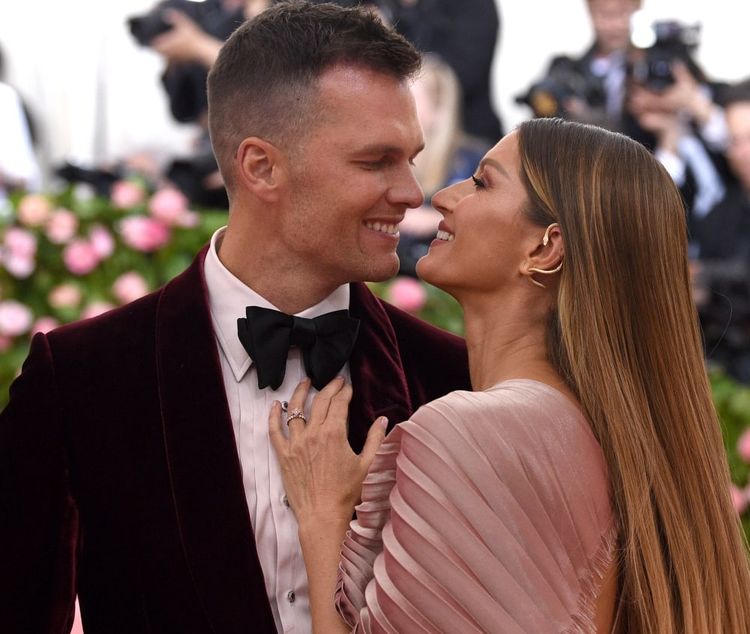 What happens when the world's top supermodel marries one of the biggest sports legends of all-time? Well, their relationship naturally becomes a huge conversation piece. And that's exactly what happened when Gisele Bündchen married future star quarterback Tom Brady in February 2009.
For years, the media and fans have followed every aspect of their careers and marriage. So naturally, in October 2022, when news broke that the two were getting divorced after more than 13 years as husband and wife, it was a huge deal. But while it's sad to see the end of this A-list power pairing, take a quick flashback into their time together.
When Gisele first met Brady, she knew it was love at first sight based solely on his grin. She told Vanity Fair, "The moment I saw him, he smiled and I was like, that is the most beautiful, charismatic smile I've ever seen!"
Since that time, the rosy glow
to enjoy looking at the most aesthetically-pleasing couple in the world. Secondly, we get a preview into their $34 million dollar Massachusetts mansion, which is just as pretty as they are. Everybody, brace yourselves for this intimate look inside Gisele Bündchen and Tom Brady's life and their masterpiece of a home.
Now, it's a decade later with the couple celebrating their 10th year anniversary, three beautiful children, and exquisite abode. It's pretty clear to us that these powerhouse celebs have a lot to be smiling about.
A Match Made in Heaven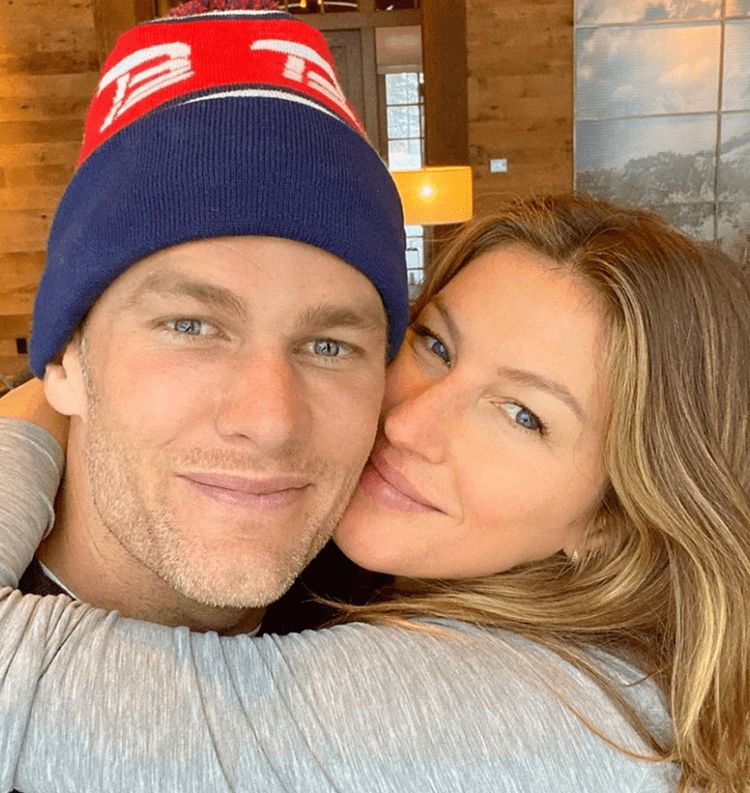 Individually, Tom and Gisele are powerhouses in their own right and are extremely well-respected in their career fields. Together, they're pretty much as good as it gets. They're both home-makers, philanthropists, great parents, entrepreneurs, and the list goes on and on. But, another rarity the couple has in common is that overwhelming blue-eyed sparkle.
We could just stare into their eyes for days. And since we can't actually be their kids, we'll just wish from a distance and relish in this perfect candid selfie.
At First Glance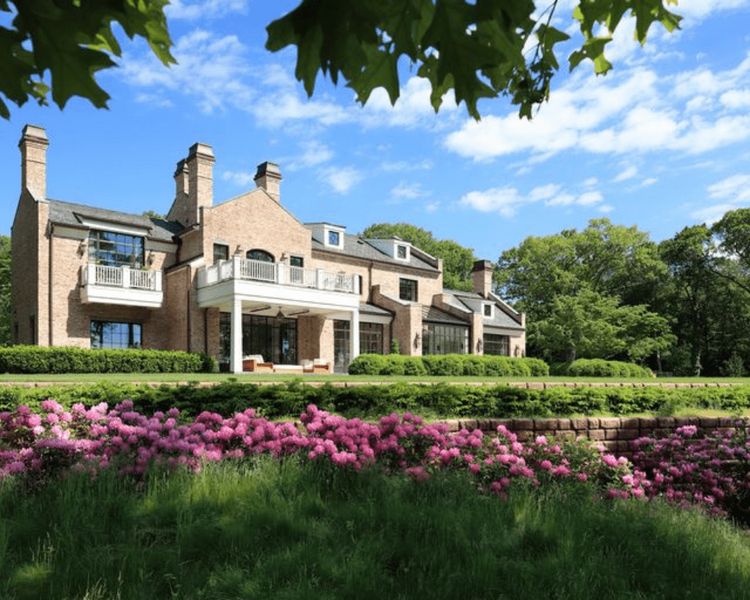 If you had to close your eyes and picture the most idyllic and luxurious home money could buy, we bet Tom and Gisele's mansion would not be far off. The 9,716 square foot mansion features everything your heart could desire.
From a massive pool and personal spa to a kitted-out gym, a cellar, and even an organic vegetable garden for your inner-earthling. Whatever your architectural preferences are, this home will have it.
The Backyard of Dreams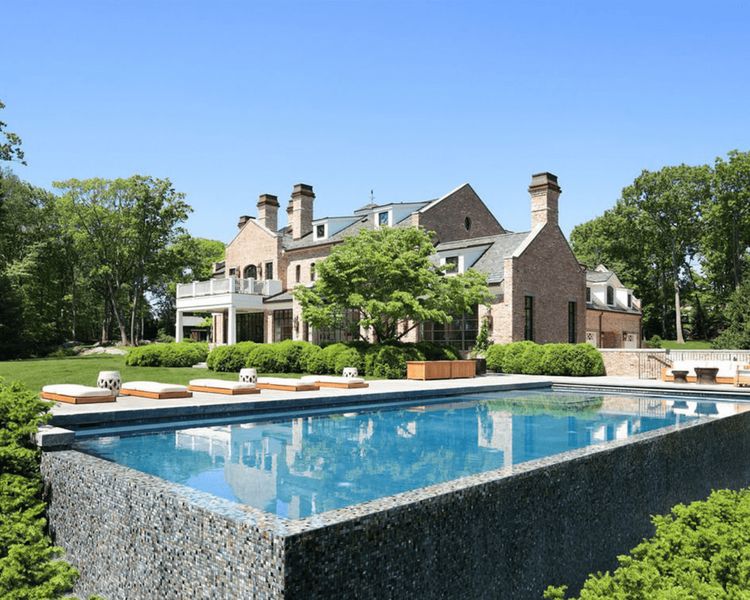 Set on over five acres of land, the five-bedroom and seven-bathroom home offers plenty of space to roam free, as well as excessive backyard amenities. Just take a look at this outdoor area with its luxurious lap pool, refined sunbeds for tanning, and perfectly manicured greenery.
It would be like going on a full-blown vacation to just spend a day out here. Imagine taking a dip in this pool, followed by soaking up the Massachusetts sun on one of those loungers? Total heaven!
Now, That's an Entrance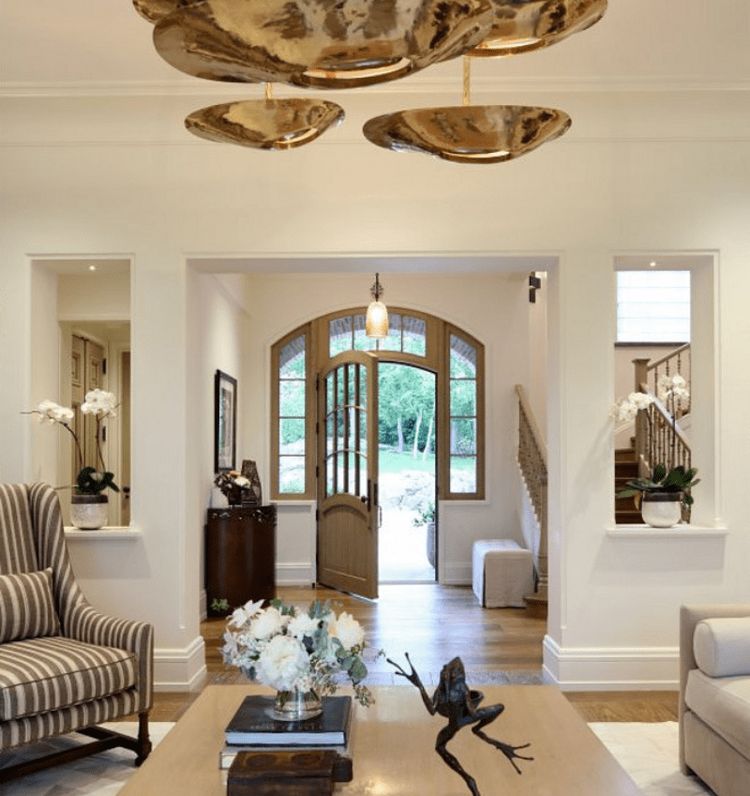 The home's foyer opens up to this modern and luxurious living room with its high ceilings and this eccentric-bronzed light fixture. Even though the room feels regal, it's also homey with its minimal furniture and lovely white flower collection.
The balance here between opulence and comfortable-living sets the tone for the entire home's interior design. And, just like the happy couple that owns it, it's an understated masterpiece.
The Family Room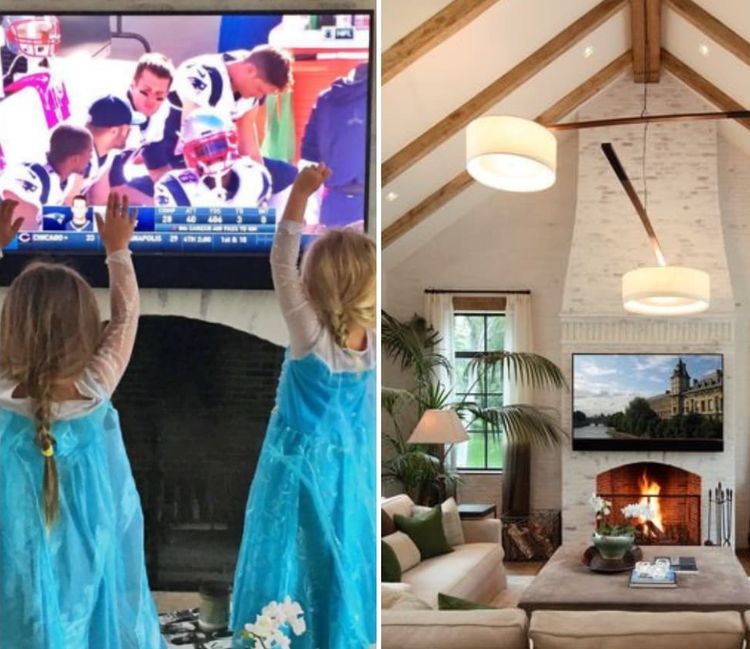 They say the family room is one of the most special rooms of a house, as it brings the family together for some cherished quality time. This modern yet cozy family room is just another level up with its minimal touch and whitewashed brick wall fireplace, that exudes eclectic chic.
This also happens to be the room where Gisele and the kids watch Tom's football games, as you can see pictured here. We would love for this celebrity duo to adopt us, so we too could enjoy this pad.
The Heart of the Home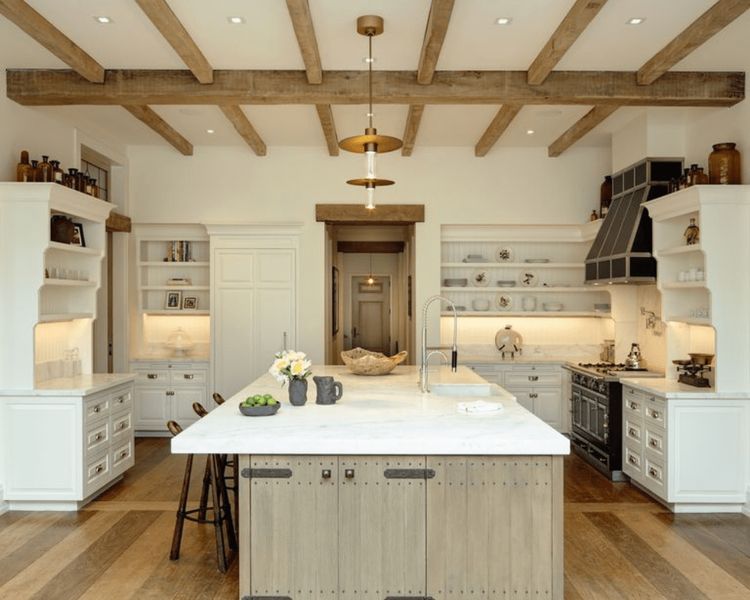 They say the way to your heart is through your stomach and with a kitchen like this, your heart would be practically be bulging out of your chest. We feel it's hard to make bad food when cooking in a place like this.
The famous duo's kitchen features custom cabinets, with a farmhouse-style sink and marble slab countertops. Gisele often shares pictures of herself, Tom, and the kids cooking and having a grand old time in this utopian kitchen.
It's So Nice, Let Us See it Twice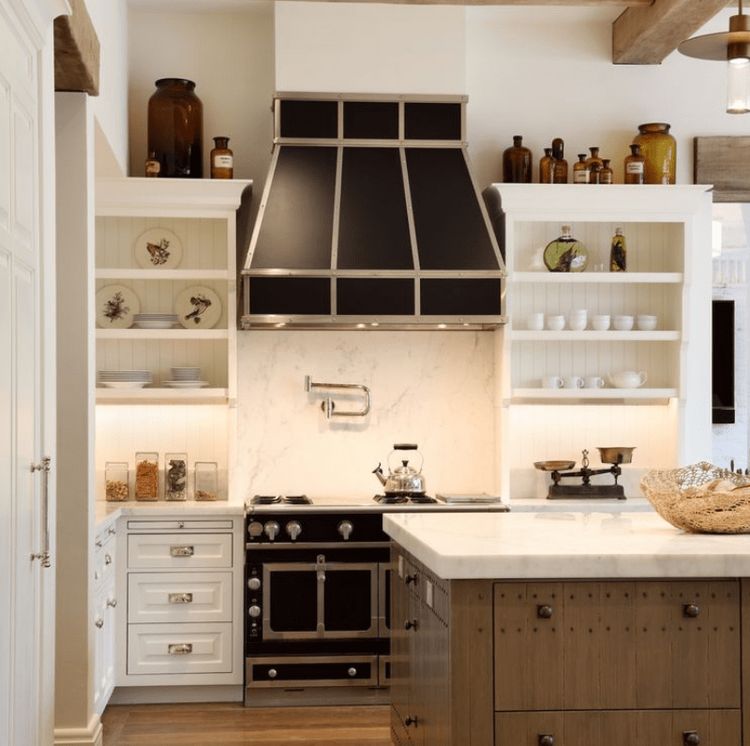 While this kitchen is stocked with everything even an executive chef would need, it still manages to maintain a homey feel. Here is a more intimate look into the heart of the home, so we can take in the finer details. Just check out those open-shelved upper cabinets, with the delicate pottery pieces and oversized glass bottles on top.
As you can clearly see, the interior designer — Joan Behnke & Associates — was able to create the perfect balance between modern and cozy.
A Delightful Dining Room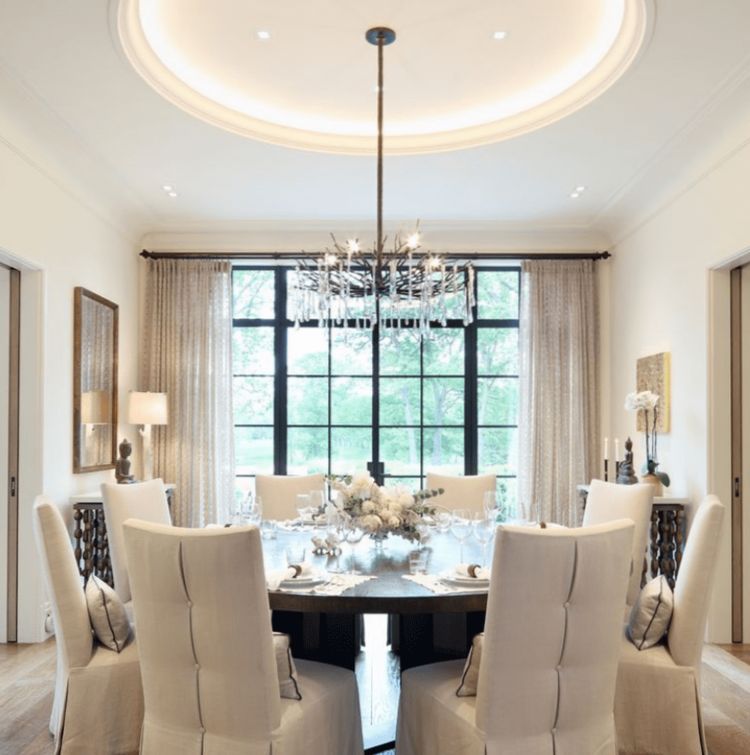 Judging from the open design and high ceilings of the house, Gisele and Tom are all about bringing in positive energy and this dining room is the epitome of that. With its rounded table and massive windows to bring in the light, it would be hard to not feel happy in this exquisite room.
Also, can we just take a moment to appreciate that unique chandelier? With its branch-like design and tripping diamonds, it's the cherry on top of a perfect room. All we need now is to be served up some perfect food.
Run Wild and Free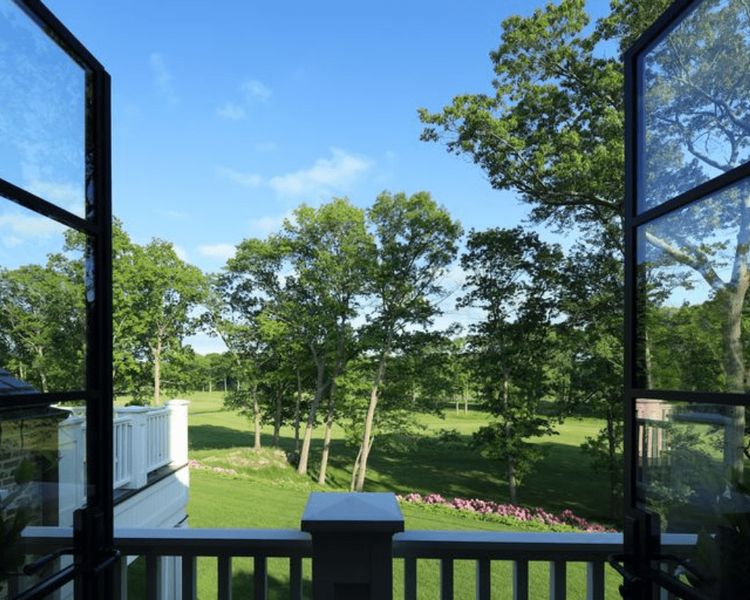 With over five acres to roam on, you'll never really need to leave the house with grounds like these. This image was taken from the master bedroom and overlooks a private balcony that features a luscious view of golf course greenery.
Imagine waking up and sipping on your morning coffee, while watching a landscape like this? It honestly looks too good to be true. In fact, if we framed this photograph, it could pass as a painting. That is how you define a picturesque view!
A Tranquil Courtyard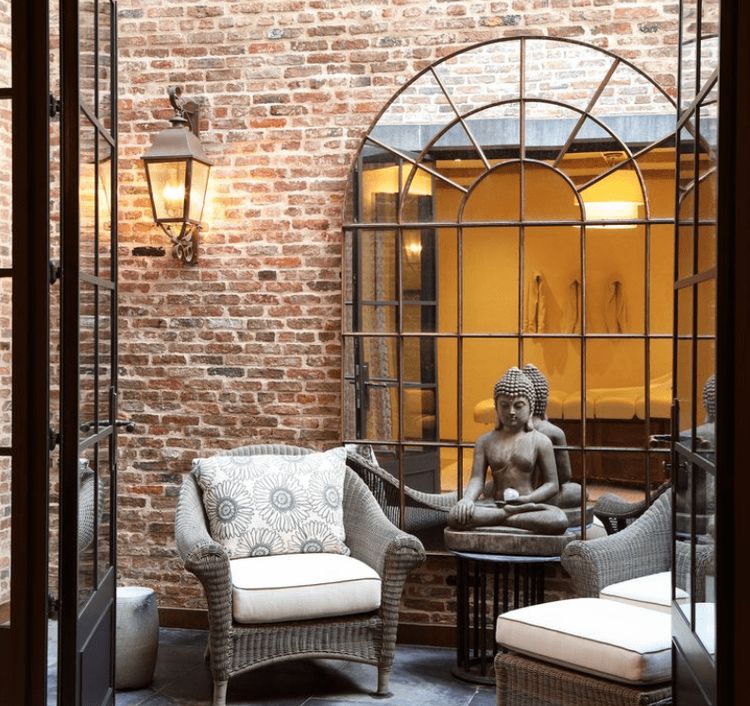 As you can already tell, the calming figure of Buddha is an integral part of the peaceful design in this home. In following on with the theme of tranquility, welcome to the spa's private courtyard where you can lie back, relax, and sip on some herbal tea — after having a massage, of course.
Does it get any better than this? Maybe just in heaven, so we're very jealous of Gisele and Tom for getting this kind of treatment in their day-to-day life. Must be nice!
The Lap of Luxury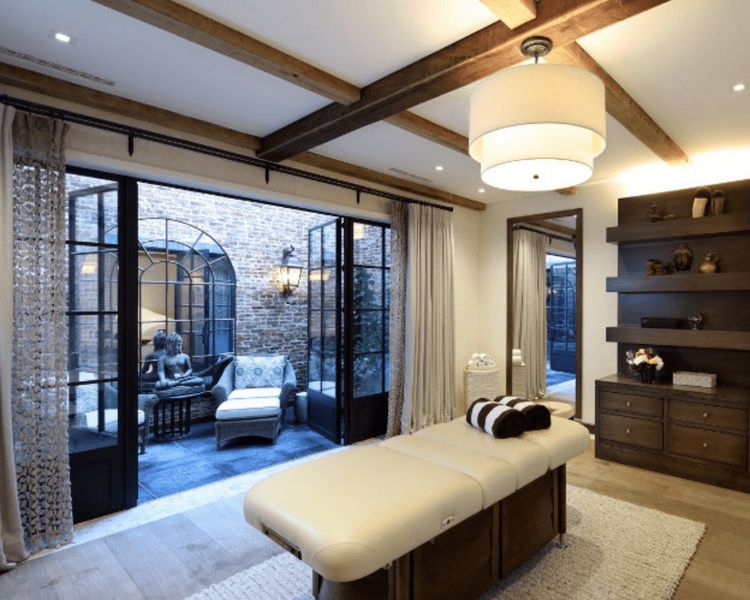 Having an in-house spa fit to hotel standards sounds like a mere dream to most, but to this dreamy celeb couple, that is their daily reality. Imagine coming home after a long day and getting a spa treatment to wind down in your own home?
Uh, sign us up for that any day! Living in this Massachusetts mansion would be the equivalent of staying in a luxurious, five-star hotel. Plus, you would get to live with Tom and Gisele. Life just doesn't get better than that!
The Spa's Bathroom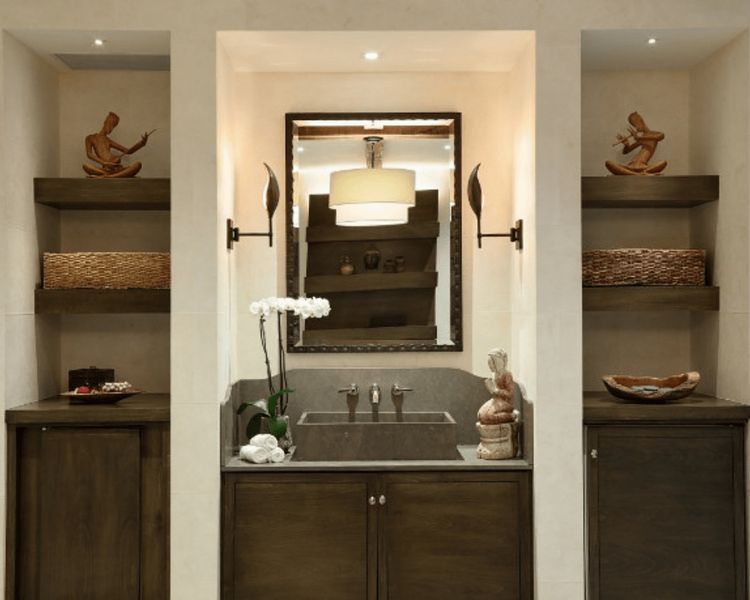 The spa-wing of the house doesn't end with just a masseuse room and courtyard. Oh no, the home spa of your dreams is not complete unless it has an accompanying bathroom to freshen up in post-treatments. This wooden-detailed powder room does exactly that.
With its neutral color scheme and limestone countertops, you will truly feel like you're at the spa. Just picture yourself coming to shower here, after indulging in a hot-stone massage by your personal masseuse. Now, that's luxury and relaxation at its finest.
A Formal Living Room Fit for Royalty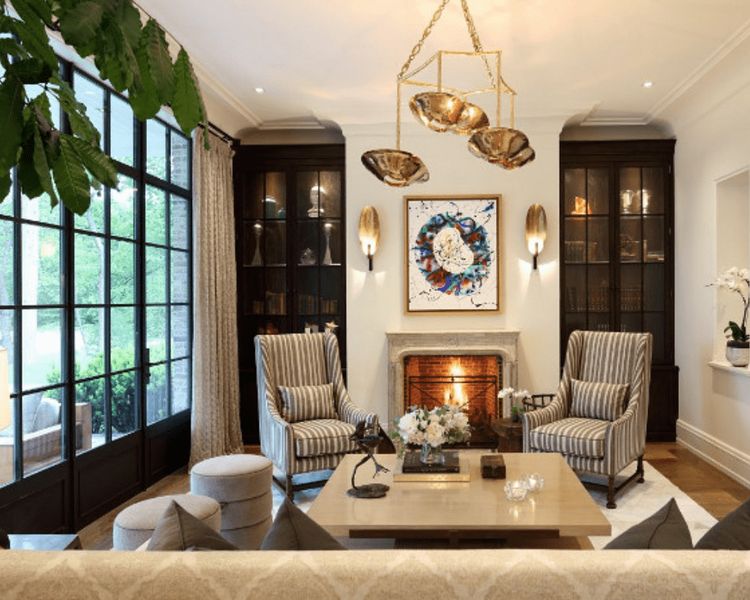 Living rooms are meant to be lived in and usually, when mansions have formal versions, the rooms are too over-the-top to feel comfortable in. However, not this formal living room. Here, you get that grand sense, yet it's balanced out so it's still cozy.
The neutral color scheme is nicely contrasted with the stark black steel doors that lead to that lush backyard. Yet again, another fireplace is featured to warm up the room and keep that tranquil fire burning. See what we did there?
The Poster Breakfast Room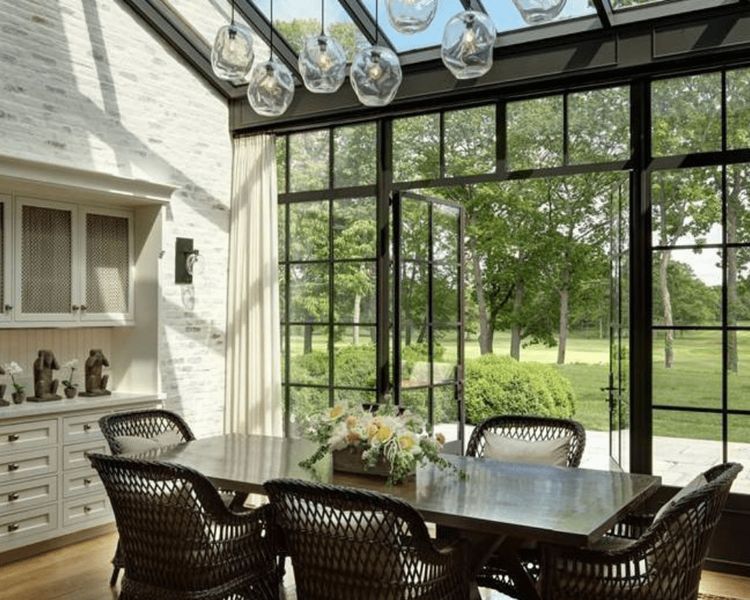 If we lived on a luxury estate like this one, we would want to make sure that all rooms had views of that crisp foliage. So, it's no surprise that the kitchen opens up to this beautiful breakfast room overlooking the lawn. The bright room features an eclectic lighting fixture, sky-light ceiling, whitewashed brick walls, with a country-style table and wicker chairs.
Everything about this room's fresh atmosphere would help you start your mornings right. Just picture yourself eating your breakfast and sipping on some orange juice whilst taking in that sun.
Powder-Me Up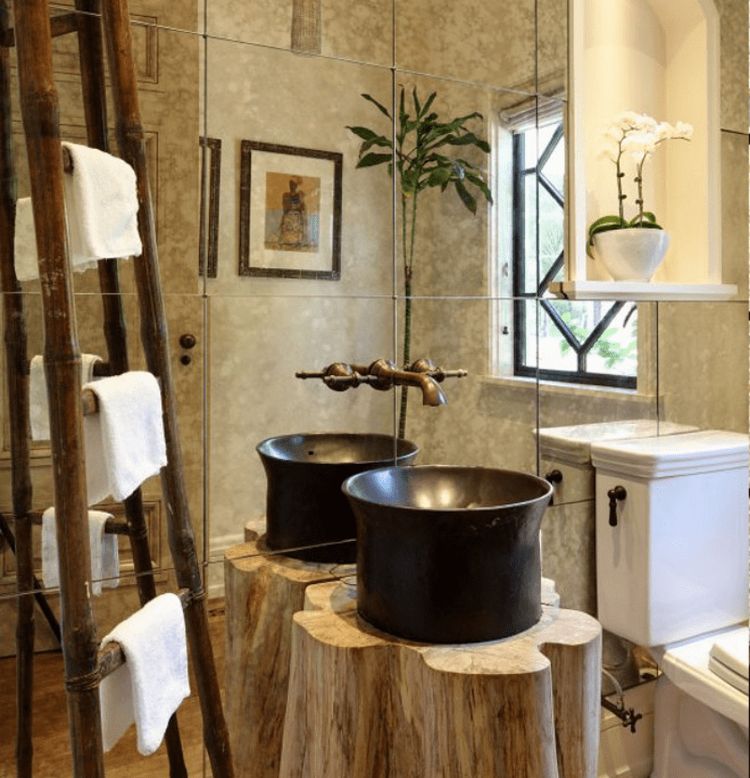 Powder rooms are the perfect place for guests to freshen up and with this custom tree stump basin and plant features, you'll feel like you're in nature's belly. With the added touches of the copper sink, bamboo ladder, and antiqued-mirrored walls, it's magazine-worthy.
In fact, leading interior design magazine Architectural Digest snapped this humble abode for their cover, but no surprise there.
A Hotel-Approved Gym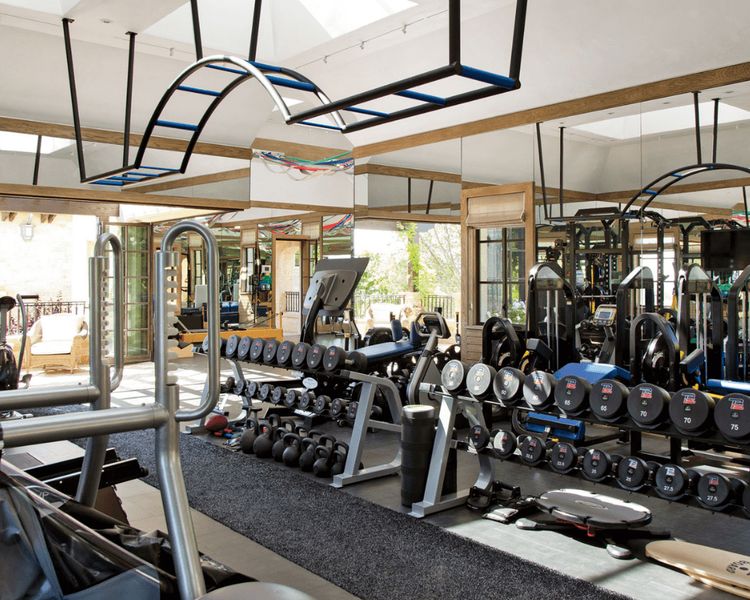 As if the home wasn't five-star enough with its spa amenities and luscious lawns, there's also a spectacular fitness room fit for a star athlete. The gym is so well-endowed, it even features its own pilates studio for Gisele. So, whether you're an athlete training for muscle or a supermodel exercising for strength, this studio has got you covered
Just picture yourself waking up in this gorgeous home and heading to its private gym to kickstart your day right. The only visual better than that is if Gisele and Tom could train us.
The Master Bedroom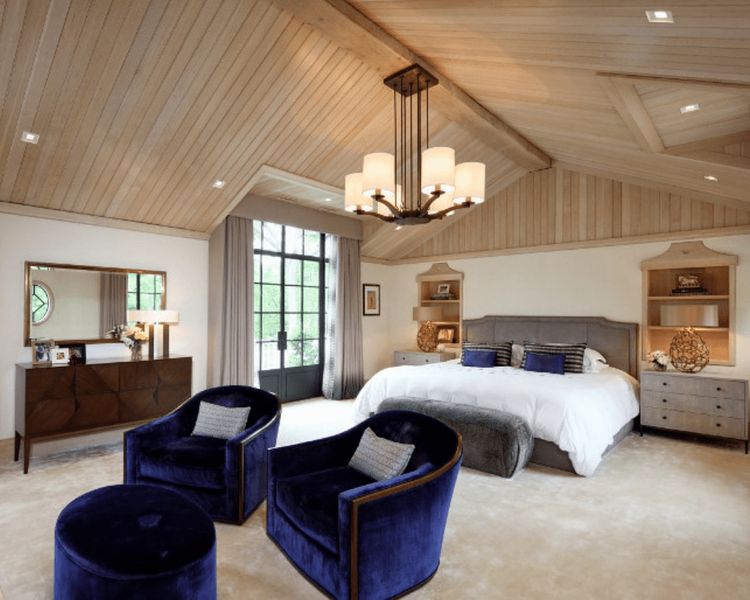 We could easily get used to waking up in a bedroom like this, with its spaciousness and plush furniture pieces. The custom room features a vaulted ceiling and Tongue and Groove paneling, which makes you feel as if you're waking up in a luxury treehouse.
The room also keeps with the home's open decor, by having doors that lead out to the garden. So, after a long day at the home's gym and spa, you can unwind by hopping into this massive king-sized bed and enjoy some beauty sleep.
A Cozy Masterpiece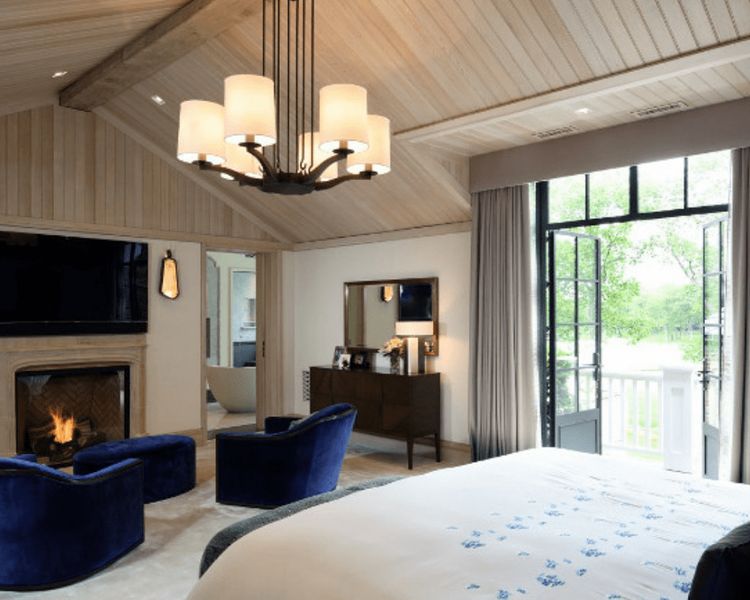 Tom and Gisele's master bedroom is a paradise, with its views of the property and fireplace area to warm you up. In fact, whatever you're feeling like, this room has it installed. For example, the plasma TV is there for a good Netflix binge whilst the oversized tub can be used for a relaxing evening bath after a long day.
In addition, the outside balcony is your perfect morning go-to coffee spot. If we could just spend one night in this bedroom, we'd leave feeling refreshed and revived.
A Bathroom With a View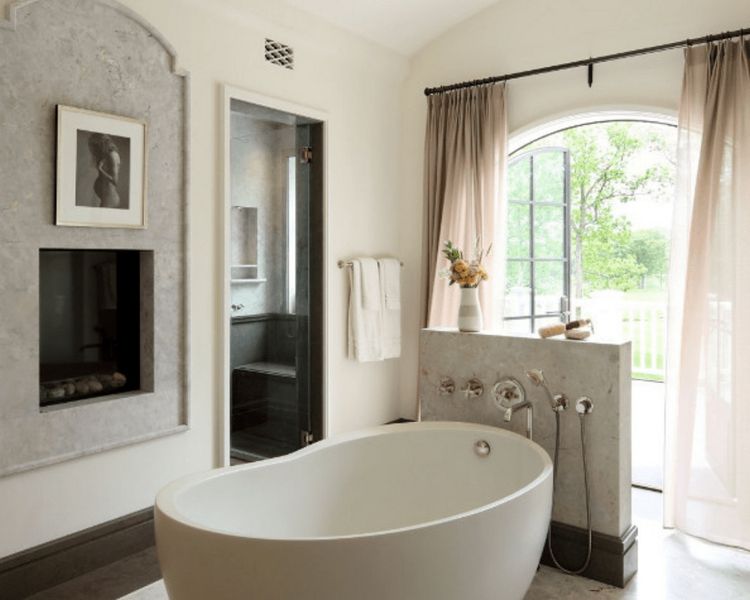 We had to show you a closer look at the master bedroom's en-suite bathroom because, with a view like that, it would be unfair not to. Picture yourself unwinding in this tub, with the fireplace on and that greenery behind you. What a heavenly thought.
Also, if you're not a bath person, check out that shower room in the back. It even comes with an accompanying seat so that you can sit down, relax, and take in the shower steam.
The Guest Bedroom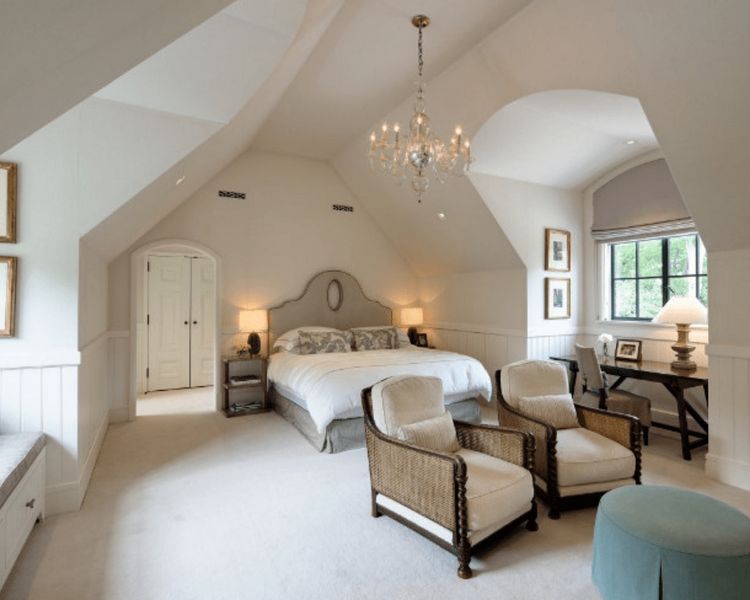 Yet another room in this idyllic home is designed to pristine perfection. While generally, the guest bedroom in a home is smaller than the master, Gisele and Tom spared no expense to ensure their guests' satisfaction. With the room's massive bed, high-ceilings, and numerous chill areas, visitors will never want to leave.
So, since we obviously can't be Gisele and Tom, at least there's a possibility of becoming their guest. While we know that it's an unattainable hope, at least we can dream.
Not Just Any Barn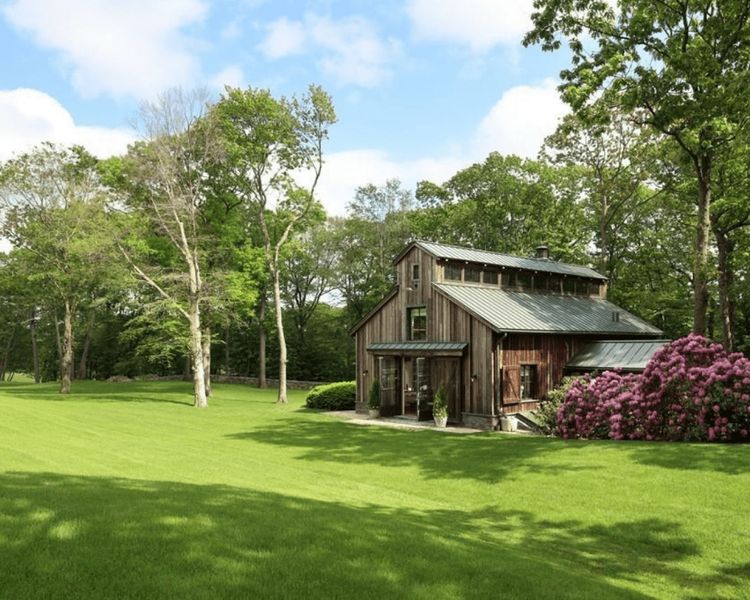 This beautifully-constructed barn is another one of Gisele's favorite spots in the couple's estate. This is where the mom-of-three writes her book in her personal office and practices her morning yoga. Her barn is surrounded by gorgeous greenery and towering trees, giving it just the right amount of shade.
Inside the ritzy barn is a loft space that features all the essential rooms to make up a house. So, basically, inside of the couple's home is yet another home.
Gisele's Office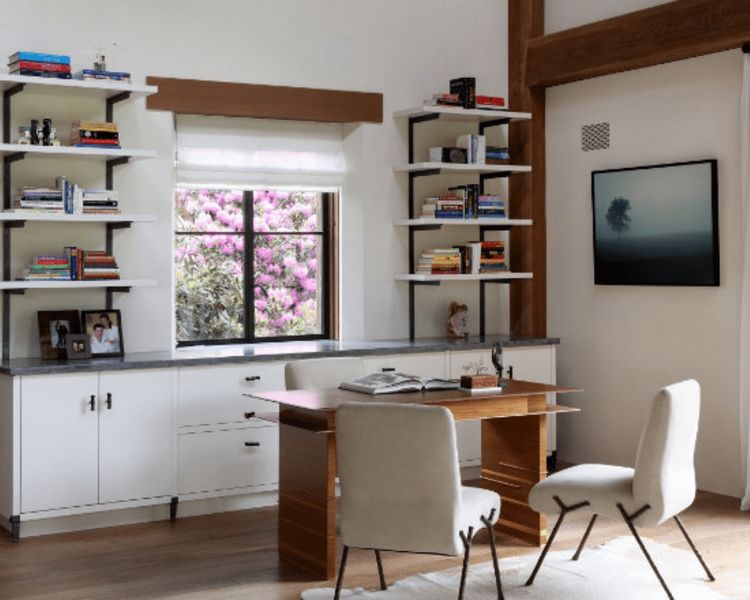 An office is usually the room of the house where peace and quiet are required in order to get work done. Gisele's modern and minimalistic office provides that harmony with its open bookshelves and a cozy fireplace to keep you warm.
She told Vogue in an interview that this room is her "sanctuary" where she spends most of her alone time. With its open-plan design and view of those exquisite pink flowers outside, it's the perfect fit for a supermodel-businesswoman.
The Barn's Living Room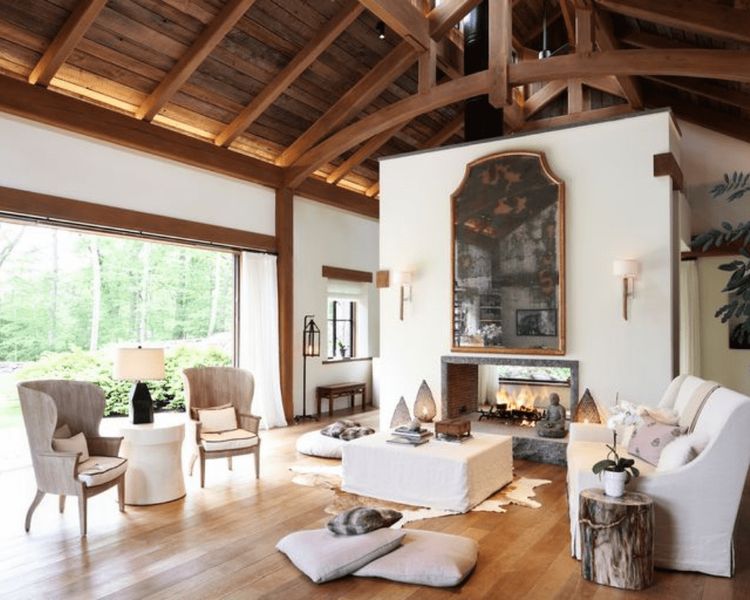 For most of us, when the idea of a barn comes to mind, we think of a rustic design and probably of animals too. But, for Gisele and Tom, they think of their home within a home — their barn. Just check out this living room. It's fancier than most homes.
With its high-rise wooden ceilings and minimalistic furniture, it's a great spot to sit back and take in the views. Also, it features yet another fireplace and Buddha, which seems to be a staple for the couple's interior design.
A Loft Within the Barn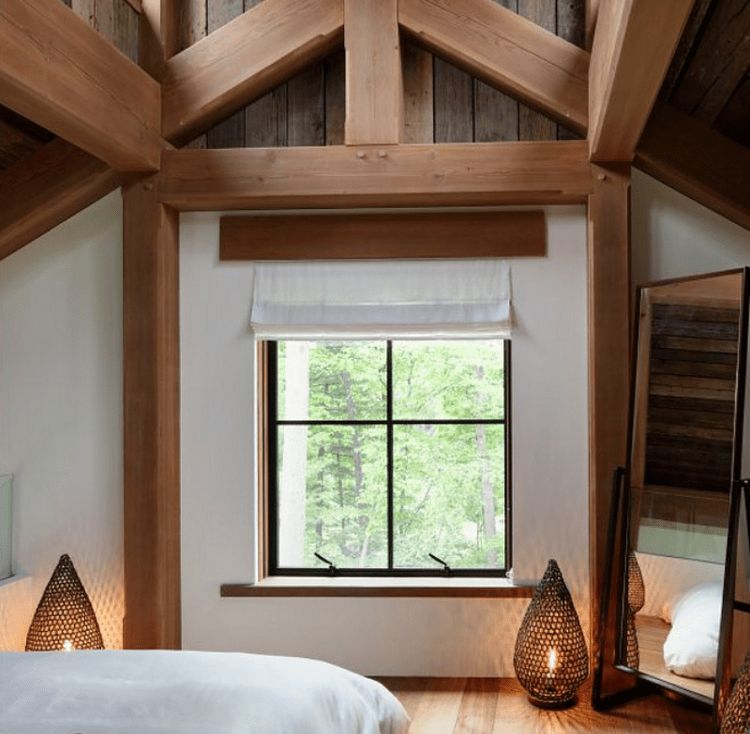 Even the guest bedroom within this celebrity duo's home is nicer than most people's bedrooms! The open-plan, minimal bedroom topped with wooden architecture, creates a luxury farm ambiance that we're totally into.
You will never even need to leave this barn, as it holds all that you need — from office space to a deluxe living room and bedroom en-suite. Even their barn is nicer than most of our homes! We can't even deny our jealousy here.
Picture-Perfect by Night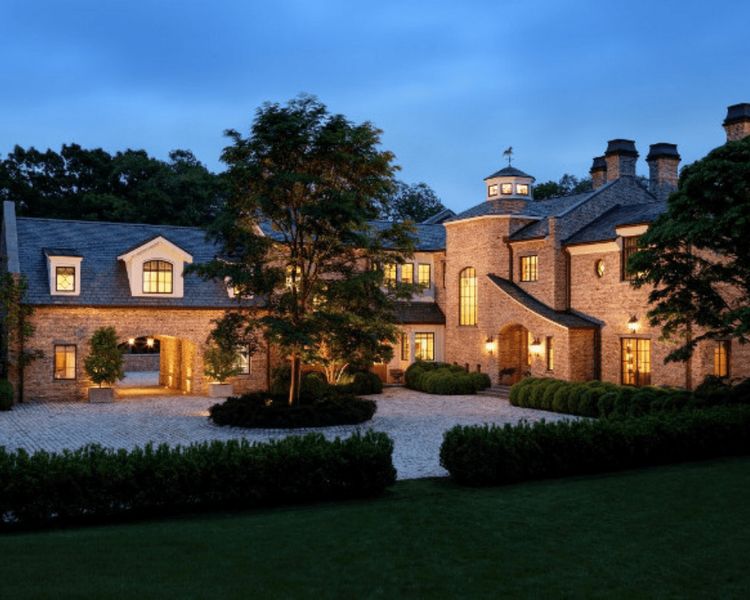 This timeless home looks like a fairytale postcard by night with its brick-faced walls, warm lighting, and custom window panes. Also, the manicured greenery and giant trees frame the home perfectly.
In case we didn't think this home could get any better, it also features a three-car garage, a round driveway for good feng shui, and a porte-cochere. There is literally enough space to accommodate us all on this estate!
Tom's Office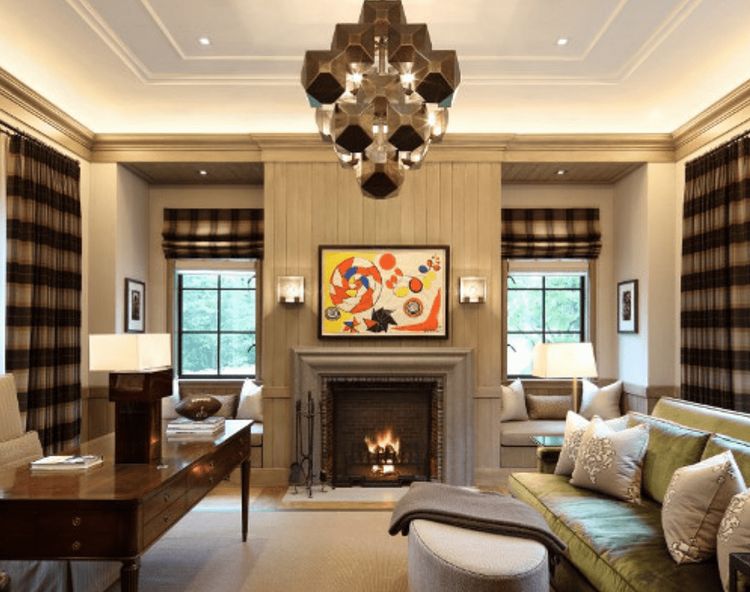 Tom Brady's office is much like him, a cut above the rest. With its custom antique wooden desk, grand fireplace, and modern-contemporary art pieces, this workroom is set for a king. Also, we're loving his masculine plaid curtains, in contrast with that velvet green couch.
In Tom's office, you can get straight to business and then wind down when you please on those cozy couches by the fireplace or on the main one. It just looks so lush, comfy, and irresistible!
The Finer Details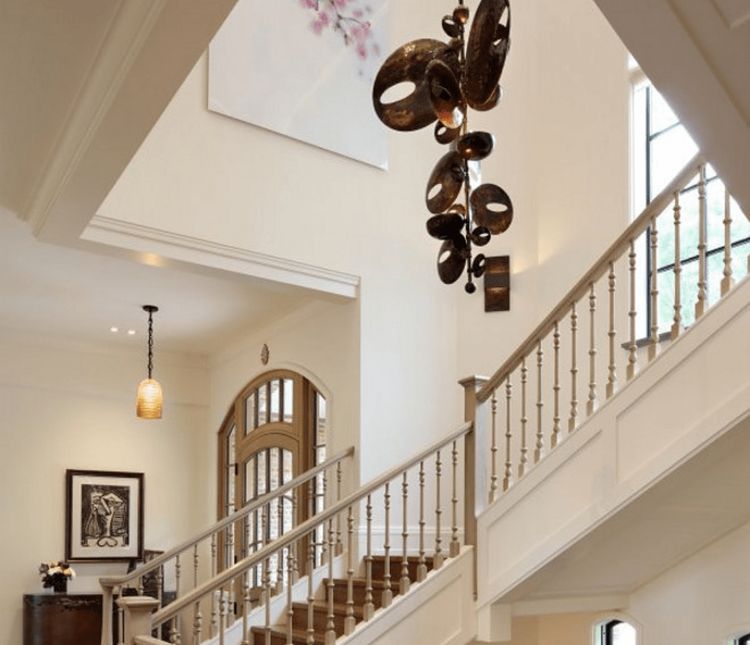 Now that we have had a private peek into most of the rooms in the couples' humble abode, it's time to take a look at the finer details. After all, in order to understand the depth of this architectural masterpiece, we need to review the smaller touches.
Just examine the traditional nude-colored, L-shaped staircase design here, and how it complements the cream walls and natural lighting. Additionally, just check out how the cool chandelier and artwork modernize the home.
Time for Some Family Candids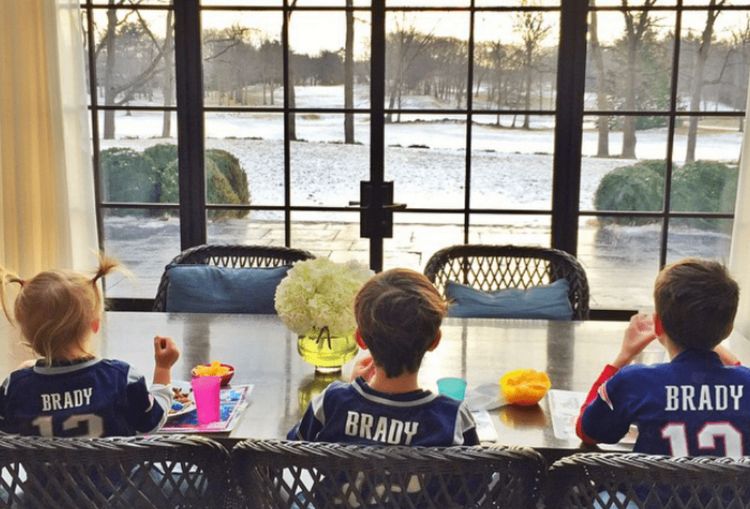 A house is only a home once it's lived in, so now it's time to see how this squad lives it up and enjoys their grand space. Pictured here are Gisele and Tom's gorgeous children — Benjamin, Vivienne, and John — to whom Gisele is a step-mother. The kids are enjoying their breakfast and taking in that picture-perfect winter's day view in the breakfast room
They are clearly all big fans of daddy, sporting their official Patriot shirts with Tom's name and number. Adorable much?
What Can't This Man Do?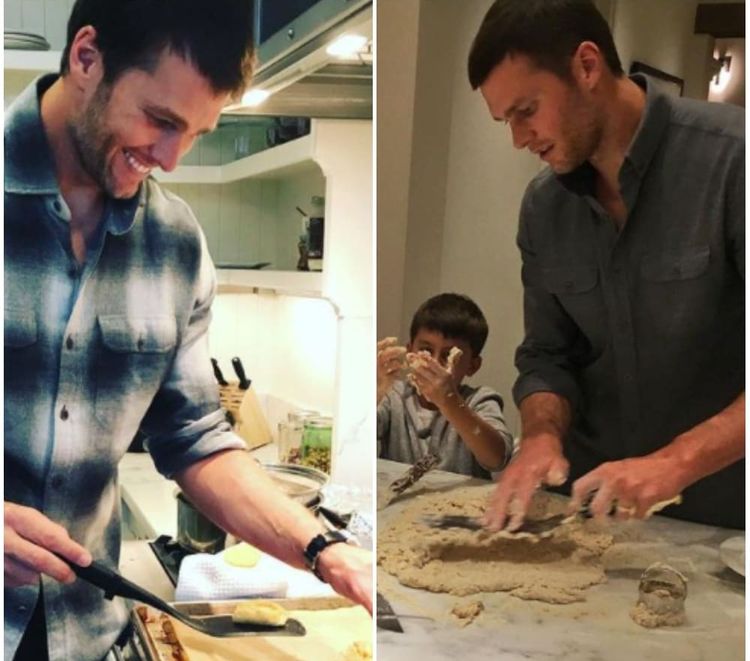 He looks like a model, plays football like a legendary-pro — and to top it all off — he cooks like a proper chef. We are really struggling to come to terms with this man's level of perfection. As you can see here, Tom not only cooks but bakes as well, and is a very hands-on father while doing so.
In that beautiful and kitted-out kitchen, we could all feel like chefs but judging from his satisfied faces, he delivers the goods.
Kid's Feasting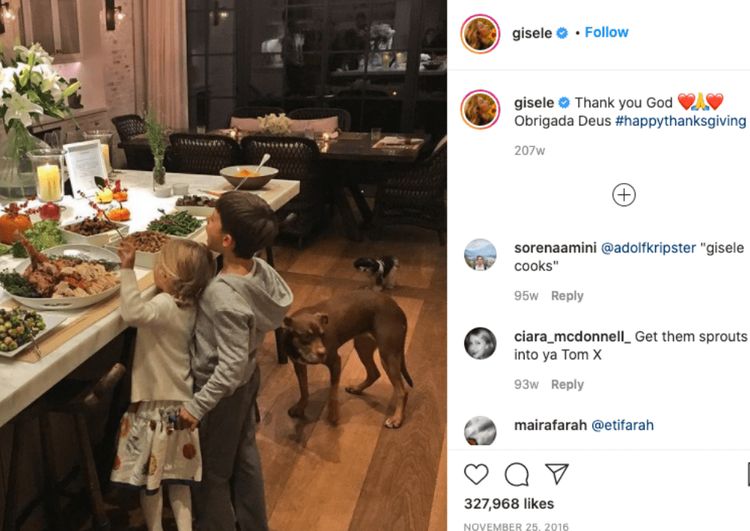 We are so thankful for this photo because between the gorgeous and loving kids, delicious food, cute dog, and beautiful home, it is postcard-worthy. That Thanksgiving spread looks beyond tasty, but the cozy atmosphere with the candles glowing and white flower arrangements is really what makes this photo so picturesque.
Not to mention, how Viviene is all dressed up in her fancy attire ready for her family meal. We're melting from the level of cuteness displayed here!
An Instagram-Worthy Sunset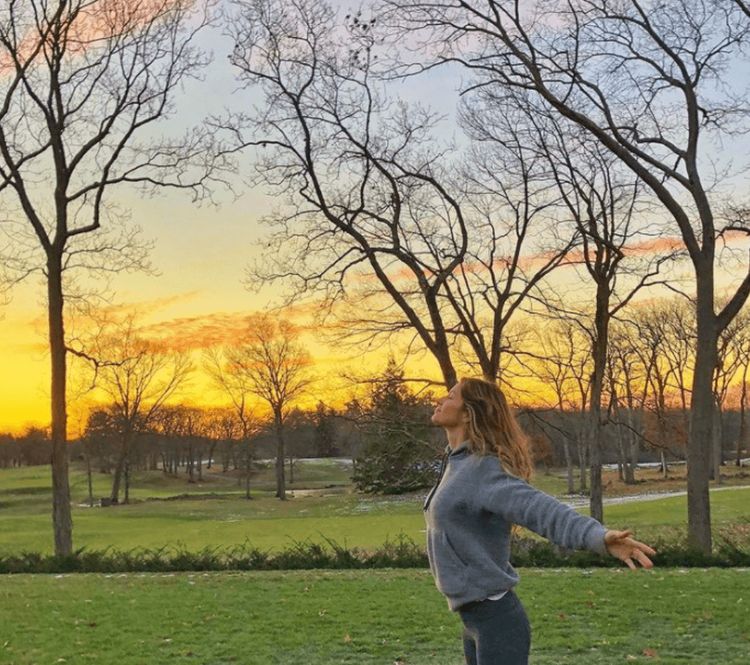 Did the sunset even happen if we didn't get the perfect Insta out of it? Well, thank goodness that Gisele took note of this and captured the surreal dusk from her home, for us to all enjoy.
While we are green with envy that the happy couple is able to see this pastel-hued display of a sunset every day, we too can now relish in it, with the likes of the screen-grab feature. While it's not the real thing, just like buying Mona Lisa fakes, we'll take what we can get!
Gisele's Paradise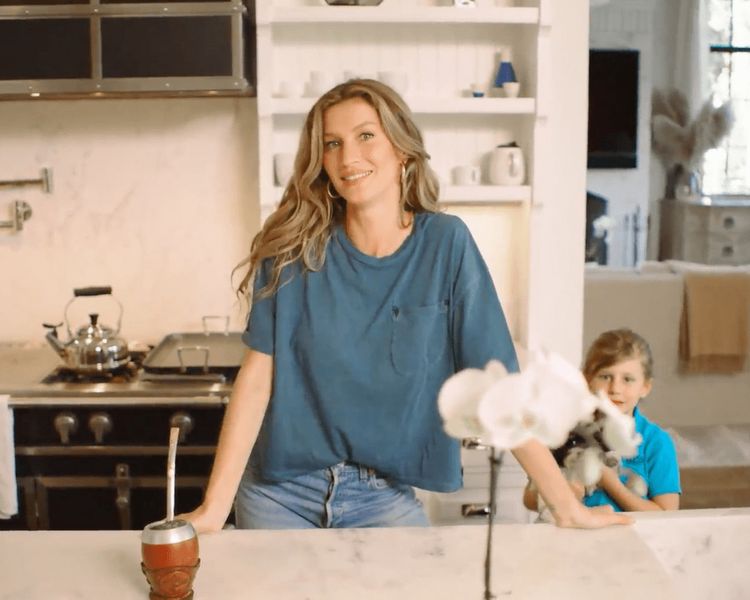 When Gisele showed Vogue magazine her home and played 73 questions, she took viewers on a personal tour. From the interview, she revealed that her favorite spot in the estate is the barnyard in which she spends most of her time.
As shown here on the right, the barnyard features her beloved office space where the mother-of-three signs her books and gets creative. On the left side, we see Gisele's perfect mane entering the home from its elaborate driveway that's big enough to host a grand party.
Another One
While showing Vogue her favorite spots, Gisele also gave a peek into her kitchen, where all the culinary magic happens. While we cannot get enough photos of this sleek kitchen, it's the models in this picture that our attention goes to.
Between the always-stunning Gisele — who is an ex-Victoria's Secret model — and her mini-me, Vivienne, we feel privileged to be looking at this photograph. This mommy and daughter combo is just perfection, much like their kitchen cabinets!
Daddy Gives the Best Cuddles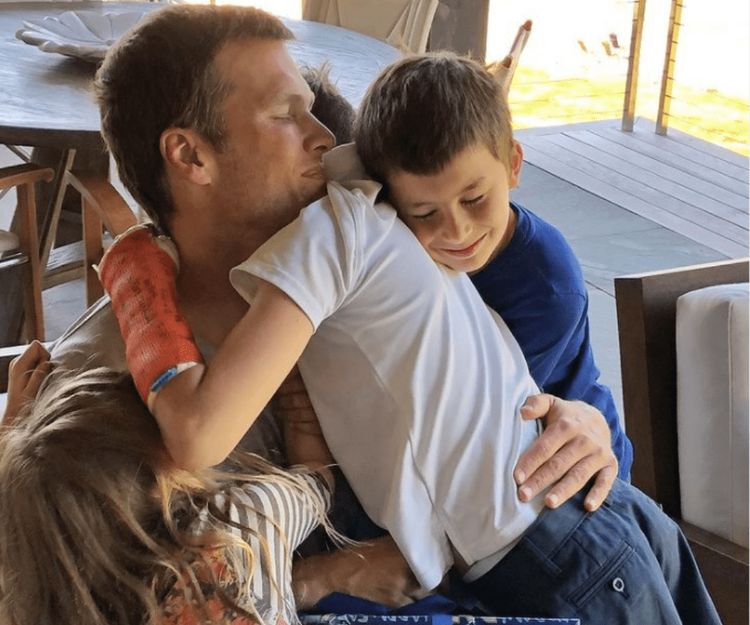 Isn't this picture, snapped by mommy Gisle, not the cutest thing ever? Our hearts continue to melt from seeing this macho, sports legend be cute and cuddly with his kids. You can feel the love just from looking at this gram. After all, a picture is worth a thousand words and we have a few to say to Tom and Gisele.
Firstly, we love your house and we really appreciate your snug decor. Secondly, please adopt us! Otherwise, we'll settle for a nights-stay at your idyllic estate. Many thanks.
Squad Goals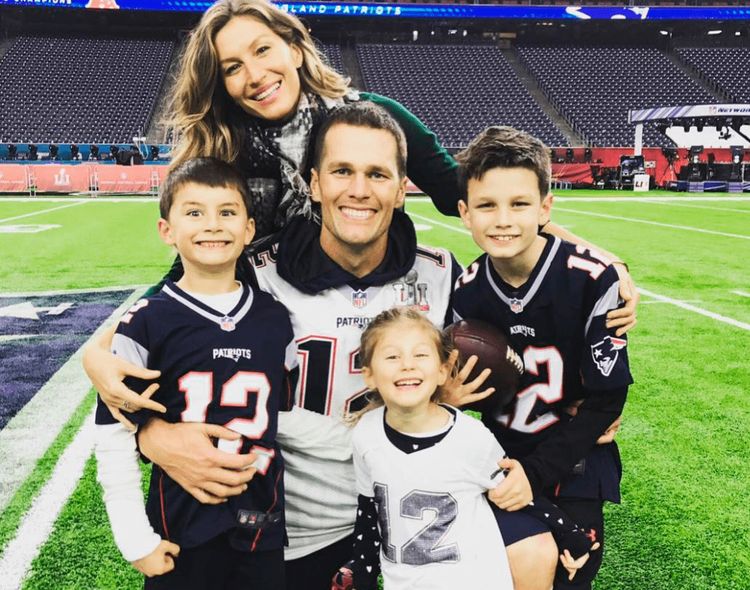 While Tom Brady has led sports teams to victory many times, there's nothing stronger than a family unit and this particular one is total squad goals. Imagine your mom being a legendary supermodel and your dad, the ultimate sports star…
You'd be guaranteed beautiful genes and some serious athletic ability, so these gorgeous kiddies are pretty set. Plus, how cute are their matching Patriots shirts? Remember, families that play together, stay together!
Tom Brady and Gisele Bundchen – $29 Million
Brady and his supermodel wife Gisele are by no means a one-house family; the couple owns multiple properties. But it's worth looking into the house they moved into when Brady signed with the Tampa Bay Buccaneers. They are actually renting it at a price of $75,000 per month from baseball great Derek Jeter, who built the mansion.
The house is 22,000 square feet on 1.25 acres of land and is located on the gorgeous Davis Island near downtown Tampa. The seven-bedroom, nine-bathroom mansion is located right on the water and comes with a theater, full-service bar, a boat dock, and an 80-foot lap pool. Now that Brady has announced his retirement from the NFL, the question is if he'll stay in Tampa Bay, and this dream home.
Most of us will only ever dream of living in extravagant celebrity homes like the ones we see in architectural magazines. While some of us long for having a washing machine in our apartments, celebrities concern themselves with the best location for an in-home shark tank and which Lamborghini to drive on any given day.
The way celebrities live will leave you surprised and asking "why, how, and how much?" From the unbelievable houses of Kim Kardashian to Greta Thunberg, these are the jarring homes of the world's most famous people…
Taylor Swift – $17.8 Million
While most celebrities flock to the coastal media havens of Los Angeles and New York, Taylor Swift went a different direction. Sure, she has a home in Nashville where she made her mark as an artist, but her most impressive estate is in the small state of Rhode Island, of all places.
We aren't sure if there's any reason for buying a home on Rhode Island's Watch Hill, other than it's a beautiful 11,000 square foot beachfront mansion overlooking the Atlantic Ocean. The house cost Taylor $17.8 million and has seven bedrooms and nine bathrooms.
Lady Gaga – $22.5 Million
If you've ever enjoyed any of the beaches around the Malibu area of Southern California, then you certainly know that the Zuma Beach is an absolutely immaculate creation. This didn't go unnoticed by singer Lady Gaga, who bought a home directly above it.
The pop star has lived in her Malibu mansion since 2014 when she bought it for $22.5 million. The home features an open floor plan, exposed wood beams, and rustic aesthetics. Lady Gaga is clearly gaga for the place, and has called it her "Gypsy Palace."
Eddie Murphy – $35 Million
Apparently, not all the land in Beverly Hills has been developed because in 2001 Eddie Murphy decided to buy 3.7 acres of land and build himself a home. The land alone came a price tag of 10 million, but it came with neighbors such as Denzel Washington and Rod Stewart, so you can't really complain too much.
Lord knows how much the 40,000-foot mansion cost to build, but it's a stunning home that was built at some point in the 19th century Classical Italianate style. It even has a guest house that's certainly bigger than most of the homes in your neighborhood.
Demi Moore – $75 Million
Almost all of the homes on this list are free-standing properties that aren't attached to anything else. Not this one. Demi Moore bought this NYC penthouse apartment in 2015 for $75 million. It's been dubbed a "floating mansion" due to its size and price tag.
The triplex penthouse has a space of 7,000 square feet, with 6 bedrooms and 5 ½ bathrooms. It also includes exquisite plaster ceiling molds, a fireplace accented with turquoise tile, and a 1,500 square foot terrace that wraps around the building's top tower.
Justin Bieber – $25.8 Million
The Biebs and his new wife Hailey needed a place to call their own so they bought this beautiful $25.8 million mansion in the North LA neighborhood of Beverly Park. Not just anyone can get themselves into Beverly Park, so don't expect to drive by and see Justin mowing the grass.
The Biebers managed to get incredibly lucky with this property. It had been on the market on and off for years and was originally listed at $42 million. They managed to buy it for a little more than half of that price. Maybe he isn't all good looks, vocals, and dance moves after all?
Aaron Rodgers – $28 Million
You'd think that after winning multiple MVPs with the Packers that Rodgers would have the best house that Green Bay has to offer. Well, he might, but he also has a $28 million Malibu mansion that he purchased with ex-girlfriend Danica Patrick in 2019. Before that, the property was owned by singer Robbie Williams and even leased to Janet Jackson before that.
Naturally, the Malibu house is right on the beach and has an entertainment room with all glass doors. That makes it easy to transform the space from an indoor setting to an outdoor setting, which is ideal for Rodgers to enjoy the precious free time he has in the offseason.
Jennifer Aniston – $21 Million
Jennifer Aniston is one of Hollywood's coolest leading ladies. Though she is certainly way wealthier than you will ever be, as well as better looking than you, she seems like she'd be really fun and down to Earth. Her home seems to be a good reflection of that personality.
While not small, Aniston's Bel Air mansion is just 8,500 square feet. It was built in the 60s by famed architect A. Quincy Jones, known for his modernist designs. The home is minimalist in style inside and out and is completely surrounded by gardens and other greenery that helps keep energy in and stress out.
Kylie Jenner – $16 Million
One of the world's youngest billionaires, Kylie Jenner, is probably someone that would have an opulent mansion to spend her days in, right? While the "self-made" part of her net worth topic is one that's up for debate, the opulence of her home certainly is not.
Kylie lives in a beautiful 13,200 square foot mansion in the Hidden Hills neighborhood of Los Angeles. This home cost her $16 million, which is double what she paid for her two other houses. That's right, Kylie already owns two other homes in the LA area and they cost $6 million and $8 million each.
Clint Eastwood – $9.75 Million
One could assume Clint Eastwood's home was inspired by many of his film roles. The man who is known for starring in numerous western movies where his character traveled the on horseback lives in a Hacienda-style home that allows nature to actually come inside.
The Spanish mission-style home that is in Pebble Beach, California has adobe walls, a terracotta tiled roof, and beautiful Spanish wooden doors. In true "Hacienda" fashion, the home is built around a central fountain, which sounds like it would be pretty relaxing.
Tiger Woods – $40 Million
Tiger Woods, once the world's most valuable athlete, has his own little oasis in Jupiter, Florida. The famous golfer's impressive mansion is located right on the beach, has two separate pools, a boat slip, and obviously, it has a private golf course.
The home cost Woods $40 million back in 2006 and is pretty much all a guy like Tiger could ever ask for. Sun, sand, golf, and 9,000 square feet of some nice luxurious Florida living. But one question is, does he have a guy to keep the alligators away, though?
Britney Spears – $3 Million
Here's another reminder that not all the mansions on this list are in LA. In her heart, Britney Spears is just a down-home Louisiana girl. When it came time for Britney to splash the cash on a mega-mansion, she didn't go for the bright lights of Los Angeles.
She ended up going home to Louisiana, where she could be herself. The house set her back $3 million in the year 1999, but it's very far away from TMZ's cameras so it may have been worth it. Her sister Jamie Lynn lives there now, which is a pretty sweet deal.
Will Smith and Jada Pinkett Smith – $42 Million
While some of the homes are understated, others are pretty ostentatious. You would need a map with a "You Are Here" sticker when visiting Will Smith and Jada Pinkett Smith's home. The Smith home is located in Calabasas, California, and sits on 150 acres of land.
The "home" itself totals 25,000 square feet and took seven years to finish. With a house this big, the Smiths drew inspiration from multiple regions. If you ever get to visit you'll notice themes of Asia, the Mediterranean, and Africa. The front door was salvaged from a fort in India.
Jake Paul – $20 Million
In 2021, Jake Paul and his brother Logan both spent more than $20 million on a pair of penthouses in the E11even Residences Beyond tower in Miami. Each condo that the Paul brothers bought in the 65-story hotel and residence skyscraper has three bedrooms and its own plunge pool.
The E11even Residences Beyond tower is located in downtown Miami and comes with ridiculous amenities for its residents, including a casino, a spa, and a rooftop area that is bound to have amazing views when the building is completed. The starting price for condos in the building is $300,000, so one can only imagine what a $20 million condo will look like.
Ariana Grande – $13.7 Million
Ariana Grande lives atop the Sunset Strip in a neighborhood called Bird Streets. Now you might be wondering how the neighborhood got its name. No, it isn't because there are an abundance of birds living there, it's because all the streets are named after birds.
AG's place is in the heart of the neighborhood that's getting increasingly crowded with celebrities. Leonardo DiCaprio, Tobey Maguire, Jodie Foster, and Keanu Reeves all live on an avian named road in Los Angeles. Ariana's place cost her a cool $13.7 million.
Justin Timberlake and Jessica Biel – Price Unknown
Celebrities often move around, buying and selling properties like they were trading in a used car. But that's not Justin Timberlake's style. He bought this Mulholland Drive mansion from actress Helen Hunt in 2002 and has been there for 20 years now.
The occupancy has since grown as he's welcomed his wife, Jessica Biel, and their two children. The house is 12,000 square feet and has 5 bedrooms and 8 bathrooms. There's even a sprawling guesthouse on the property. Recently, Timberlake added a full-size basketball court, a putting green, and a swimming pool.
Elon Musk – $23 Million
Elon Musk is a skilled businessman in many facets and industries; real estate being one of them. In December of 2021, the world's richest man sold his last remaining home, a 47-acre estate in Hillsborough, California, in the San Francisco Bay Area for $30 million.
Musk had bought the house in 2017 at a little over $23 million from Christian de Guigne IV, who had reportedly owned the property since the 1860s. The Tesla and SpaceX tycoon has previously said that he wants to sell most of his possessions to fund a colony on Mars.
Pete Davidson – $1.2 Million
Obviously, celebrities aren't lining up to live on Staten Island, but that's where Davidson grew up, so that's the place he continues to call home. After all, he did star in "The King of Staten Island." To his credit, he probably lives in the nicest place Staten Island has to offer.
Davidson's condo cost $1.2 million and has just two bedrooms. However, it has an open floor plan and is located close to the water with brilliant views of Manhattan. There are high ceilings, tons of natural light, and a waterfall installation. If nothing else, it seemed to impress Kim Kardashian, who reportedly visited soon after Davidson bought it in December 2021.
Mel Gibson – $30 Million
Mel Gibson has homes all over the world at this world. That's the perks of being one of Hollywood's biggest stars of all time. This home, his Costa Rican estate that is called Playa Barrigona, is without a doubt the most lavish. It's 500 acres in size that includes 2 miles of beachfront.
Essentially, the Braveheart star has his own private jungle and as much beach as a man could want. The property also happens to include three houses. The main home has seven bedrooms, eight bathrooms, and balconies overlooking a courtyard pool.
Jennifer Lopez – $28 Million
Jennifer Lopez's home is as incredible as she is talented. Lopez's home was built in the 1940s by famed designer Samuel Marz and features nine bedrooms and thirteen bathrooms. The home has floor-to-ceiling windows, its own pub, and a 30-seat movie theater.
One person who you will not be seeing at J-Lo's home is her former fiancé Alex Rodriguez after they decided to split up in April of 2021. They lasted longer than anyone else has been able to stand being with the former baseball superstar. Most recently, J-Lo has gotten back together with old flame, actor Ben Affleck.
Miley Cyrus – $5.8 Million
Miley Cyrus may have hopped off a plane at LAX with her dreams and her cardigan, but her home is in Nashville, Tennessee. But like in Los Angeles, even modest homes in Nashville are big and expensive. The reason is pretty simple – it's the home of country music!
The former Disney channel star's home is a modern 7,000 square-foot farmhouse. It has a pretty modest 5 bedrooms and 4.5 bathrooms. It's the perfect place for Miley to entertain and relax when she's not swinging back and forth on wrecking balls. It cost her $5.8 million.
Whoopi Goldberg – $28 Million
Whoopi Goldberg's home in the Pacific Palisades district of Los Angeles was built in 1933, and she owned it from 1993 until its $8.8 million dollar sale in 2019. Situated on 0.67 acres, the property features lush landscaping that flanks a 7,000-square-foot home. The house has six bedrooms, seven bathrooms, and lots of living space across its two stories.
Goldberg is one of only 15 people in history to win an Emmy, Grammy, Oscar and Tony, a grand slam of awards commonly referred to as the EGOT. She's been a host on "The View" since 2007, and came under intense backlash in 2022 for making insensitive remarks. This led to her temporary suspension from the show, followed by a hiatus through early May 2022.
Mark Wahlberg – $13.95 Million
It shouldn't come to as a surprise to you that Mark Wahlberg has done alright for himself. Ok, that's a bit of an understatement. Mark Wahlberg is one of the planet's biggest movie stars, so of course, he has a 30,000 square foot mansion in Beverly Hills.
The huge home was designed by famous LA designer Richard Landry and has 11 bedrooms and 18 bathrooms. It's designed in a classic French estate style and features and pool, spa, and full-size basketball court. Want to practice your golf game? It's got a putting green too.
Howard Stern – $52 Million
It may come as no surprise to you that being the king of mass media pays pretty well. Howard Stern is the dominant radio personality of the 21st century and has a big enough following to parlay his mature radio show fame into gigs on network television.
So naturally, he's going to have a mansion that is fit for a king. Very little is known about the inside of the home, but the outside is sweet enough. Stern's Floridian paradise has multiple buildings, pools, and even has an oceanfront view, though everyone else will have to guess what is inside.
Cooper Kupp – $4.1 Million
Cooper Kupp was never projected to be a star in the NFL, but he did have a phenomenal 2021 season, that ended with a Super Bowl MVP award and Super Bowl ring. He has made good use of his money, spending over $6 million on two homes, including his primary residence in Westlake Village, California, a 7,000-square-foot Mediterranean style that cost $4.1 million.
While it looks great from the outside, it doesn't even compare to the inside, starting with a twin staircase in the foyer. There are high ceilings in the dining room, a classy billiards room, and a chef's kitchen. Also, since it's Southern California, there's a pool out back and an outdoor (cut-covered) living room with a fireplace.
John Legend and Chrissy Teigen – $17.5 Million
Is there a more couple with more star-power than John Legend and Chrissy Teigen? Legend himself has an EGOT, having won Emmy, Grammy, Oscar and Tony awards, and Teigen is a model and master of social media. With their powers combined, they must make their Beverly Hills neighbors jealous.
Their $17.5 million mansion comes complete with a home theater, an infinity pool, and a wine cellar. The home is over 10,000 square feet and has 6 bedrooms and 9 bathrooms. That's certainly a lot of toilets to have to scrub, but they probably have help for that.
Jeff Bezos – $165 Million
The richest man on this list, and nearly one of the wealthiest in world, has the most expensive home on the list. Bezos' Beverly Hills mansion cost a residential real estate record price of $165 million. Sure that's nothing for a man worth an estimated $177 billion.
Bezos bought what's known as the Warner Estate from media tycoon David Geffen in February of 2020. If the home looks familiar, that's because it should be. The property was the television home of the Clampett family on the Beverly Hillbillies in the 1960s.
Ellen DeGeneres and Portia de Rossi – Price Unknown
Legend has it that when Ellen DeGeneres was growing up the family was too poor to own their own home, and was always renting. When she earned her fame and wealth, buying homes became a bit of an obsession for DeGeneres, who is now on her seventh home.
She and her wife, Portia De Rossi have great taste and a passion for interior design. This home, pictured here, has 5 bedrooms and more bathrooms than a couple could use in a week. That being said, the home has terrific natural light and is really comfortable.
Lil Wayne – $10 Million
Lil Wayne just sold this house a few years ago, but the place is a doozy so we have to show it to you. There's nowhere to start but with the shark pool that's built in. That's right; the home comes with a pool of sharks. There's also a separate shark-less pool for humans to enjoy.
The home recently sold for $10 million, which was a good deal considering it was listed for $12 million. The property includes a rooftop skate park, a movie theater, a recording studio, and even a private dock. What would a waterfront Miami Beach property be without a private dock?
Harry Styles – $4.9 Million
Unfortunately, Harry Styles no longer owns this impressive plot of land in Los Angeles. Styles sold this home in 2019 for $4.9 million. It would be interesting to know how much the value of the house went up just because the realtor was able to say "Harry Styles lived here."
The former One Direction frontman, who is a native of England, now owns just three homes. Incredibly, all three are actually in England. Considering, it's not that big of a country, you'd think he'd want to spread them out a bit more. But to each his own.
Joe Burrow – Price Unknown
There's no shame in living with your parents; even NFL quarterbacks do it. At the time he was the no. 1 overall pick in the NFL Draft in 2020, Joe Burrow was still living with his parents in Athens, Ohio, with his dad being the longtime defensive coordinator at the University of Ohio.
The kicker is that Cincinnati is only a couple of hours from his hometown, so he didn't have to move far when the Bengals drafted him. When he signed his NFL contract for $36 million, the young QB's dad joked that "we finally got him outta our basement." Burrow, who came back from injury to make the Super Bowl in 2021,  has said he's planning to live off his endorsements and keep his NFL salary in the bank, so don't expect him to move into a palatial estate anytime soon.
Rihanna – $22 Million
Nearly a decade ago when Rihanna returned to her native Barbados for the holidays, she decided to give this huge home a test drive. She would rent it out for the festive season and fell in love with the property. A mere $22 million later and the home was all hers.
The question you're likely asking is, what was her current home in Barbados like if she needed to rent out a mansion for the holidays? Either way, she won't need that home anymore as she's living large in this estate, which has five-bedrooms overlooking the Caribbean Sea.
Bill Gates – $123 Million
You might think Bill Gates is a stuffy computer nerd who gets more excited about code than real-life things. Maybe you've seen that old grainy video of him dancing on stage at a Microsoft launch. Well, try this on for size, Bill Gates has a 200-foot trampoline room in his house.
That's really cool, but the rest of his house is pretty great too. The Medina, Washington mansion is 66,000 square feet and took seven years to build. The house cost $63 million to build but is now worth $123 million. That's the kind of business sense you'd expect from a guy like Bill Gates.
Dwyane Wade and Gabrielle Union – $6.2 Million
We have plenty of details about the home Dwyane Wade and Gabrielle Union bought because it went back on the market in 2021. The couple purchased their Sherman Oaks, California home for around $6 million in 2018, but had an initial asking price of $6.2 million.
They ended up selling it for $5.5 million, a little more than half a million than they bought it for. The Mediterranean style home has a 180-degree view of the San Fernando Valley and includes 5 bedrooms, and a stunning circular staircase right down the middle of the home. Take a look at Zillow and see what else it has to offer.
Jerry Seinfeld – Price Unknown
What's the deal with this huge house?! Forgive us for the joke, but there is actually something special about this house. Seinfeld's Long Island, New York mansion wasn't his originally. He bought it in 2000 from its original owner, Long Island's own Billy Joel.
The house is a monster that sits on 12 acres, has two pools, and a 22-car garage, which shouldn't come as a surprise. The home includes a three-bedroom guesthouse. What touches has Seinfeld put on the property? Well, the lifelong Mets fan installed a regulation baseball diamond on the property, as well.
Hayden Panettiere – $3.07 Million
Full disclosure that this is actress Hayden Panettiere's former home in the Hollywood Hills. Before she needed to move to Nashville, Tennessee to star in the drama series Nashville, she lived in this mansion. It's a 3,120 square-foot, 3-bedroom abode.
What the home lacks in size it makes up for in amenities. Panettiere's home has a state-of-the-art kitchen, a stunning pool, and decks that give relaxers a wonderful view of the city. Her former next-door neighbors were Drew Barrymore, and Slash from the band Guns N' Roses.
Matthew Stafford – $19.6 Million
New LA Rams quarterback Matthew Stafford paid $19.6 million for a Southern California mansion that wasn't even built yet. The home is in Hidden Hills, California, which is well-known for being filled with the rich and famous, including members of the Kardashian family. With having won the Super Bowl in his first year in LA, it's safe to say, he'll be sticking around for the long haul.
Stafford's new home apparently sits on two acres of property and is around 15,000 square feet. There are six bedrooms and nine bathrooms, as well as a home theater, library, fitness center, and massage room. The massive house even has two temperature-controlled wine cellars since everyone knows red wine and white wine can't be stored at the same temperature.
The Weeknd – $18.2 Million
Stop on by this Hidden Hills neighborhood home in Los Angeles where it's always the weekend. Please excuse the bad joke and take a look at the property that singer The Weeknd used to call home. The former Super Bowl performer bought the 12,500 square-foot home back in 2017.
The Weeknd paid a cool $18.2 million for the home. But in 2021, he actually sold it to another former Super Bowl entertainer. In the spring of 2021, Madonna ended up buying the property for $19.3 million, and considering he initially listed it for $25 million, she may have gotten a good deal. The house has a garage full of luxury cars, and a basketball court.
Ed Sheeran – Price Unknown
Ed Sheeran's home may look modest given his fame, but rest assured that's exactly what he wants. Sheeran purchased the property in 2012 in his native country of England. It comes complete with everything one of the world's most famous bachelors could want.
Just some of the amenities that his place include a gym, a pool, obviously a recording studio, and even a 26-foot-tall treehouse. There's also an outdoor kitchen and even a man cave. However, if you're a single man living alone, isn't your entire home your man cave?
Dr. Dre – $40 Million
Here's another home with famous provenance. Dr. Dre, one of the GOATs of the rap game, bought this house from another GOAT, Tom Brady and his wife Gisele Bundchen. The estate cost Dre a cool $40 million. That's probably why those Beats headphones cost so much.
The home has 5 bedrooms, an infinity pool with a poolside cabana, an outdoor kitchen, and a bathtub. And if you're worried about being invaded by a neighboring tribe, the home comes with a moat. Yes, a real moat. No word yet on whether it's filled with alligators.
Gwen Stefani – $15.5 Million
Gwen Stefani purchased her home from Jennifer Lopez. So, the musical talent that has lain their heads on their pillows in this house is pretty astounding. "The Summit," as it's known, has six bedrooms, including a master suite with two separate master bathrooms.
The home also happens to have 5 fireplaces, a guesthouse, an infinity pool, an outdoor kitchen, and a tennis court with lights. But what's the the crown jewel of this awesome estate, you ask? Having fresh eggs every morning from the onsite chicken coop.
Sting – Price Unknown
If there's one place you'd want to live in Manhattan, it's in an apartment overlooking Central Park, right? Well, if you're Sting the answer is definitely yes. He and his wife Trudi Styler own this magnificent apartment. Floor-to-ceiling windows in every room bring the lights of the city inside and provide stunning views of the park.
An open fireplace accents the living room, and a double sculptural spiral staircase makes going upstairs and down an elegant experience. The building the apartment is in features a pool, fitness center, a movie theater, and a private restaurant just for residents.
Jack Nicholson – Price Unknown
Jack Nicholson has been in Hollywood for a long time. Like a really long time. As in, six decades at this point. He's been a showbiz staple for so long that he's owned four properties on Mulholland Drive, and the one he bought from Marlon Brando was demolished years ago.
This property here he's owned since July 1969. The home is 3,303 square feet and has a pool. If those walls could talk. But back to Jack's other homes. He used to own a home on Mulholland that had an underground tunnel that led directly to Hugh Hefner's Playboy Mansion.
Jay-Z and Beyoncé – $88 Million
Jay-Z and Beyoncé are still relatively new neighbors in their Bel-Air neighborhood. The power couple bought their 30,000 square-foot mansion in 2017 for $88 million, which would be a ton for most of us, but it's simply a drop in the bucket for these two moguls.
This place has a plethora of patios and terraces overlooking the city, four, count 'em, four swimming pools, a spa, and a wellness facility, and is actually made up of 6 buildings altogether. And for one of the OG's of rap, the home comes with bulletproof glass windows and walls…just in case.
Aaron Spelling – $160 Million
Even if you don't know the late Aaron Spelling by name, you know his work. He was a legendary Hollywood producer responsible for Charlie's Angels, Beverly Hills, 90210, and Charmed, just to name a few. But just as famous in Hollywood is his home, the Spelling Manor.
Spelling knocked down Bing Crosby's old mansion to build his 56,000 square foot, 123-room home. It's commonly acknowledged to be the largest home in Los Angeles County. This estate has four rooms for gift wrapping, a humidity-controlled room for storing silver, and many rooms to display his wife's collections.
Greta Thunberg – Unknown
An outspoken climate activist, Greta Thunberg is most known for her speech at the Global Climate Summit in 2019. She became famous for scolding world leaders for their lack of effort and support to curb climate change.
At only 19 years old, Greta has an estimated net worth of $1 million. She lives a very quiet life and just last year she moved out of her parent's home. She lives in Stockholm, Sweden with her two dogs.
Oprah – $50 Million
No woman has achieved more in this country than Oprah. She's become the queen of television and the queen of our hearts. Who doesn't love Oprah? Maybe not her groundskeeper. Oprah lives on a 70-acre estate called, the "Promised Land." That's a lot of shrubs.
The property includes a rose garden, as well as multiple terraces, and fountains. The house is a 23,000-square-foot-home built in the neo-Georgian style. The home that was purchased for $50 million in 2001 is located in Montecito, California and is now worth over $100 million.
Denzel Washington – $2.6 Million
Denzel Washington's mansion would be better described as a complex rather than a home. The do-it-all Hollywood star owns this home off Mulholland Drive between Los Angeles and the San Fernando Valley. Though just 1.5 acres, Washington has gotten incredibly good bang for his buck.
The accomplished actor bought the home back in 1992 from former Disney CEO Michael Eisner. The complex contains manicured lawns that would make the Palace of Versailles jealous, an enclosed tennis court (because runaway balls are a way to ruin an afternoon), and a breezy pool area. Must be nice.
Dan Bilzerian – $80 Million
Dan Bilzerian isn't a celebrity in the same way that others on this list are, who have become famous through more traditional means from the entertainment industry. He's known exclusively in the world of Instagram, but has nearly no fame outside of the social media platform.
He made his fortune playing poker and parlayed that into an extravagant lifestyle. And his home is just as big as his lifestyle. This thing is 31,000 square feet, has 12 bedroom suites, 23 bathrooms, and 40,000 square feet of patio space. It set Bilzerian back a cool $80 million when he bought it.
Joel Osteen – $10.5 Million
Joel Osteen, one of America's most famous preachers and best-selling authors, lives a life a bit differently than some of the characters in the Bible. Osteen, who sermonizes out of a 600,000-square-foot megachurch in Houston, calls this $10.5 million mansion in Houston his home.
The enormous estate has six bedrooms, six bathrooms, five separate fireplaces, and three elevators. Yes, three. Honestly, if your home ends up needing three elevators, it's probably too big. The mansion also happens to come with a large pool and a guesthouse.
Sean Hannity – Price Unknown
Sean Hannity is known for being one of Fox News' biggest stars, drawing millions of eyeballs as an anchor every night as he defends the conservative right of American politics. He's been handsomely rewarded for his work on the popular network, too.
Hannity owns two different homes, one in Nassau County, New York, and one that's in Palm Beach, Florida. Hannity's New York home is a majestic mansion, built in 2002, and features seven bedrooms, 8.5 bathrooms, and a total of 11,400 square feet of living space.
Tucker Carlson – $2 Million
Another Fox News' pundit that lives well is Tucker Carlson. He is insistent on having his finger on the pulse of Washington politics so he can inform his fans of the goings-on in "The Swamp." As such, Carlson finds it important to live in said swamp.
He lives in a $2 million colonial home in  Washington, D.C. Carlson's residence has seven bedrooms and six bathrooms. The house has a two-car garage and a suite set aside for his au pair. Carlson has four children, so having the live-in nanny certainly comes in handy.
Laura Ingraham – $3.3 Million
Laura Ingraham traded the gilded suburbs of Connecticut for the glistening suburbs of Washington, D.C. when her career took her to the nation's capital. Ingraham bought a massive 7,869 square-foot-home in Mclean, VA, which lies just outside the District.
Her home has 5 bedrooms, 5.5 bathrooms, and sits on 2.1 acres of land. Ingraham purchased it for $1.6 million, and it is currently valued at $3.3 million. That's a pretty sweet chunk of change that the Fox News anchor would make if she decided to move right now.
Ira Rennert – $100 Million
If you don't know one name on this list it might be Ira Rennert's. But he's a billionaire businessman from New York City. Rennert got his start on Wall Street in the 1950s and did a lot of things that are honestly too complicated to explain to earn his wealth.
Whatever it is he did worked out as he was able to build a 63 acre compound in the Hamptons that cost roughly $100 million. It's so big that it angered the locals. One even wrote a book entitled, "The House That Ate the Hamptons." It has between 21-29 bedrooms and up to possibly 39 bathrooms. That's outrageous.
Patrick Mahomes – $1.9 Million
A giant contract typically means a giant house, although even before Mahomes signed a contract extension in 2020 worth a total of $503 million, he purchased a $1.9 million home in 2019. The house is only three bedrooms, which seems somewhat modest for such a big star.
Nevertheless, the home is in a gated community and comes with smart home technology. There is also a chef's kitchen and wet bar. The house is also surrounded by green space and trees while also letting in plenty of natural light. Mahomes' home also comes with a wine cellar and a walk-in closet that could pass for a large home office.
Nick Saban – $11 Million
As far as we can tell, Nick Saban is one of the richest people in Alabama, at least until some of his players get more of that NIL money. At the same time, it's tough to envision him relaxing at his beautiful lakefront home in Tuscaloosa. However, it's hard not to feel relaxed just looking at pictures of the rustic home.
The three-story home has six bedrooms, a boathouse, a wine cellar, and a billiards room that looks straight out of an upscale pub. It sits on 1.7 acres and includes 700 feet of private lakefront property. It also has enough room to host the entire Alabama football team for a meal if Saban were ever so inclined.
Cardi B and Offset – $5.8 Million
With all the LA-based homes on this list, you could forget that other parts of the country have their share of wealthy stars as well. Atlanta is no exception, and this mansion owned by rappers Cardi B and Offset is a perfect example of a celebrity home outside of California.
The couple bought this 22,000 square foot mansion in Atlanta for $5.8 million in the year 2019. It's got classic European architecture inside and out. The home is on a six-acre property that includes manicured gardens, rolling lawns, and a four-car garage.
Mark Zuckerberg – $7 Million
When you look at how cool Mark Zuckerberg's home is, remember he got all of this by reconnecting you with your long-lost high school classmates and then tracking your every digital move on the Internet. With that said, respect to Zuckerberg for going a different direction with his mansion.
Instead of building a state-of-the-art, brand-new mega-mansion, Zuckerberg went with an older home built that was built in 1903, which only cost him $7 million. For a guy worth $97 billion, he probably could have found $7 million in change in his couch cushions.
Sean Connery – $45.7 Million
Of course, the man who was the original man to play James Bond wouldn't lie in just any old slum. Sean Connery laid his head to rest at night in a luxurious mansion that was on the French Riviera. It was a classic French home on an enormous 24-acre plot of land.
Overlooking the Mediterranean Sea, Connery's estate featured an underground fitness center, two guest houses, and an indoor pool. Since Connery's death in 2020, the home has gone up for sale. Living the lifestyle of 007 will set you back at least a cool $45.7 million.
Kim Kardashian and Kanye West – $20 Million
The second member of the Kardashian family to appear on this list, it's fair to say that this is the couple's former home at this point. There were major headlines all over the news when this Hollywood power couple ended up splitting up following years of bizarre behavior from Kanye.
It's still a compound worth showing, though. "Kimye" lived in a $20 million mansion in the Hidden Hills neighborhood of Los Angeles. The grounds covered 3 acres, but that apparently wasn't enough for the couple as they bought the neighboring properties as well.