The Best Quarterbacks In NFL History, Ranked
by Harper Drake Nov 23, 2021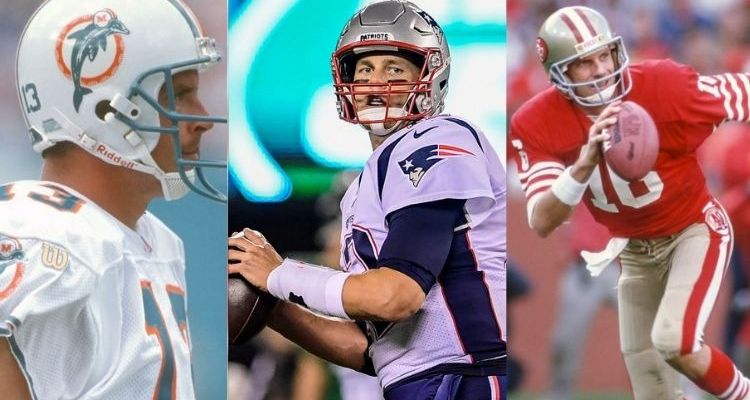 Football fans have spent countless hours in sports bars on Sunday afternoons arguing about how the all-time best quarterbacks stack up against each other. While many great signal-callers like Peyton Manning, Brett Favre, or Drew Bress appear on everyone's lists, it's where they fall in the rankings that make the conversation gets heated. 
QBs who have great stats but have no titles to show for it, like Dan Fouts or Jim Kelly, are hard to measure up against players such as Terry Bradshaw or Joe Namath, who are Super Bowl winners but weren't overly impressive in their careers. Check out these rankings and try not to be too upset when you see who have been deemed the best quarterbacks in NFL history…
#30 – Phil Simms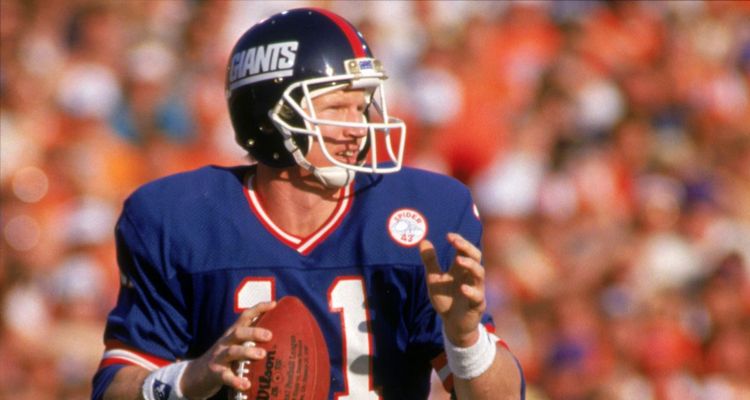 Phil Simms is an example of a quarterback who was able to overcome injuries and have quite a memorable career. The New York Giants' first-round pick of the 1979 draft didn't have a great first few years but finally came into his own in 1984, throwing for over 4,000 yards, and nearly that amount over the next several seasons.
In the 1987 Super Bowl (XXI) against the Denver Broncos, he led the Giants to a huge victory, completing 88% of his 25 passes, throwing for 268 yards and 3 touchdowns. Many have considered it one of the best performances in Super Bowl history.
#29 – Philip Rivers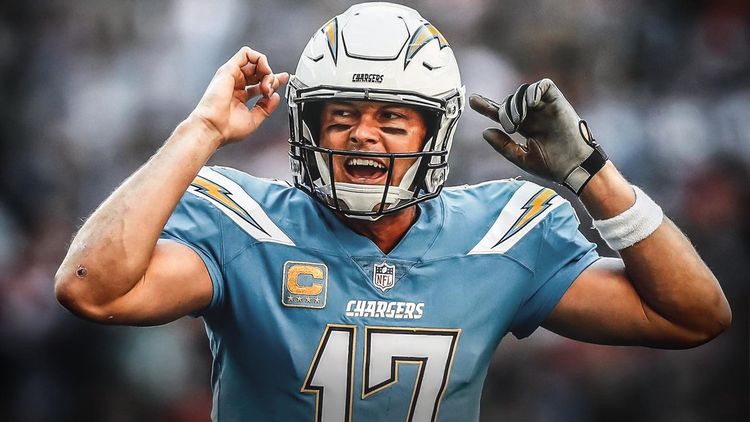 Having retired before the 2021 season, Philip Rivers is maybe one of the more surprising names on the list. But considering he is top-5 in both passing yards (63,440) and passing touchdowns (421) all-time, people may not realize how consistent his numbers really were. 
Rivers consistently put up stats with the Chargers but could never get over the hump of winning in the playoffs. His team's lack of titles puts him on this list, but rightfully at the tail-end of it.
#28 – Ken Stabler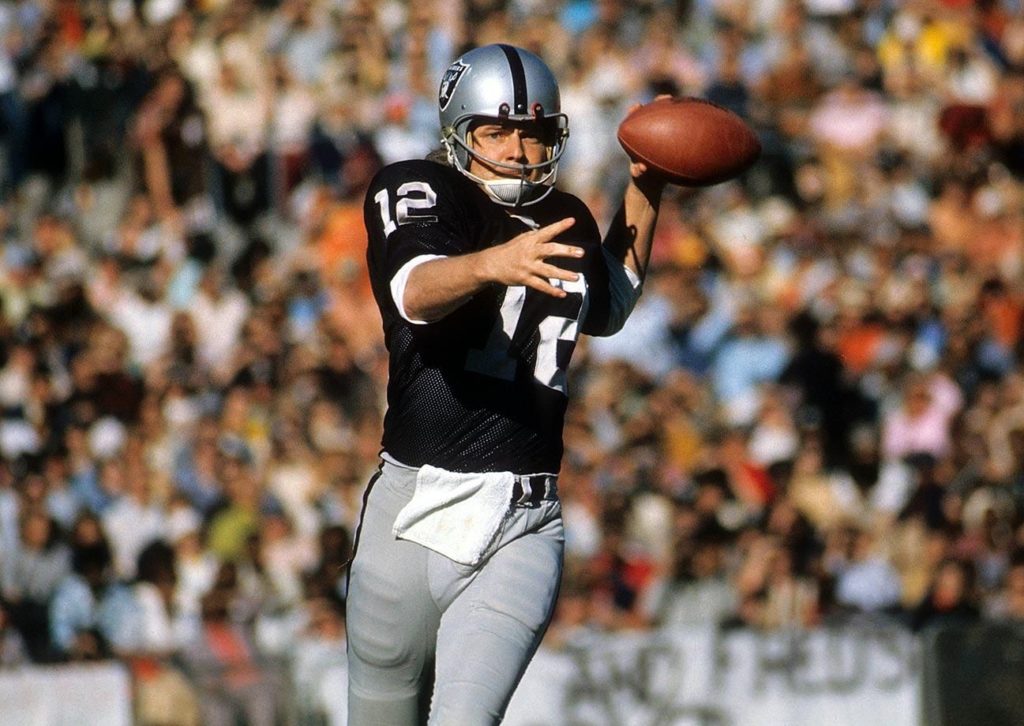 Ken Stabler was the epitome of the rough and rugged Raiders of the 1970s. He led the team to 5 consecutive AFC title games, finally winning the Super Bowl in 1977. 
Stabler was known as one of the most accurate passers of all time when he retired in 1984. Not only that, but he was a premier come-from-behind specialist, with 26 game-winning drives to his credit.
#27 – Steve McNair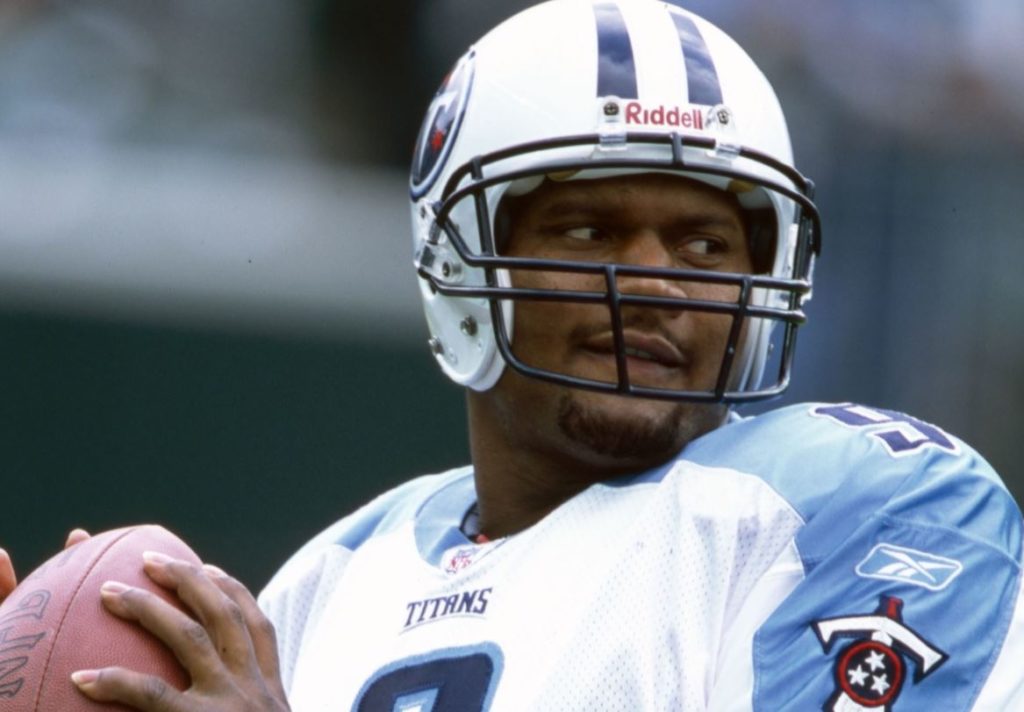 Steve McNair's resume is one of the most underrated out there. He was one of the few pros to come out of Alcorn State and won the 2003 league MVP award with the Tennessee Titans.
He is perhaps best known for the magical season of 1999 and nearly beating Kurt Warner's Rams in the final seconds. Just a single yard short of a Super Bowl title with the Titans, McNair never returned to the big game. But he made his name as a dynamic dual-threat QB, with 30,000+ yards through the air and another 3,500+ on the ground.
#26 – Bob Griese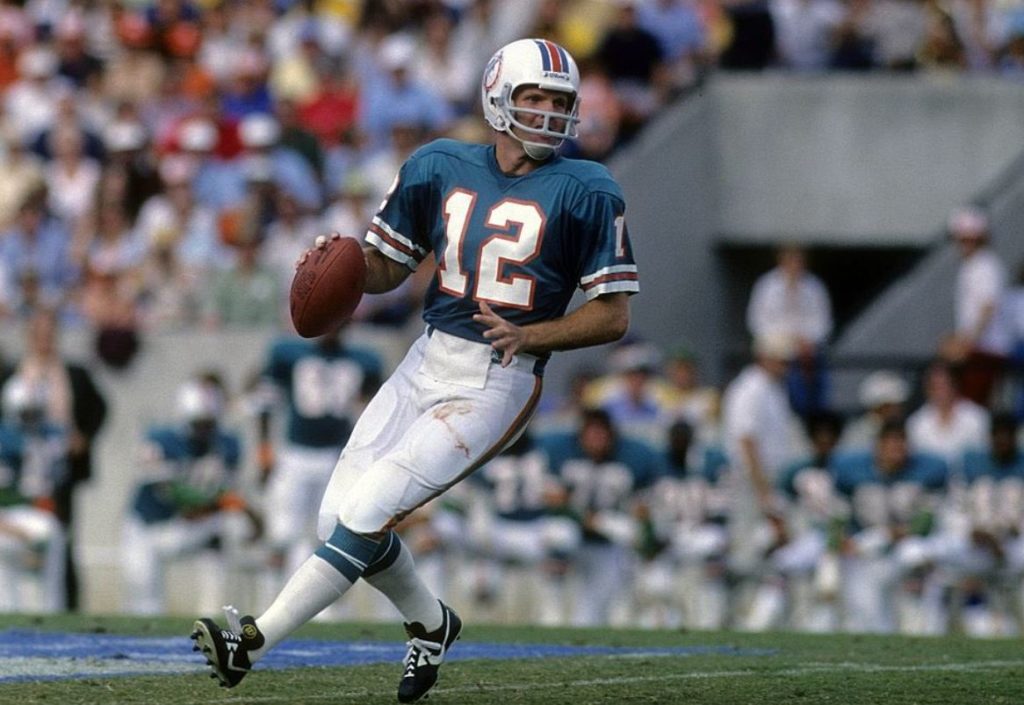 Bob Griese tends to be a bit forgotten in terms of being a great Miami Dolphins' quarterback, mostly because of the legacy that Dan Marino left behind. But he did what Marino never could, which was win a pair of Super Bowl titles. 
Aside for being a vital part of the legendary 1972 team that went undefeated, Griese had such a winning pedigree that he became the first quarterback to start 3 consecutive Super Bowls. With more than 25,000 yards passing and nearly 200 yards, his legacy isn't as revered as it should be.
#25 – Len Dawson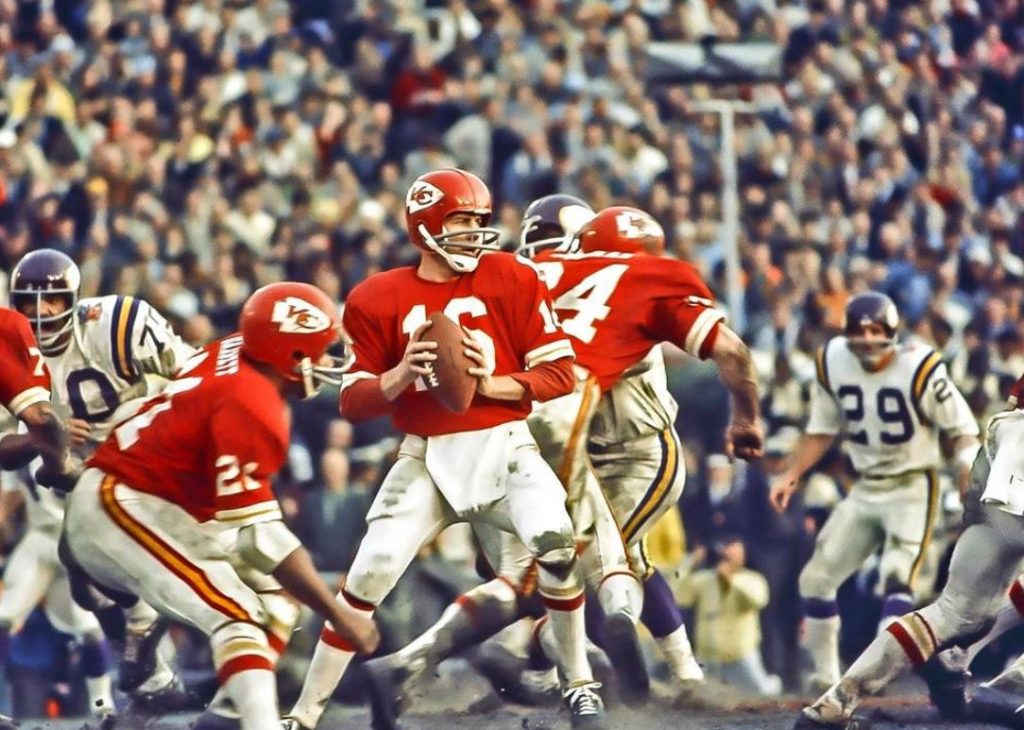 Len Dawson was a winner, both in the AFL and NFL with the Kansas City Chiefs. He won AFL titles in 1962 and 1966 before winning a Super Bowl title to cap it off. From 1962-69, he threw  an impressive 182 touchdown passes, the most of anyone during that span.
Dawson was known as one of the most accurate quarterbacks of his time. His seven Pro Bowl appearances and four times being at the top of most touchdowns per season prove what a winner he was.
#24 – Joe Namath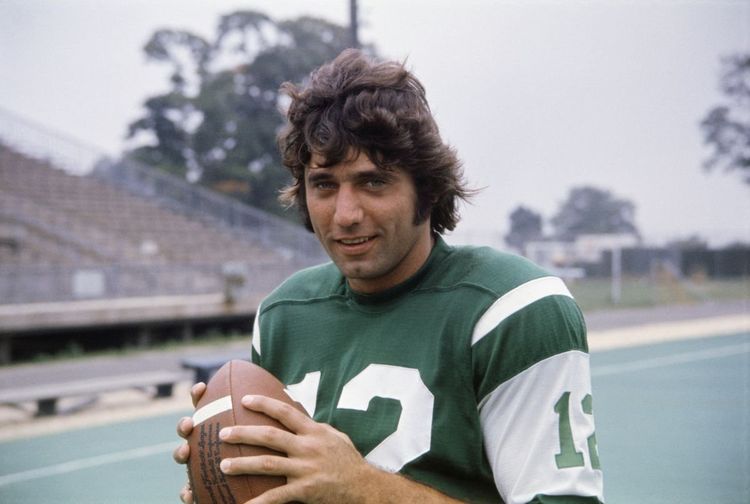 "Broadway Joe" Namath was arguably as big a name off the field as he was on it. While he was a media darling known for his humor, good looks, and fashion, he also proved himself on the gridiron as well.
He won a title in 1968 for the Jets and threw over 4,000 yards, but he showed skeptics his worth in Super Bowl III. He guaranteed a win (and later secured it) against the heavily-favored Baltimore Colts, marking one of the greatest upsets in sports. The next time he'd play Baltimore, he threw for six touchdowns and nearly 500 passing yards against boyhood hero and legendary quarterback Johnny Unitas.
#23 – Jim Kelly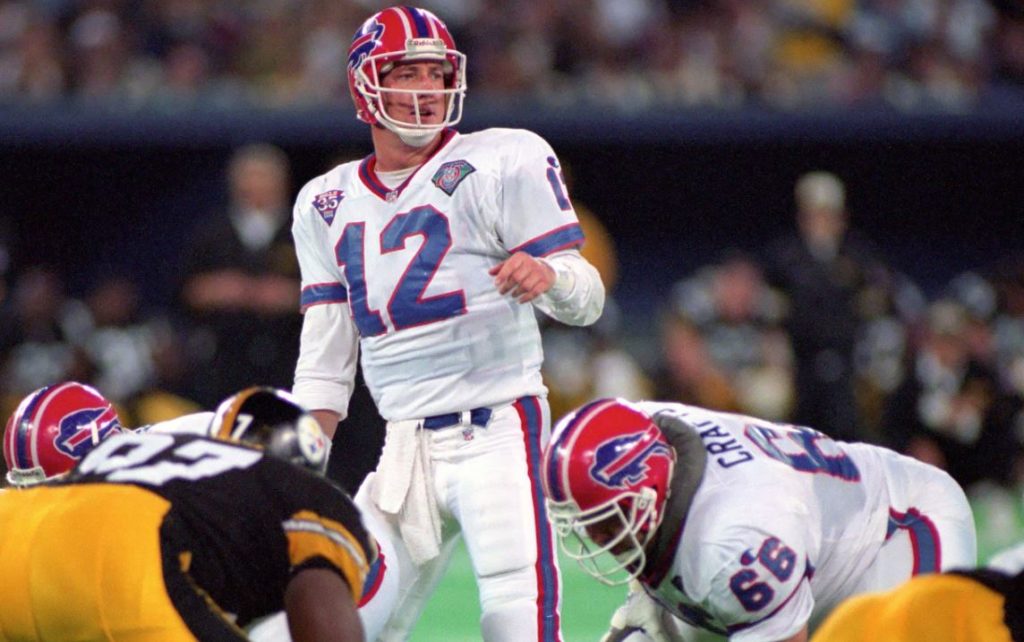 The leader of the Buffalo Bills' "K-Gun" offense, Jim Kelly is the only quarterback in history to lead a team to  four straight Super Bowls. Of course, if he had won a single one of them, his legacy may be different.
Still, Kelly finished in the top-10 in just about every significant category when he retired despite playing just 11 years in the NFL. He remains one of the biggest "what if" cases in football as fans wonder what would have happened if he hadn't started out in the USFL.
#22 – Eli Manning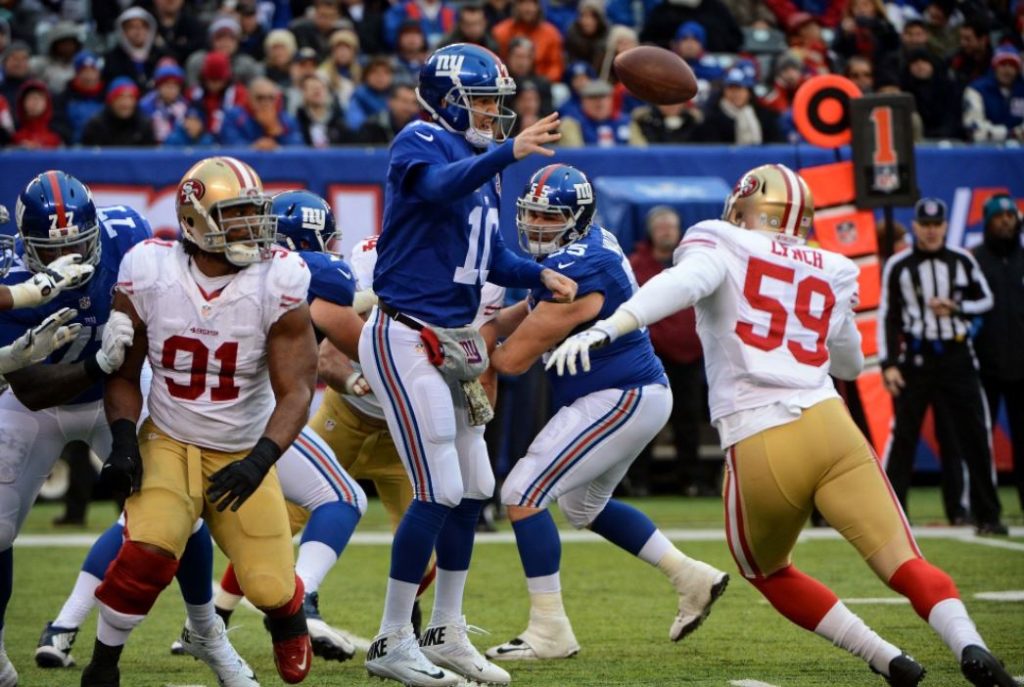 While many might not put him on the list, Eli Manning was indeed one of the most successful quarterbacks. Leading the New York Giants to two Super Bowl titles in four years, with one coming at the expense of the New England Patriots' dynasty, he secured his place in history. 
Playoff-success aside, he also holds the second-longest streak for a quarterback to start, at 210 games. Additionally, he is in the top-10 for passing yards (57,023) completions (4,895), and touchdowns (366), proving that this other Manning brother certainly made a name for himself during his career.
#21 – Warren Moon
Statistically-speaking, there are few quarterbacks that can match Warren Moon's resume. Best-known for his time with the Houston Oilers, Moon made 9 Pro Bowl trips and earned an Offensive Player of the Year award in 1990.
At the time of his retirement in 2000, he was in the top 5 in passing yards with 49,325 but the numbers get even more gaudy when you include his USFL totals as well. He was a true gunslinger in every sense of the word.
#20 – Sammy Baugh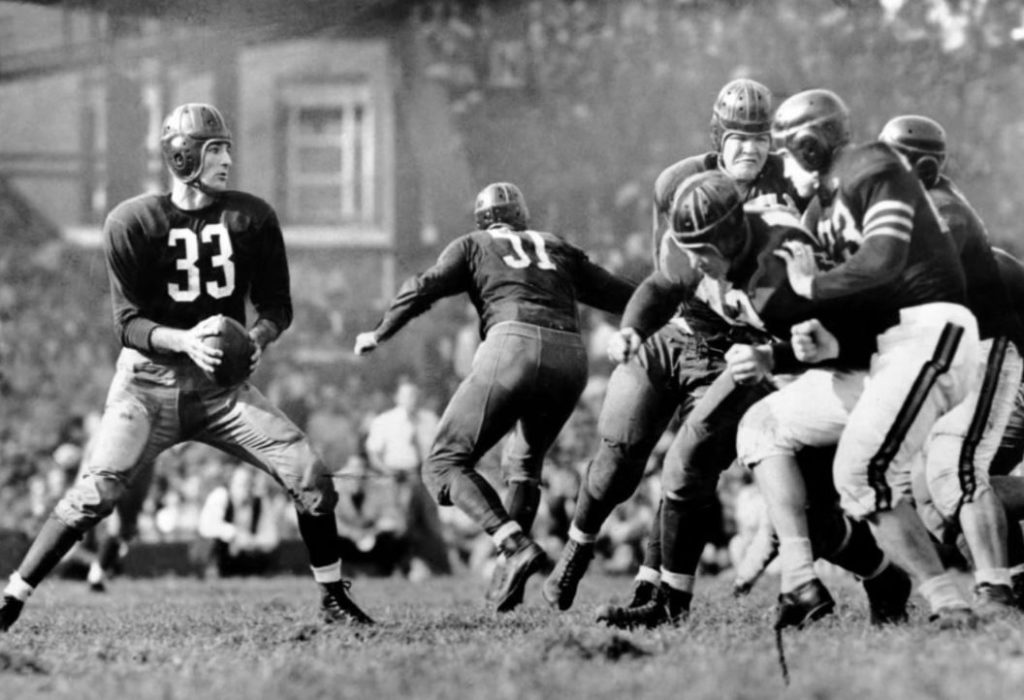 Having the name "Slingin'" probably means you're considered to be a pretty god quarterback. But Sammy Baugh didn't even start at the position, though he would eventually play as a defensive back and punter as well during his time with Washington.
As a member of the inaugural Hall of Fame class, he led the league in completion percentage a whopping 7 times. He also led the league in interceptions in 1943 and won 4 punting titles, proving he could do it all.
#19 – Kurt Warner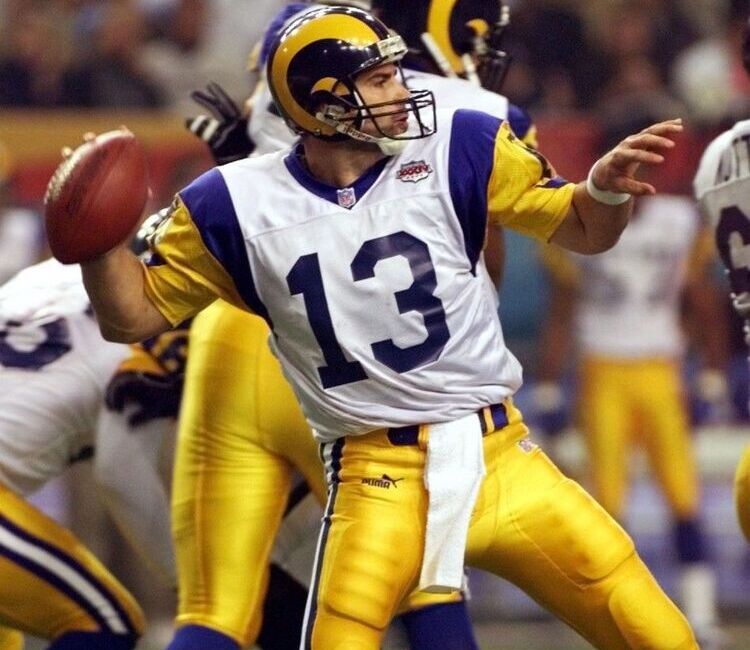 Kurt Warner's tale is one of the greatest stories in football history, going from grocery store clerk to Super Bowl MVP. It's no wonder that a movie about his life, called American Underdog, is coming out at the end of 2021.  
Warner was active just 9 seasons but made the most of that short time. He is only 1 of 2 quarterbacks to make the Hall of Fame without ever being drafted, leading the Rams "greatest show on turf." He tied Dan Marino for the fastest to 30,000 yards (114 games), won a pair of MVPs, and a Super Bowl title.
#18 – Terry Bradshaw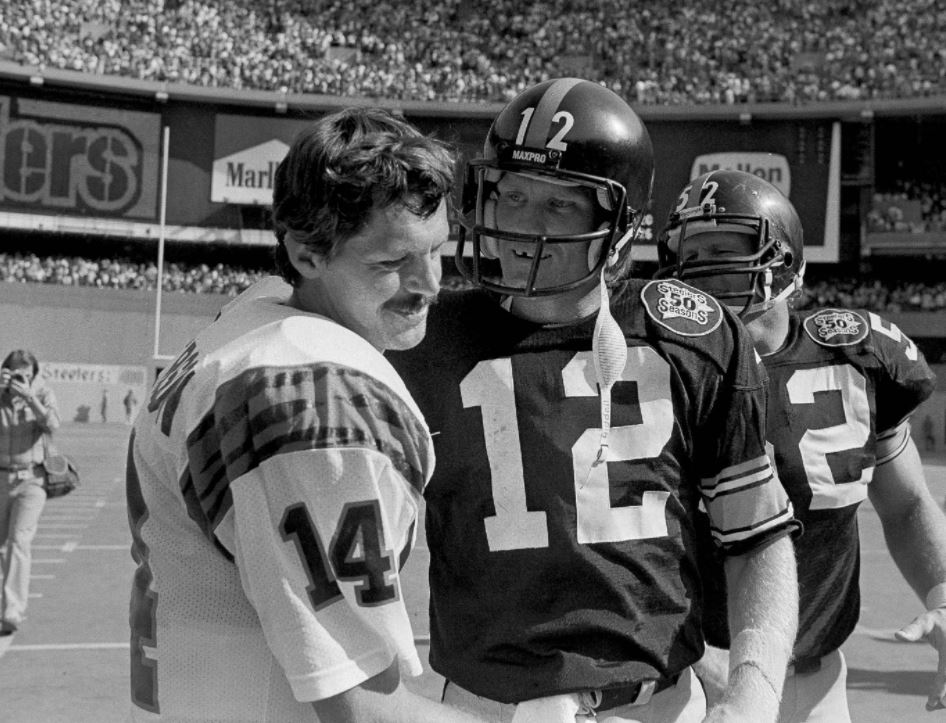 Terry Bradshaw's regular season numbers don't jump out anymore, especially in an era of inflated passing numbers. But when he retired in 1983, there was no doubt that he was one of the best playoff performers ever.
He retired having won 4 Super Bowl championships with the Steelers, for starters. But his Super Bowl records (at the time) of passing yards (932) and touchdowns (9) is what made him a legendary signal caller.
#17 – Roger Staubach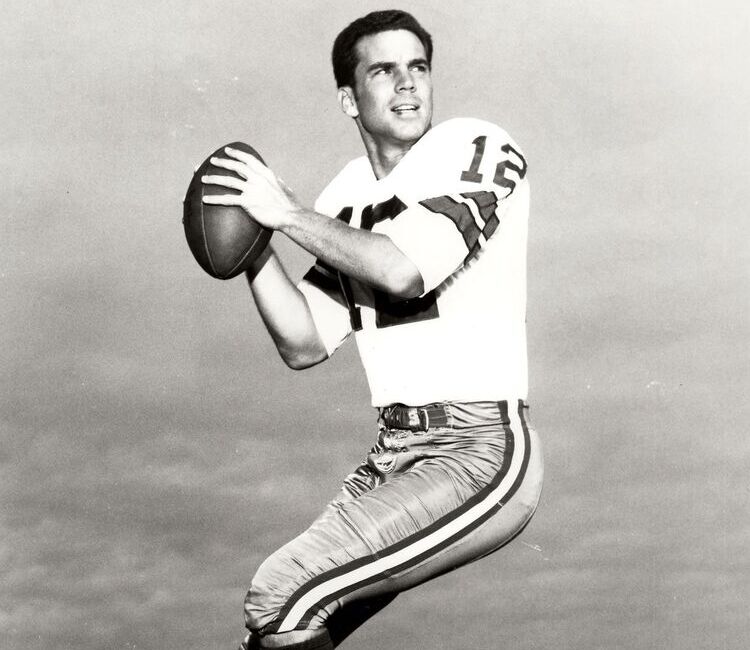 Roger Staubach had the nickname "Captain America," and was naturally the face of the Dallas Cowboys when they became "America's Team" in the 1970s. 
With 6 Pro Bowls and a pair of Super Bowl titles, Staubach became the first of 4 players to win a Heisman Trophy and Super Bowl MVP in his career. His stats are a reflection of the time, but there is little doubt he belongs on this list. 
#16 – Ben Roethlisberger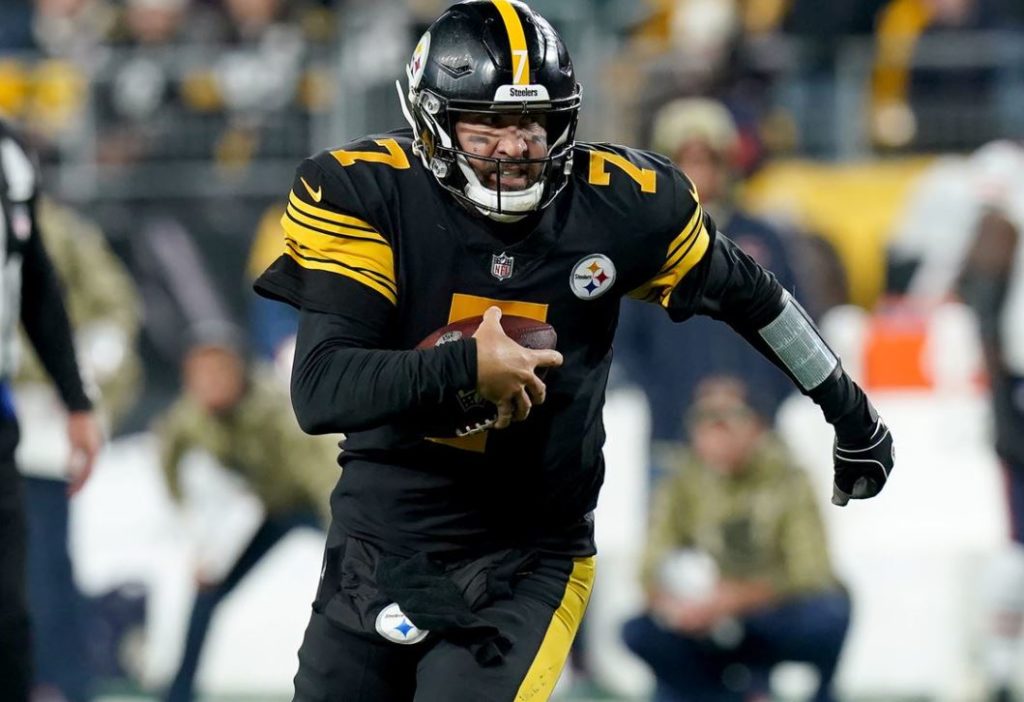 Though he is still playing, Ben Roethlisberger may have one of the most underrated careers ever. But the 6-time Pro Bowler showed what kind of quarterback he was by becoming the youngest QB in history to win a Super Bowl, at the age of 23. 
He set the tone early, winning his first 15 regular season starts and collecting the most wins over his first 5 seasons with the Steelers with 51 victories. He has slowed down in recent years, but he is now in the top 10 in all-time completions, yards, and touchdowns. While he has not confirmed it officially, it is rumored that Ben Roethlisberger is set to retire after the 2021 season. 
#15 – Sid Luckman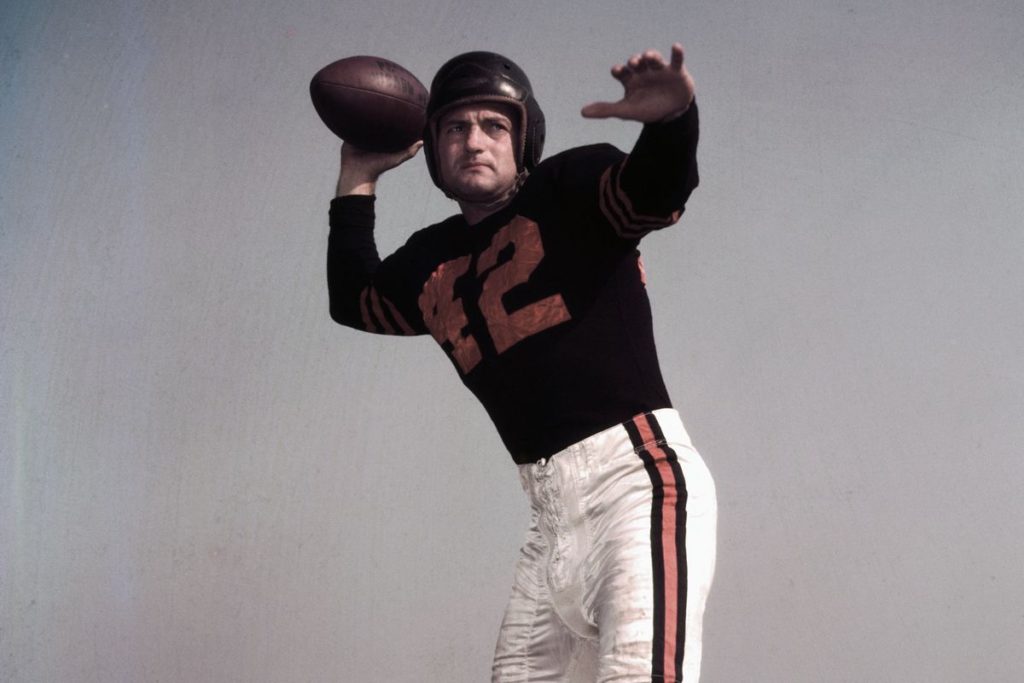 Sid Luckman is one of the toughest names to gauge because having played in the 1940s, most people today didn't see him play. But having 4 titles in 6 years for the Chicago Bears and being one of the most remembered name at the position for the franchise is pretty hard to ignore.
Luckman was also the first modern T-formation quarterback, becoming a pioneer in the game. He went down as second in yards per completion (16.2) and first in passing touchdown percentage (7.9%) when he retired in 1950.
#14 – Otto Graham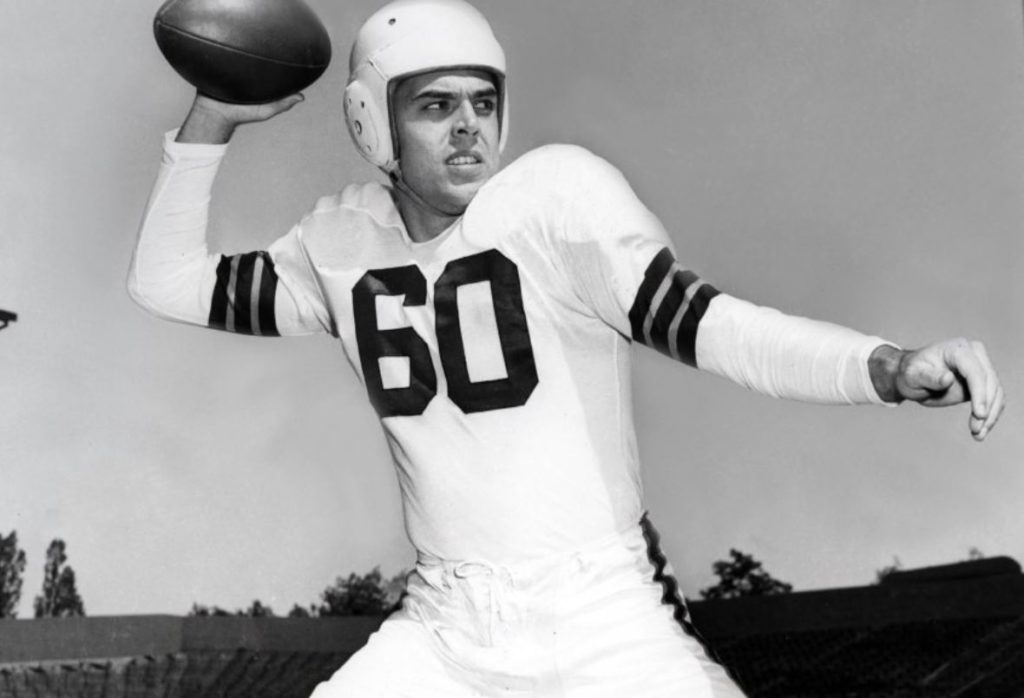 Otto Graham is another player before the AAFC-NFL merger that tends to get lost in the annals of time. But chew on this: Graham reached the league championship game in every single year that he was a Cleveland Brown. That equates to 4 AAFC championship games and 6 NFL championship games, winning 7 of those 10 titles. 
Graham was the driving force behind the offense too. He led the league in passing yards twice and completion percentage 3 times, signifying his place as one of the best signal callers of his era.
#13 – Fran Tarkenton
Fran Tarkenton was perhaps the original dual-threat quarterback of a rusher and passer. Though Tarkenton could not lead the Vikings to a title, he did just about everything else in his time.
The 9-time Pro Bowler captured an MVP, and had the most completions, passing yards, and touchdowns at the time that he retired in 1978. Nearly 50 years later, he is still 6th all-time amongst quarterbacks in rushing yards, too.
#12 – Aaron Rodgers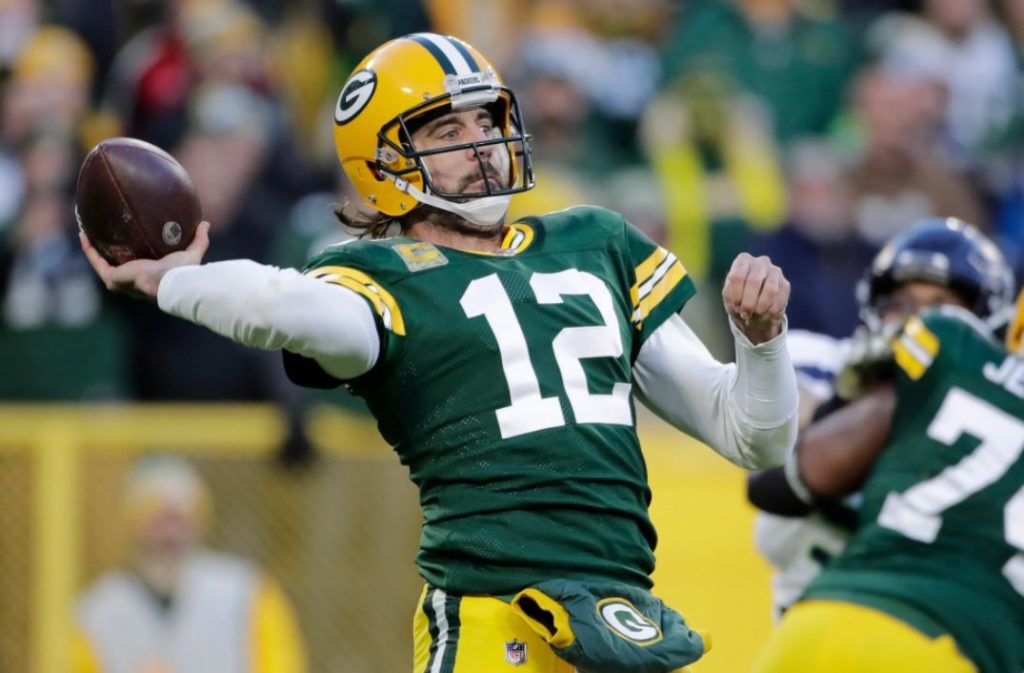 Aaron Rodgers is very reminiscent of the Green Bay legend he replaced: Brett Favre. Arguably the most-talented quarterback in the league playing right now, Rodgers has 9 Pro Bowls, 3 MVPs, and a Super Bowl title to his name.
At 37 years old, he has shown no signs of slowing down. While before the 2021 season there was much talk about Rodgers moving on from Lambeau Field, Rodgers returned and has led the Packers to be as dominant as ever. 
#11 – Bart Starr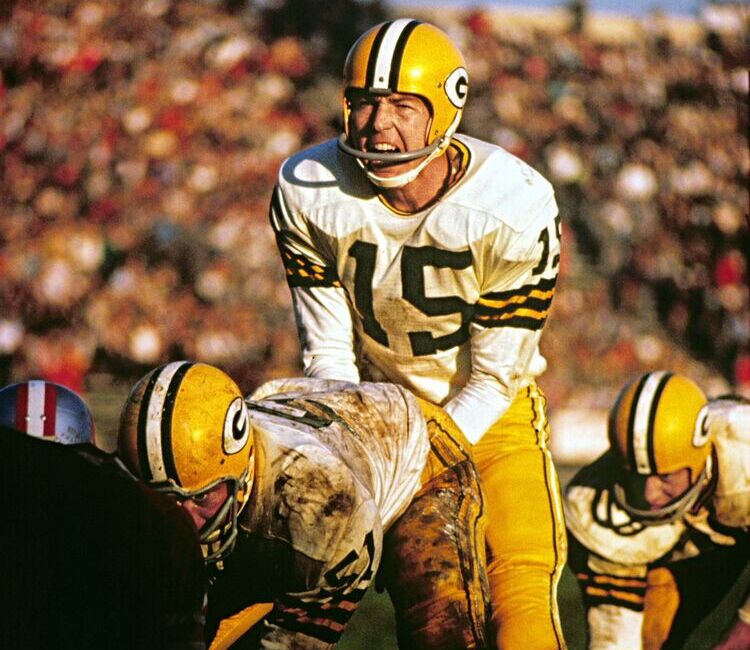 Who would have thought a 17th round pick would become a Hall of Famer in Green Bay?  Bart Starr is the first quarterback to win 5 championships, 3 of them being in the pre-Super Bowl era and then winning the first 2 Super Bowls ever.
His stats don't jump off the charts, but that was more a product of the time. His league MVP award, 4 Pro Bowl appearances and 5 championships speak volumes about his legacy.
Now that we've gone through 20 great QBs so far, let's see who deserves a spot in the top 10. 
Honorable Mention – Matthew Stafford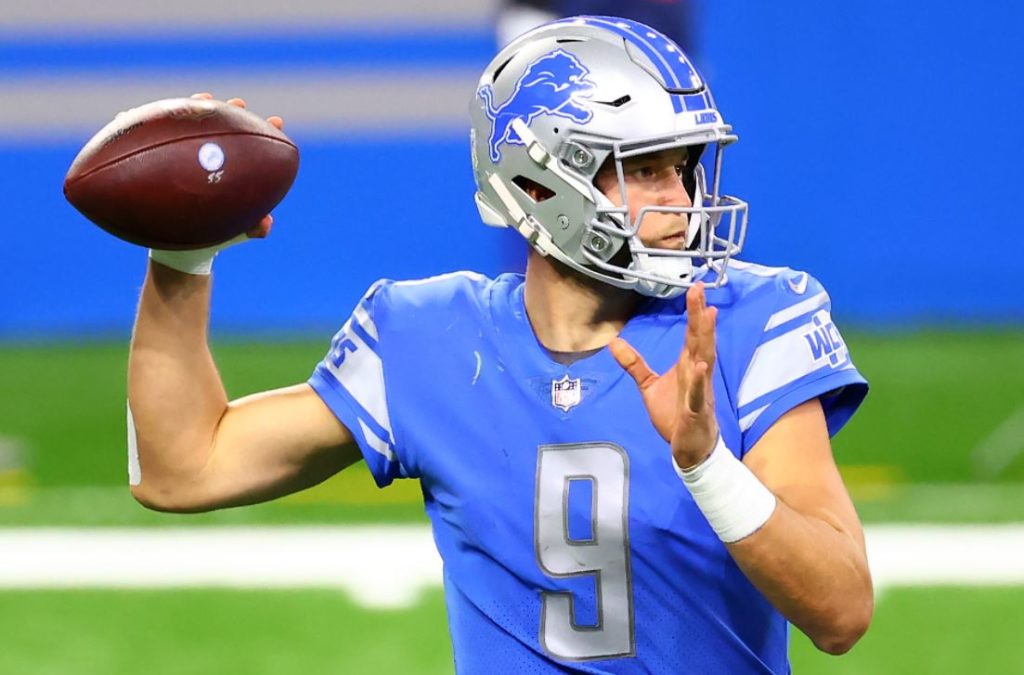 Before jumping into the best 10 quarterbacks ever, let's add some some names of play-callers who just missed the cut to be on this list, and landed just outside the ranks of the top 30 best quarterbacks of all time.
As the 2021 season has shown, if Matthew Stafford had played anywhere but Detroit for most of his career, he'd be on this list, easily. As the former first overall pick in the 2009 draft, he has an enviable resume despite being just 33 years old and been with a lackluster Lions team until 2021. 
Stafford is closing in on 50,000 passing yards, has more than 300 touchdowns, and will only continue to climb the ranks as a member of the Rams. He helped receiver Cooper Kupp have a historic season with 145 receptions, 16 touchdowns, and nearly 2000 yards, and led the Rams to a Super Bowl LVI title. Now that Stafford has a ring, he will certainly get more respect. 
Honorable Mention – Bobby Layne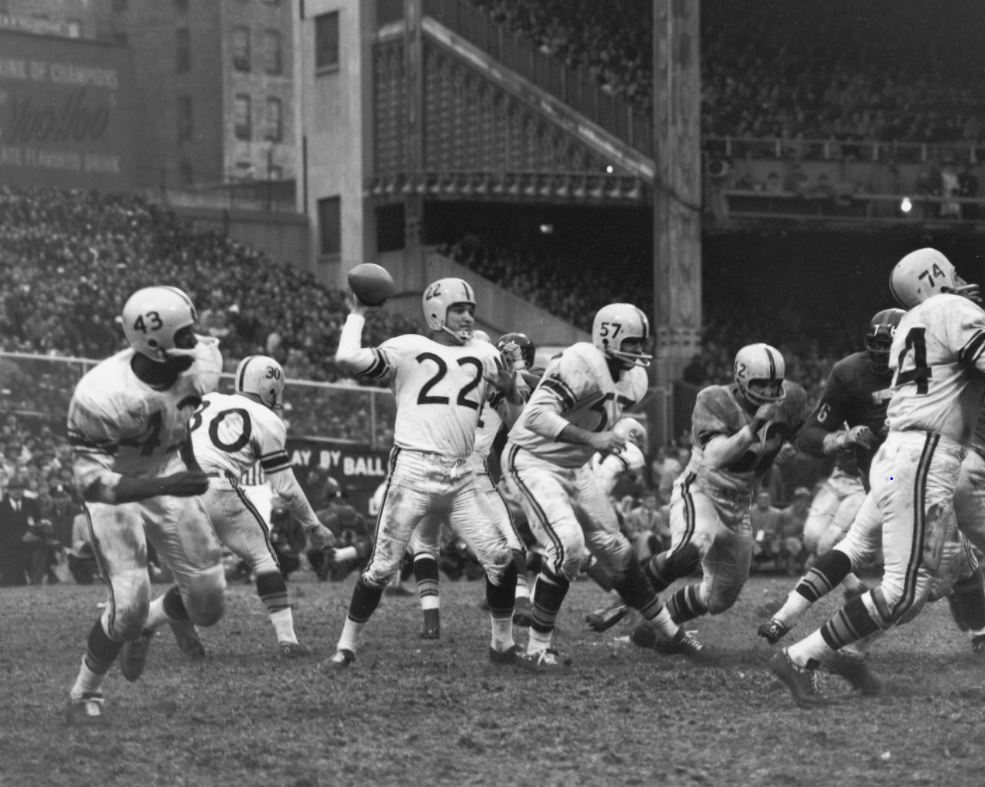 Before Brett Favre, the original gunslinger was Bobby Layne. One of the pioneers of the game that we know today, leading the Detroit Lions to NFL championship titles in 1952 and 1953.
He led the league in passing yardage twice and made the Pro Bowl 6 times over his 15-year career. While his name doesn't usually come up when it comes to great quarterbacks that come to mind, he played a much bigger role in the league than he was given credit for.
Honorable Mention – Tony Romo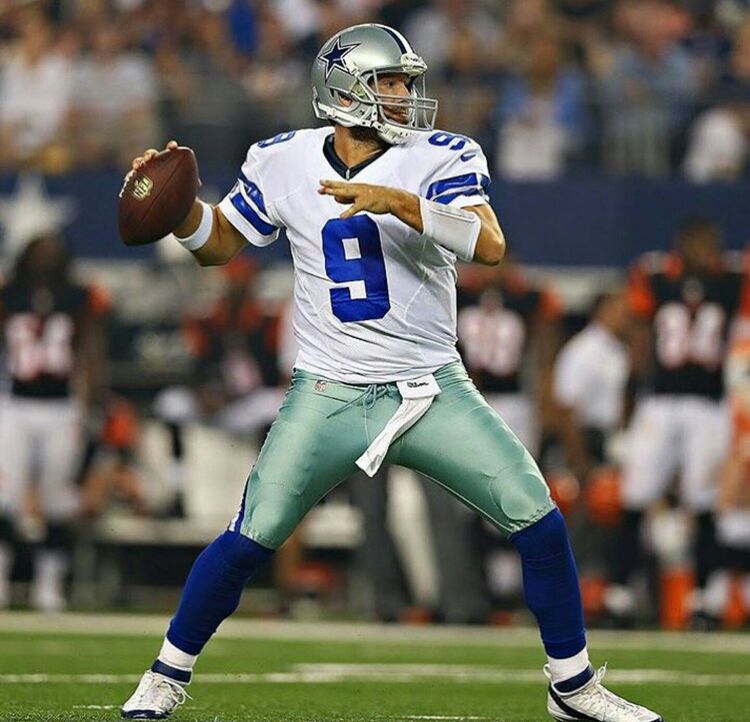 Tony Romo had a relatively short career, only starting for about 10 seasons, but that didn't stop him from excelling under center in Dallas. His 4 Pro Bowls between 2007 and 2014 put him among the best out there.
He also retired as one of the highest-rated passers ever, too. His inability to get Dallas past the divisional round of the playoffs is something that keeps him out of the top-30, and could keep him out of Canton.
Honorable Mention – Dan Fouts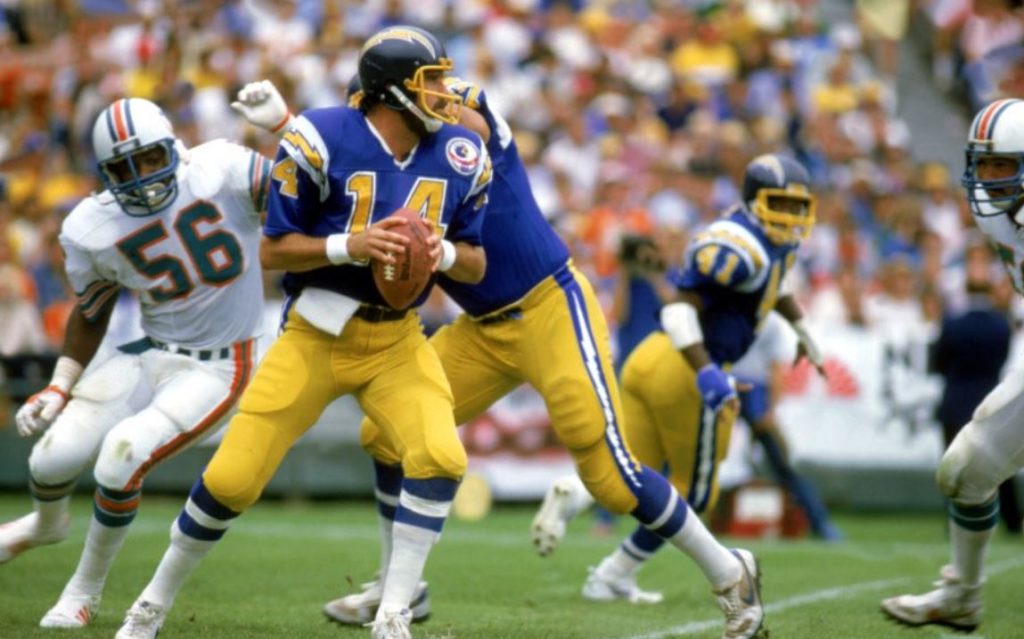 One of the most prolific quarterbacks of his time, Dan Fouts was ahead of his time. He was the first quarter to top 4,800 yards in a season, breaking his own record of 4,715 the year prior. 
As the NFL passing yards leader in four separate seasons, his dominance with the San Diego Chargers stood out in an era of the 1970s and 1980s that was known to be run-heavy. Like so many others on this list, he was never able to lead his team to a Super Bowl.
Honorable Mention – Rich Gannon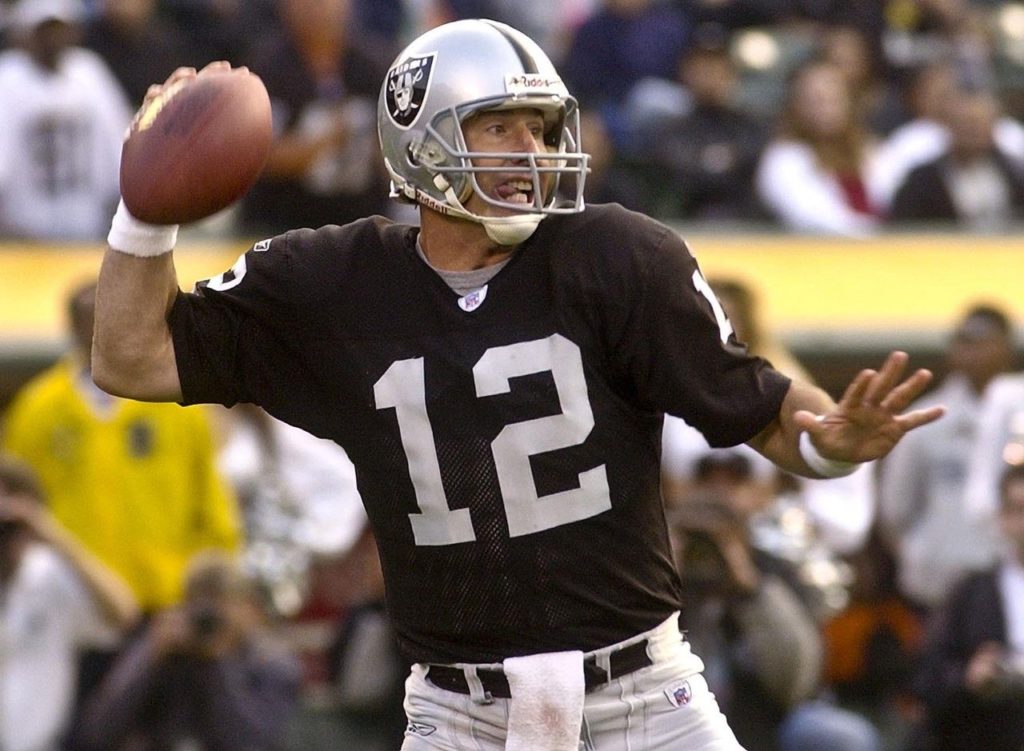 Rich Gannon was a bit of a late-bloomer. When he signed on with the Oakland Raiders, he was already 33 years old, having bounced around with a few teams before that.
With Oakland, he made 4 straight Pro Bowls, made a Super Bowl, and won the 2002 MVP. It's hard to know what might have been for Gannon if he had been coached by Jon Gruden earlier.
Honorable Mention – Randall Cunningham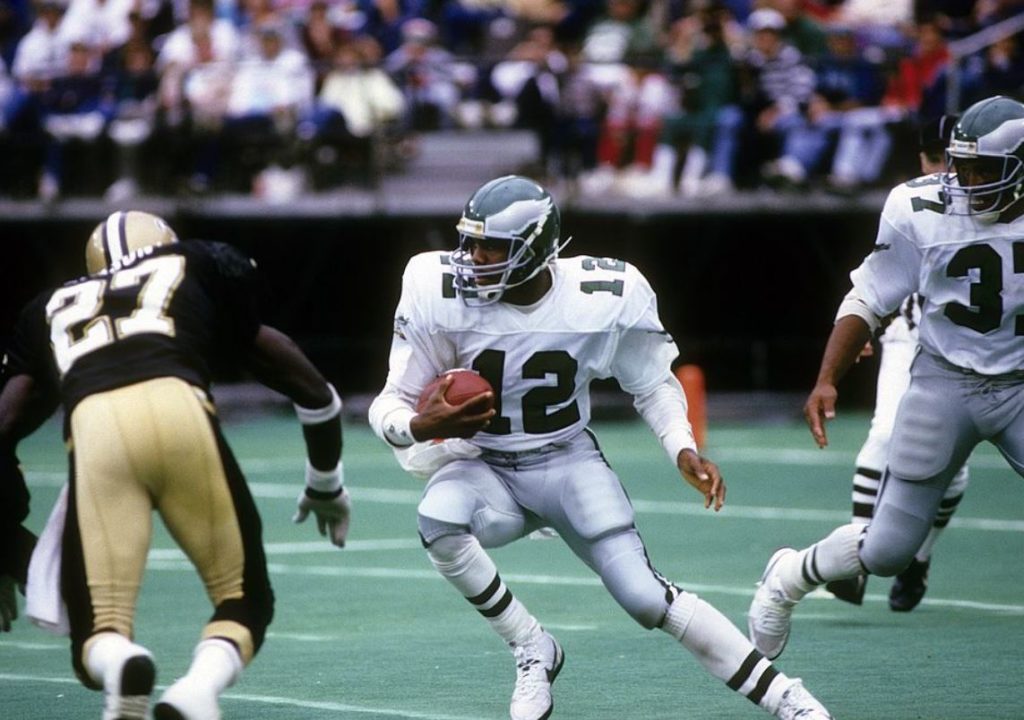 Michael Vick is usually the name that comes to mind when thinking of the first strong-rusher modern quarterbacks, but before him there was Randall Cunningham. Vick is the only name higher among QBs on the all-time rushing yardage list.
With 4 Pro Bowl appearances, Cunningham was as electrifying a quarterback as there ever was. If he could have captured a title in Philadelphia, he would have been that much more of a legend.
Honorable Mention – Norm Van Brocklin
Norm Van Brocklin is the former holder of the passing yardage record with 554 yards in a 1951 game. Though he split time with another Hall of Fame quarterback in Philadelphia from 1950 to 1952 (Bob Waterfield), his credentials can't be denied.
With 9 Pro Bowls and an MVP to go with his 1951 NFL championship, Van Brocklin is one of the pioneers of the game. He doesn't get the love that he deserves but has definitely established his place in history.
Honorable Mention – Matt Ryan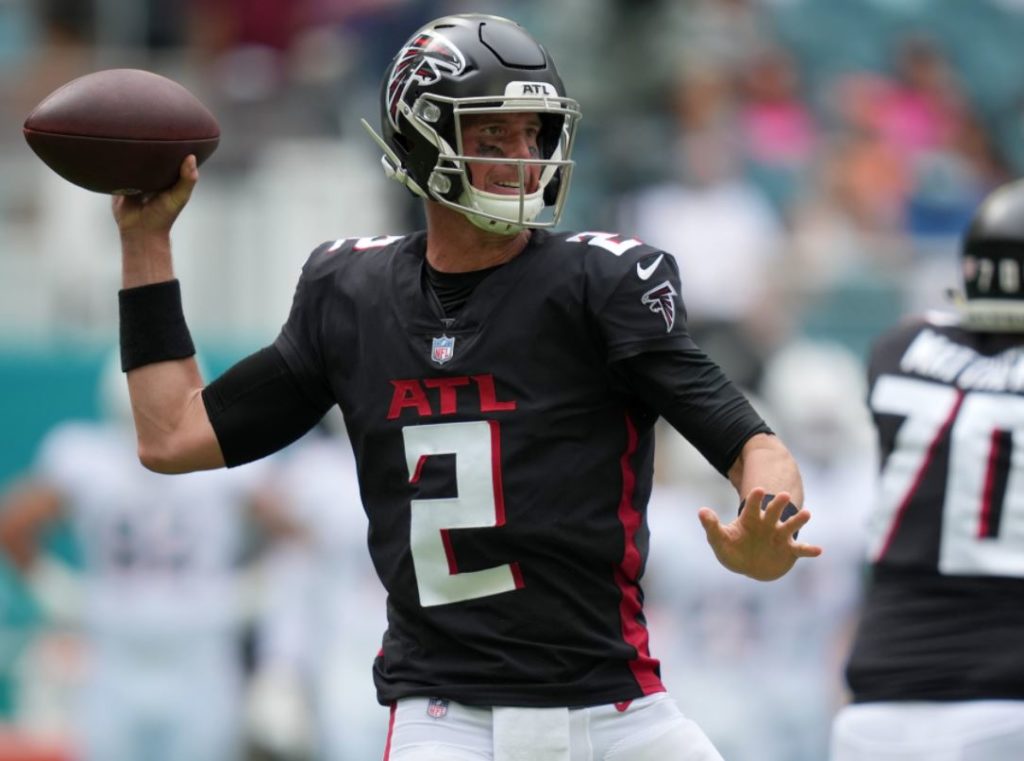 Matt Ryan is one of the most surprising names that you will find on any passing list. Having been a consistent performer in Atlanta for years, he is perhaps most well-known for the epic 28-3 collapse the Falcons had against the Patriots in Super Bowl LI.
But despite not having much playoff success with the Falcons, he has an MVP title under his belt. He also has 50,000 passing yards, which is a number that is climbing every year. He will likely end up in the top 5 of every significant passing category when he finally hangs it up. 
Honorable Mention – Y.A. Tittle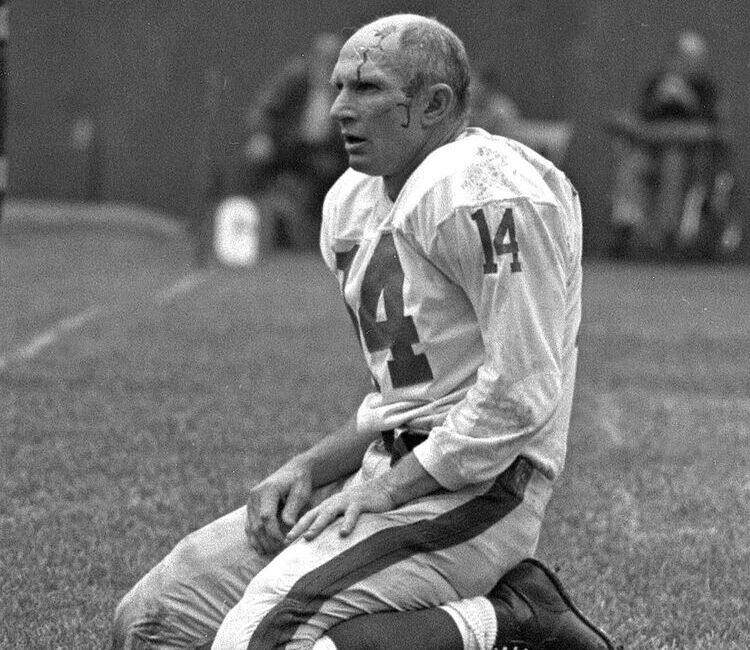 Y.A. Tittle was one of the early greats at the position during his time with the San Francisco 49ers and the New York Giants. The 7-time Pro Bowl quarterback was one of the early gunslingers of his time, ending his career with more interceptions (248) than touchdowns (242).
Still, he won an AP MVP, made 3 first team All-Pro appearances, and was near the top of every significant passing category. He even threw 36 touchdowns at age 37, breaking his own single-season record. 
Honorable Mention – Donovan McNabb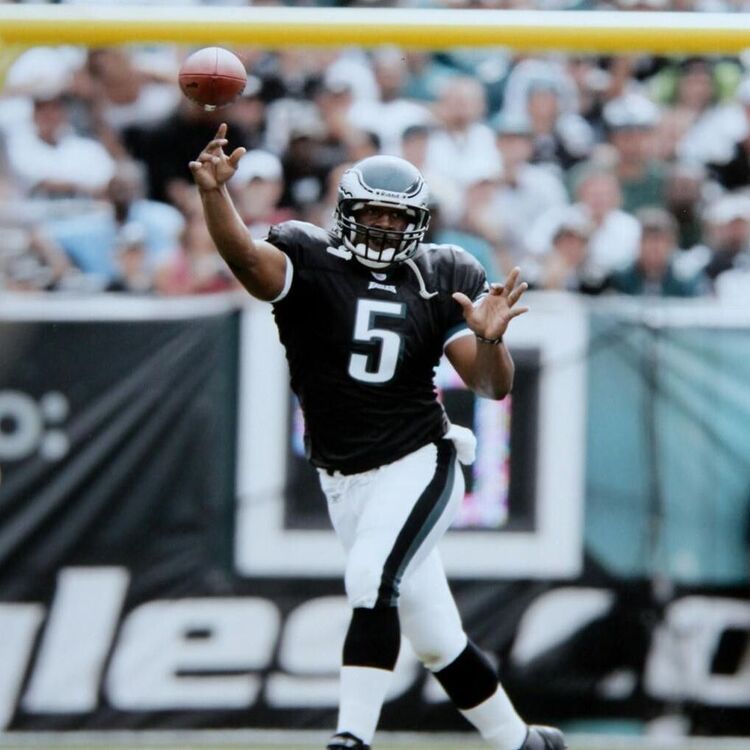 When you think of quarterbacks of the early 2000s, McNabb is right at the top of the list. His 6 Pro Bowls  spoke volumes about his play as a real dual-threat QB.
But like Jim Kelly, McNabb became known for what he couldn't do: get a title. He led the Eagles to 4-consecutive NFC title games, culminating in his only appearance in the Super Bowl – a loss to a young Tom Brady and the Patriots.
Honorable Mention – Patrick Mahomes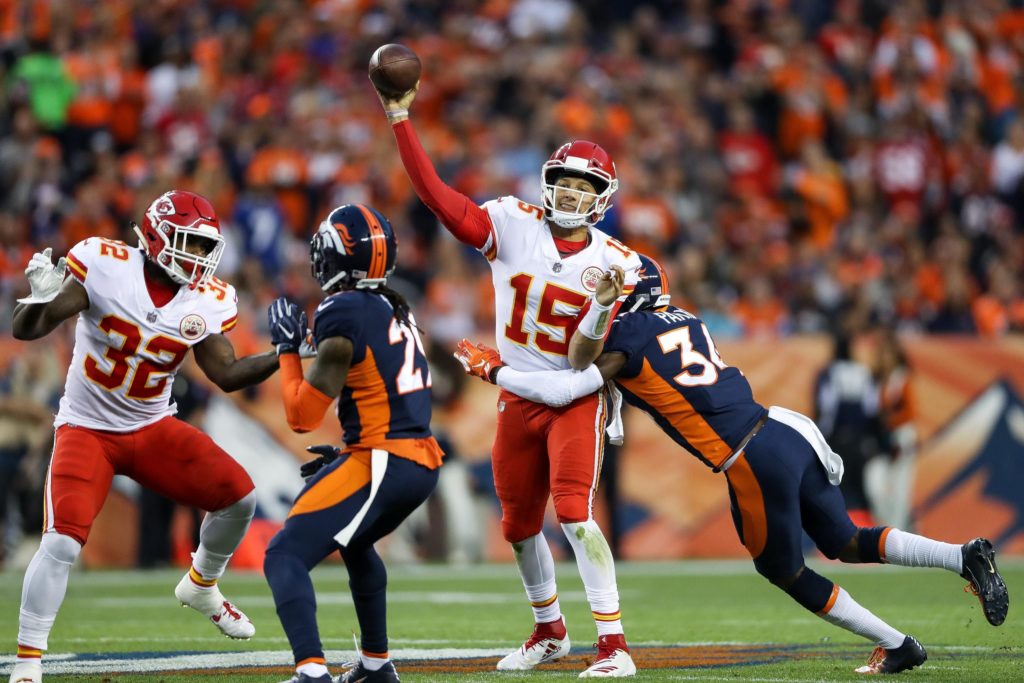 If Patrick Mahomes' name being listed on here feels premature, it probably is, especially given his decline in performance during the 2021 season. Nevertheless, there is no denying what Mahomes has done in his short time in the league. 
After only a few seasons, he already has an MVP, two Super Bowl appearances, including one victory under his belt. He tends to make throws that would only be found in video games look routine, and his talent is certainly impressive. 
#10 – Steve Young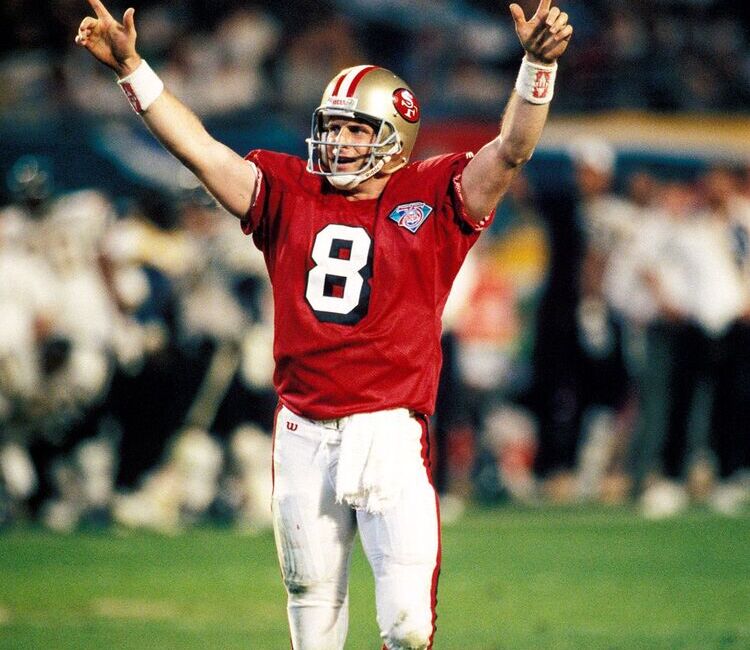 Steve Young might be the most notable dual-threat quarterback before it became commonplace just after his retirement. Young was just as dangerous with his feet as he was with his arm. When he hung up his cleats in 1999, he had the highest-rated passer of all-time at 96.8, which he has since been passed.
Young went to 7 Pro Bowls and managed to escape Joe Montana's shadow in San Francisco with a Super Bowl victory and a pair of league MVPs. He also managed to continue the epic connection that Montana shared with legendary wide receiver Jerry Rice.
#9 – Troy Aikman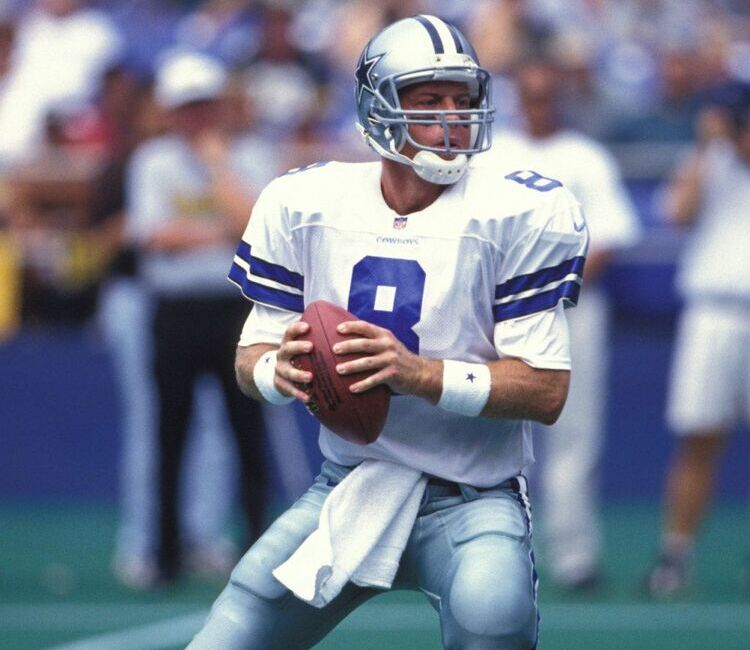 It can be a tough choice deciding which of the Dallas quarterbacks have been the most dominant, while Dak Prescott is currently making a name for himself.. Aikman's stats were good enough to get him to 6 Pro Bowls, but it is his winning pedigree that lands on this elite list. 
Aikman won 3 Super Bowls in 4 years as part of the early 1990s Dallas dynasty. His 90-regular season victories throughout the '90s were the most in a single decade until Peyton Manning amassed 115 in the 2000s. 
#8 – Dan Marino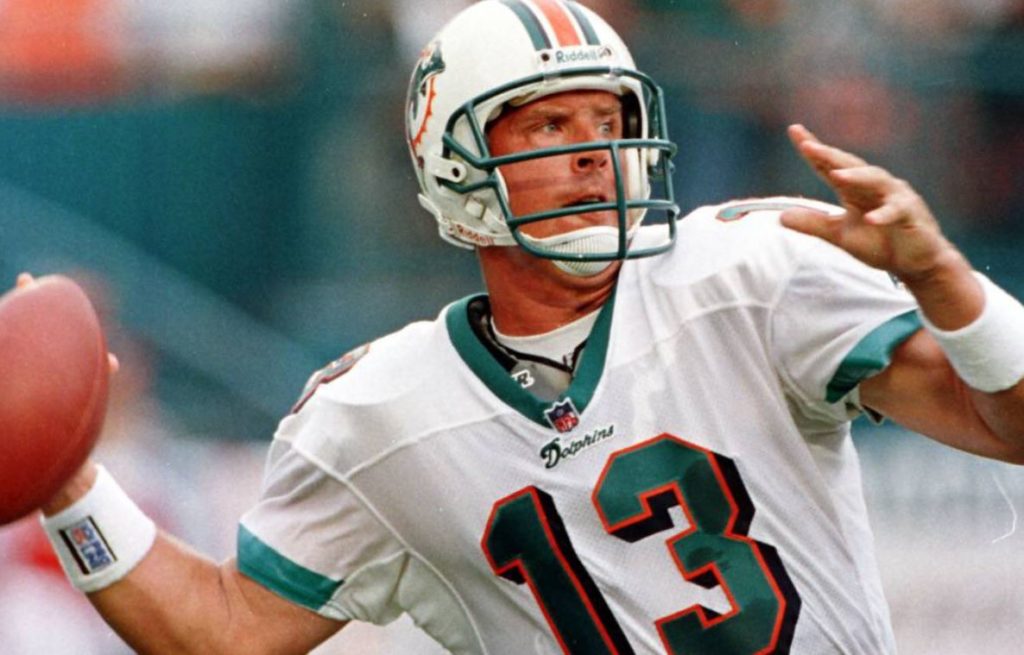 Dan Marino might be the original superstar QB. The biggest detriment against him is his entire career on the Miami Dolphins, he never won a Super Bowl during his 17-year career.
The list of his accomplishments is stunning. When he retired from the NFL in 1999, he was the career leader in passing yards, touchdowns, and completions. He was also the only quarterback with a 5,000-yard season under his belt prior to Drew Brees' 2008 season.
#7 – Drew Brees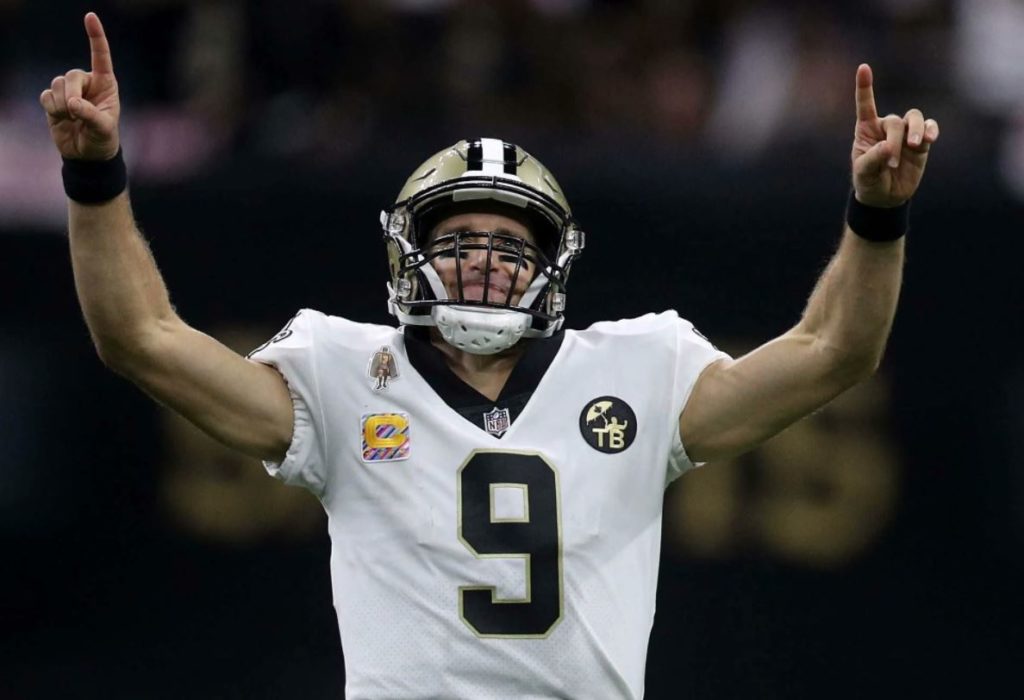 Drew Brees is amazingly underrated in terms of his career numbers, having retired after the 2020 season. Despite being the first person to crack the 80,000 yard mark, he always lived in the shadows of stud QBs Peyton Manning and Tom Brady.
Brees collected a Super Bowl ring with the New Orleans Saints. While Philip Rivers was chosen to stay and had an admirable career, the San Diego (now Los Angeles) Chargers must have regretted not holding on to Brees. His 67.7% completion percentage is the best of non-active players, making him one of the most accurate quarterbacks to ever play the game.
#6 – Brett Favre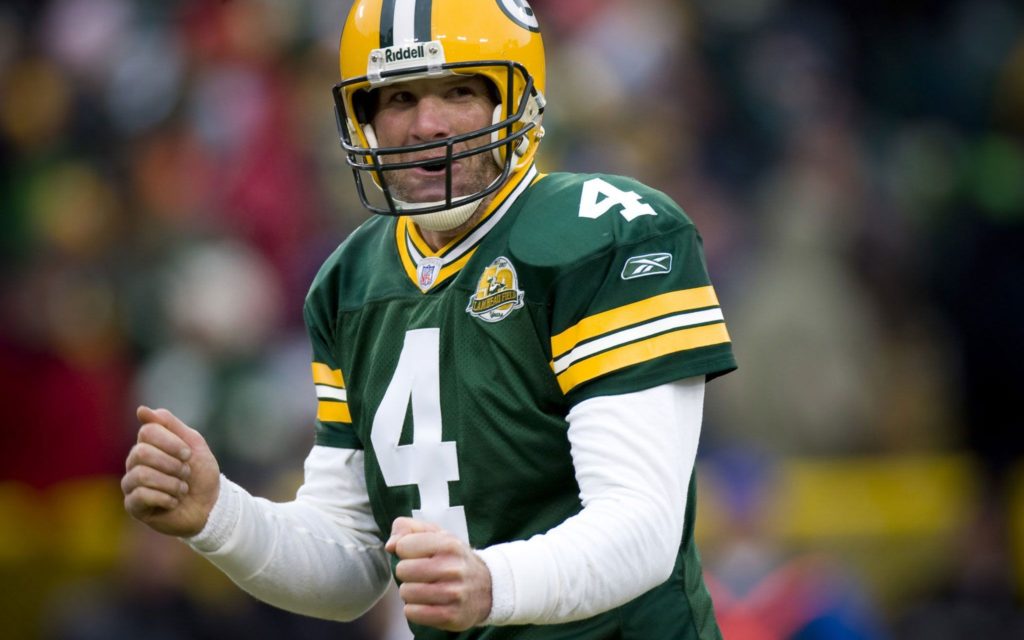 Brett Favre set the tone for the Packers' dominance during much of the '90s. His 3 MVPs set the benchmark before Peyton Manning eclipsed the mark. It's also hard to argue with being the first QB to throw 500 touchdowns and pass for more than 70,000 yards in a career.
There was never a window Favre couldn't hit, making him arguably the most clutch and precise QBs of all time. If he had won more than a single title during his time in Green Bay, he likely would have cracked the top 3.
#5 – Johnny Unitas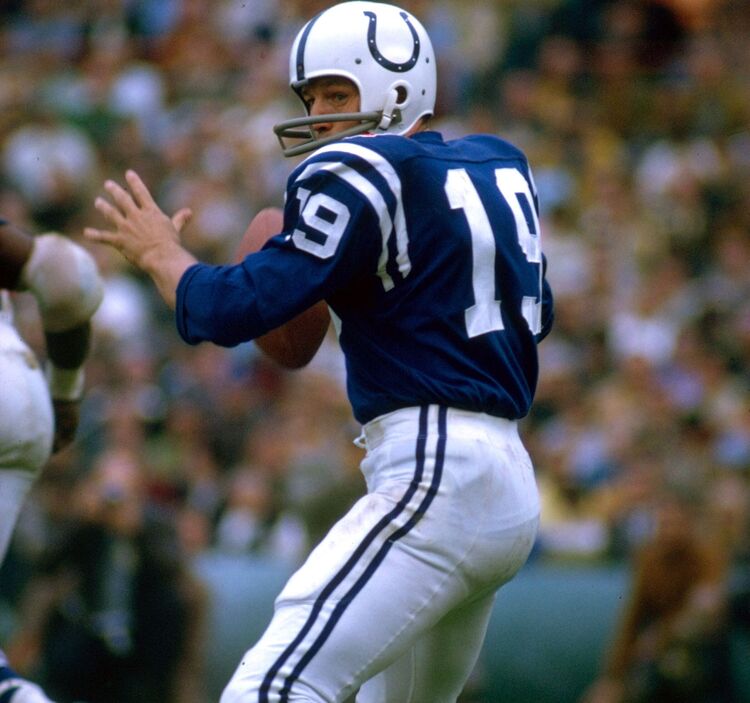 Johnny Unitas was dominant in a time before the NFL was appointment viewing. Another multi-year MVP, he was considered to be the greatest to do it when he hung his cleats up in 1974. 
The first to throw for more than 40,000 yards and to have 3 MVPs while with the Baltimore Colts, he also held the mark for most consecutive games with a TD pass (47) until it was broken by Drew Brees.
#4 – Peyton Manning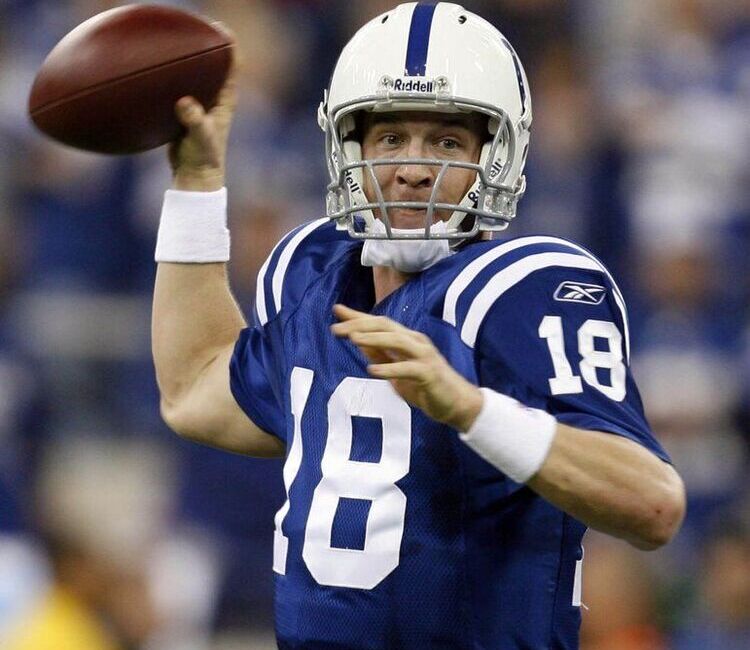 Peyton Manning happens to be one of the rare examples of a first-overall pick who ended up providing that value. Manning was named the league's MVP five times, winning the Super Bowl twice, and set a slew of records during his time in the league.
For most of his career, he was truly dominant with the Indianapolis Colts, but it's even more impressive that Manning's last few seasons with the Denver Broncos were also incredibly noteworthy. He has since been passed in both records, but when he retired, he had the most career passing yards and touchdown passes of all time.
#3 – John Elway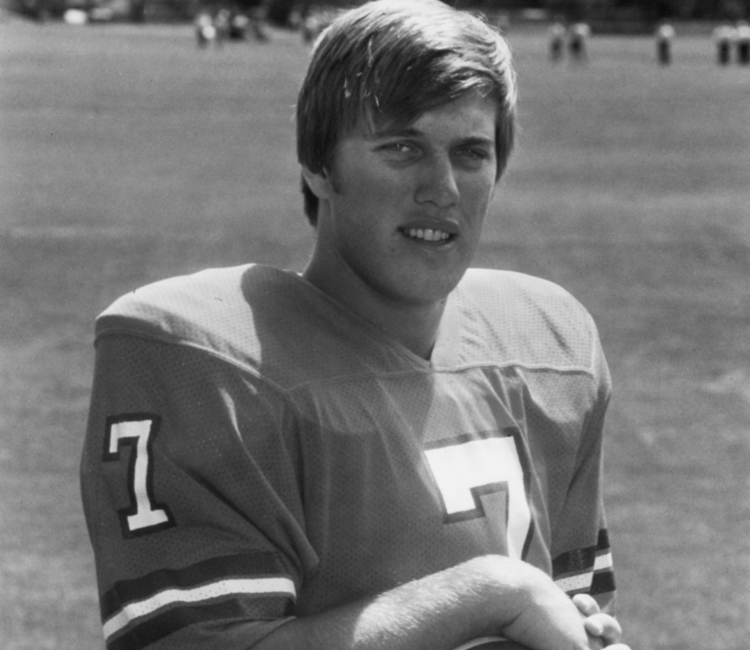 Known as one of the greatest come-from-behind players of all-time, John Elway began his career with legendary expectations and didn't disappoint. Despite a long-time reputation of coming up short of titles in the '80s and most of the '90s, Elway claimed an MVP and 9 Pro Bowls.
But it was how he went out that he will be most remembered. The legendary QB led the Broncos to back-to-back Super Bowl wins in his final two years before riding off into the sunset. It was a true storybook ending for someone who is probably glad he didn't end up playing baseball for the New York Yankees. 
#2 – Joe Montana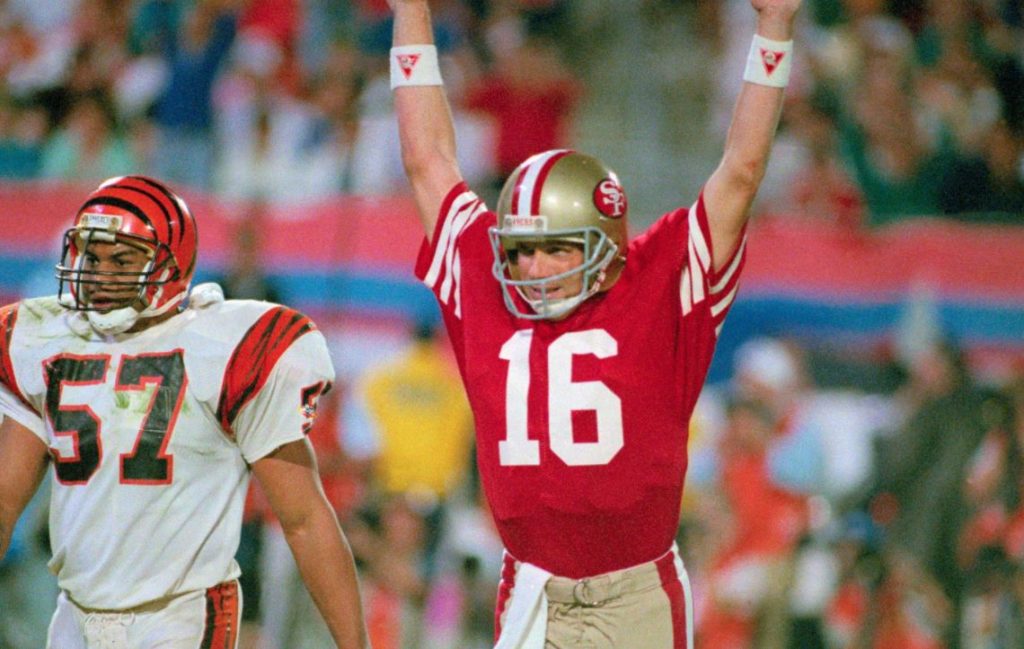 Joe Montana was on another level than everyone else in the 1980s when it came to competitiveness. He wasn't the most talented guy on the field, but he just flat-out won. He won a quartet of Super Bowl rings and was named the MVP in three of those big games. 
When he retired, he had the most wins as a quarterback. His run with the 49ers included 8 Pro Bowl selections when they still meant something and a pair of MVP awards, too. Helped pioneer the West Coast offense alongside Bill Walsh. When he retired, his career passer rating was 92.3, second only to his successor Steve Young. 
#1 – Tom Brady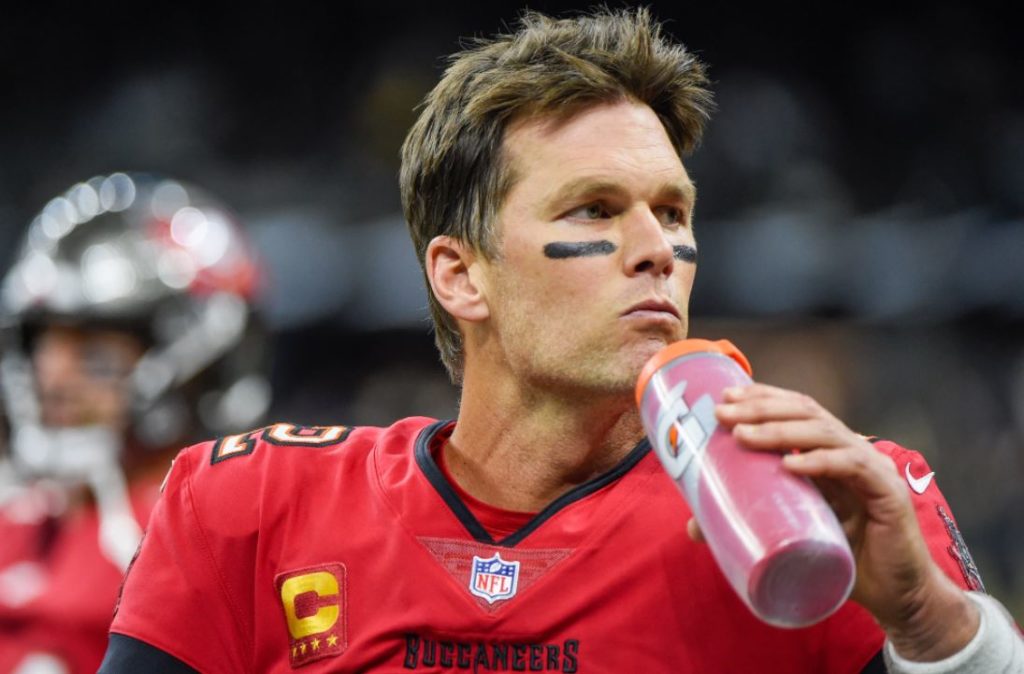 What can be said about Tom Brady that hasn't already been said? You could split his career into three different segments during his time in New England and come up with a Hall of Fame resume for each of them. That's not even to mention his time with the Tampa Bay Buccaneers. In case you weren't aware, he holds the record with 7 Super Bowl wins, 10 Super Bowl appearances, and has been the league MVP three times as well. Tom Brady announced his retirement from football "for good" on February 1 after playing 23 seasons in the NFL.
The record books offer a glimpse at who stands above the rest, but even those statistics are limited when it comes to determining even the best running back of all time. Here's what the numbers say when comparing the best running backs in NFL history…
#30 – Bo Jackson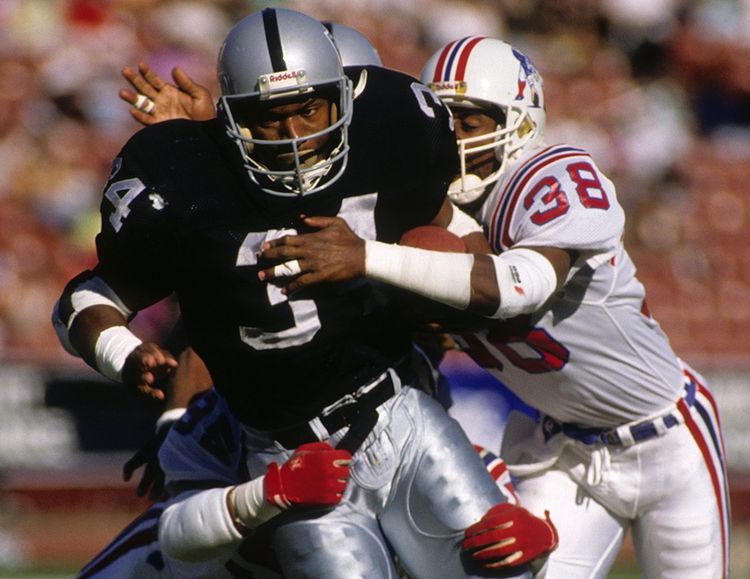 Bo Jackson is one of the biggest "what-ifs" in sports. The former Heisman Trophy winner, baseball player, and track-and-field star, still has the fastest-ever 40-yard dash in NFL combine history. In 1987, the Los Angeles Raiders drafted Jackson, who was already playing baseball for the Kansas City Royals, and allowed him to join the team once the MLB season was over.
Jackson turned heads on his Monday Night Football debut, running for an astounding 221 yards and 3 touchdowns, including a 91-yard run. His career was cut to a short 4 years after a bad hip injury, but in that time, he amassed 16 rushing TDs, nearly 3,000 yards, and is the only running back to have 2 separate 90+ yard rushes. Not bad for someone who had football as an "offseason hobby."
#29 – Marshawn Lynch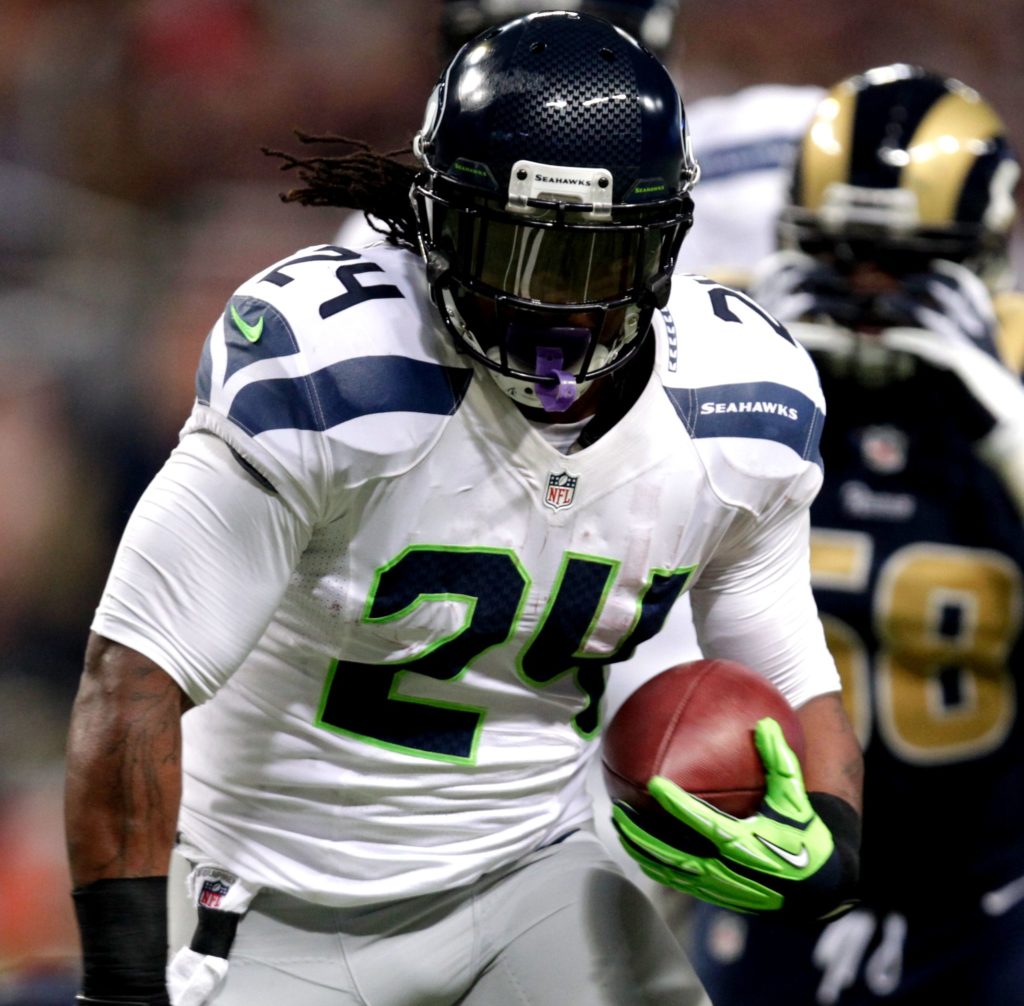 Marshawn Lynch brought a big, bold personality to the running back position. He spent most of his career in Seattle, before taking a year off at age 30, then coming back to play for the Raiders. 
Lynch has racked up more than 10,000 yards and 84 touchdowns carrying the ball during his career, being a major component of the dominant Seahawks offense that won Super Bowl XLVII. He was an effective receiver too, with more than 2,000 yards and 9 touchdowns through the air. Lynch remains a fan favorite due to his ability to turn on Beast Mode and his non-serious approach to media interviews. 
#28 – Frank Gore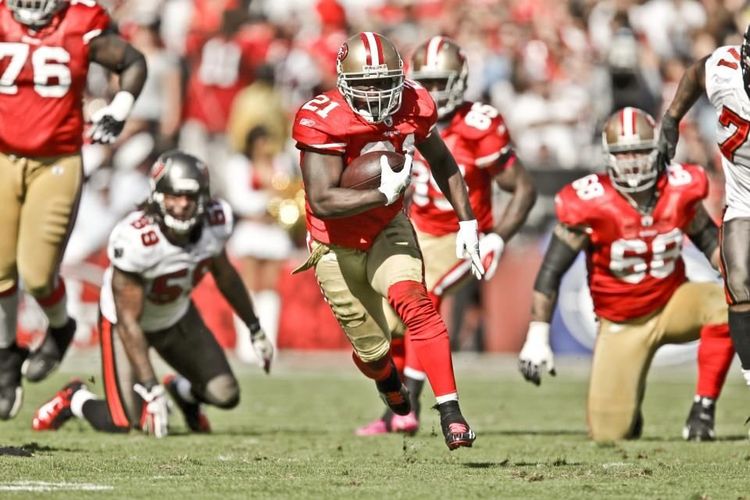 Frank Gore solidified himself as the all-time rushing yards leader during his 10 seasons with the 49ers. After leaving San Francisco, Gore played for a few years with the Indianapolis Colts and then a season each with the Dolphins, Bills, and ended his career with the New York Jets at the age of 37.
Known in his later years for his longevity, especially for a running back, the ageless-Gore hung up his cleats with an impressive 16,000 rushing yards, and nearly an additional 4,000 receiving yards. He ranks 3rd on the all-time rushing list, and is certainly headed for Canton one day.
#27 – Shaun Alexander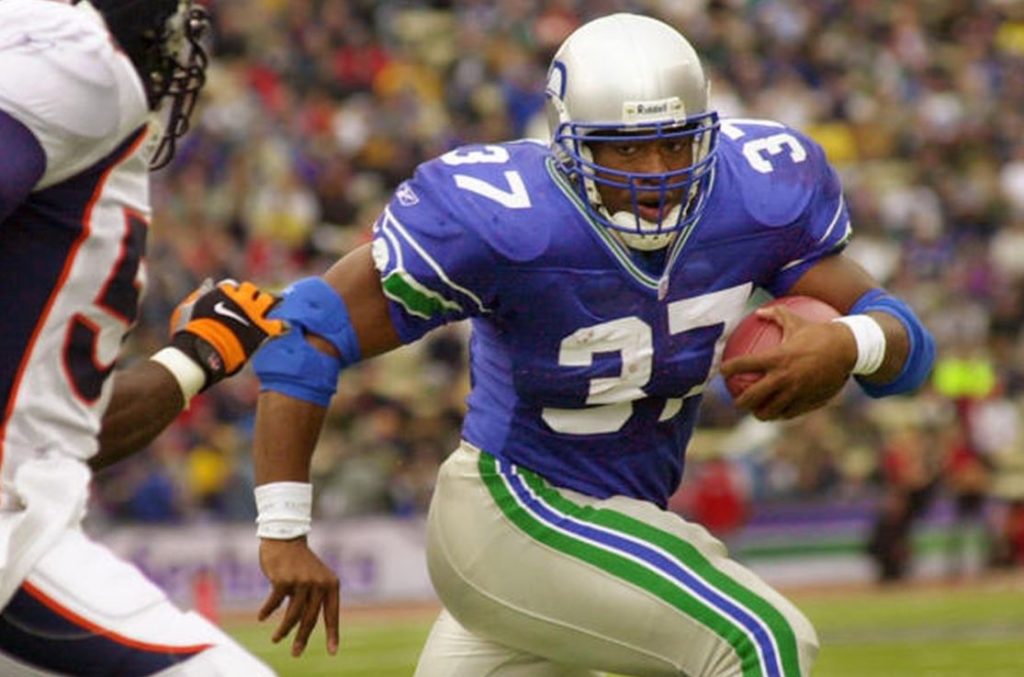 Shaun Alexander helped many fantasy owners win a lot of leagues. During his nine seasons in the NFL, he amassed almost 9,500 rushing yards and scored 100 rushing touchdowns. 
Alexander won the MVP and Offensive Player of the year in 2005, a season in which he racked up 1,880 rushing yards and scored 27 rushing touchdowns. Injuries plagued the latter half of his career, but he still managed to break into the top-10 for all-time rushing touchdowns.
#26 – Tiki Barber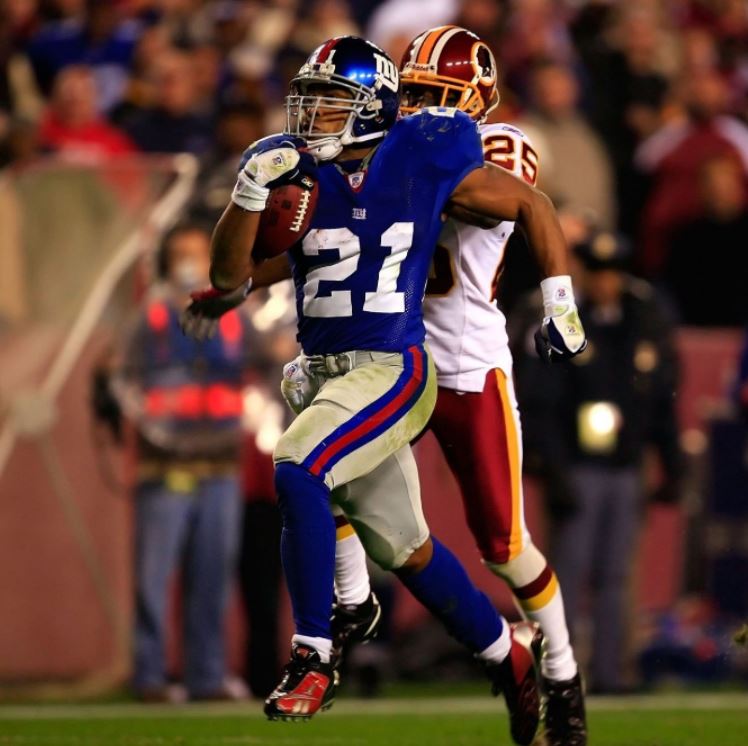 Tiki Barber became the feature back in New York after a relatively slow start to his career. Once he took over the Giants backfield, he racked up six 1,000 yard seasons, over 10,000 career rushing yards, and scored 55 rushing touchdowns. Barber also had 556 career receptions for over 5,000 yards.
Barber retired from football at age 31 to pursue a media career, so he probably had many more yards and touchdowns left in the tank. Considering the perils of the position, he was known for his durability and stayed remarkably healthy during his career. 
#25 – Derrick Henry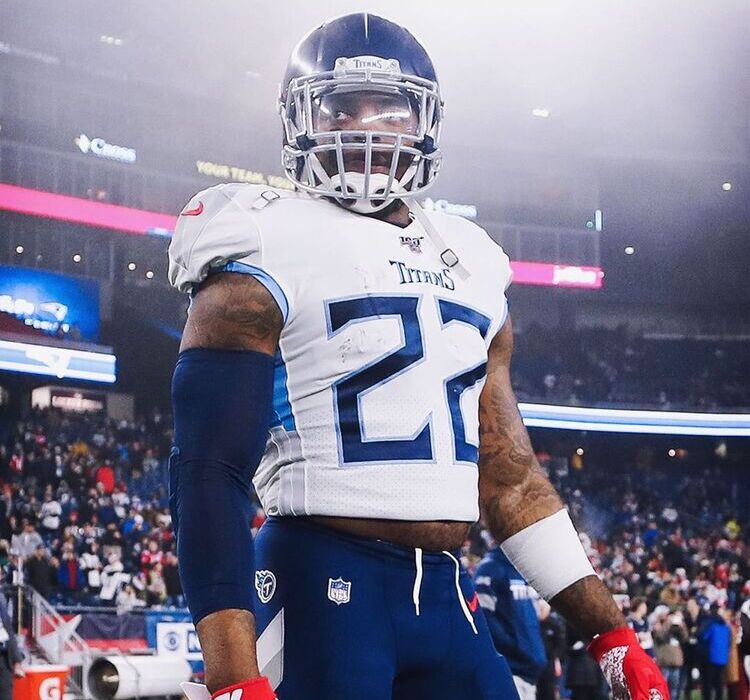 Derrick Henry is still in the beginning of his career, but his torrid pace has him positioned to take his place among the all-time greats. Henry has already amassed over 6,700 rushing yards and 65 touchdowns since 2016. 
Henry is a blend of size and speed that makes him such a talented back. He rushed for over 2,000 yards in 2020 and was well on pace to do it again in 2021 before breaking his foot. Once he is back to full strength he should be able to pick up where he left off, running away from the rest of the league.
#24 – Eddie George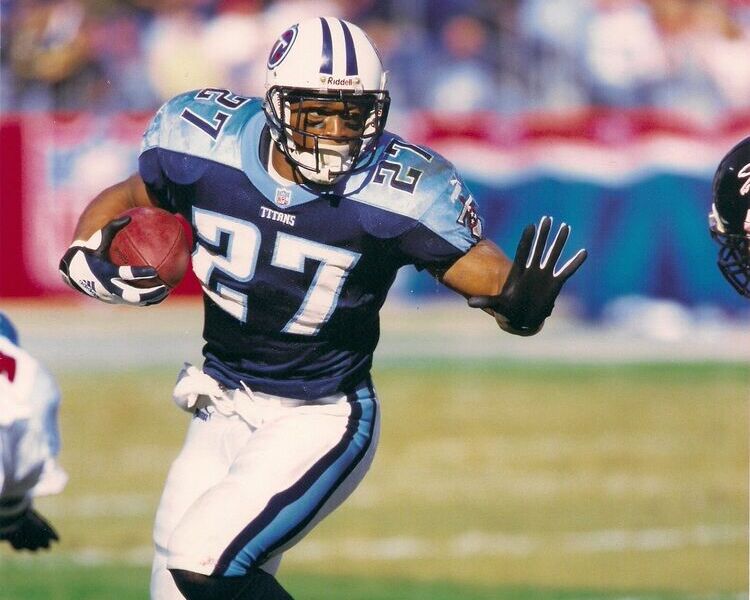 Eddie George won Rookie of the Year in 1996, was a four time Pro Bowler, a member of the 10,000 rushing yard club, and finished his career with 68 rushing touchdowns. George demonstrated remarkable durability during his career, tallying over 300 carries every year of his career except for his final season.
Amazingly, George never missed a start, which is almost unfathomable for a running back. He rushed for over 1,000 yards in seven of his eight seasons for the Tennessee Titans. George added 268 receptions during his career for over 2,200 yards with 10 receiving touchdowns.
#23 – Franco Harris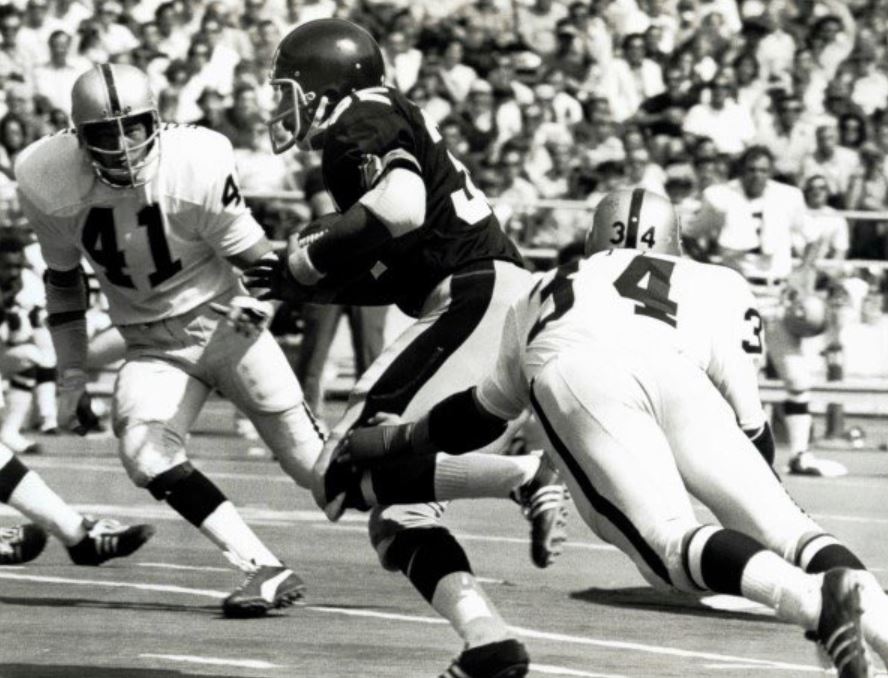 Franco Harris was one of the lynchpins of the 1970s Steelers teams that won four Super Bowls during the decade. He rushed for over 12,000 yards and 91 touchdowns over the course of his career. Harris won Rookie of the Year and was named to nine Pro Bowls during his tenure.
On the receiving end, Harris finished his career with over 2,000 receiving yards and 9 touchdowns. He also has one of the most famous catches in NFL history, the Immaculate Reception.  
#22 – Warrick Dunn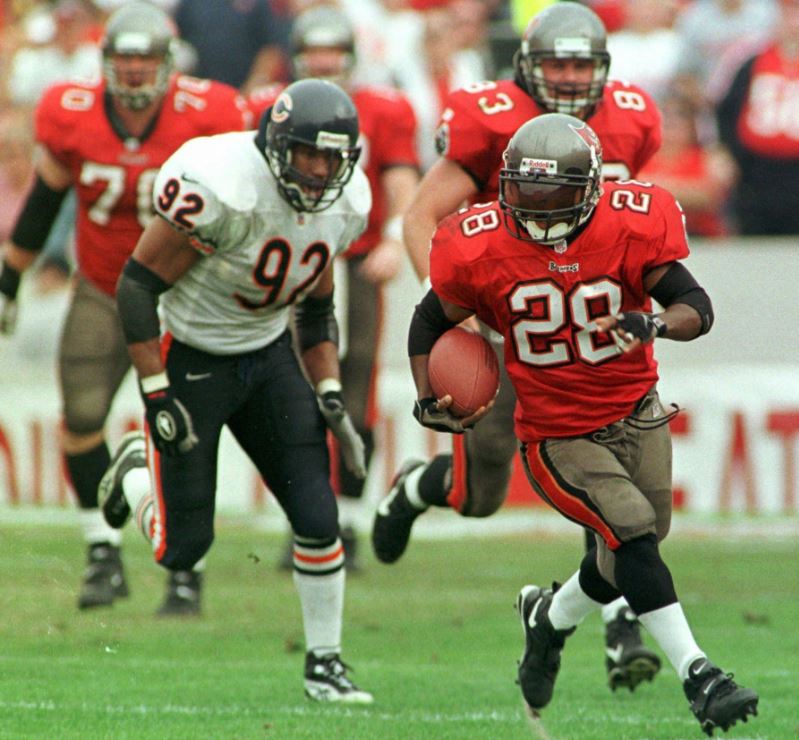 Warrick Dunn may have been one of the smaller backs on this list in stature, but he made up for it in production. He broke into the league in 1997, racking up over 1,000 all-purpose yards and winning Rookie of the Year. Over his career, he rushed for over 10,000 yards and 49 touchdowns.
Dunn was one of the best pass catching backs of his era, catching 510 balls for his career for over 4,000 yards. Dunn made three Pro Bowls over the course of his career in Tampa Bay and Atlanta. Versatility was Warrick Dunn's calling card, as evidenced by his more than 15,000 all purpose yards.
#21 – Terrell Davis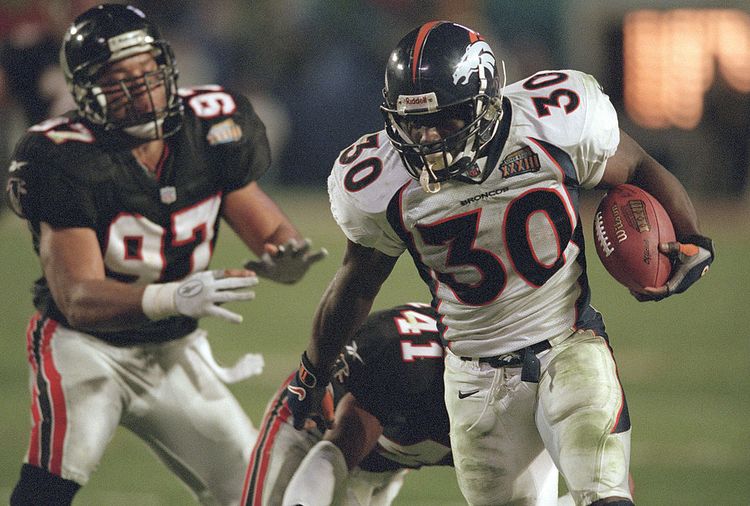 Terrell Davis was a vital part of the Denver Broncos' success in the late '90s, as they won back-to-back Super Bowls in John Elway's final years. Like Gale Sayers before him, the rusher nicknamed "TD" only played in 7 seasons, with only four of them being nearly-full seasons.
Still, Davis had impressive numbers despite his short career. During the '97 and '98 seasons when the Broncos won it all, he 1750 and 2000 yards respectively, garnering an unbelievable 15 and 21 touchdowns in those seasons. His 60 career touchdowns and over 7500 yards make football fans wonder what may have been if he had played longer.
#20 – Ricky Watters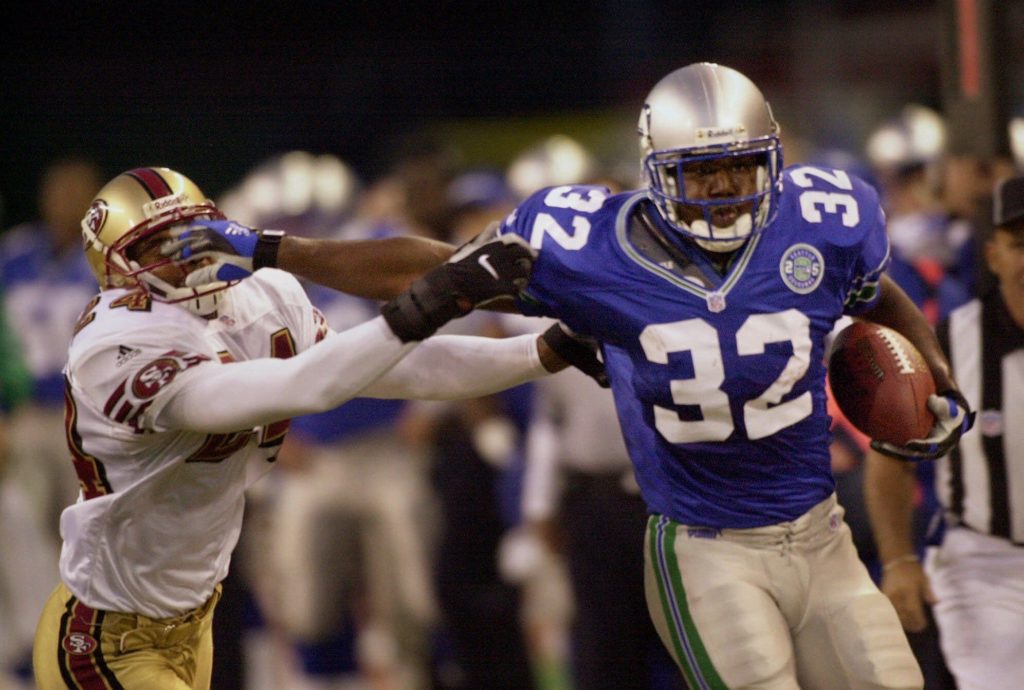 Ricky Watters burst onto the scene his rookie year and rushed for over 1,000 yards.  He would go on to do that six more times over the course of his decade-long career. Watters finished his playing days with over 10,000 rushing yards and 78 touchdowns.
Watters was one of the backs that excelled in the passing game as well, tallying over 4,000 receiving yards and 13 touchdowns through the air. During his ten seasons in the league, Watters made the Pro Bowl five times and even won a Super Bowl ring.
#19 – Jamal Lewis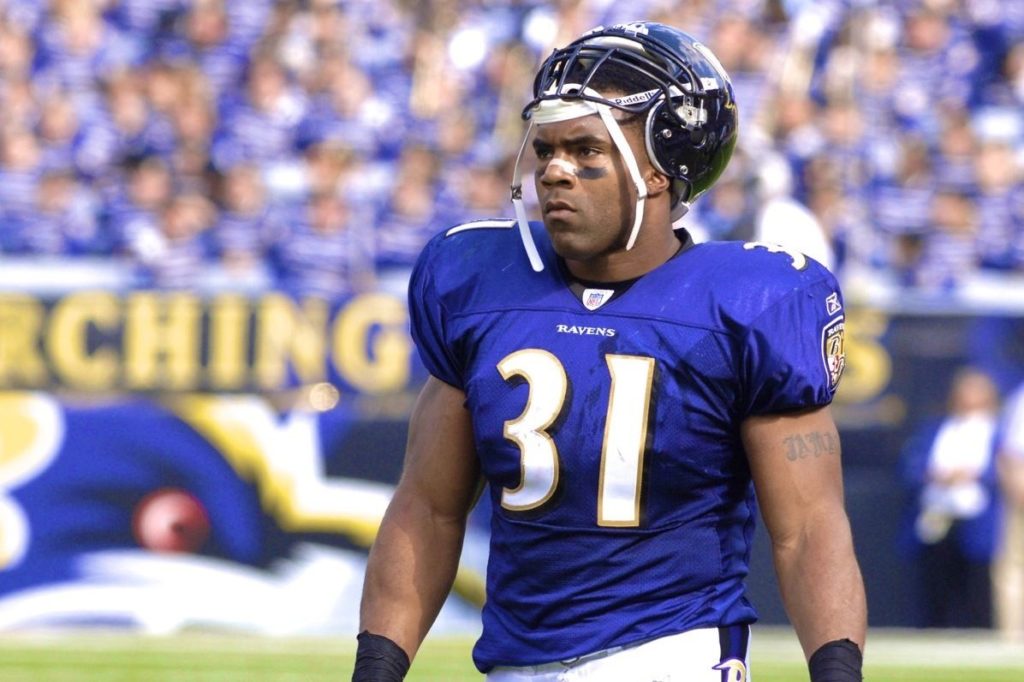 Jamal Lewis played on Baltimore teams where the defensive players were the stars, but he was an absolute workhorse for those Ravens' squads. He joined the exclusive 2,000 yard rushing club in 2003 and won a Super Bowl as well. Lewis rushed for over 10,000 yards and 58 touchdowns during his tenure.
Had he not missed his entire second season with an injury, Lewis would have even bigger numbers. His grinding style was exactly what his teams needed as they relied on running and defense to win.
#18 – Jerome Bettis 
Jerome Bettis has one of the all-time legendary nicknames in football: "The Bus." Bettis rushed for over 1,000 yards 8 times in his career and excelled in short-yardage situations. The big, bruising back ran over defenders that made the mistake of putting themselves in his path.
Bettis rushed for over 13,000 rushing yards over his 13 seasons and found the end zone 91 times. The Bus was a running back whose style perfectly embodied style of play the Steelers were known for. 
#17 – John Riggins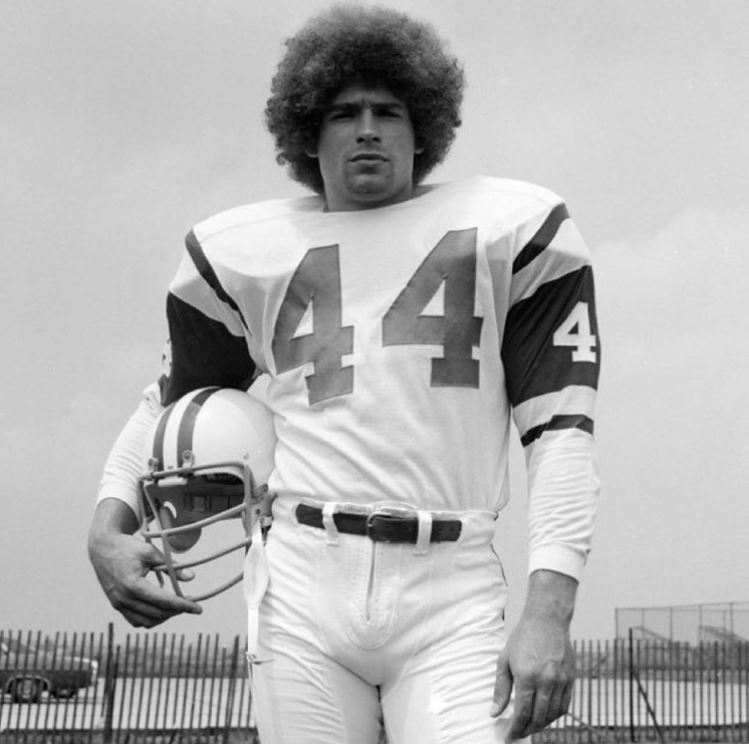 John Riggins was one of the most dominant running backs of the 1970s. Riggins played 14 seasons in the pros, rushing for over 1,000 yards in five of them and making two Pro Bowls.  He was a touchdown machine, scoring 104 times on the ground and 12 times through the air.
Riggins rushed for over 11,000 yards during his lengthy career and had over 2,000 receiving yards. He seemed to get better as his career went by, as demonstrated by his 1983 season where he rushed for over 1,300 yards and 24 touchdowns.
#16 – Edgerrin James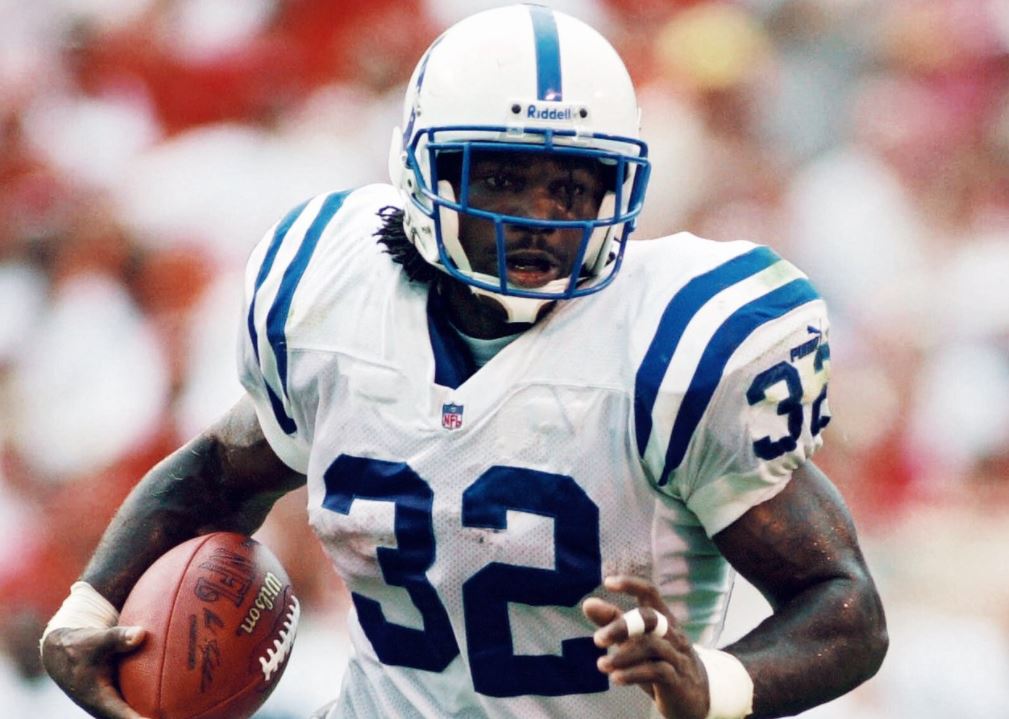 Edgerrin James was the running back who played in a pass-first offense led by quarterback Peyton Manning. Those passing attacks would not have been nearly as potent if defenses didn't have to account for James as a threat himself. Winning Rookie of the Year, he also made the Pro Bowl four times.
James rushed for more than 12,000 yards during his career and scored 80 rushing touchdowns. He also contributed to the potency of those Colts passing offenses, with over 3,000 receiving yards and 11 receiving touchdowns.
#15 – Thurman Thomas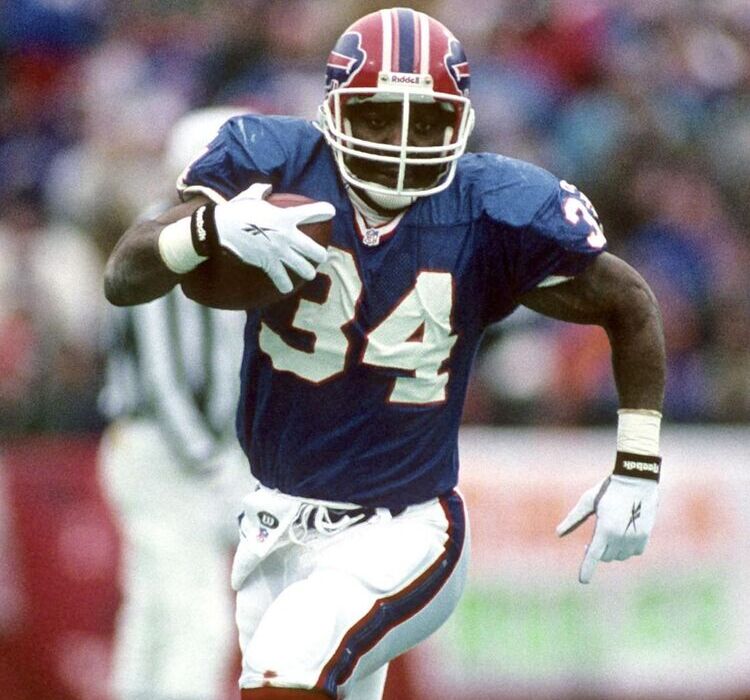 Thurman Thomas was a dual-threat back who was extremely effective in both the running and passing games. The 1991 league MVP rushed for over 1,000 yards eight straight times during his tenure and was named to five Pro Bowls. Though he never won a title, Thomas was one of the staples that led the Buffalo Bills to four consecutive Super Bowl appearances.
Thomas racked up over 12,000 rushing yards and 4,000 receiving yards over the course of his career. He scored 65 touchdowns on the ground and 23 through the air and was inducted into the Hall of Fame in 2007.
#14 – Curtis Martin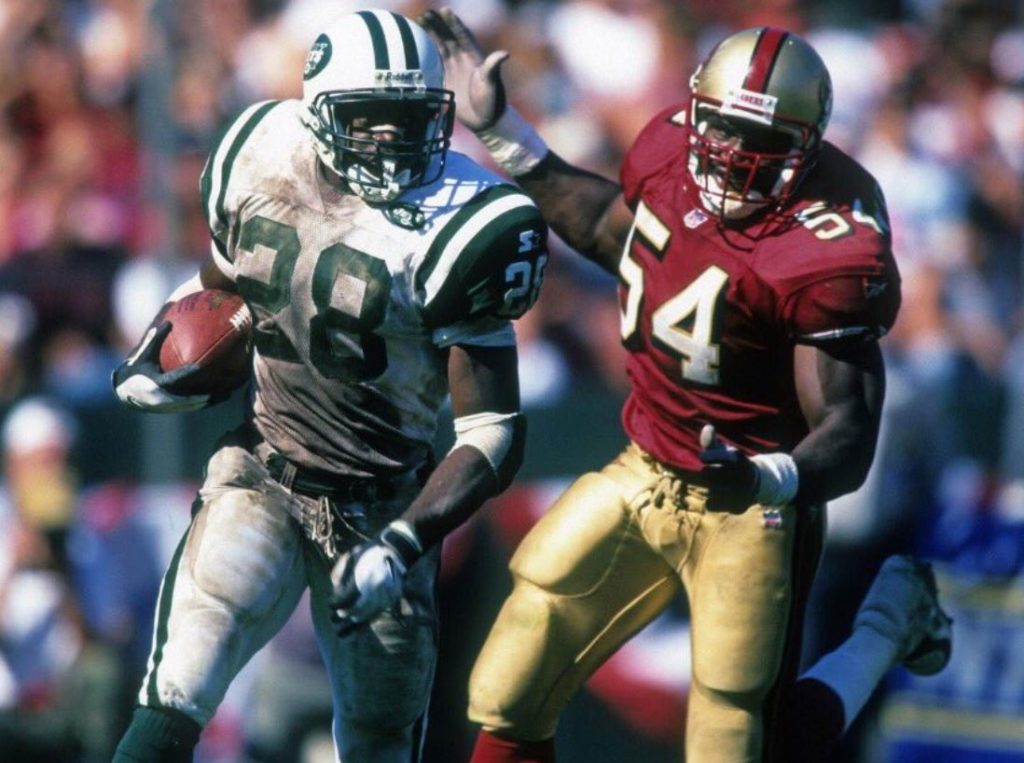 Curtis Martin ran for over 1,000 yards in all but one of the seasons he played, his last one. He played 11 seasons in New England and New York, making the Pro Bowl in five of those. He was an All-Pro in 2004 when he rushed for over 1,600 yards.
Martin racked up more than 14,000 yards on the ground and scored 90 rushing touchdowns during his career. He also caught 484 balls for over 3,000 yards, and was inducted into the Hall of Fame in 2012.
#13 – Tony Dorsett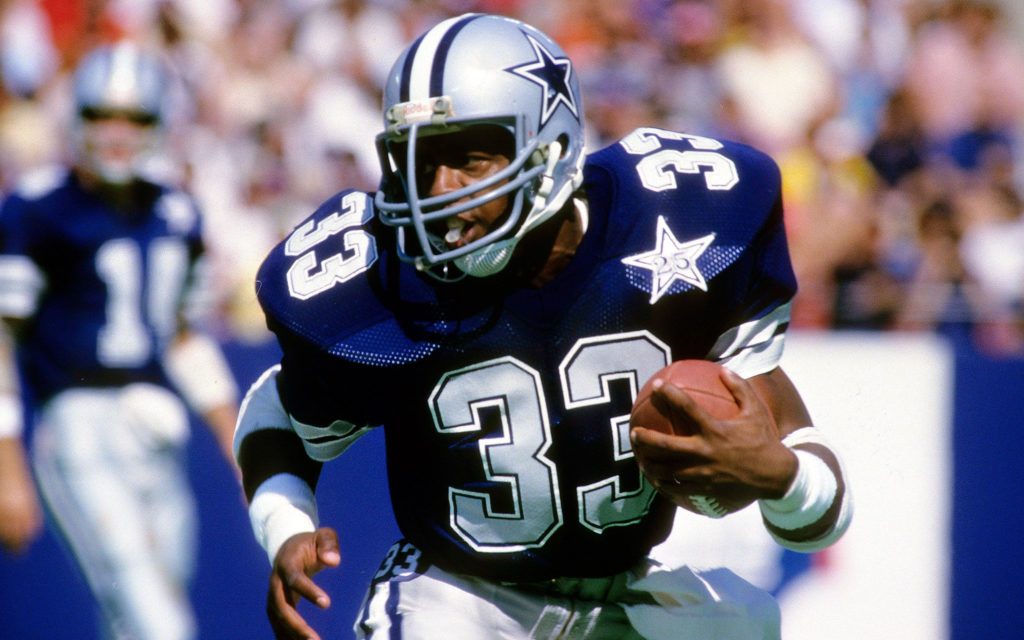 Tony Dorsett was a four-time Pro Bowler for Dallas, playing 12 seasons for the Cowboys and Broncos. He was a threat to score any time he touched the ball. A productive back throughout his entire career, he rushed for more than 1,000 yards in 7 seasons.
Dorsett finished his career with more than 12,000 rushing yards and 77 rushing touchdowns. He was an effective pass catcher as well, with over 3,000 receiving yards and 13 touchdown catches and was inducted into the Hall of Fame. 
#12 – Marcus Allen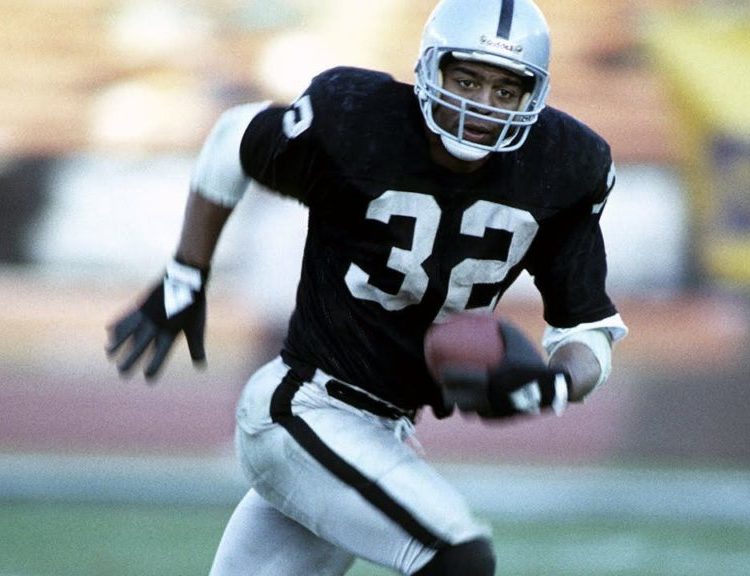 Marcus Allen played 16 seasons in the pros, which is pretty unheard of for most NFL players, let alone a running back. His career started off with a bang, winning Rookie of the Year in 1982. He carried the ball more than 3,000 times over his career and tallied over 12,000 rushing yards. On the receiving side, he caught 587 balls for more than 5,400 receiving yards.
Allen was known mainly for scoring touchdowns, and he certainly scored a lot of them. During his career he scored 123 times rushing and 21 times receiving. He won a Super Bowl with the Raiders and was elected to the Hall of Fame in 2003.
#11 – O.J. Simpson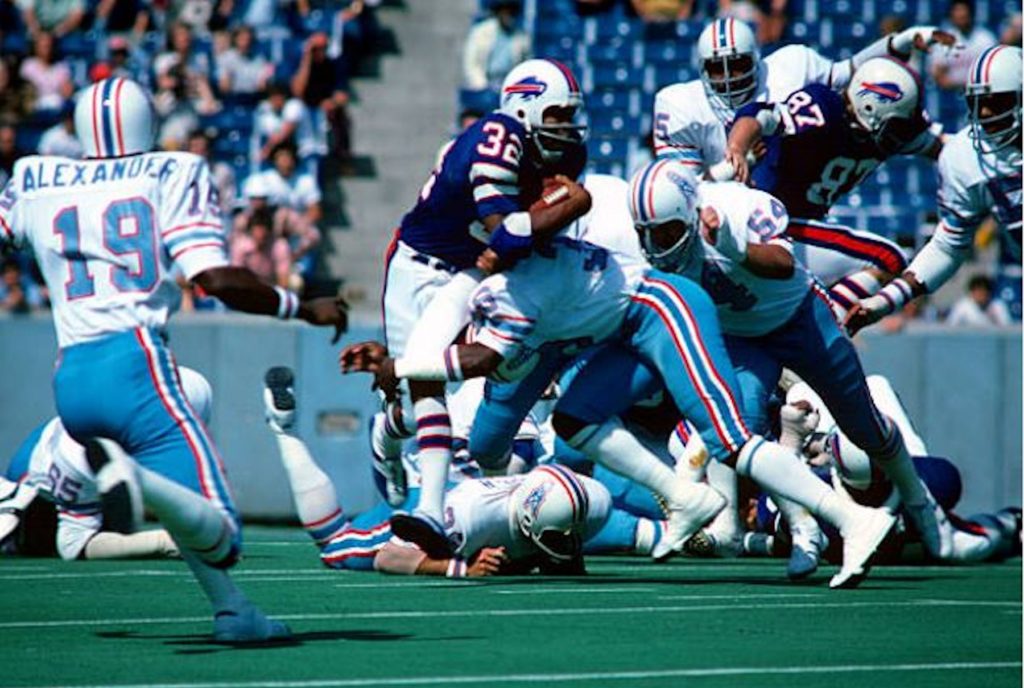 Orenthal James (O.J.)  Simpson is certainly more infamous in his post-football years, but during his playing time, he was one of the all-time greats. He is one of the few to rush for over 2,000 yards in a season, and racking up more than 1,500 yards three times. He was named an All-Pro five consecutive seasons and led the league in rushing four times.
Simpson totaled over 11,000 rushing yards and scored 61 rushing touchdowns. He added more than 2,000 yards and 14 touchdowns receiving as well.  The Hall of Famer played for 11 seasons, mostly with Buffalo before ending his career in San Francisco.
Honorable Mention: Clinton Portis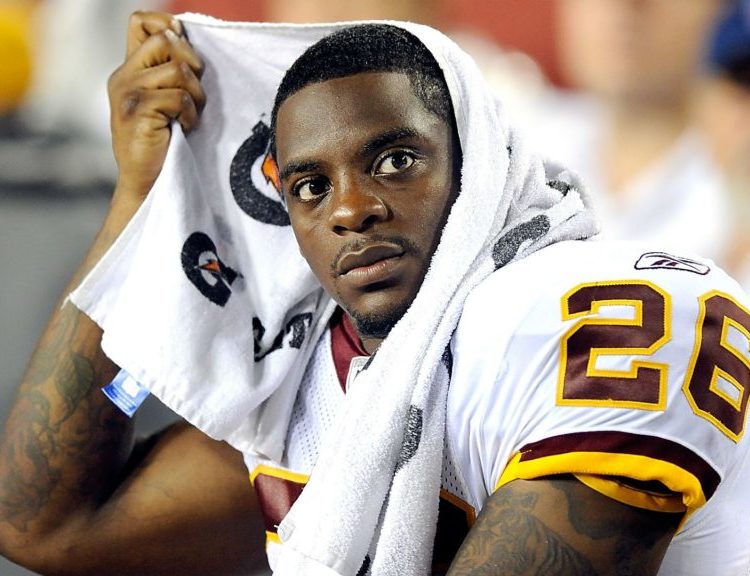 Clinton Portis had his career cut short by injuries, but managed to rush for over 1,000 yards in six of his nine seasons with the Broncos and Redskins. He finished with just shy of 10,000 career rushing yards and scored 75 touchdowns on the ground, adding over 2,000 receiving yards to his totals. 
Winning Rookie of the Year in Denver, he was their feature back for two seasons before being traded to Washington. He ran into trouble in recent years however. In 2021, he pled guilty to defrauding the NFL in a health care scheme and may face a 10-year prison sentence. 
Honorable Mention: Roger Craig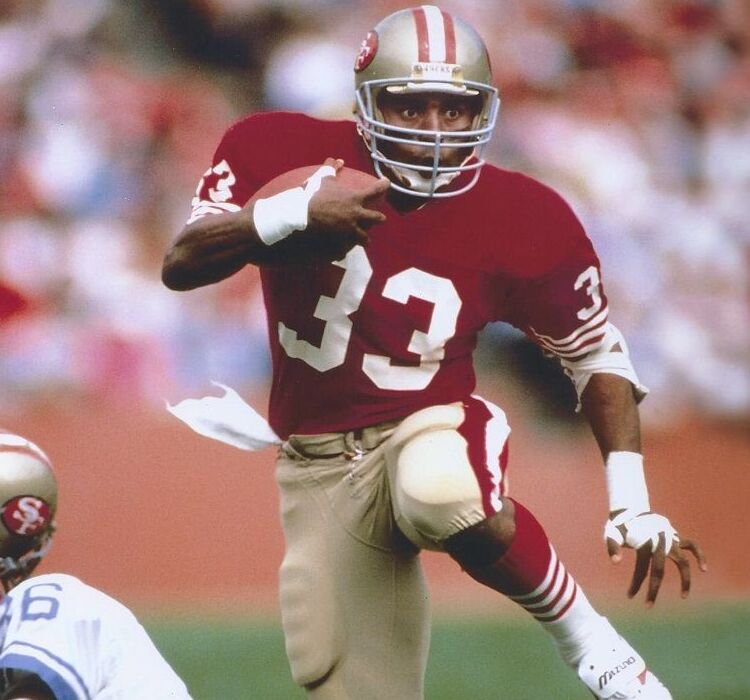 Roger Craig was a staple of the San Francisco 49ers teams of the 1980s and was a dual threat weapon in the West Coast Offense. He rushed for more than 8,000 yards and 56 touchdowns in his career, in addition to more than 4,500 receiving yards and 17 receiving touchdowns.
The three-time Super Bowl champion was named to four Pro Bowls and was the 1985 Offensive Player of the Year.  In that 1985 season, Craig had over 1,000 yards both rushing and receiving. His skills complemented legends Joe Montana and Jerry Rice in the high-powered San Francisco offense, but he is not currently in the Hall of Fame, though many feel he should be. 
Honorable Mention: Corey Dillon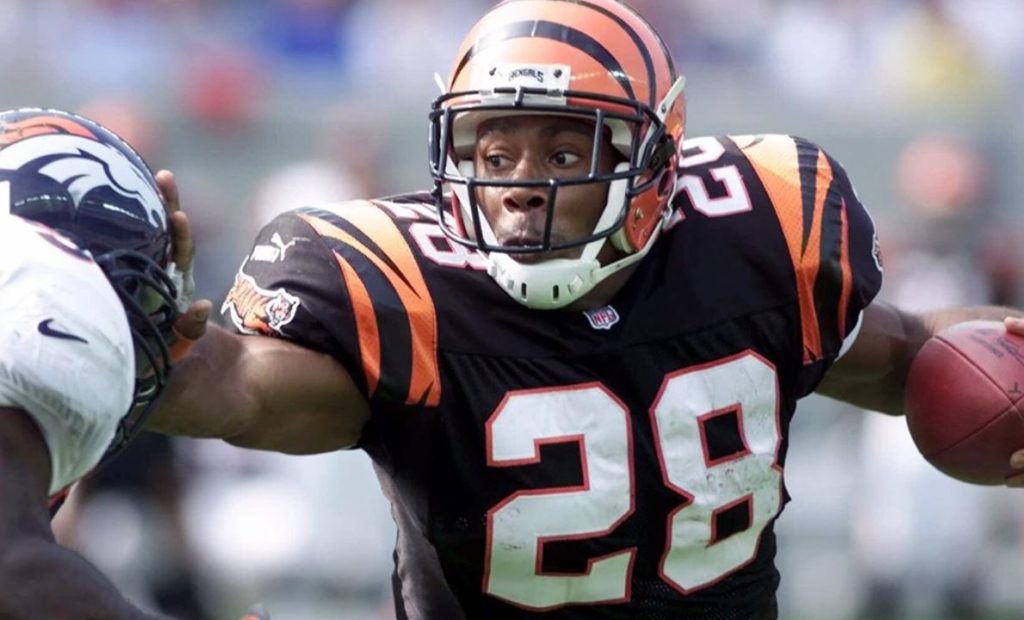 Corey Dillon spent most of his career in Cincinnati, but won a Super Bowl during a stint in New England.  He amassed over 11,000 rushing yards and 82 rushing touchdowns throughout his career. Dillon was very consistent, rushing for over 1,000 yards in all but three of his 10 seasons.
Dillon was named to four Pro Bowls during his career, with his most prolific season coming in 2004 with New England, when he rushed for over 1,600 yards and 12 touchdowns.  
Honorable Mention: Ottis Anderson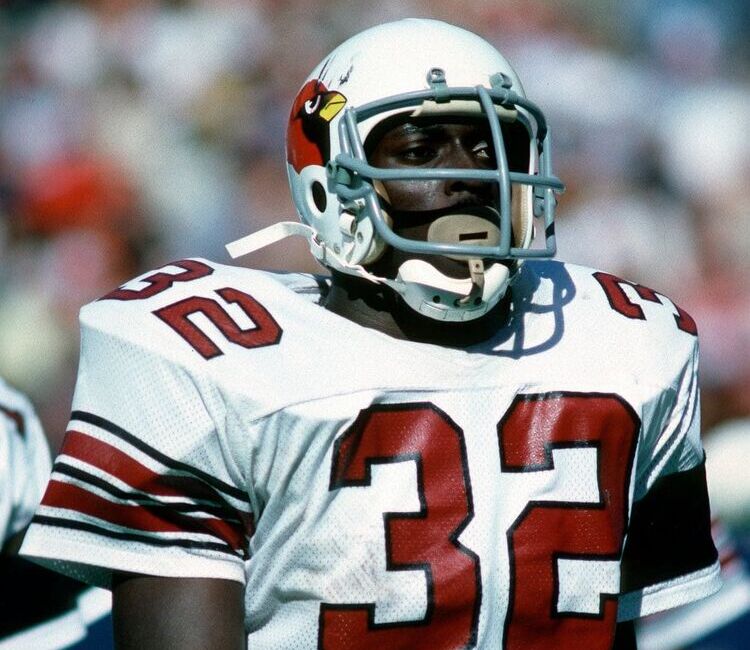 Ottis Anderson burst into the pros in 1979 when he tallied more than 1,600 rushing yards and scored 8 touchdowns. He garnered more than 10,000 rushing yards during his career and scored 81 times on the ground.  
He began his career with the St. Louis Cardinals (now Arizona) before being traded to the Giants in 1986.  Anderson had more than 3,000 yards receiving and was named to two Pro Bowls. He also won two Super Bowl rings as a member of the Giants.
Honorable Mention: Larry Csonka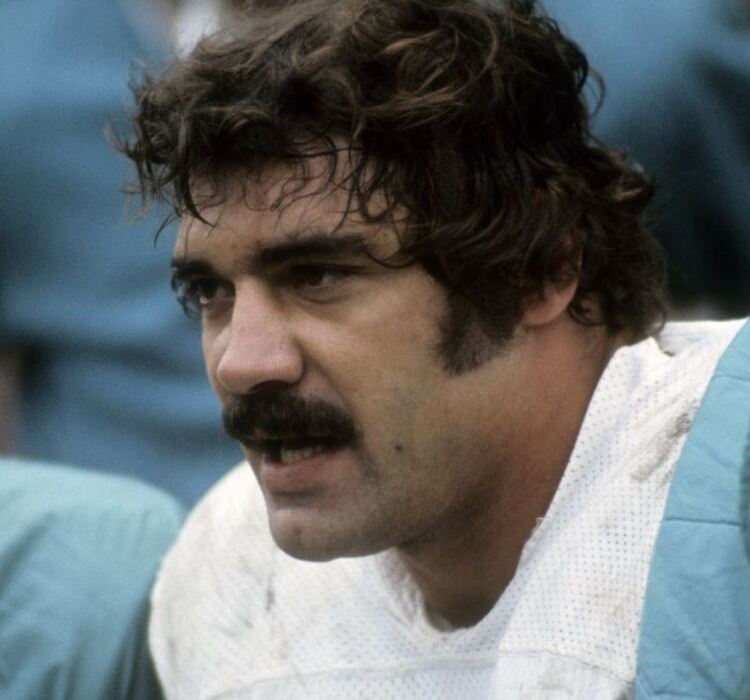 Larry Csonka has become renowned for his distinctive last name, and his mustache, both of which perfectly suited him in the era he played in. He was a major cog in the 1972 Miami Dolphins offense  that famously went undefeated.
Csonka rushed for more than 8,000 yards during his career and racked up 64 rushing touchdowns. He was a five-time Pro Bowler and won two Super Bowls in Miami. Csonka was inducted into the Hall of Fame in 1987.
Honorable Mention: Priest Holmes 
Priest Holmes was perhaps the original fantasy football legend. The dual-threat back was dominant on the ground and through the air, as evidenced by his first three seasons where he tallied more than 2,000 all- purpose yards.  
Holmes finished his career with more than 8,000 yards and scored 86 rushing touchdowns. He added more than 3,000 receiving yards and caught 8 touchdown passes and was named to the All-Pro team on three occasions. 
Honorable Mention: LeSean McCoy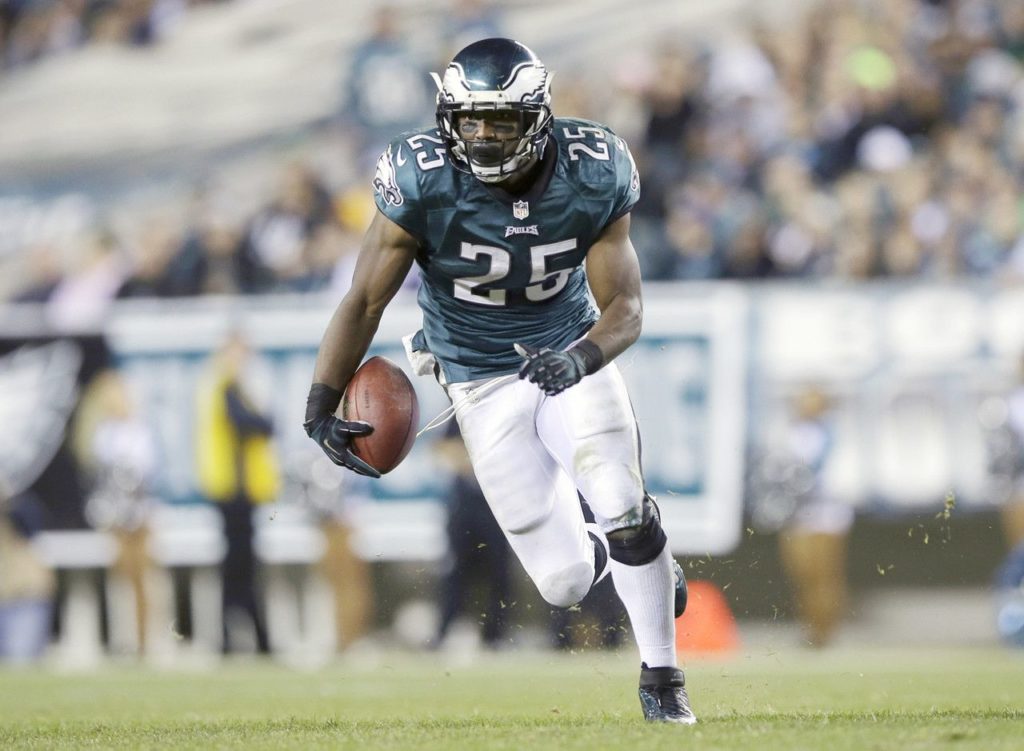 LeSean McCoy was one of the best all-purpose running backs in recent years. A mainstay of the Philadelphia Eagles' offense and a six-time Pro Bowler, he was also named an All-Pro three times.
McCoy has over 11,000 rushing yards and 3,000 receiving yards. Tack on a total of 68 rushing touchdowns and another 15 receiving touchdowns and he will certainly have a strong case for the Hall of Fame once he is eligible. 
Honorable Mention: Fred Taylor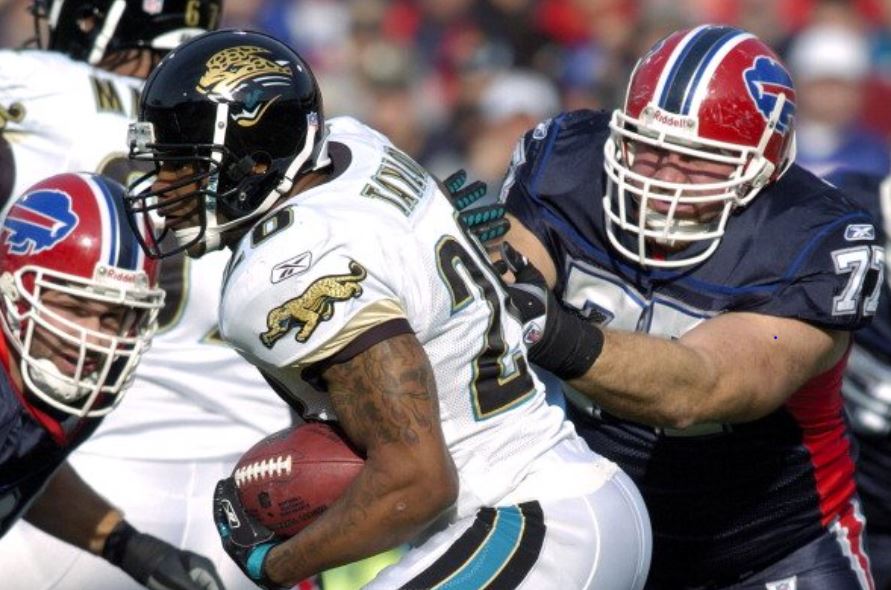 Fred Taylor toiled away in Jacksonville and may have been a bigger star in a more recognizable market. One of the best running backs of the 2000s, Taylor amassed over 11,000 rushing yards in his career and found the end zone 66 times on the ground. His career average of 4.6 yards per carry is a testament to just how effective Taylor was.
Taylor was yet another running back who battled injuries throughout his playing career, but he still managed to play 13 seasons.  n 7 of those 13 seasons, Taylor rushed for over 1,000 yards.  Taylor also added 290 receptions during his playing career for over 2,000 yards.
#10 – Adrian Peterson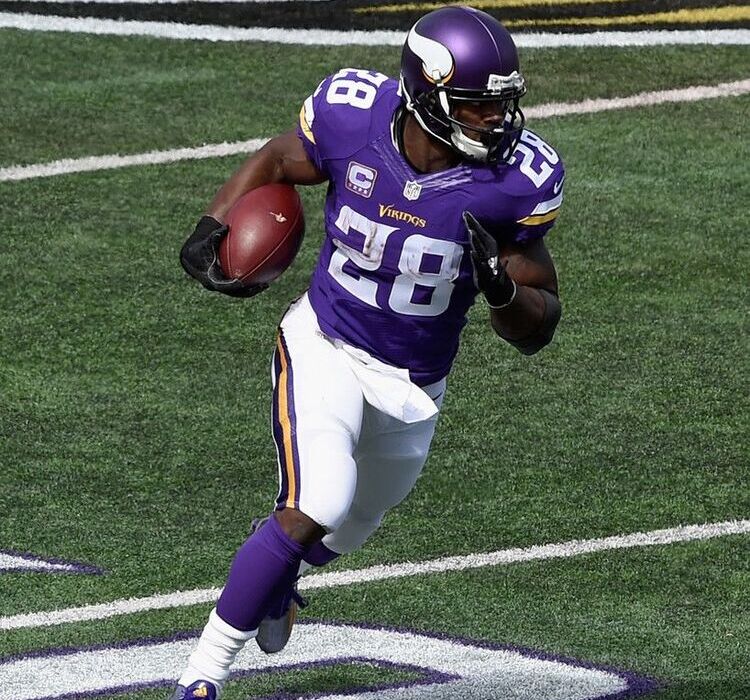 Adrian Peterson is the ageless wonder that always seems to have just a little more in the tank. He has had some major injuries during his career but always manages to bounce back, even after missing an entire season in 2014 with a torn ACL. He had a 2,000 yard season in 2012, putting him in rare company.
Peterson has rushed for over 13,000 yards during his years and has found the end zone 106 times carrying the ball. He has been named to 7 Pro Bowls, led the league in rushing 3 times, and was the league MVP in 2012. Once he hangs up the cleats for good, it will simply be a matter of waiting for the call from the Hall of Fame.
#9 – Earl Campbell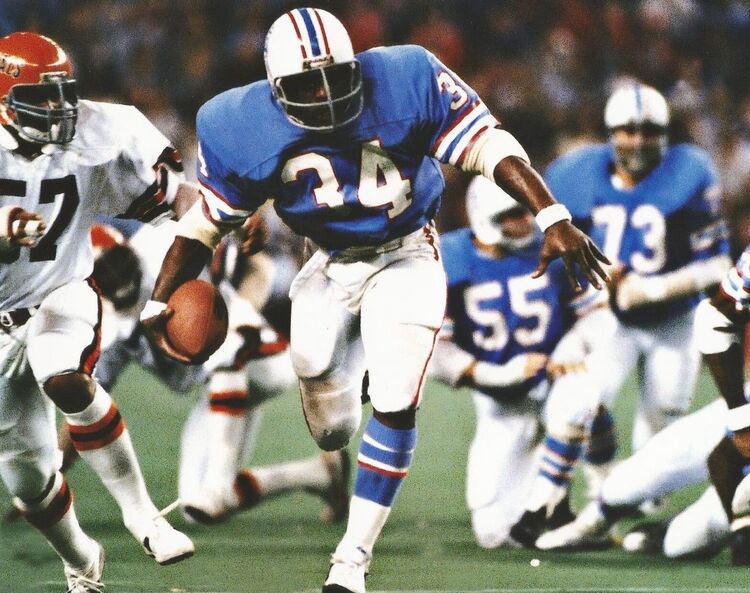 Earl Campbell had a brief career, but packed a lot of fireworks into his years. Injuries cut his career short, but he rushed for over 9,000 yards and was known for breaking off spectacular runs. He scored 74 rushing touchdowns over his tenure.
His first three seasons were memorable, when he had more than 3,000 rushing yards and scored 40 touchdowns. Campbell won an MVP award and was named Player of the Year three times. He was inducted as a member into the Hall of Fame in Canton in 1991.
#8 – Eric Dickerson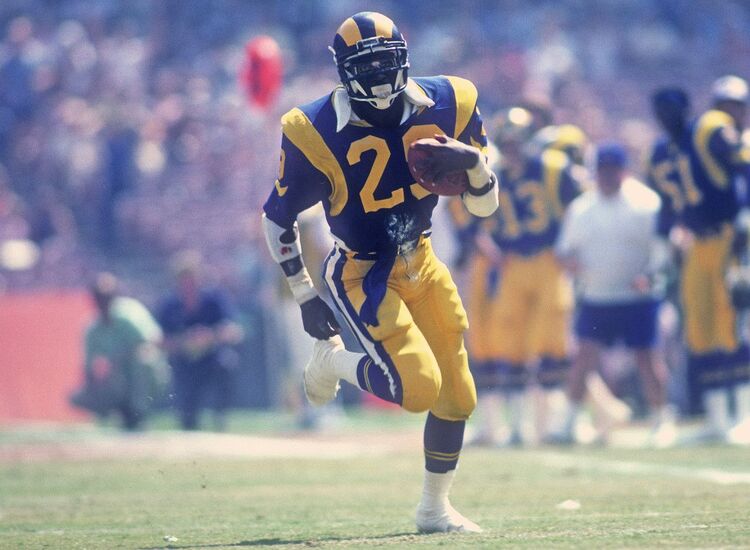 Eric Dickerson was the 1983 Rookie of the Year when he burst onto the scene with over 1,800 rushing yards and 18 touchdowns. He joined the 2,000 season yard club his second season. He tallied more than 1,200 rushing yards in each of his first seven seasons in the pros.
Dickerson finished up with more than 13,000 yards rushing and scored 90 rushing touchdowns.  Injuries hampered the later years in his career but he was named to the All-Pro team five times. Dickerson was elected to the Hall of Fame in 1999.
#7 – Gale Sayers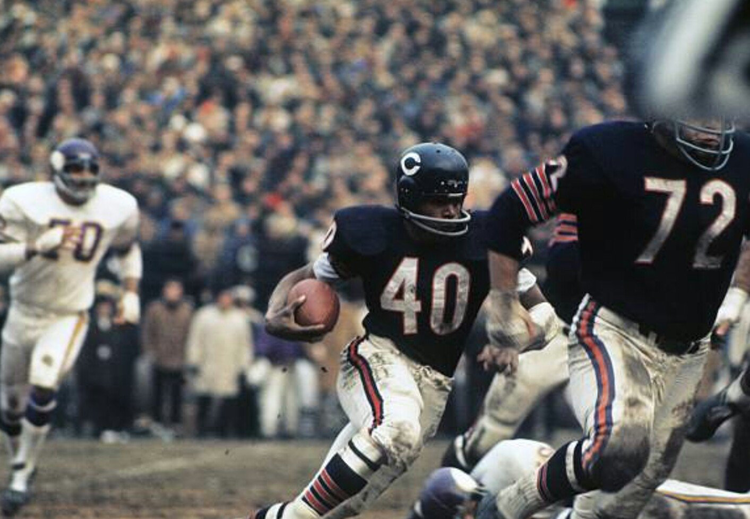 Gale Sayers would have been an internet sensation if he had played in the modern era. His electric runs and kick returns are still the stuff of legend. He played for only 7 seasons but was a dominant force for Chicago in the 1960s.
Sayers had more than 4,900 yards rushing during his brief career, as well as over 1,300 yards receiving.  On the kick return side, he had more than 2,700 yards and 6 touchdowns. He also returned punts to the tune of 391 yards and two touchdowns.
#6 – Marshall Faulk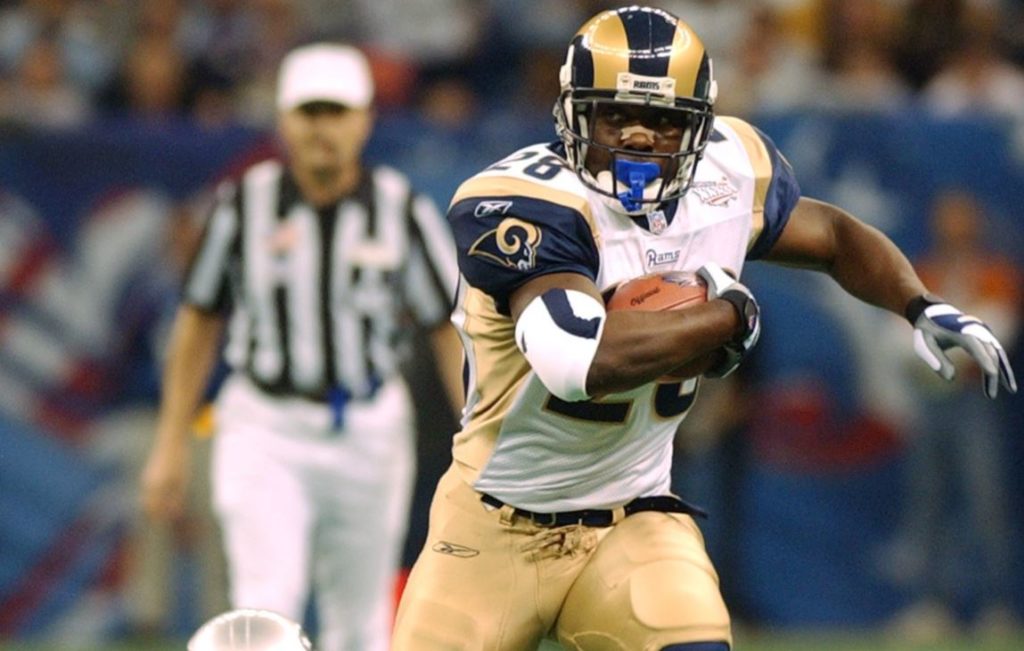 Marshall Faulk is another dual threat back who dominated the fantasy football scene for those lucky enough to draft him. The dynamic player found the end zone many times during his career, finishing with 100 rushing scores and another 36 touchdowns receiving.
He tallied over 12,000 rushing yards and 6,000 receiving yards during his years and was named to 7 Pro Bowls and 3 All-Pro teams. He was a major part of the Super Bowl winning "Greatest Show on Turf" Rams team. The 2000 MVP was enshrined in the Hall of Fame in 2011.
#5 – LaDainian Tomlinson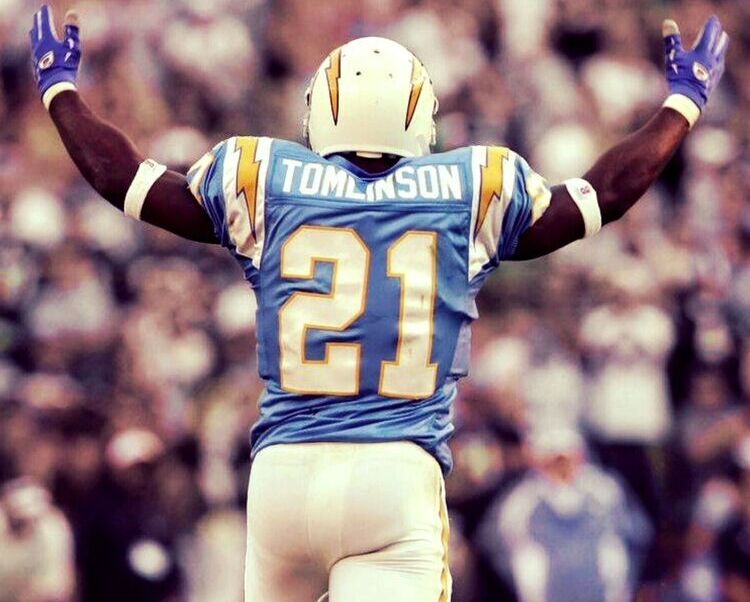 LaDainian Tomlinson is another back that was dominant when it came to running and catching. He scored 10 or more touchdowns in nine straight seasons and was one the most dynamic dual-purpose backs.
Tomlinson rushed for more than 13,000 years during his tenure, scoring 145 times in the process. He was also a fantastic receiver, with over 4,000 yards and 17 touchdowns. He was named to 5 Pro Bowls and won an MVP award. Once he hung them up, Tomlinson was elected to the Hall of Fame in 2017.
#4 – Walter Payton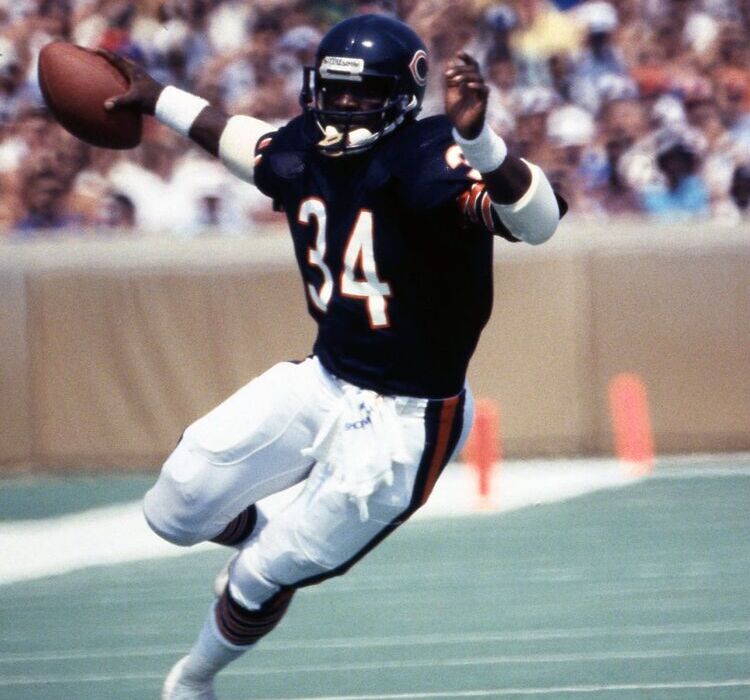 Walter Payton had a nickname that was simply perfect for him, "Sweetness." The Chicago legend was the workhorse of the 1985 Bears team that is considered one of the best of all-time. He shouldered a heavy load his entire career, with over 3,800 carries and 492 receptions.
Payton finished his lengthy career with more than 16,000 rushing yards and 4,500 receiving yards.  He scored 110 rushing touchdowns and added 15 receiving touchdowns. His name is still spoken in mythic tones by Chicago Bears' fans.
#3 – Emmitt Smith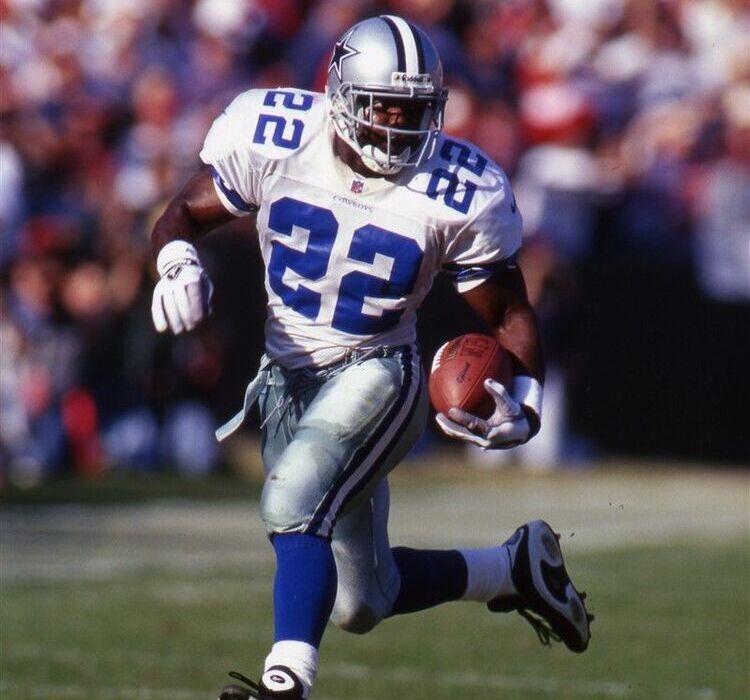 Emmitt Smith was one of the driving forces of the Dallas teams that won three Super Bowls in the 1990s. He played for 15 seasons, leading the league in rushing four of those. He was named to 8 Pro Bowl teams and won an MVP award.
Smith has more than 18,000 career rushing yards and scored 165 rushing touchdowns. He also caught over 500 passes for more than 3,000 yards. His best season was in 1995, when he rushed for more than 1,700 yards and scored 25 touchdowns.  He received the call from the Hall of Fame in 2010.
#2 – Barry Sanders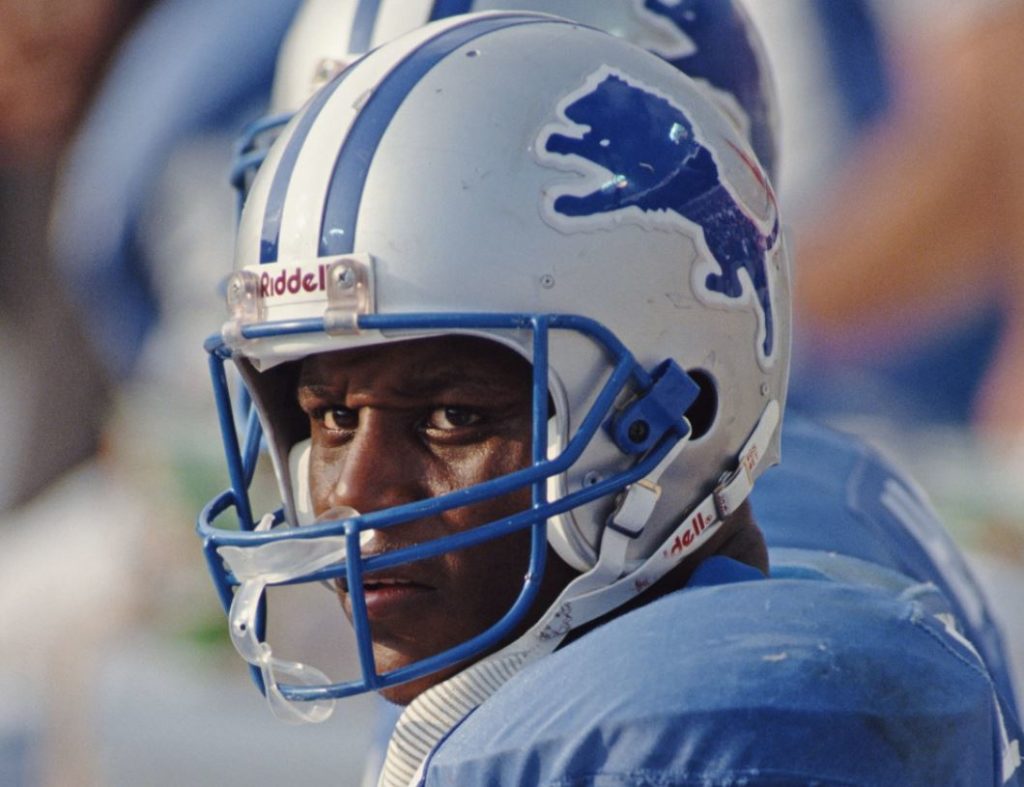 Barry Sanders was electricity personified for the Detroit Lions. He walked away while still seeming to have plenty of gas left in the tank, so we can only speculate what his career numbers would look like had he chosen to keep playing. Astoundingly, he made the Pro Bowl every season he played.
Sanders finished his career with more than 15,000 rushing yards and scored 99 rushing touchdowns.  He is also perhaps the first legendary football video game character, with many controllers being smashed in frustration trying to stop the digital version of him Sanders. He won an MVP award and two Offensive Player of the Year awards on his way to his Hall of Fame induction in 2004.
#1 – Jim Brown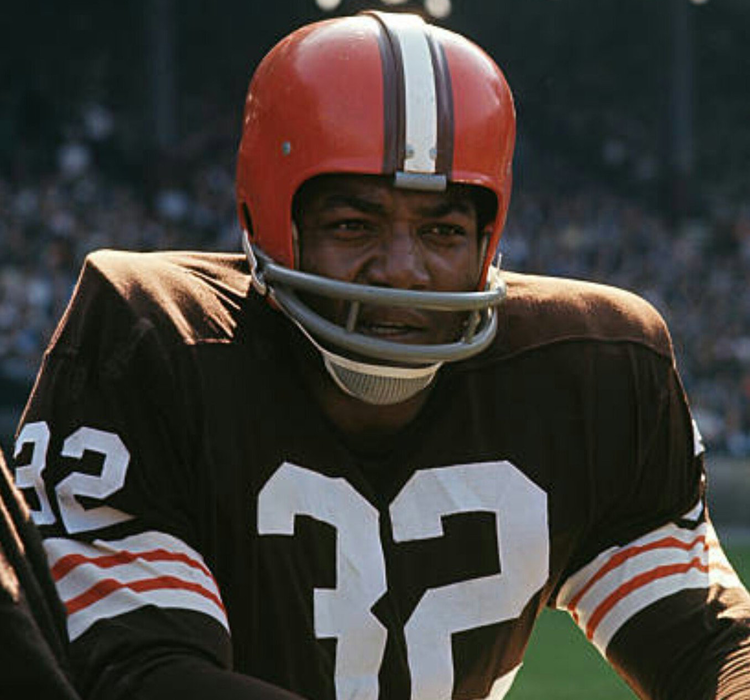 Jim Brown played for nine seasons and retired before his 30th birthday to pursue a career in acting. Those nine years in Cleveland were the stuff of legends, however. He was an All-Pro 8 times and won three MVP awards. Brown rushed for over 12,000 yards during his brief career and scored 106 rushing touchdowns. The Hall of Famer is also considered to be one of the greatest college football and college lacrosse players of all-time.
On the other hand, we all know that the players make the plays, but sometimes the man on the sidelines may be the difference between a wild-card bid and a championship run. We're talking about the role that affects almost every other player on an NFL roster—the head coach. Someone on this list can undoubtedly disprove our assertions this year, but without further ado, here's the full rundown…
#32 Jeff Saturday, Indianapolis Colts
After a little more than four seasons as the head coach of the Indianapolis Colts, Frank Reich lost his job. Reich — who led the Colts to the postseason in 2018 and 2020 — was fired following a loss that dropped Indy to 3-5-1 on the year. Then, the Colts shocked the country by hiring Jeff Saturday to fill in as the interim head coach.
Saturday enjoyed a 13-year playing career with the Colts, but he had never coached in the NFL — or college — before being handed the keys to the team. Saturday is the first NFL head coach with no college or pro coaching experience in more than 60 years.
#31 Steve Wilks, Carolina Panthers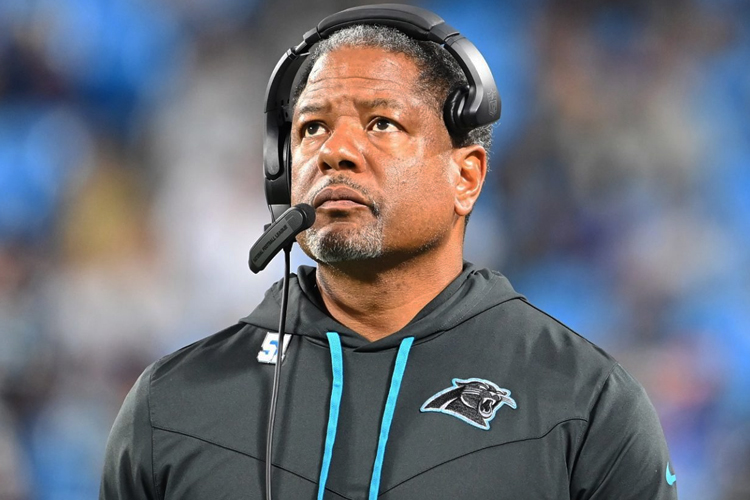 Five games into the 2022 season and the Panthers finally pulled the plug on the Matt Rhule era. Rhule went 11-27 as Carolina's head coach over two and a half seasons. During that stretch, the Panthers went an impossible 1-26 when their opponents scored over 17 points. Rhule's tenure was dominated by one troubling concept — overconfidence. The supposed offensive guru attempted to rehabilitate several flailing QB's (Teddy Bridgewater, Sam Darnold, Baker Mayfield), to no avail. The offense looked worse by the week. Perhaps Steve Wilks does a better job as interim coach.
Remember, Wilks was fired after just one year as Arizona's coach back in 2018 — the team opted for Kliff Kingsbury and later drafted Kyler Murray after going 3-13. Now, he takes over a team that just traded away its best offensive player and is starting fourth-string QB P.J. Walker at quarterback.
#30 Nathaniel Hackett, Denver Broncos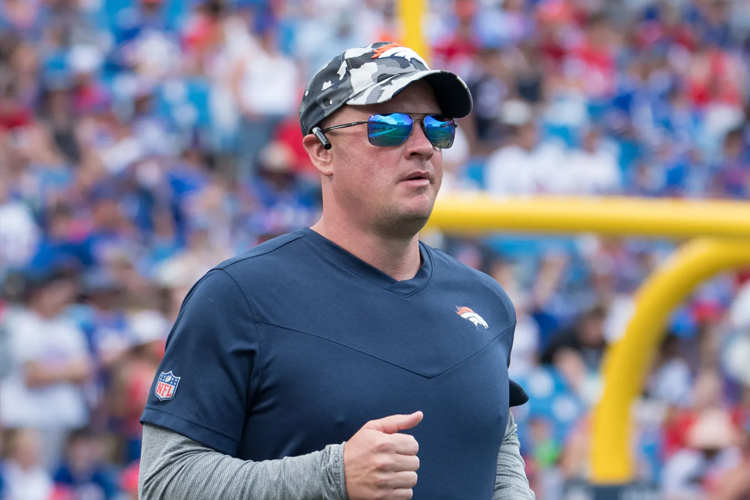 Hackett's tenure in Denver could not be off to a worse start. The former Green Bay offensive coordinator inherited a strong roster with the Broncos. Unfortunately, everything has gone wrong as the offense has cratered under new QB Russell Wilson.
Hackett's game plan and in-game decision-making have been called into question. This could be a situation where Hackett is a one-and-done head coach, as he is seemingly best suited to be a coordinator at the NFL level.
#29 Lovie Smith, Houston Texans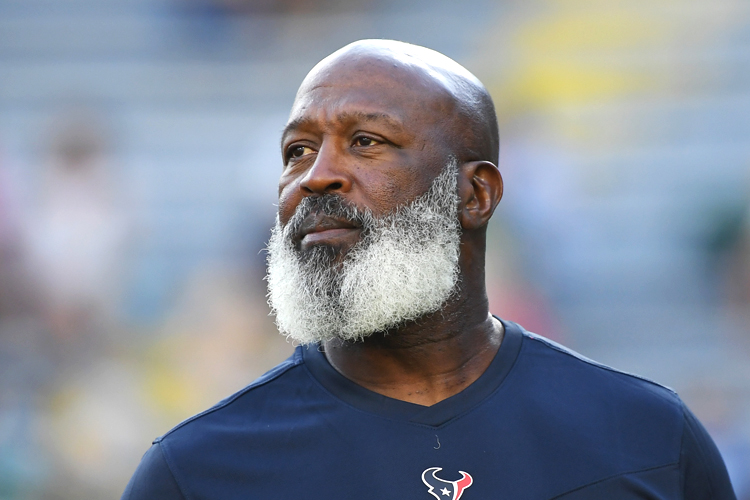 In nine seasons (2004-'12) coaching the Chicago Bears, Smith went 81-63, won three division titles, and made the Super Bowl. Coaching stops at Tampa Bay and the University of Illinois followed, where he went a combined 25-63. After spending the 2021 season as the Texans' defensive coordinator, when it ranked 27th allowing 26.6 points per game, the franchise made him its head coach.
Now, Smith was not Houston's first choice, and there is plenty of baggage that comes with this job (hello, Deshaun Watson), but perhaps his experience and player likability will guide the Texans to a positive path.
#28 Matt Eberflus, Chicago Bears
The Bears ranked 27th in offense last season, averaging 18.3 points. So, they go out and get a guy with a defensive background who's never been a head coach….OK. Eberflus, who spent the last four seasons as Indianapolis' defensive coordinator, is well respected around the league.
But, Chicago is a middling franchise that hasn't won a playoff game since 2010. Perhaps the one area to keep an eye on under Eberflus is how former Green Bay quarterbacks coach and new Bears offensive coordinator Luke Getsy gets along with quarterback Justin Fields.
#27 Dan Campbell, Detroit Lions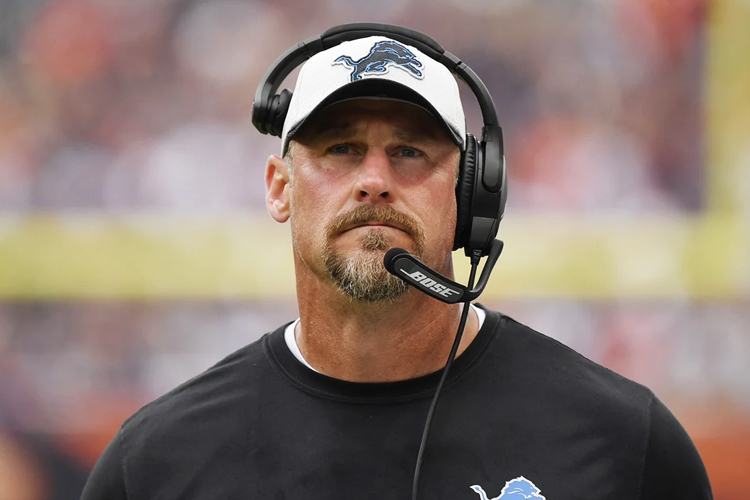 In 2021, Detroit finished 3-13 during Campbell's first season in charge. That's four straight losing seasons for those keeping scores at home. Yet, there is a strong sense of optimism that better days are ahead under Campbell. The Lions played hard and beat the Vikings, Cardinals, and a laid-down Packers group.
Plus, Jared Goff, D'Andre Swift, T.J. Hockenson, and Amon-Ra St. Brown (90 receptions, 912 yards, five TDs as a rookie in 2021) might be worthy pieces to build an offense around. The offense started off strong in '22, but it hasn't translated into many wins. Can Campbell be the coach that turns Detroit into a winning team?
#26 Kliff Kingsbury, Arizona Cardinals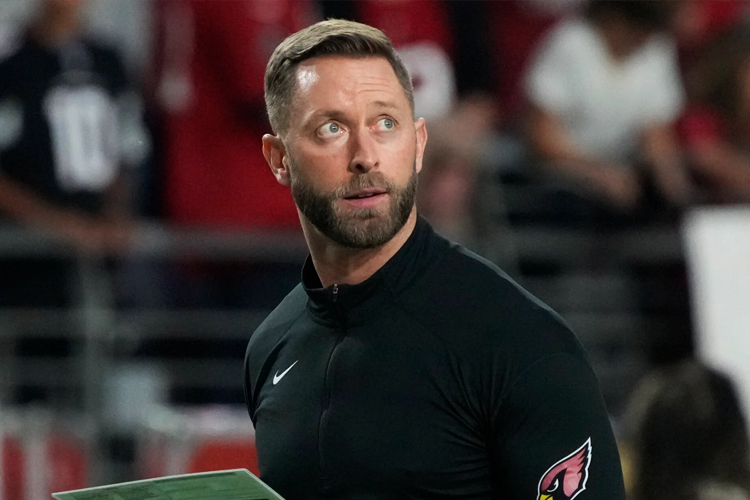 The Cardinals have gotten better each season since Kingsbury surprisingly got the job prior to the 2019 campaign. He recorded his first winning record (11-6) and a playoff berth last season, but that 34-11 wild-card loss to the Rams dampened things.
Now, Kyler Murray's apparent dislike of the Arizona franchise throws another wrinkle into this mess. That situation, obviously, will determine whether Kingsbury's success with the Cardinals is halted. There is plenty of 'wait and see' when it comes to Kingsbury and the Cardinals.
#25 Arthur Smith, Atlanta Falcons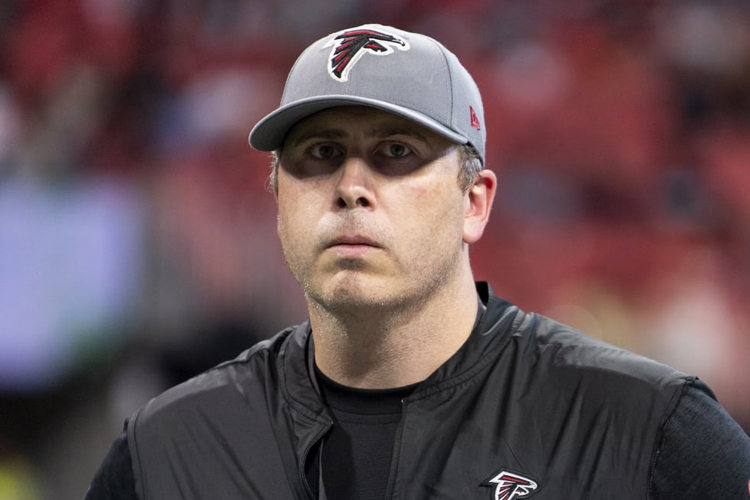 It's hard to gauge what to make of Smith after one 7-10 season. The Falcons, in rebuilding mode, had their moments in 2021 but won back-to-back games just once. They also averaged 18.4 points. The team parted ways with longtime QB Matt Ryan this offseason and brought in veteran Marcus Mariota along with drafting Cincinnati hurler Desmond Ridder.
It's been an interesting start to Year 2 for Smith. Atlanta's rush attack has been impressive, though the passing game leaves a ton to be desired. It's especially peculiar given that the Falcons have recently spent two top-10 picks on pass catchers — Kyle Pitts and Drake London. Perhaps the offense opens up once Ridder gets inserted into the lineup, but only time will tell.
#24 Dennis Allen, New Orleans Saints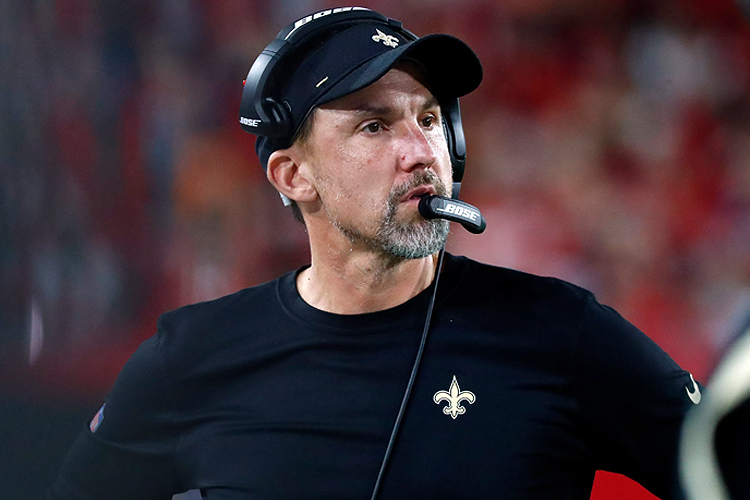 Allen gets a second chance at a head-coaching gig. Perhaps the second time will be the charm. Allen went 8-28 while lasting fewer than three seasons before being fired as the Raiders head coach four games into the 2014 campaign. However, Smith spent the past seven seasons as the Saints defensive coordinator, so maybe familiarity will help this time around. Now, he has a quarterback situation that's murky.
Allen will not have the benefit of leaning on a Hall of Fame QB in Drew Brees much like Payton could. It's difficult to judge Allen with his QB's being Jameis Winston and Andy Dalton. And, without a first-round pick next year, it's hard to imagine the Saints getting a major upgrade at that position anytime soon.
#23 Ron Rivera, Washington Commanders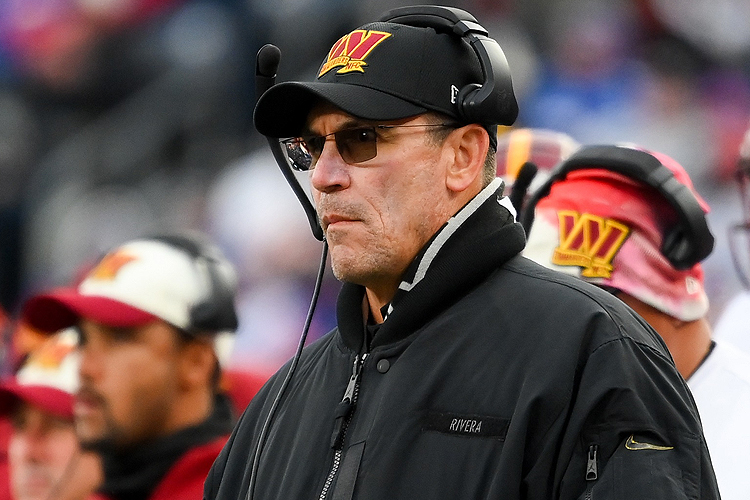 Will a new name make a difference for Rivera and Co? He's 14-19 in two seasons with Washington and has that back-door NFC East title from 2020. There's enough talent on the Commanders' roster for them to be competitive in 2022, but a veteran quarterback might truly help the cause.
To the surprise of nobody, Carson Wentz was not the answer. Regardless, Rivera remains respected by players and fans, alike, but the wins need to start showing up.
#22 Robert Saleh, New York Jets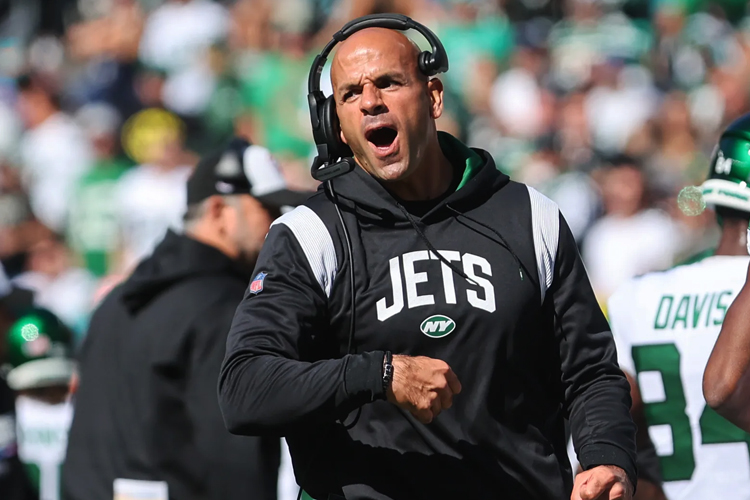 In Year 1, Saleh guided New York to a 4-13 record while ranking 28th in scoring (18.2 points per game) and last in points allowed (29). That's not a great sign for a defensive-minded coach. Though, things could be turning around for Saleh and the Jets organization.
New York has seemingly hit on a number of first-round picks over the years, and currently, bolsters a promising roster filled with blue-chippers. Still, if there isn't also a significant step forward on "D," his area of expertise coming from the 49ers, there will remain a cause for concern.
#21 Mike McCarthy, Dallas Cowboys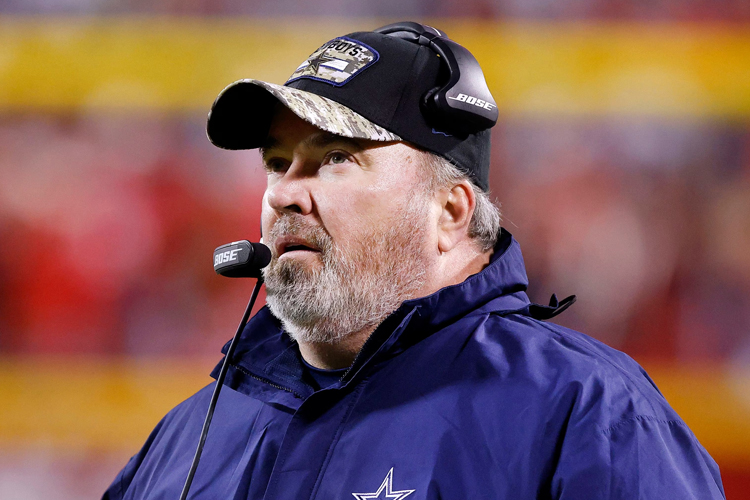 Two years into McCarthy's Cowboys' tenure and owner Jerry Jones already had to give his coach a vote of confidence. Dallas is the reigning NFC East champion, but that home playoff loss to San Francisco has many Cowboys fans questioning if McCarthy is the right guy for the job.
It's been more than 25 years since the Cowboys played in a Super Bowl and the natives are getting restless. Despite having so much talent at his disposal, ill-timed, old-school decisions have too often doomed him. Maybe that's why team owner Jerry Jones publicly ponders about canning him for his own defensive coordinator.
#20 Kevin Stefanski, Cleveland Browns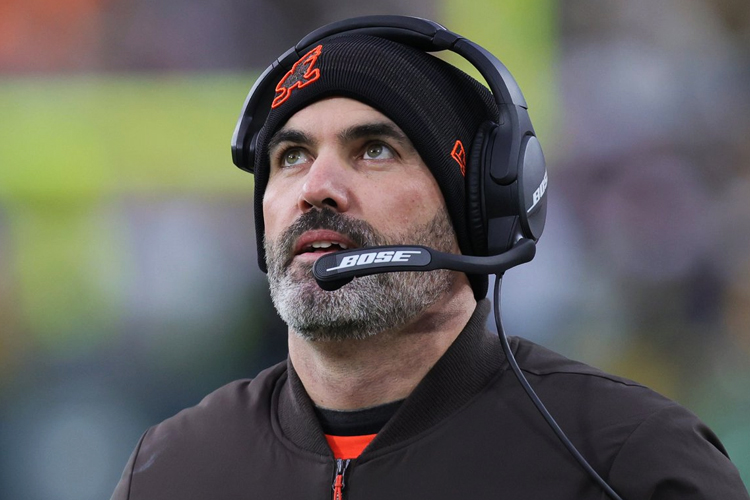 The NFL Coach of the Year in 2020 to one who missed the playoffs with an 8-9 mark in 2021. Those two ends of the NFL spectrum of success for Stefanski leave uncertainty about 2022. Inconsistency reigned supreme in Cleveland in 2021, a highly disappointing moment for a franchise that appeared to be on the rise.
Stefanski isn't going anywhere, meanwhile. The process of getting the quarterback and coach on the same page both now and in the future commenced with Monday's exit interviews.
#19 Todd Bowles, Tampa Bay Buccaneers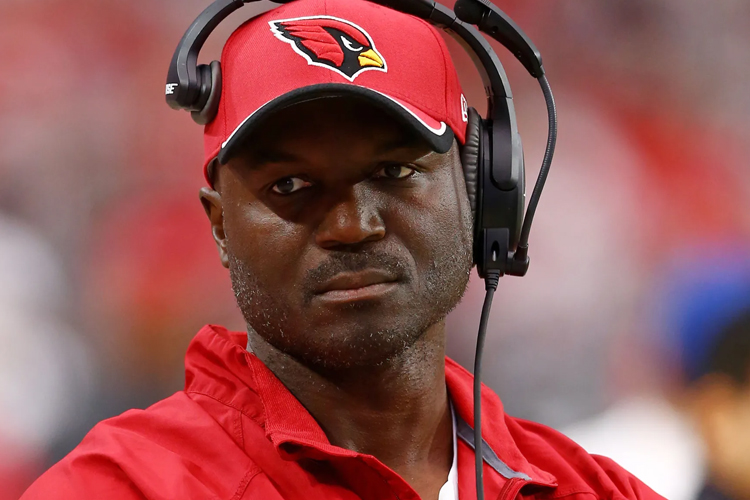 A dramatic Buccaneers offseason saw the team lose their quarterback, and regain their quarterback, only to lose their Super Bowl-winning coach. Tom Brady, in; Bruce Arians, out. Defensive coordinator Todd Bowles received the promotion to head coach, a position he is familiar with. Bowles was an interim coach for the Dolphins back in 2011 (three games) before being the head coach for the New York Jets from 2015-18.
Bowles won ten games in his first year with the Jets but finished 14-33 over his last three seasons before ultimately getting canned. The Buccaneers boast one of the league's top rosters and the greatest quarterback of all time. Needless to say, the pressure is on for Bowles to attain immediate results.
#18 Kevin O'Connell, Minnesota Vikings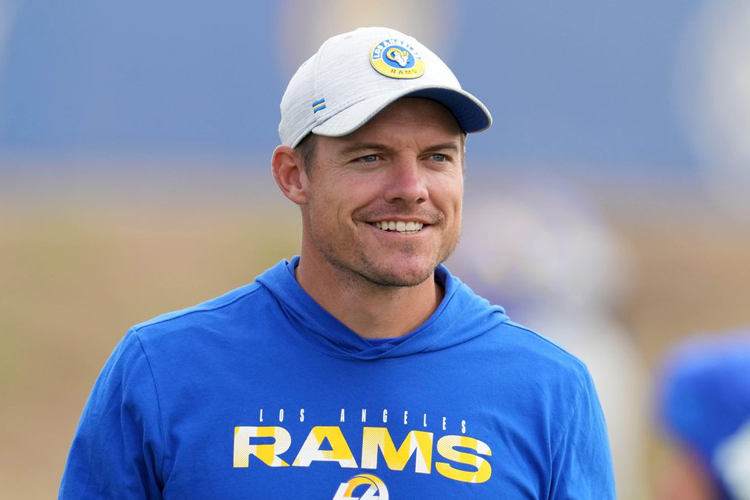 As offensive coordinator, O'Connell helped the Los Angeles Rams win the Super Bowl. In Minnesota, he has some enticing offensive talent to work with – Dalvin Cook, Justin Jefferson, and Adam Thielen.
Now, is Kirk Cousins still in the Vikings' long-term plans? That remains to be seen, but Minnesota fans just might end up liking this move. He's given the team an immediate boost as the Vikings appear to be the class of the NFC North.
#17 Josh McDaniels, Las Vegas Raiders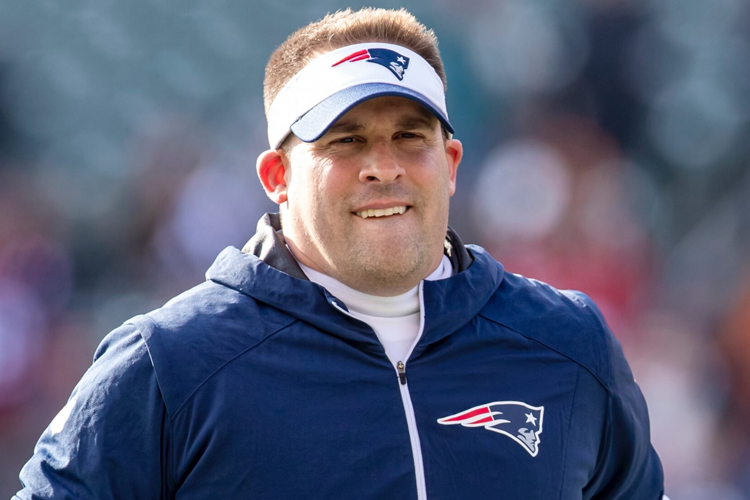 Like Dennis Allen, McDaniels is trying his hand at another job running a team. McDaniels' head-coaching tenure in Denver lasted 28 games with an 11-17 mark in 2009 and part of 2010. These Raiders are coming off making the playoffs and made major improvements this offseason with the additions of Davante Adams and Chandler Jones.
However, McDaniels must find a way to get comfortable outside New England. One would think the experience of his first head-coaching debacle will mean lessons learned and improvements made. After a troubling start, it appears as if McDaniels might have the Raiders back on track.
#16 Doug Pederson, Jacksonville Jaguars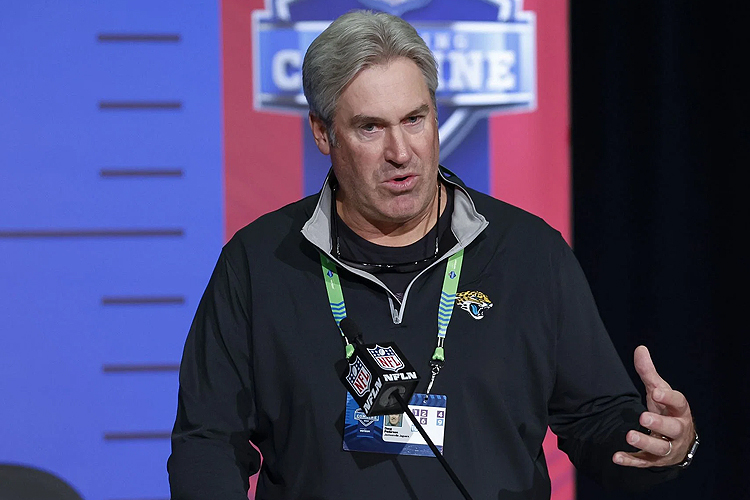 Give the Jaguars credit for hiring a respected and successful coach. He's won a Super Bowl and one would think the culture of the team will improve. The Jaguars actually have potential on defense (they did hold Tennessee, Indianapolis, and Buffalo to 20 or fewer points in games during the 2021 season). It might be a matter of Pederson tuning up quarterback Trevor Lawrence, who failed to complete 60 percent of his passes and threw just 12 touchdowns against 17 interceptions as a rookie.
The hope is Pederson doesn't become too reliant on old staffers and ideas, and that his new front-office friends learn to better allocate their resources in order to keep Lawrence moving forward.
#15 Brandon Staley, Los Angeles Chargers
It's easy to bash Staley for his apparent timeout gaffe against the Raiders during the 2021 regular-season finale loss that kept L.A. out of the playoffs. Still, the Chargers went 9-8 during their first season under Staley, the analytics-obsessed talent with a promising future.
Having quarterback Justin Herbert also helps this. Now, the AFC West is getting better all around, but we expect Staley and the Chargers to remain in the thick of things.
#14 Zac Taylor, Cincinnati Bengals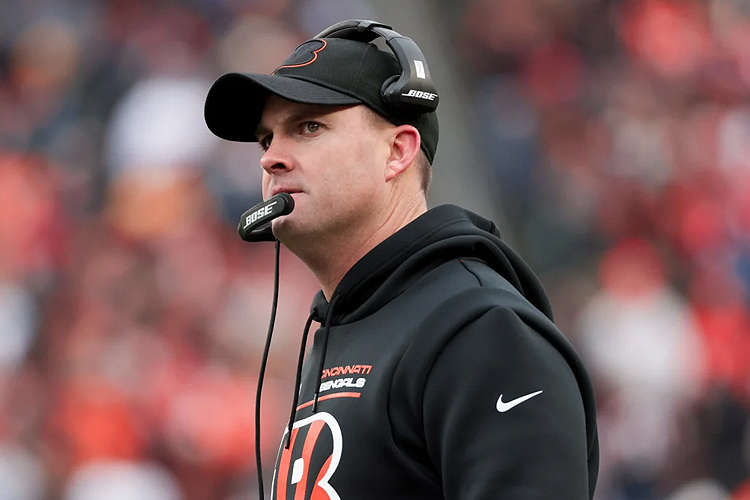 In his two seasons prior as Bengals' coach, Taylor's group went 6-25. Then came 2021 — A 10-7 record, an AFC North title, Cincinnati's first playoff victory since the 1990 season, and a Super Bowl appearance. Now, a healthy Joe Burrow, an elite running back in Joe Mixon, and star receiver Ja'Marr Chase help Taylor's cause.
The good news for Taylor is that as long as his offense keeps Burrow upright and on schedule, he'll keep rising up the ranks.
#13 Mike McDaniel, Miami Dolphins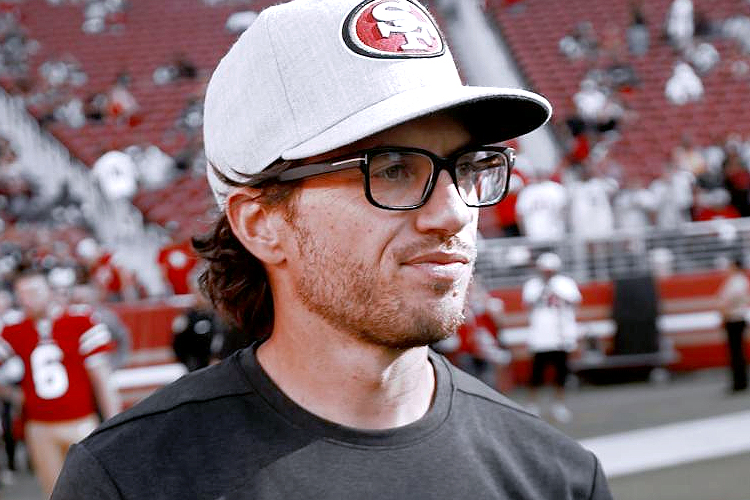 Dolphins fans should be thrilled with how the Mike McDaniel era has begun. The former San Francisco offensive coordinator has been a revelation for the Dolphins. His play-calling savvy has traveled to Miami, as the Dolphins keep teams off balance with a balanced mix of run and pass.
The team also seems to love playing for McDaniel. Defenses will make adjustments as time passes, but there aren't a whole lot of adjustments that can be made to prevent Tyreek Hill and Jaylen Waddle from running free. This offense is for real, and McDaniel is the brains behind the whole operation.
#12 Brian Daboll, New York Giants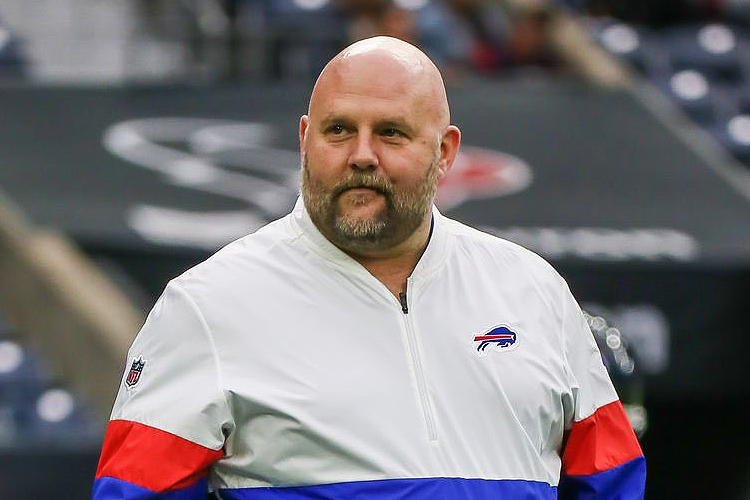 An early favorite for Coach of the Year, Brian Daboll has been everything the New York Giants hoped for and then some. Daboll's early success makes one wonder how it took so long for him to receive his first chance as a head coach.
In just a short time, Daboll has guided the Giants to their most wins since 2016, helped rejuvenate Saquon Barkley, and has Daniel Jones playing the best football of his career. Daboll's creative scheme keeps defenses off balance, and he's shown the confidence and cleverness needed to be a successful long-term coach.
#11 Pete Carroll, Seattle Seahawks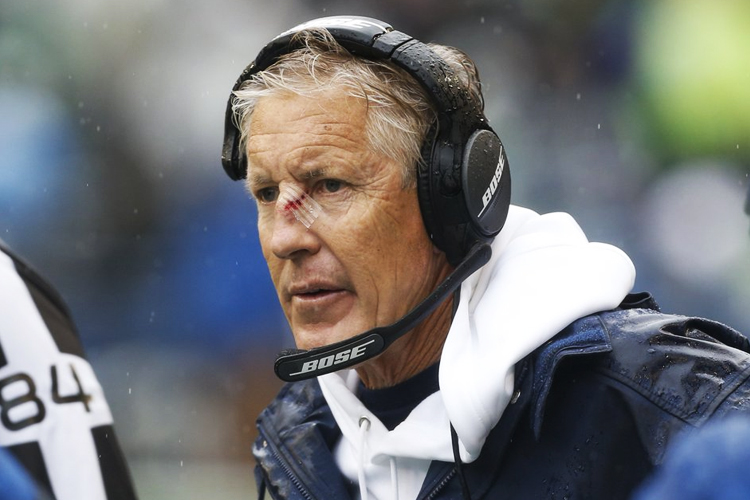 It appears Carroll's stellar tenure in Seattle won't be ending — for the time being. However, he is delegating plenty of authority, and new associate head coach Sean Desai could be Carroll's heir apparent.
What we do know is that Carroll's Seahawks are in the process of rebounding from missing the postseason for just the second time since 2012 (Russell Wilson's rookie season). Seattle does seem to be winning the breakup thus far, and Carroll is pulling out all the stops with Geno Smith at QB.
#10 Nick Sirianni, Philadelphia Eagles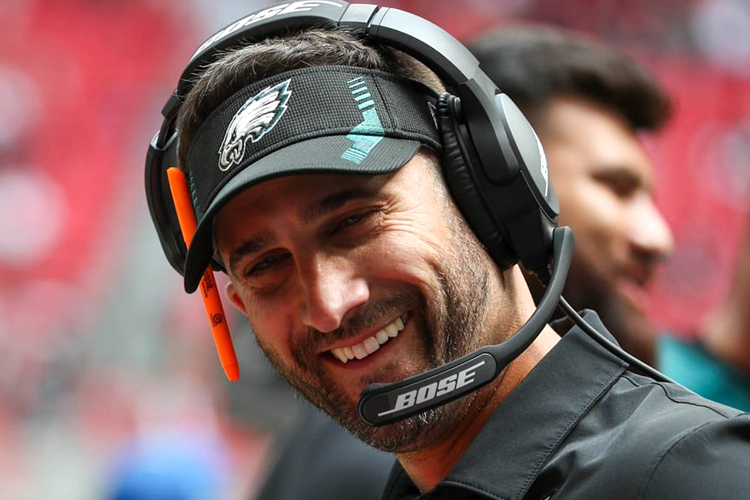 Sirianni turned plenty of heads by taking the Eagles to the playoffs in his first season as coach. Perhaps most important, Sirianni earned the trust of his players and those fickle Philly fans — for now. Now, the Eagles are looking to seize control of the NFC with one of the most balanced teams in football.
He's obviously aided by coaching one of the best rosters in the NFL, but Sirianni has overseen drastic schematic and philosophical changes on both sides of the ball. Expectations are now high in Philadelphia, and anything other than a deep postseason run will be a disappointment.
#9 Kyle Shanahan, San Francisco 49ers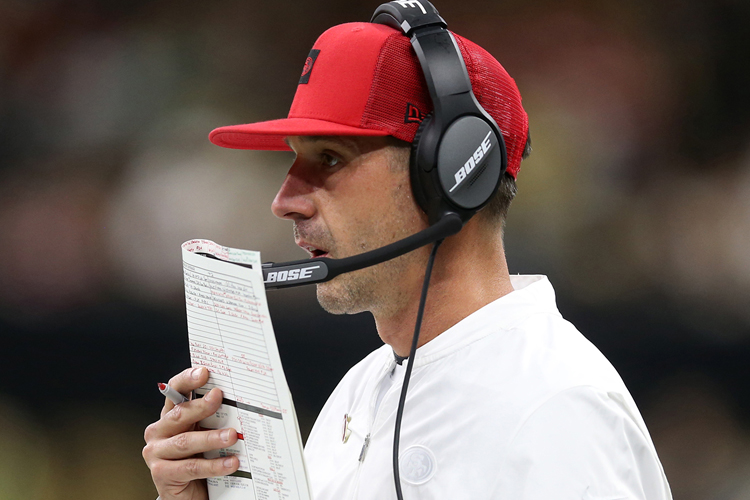 Shanahan is regarded as one of the most brilliant minds in the game today. He's an offensive guru who routinely draws up brilliant play designs. However, the question remains: can Shanahan lead a team to a Super Bowl win? His first taste of the big game came when he was offensive coordinator for the Falcons — and we all know how that ended for Atlanta.
The 49ers came up short in their Super Bowl efforts against Patrick Mahomes and the Chiefs in 2020. Both games saw Shanahan's team giving up major leads down the stretch. San Francisco has all the talent in the world, but can Shanahan seal the deal?
#8 John Harbaugh, Baltimore Ravens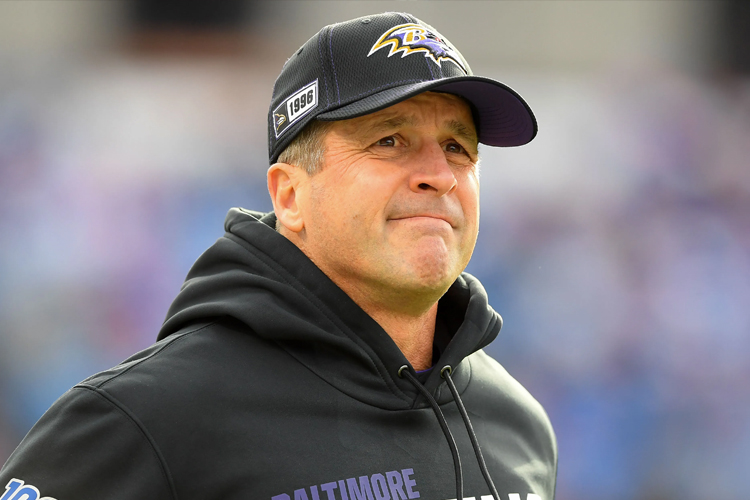 For now, John is the only head-coaching Harbaugh in the NFL. There might not be any if Lamar Jackson doesn't get healthy and stay on the field in 2022. Yes, Harbaugh is one of the best coaches in the game with four division titles and a Super Bowl win. But, the Ravens haven't been to the AFC Championship since that Super Bowl triumph to conclude the 2012 campaign.
Baltimore is an inconsistent group, and the AFC is getting tougher to navigate by the season. A disappointing year could lead to some serious changes around the Ravens.
#7 Mike Tomlin, Pittsburgh Steelers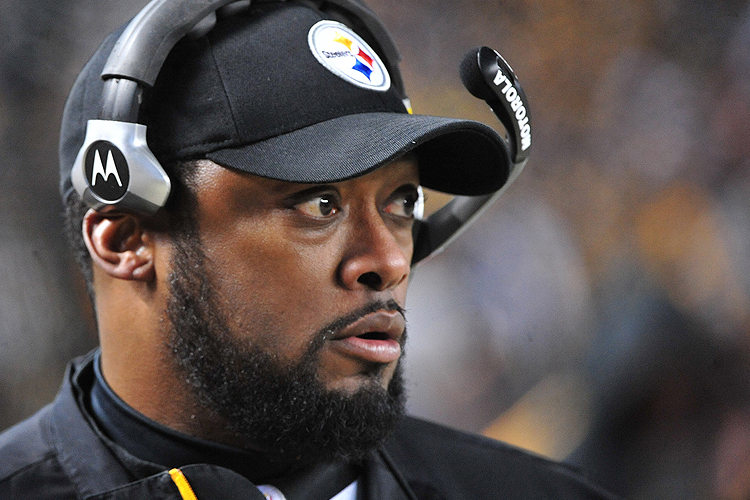 It's remarkable that Tomlin's teams have never posted a losing record in any of his 15 seasons running the show in Pittsburgh. Of course, he doesn't have Big Ben to lean on anymore. Not to mention, the AFC North is a beast from top to bottom.
However, like John Harbaugh, Tomlin's teams will always be in the mix. Maybe not among the best in the AFC, but teams are certainly capable of winning each and every week. Tomlin does an excellent job of rallying his group and preparing them on a weekly basis.
#6 Matt LaFleur, Green Bay Packers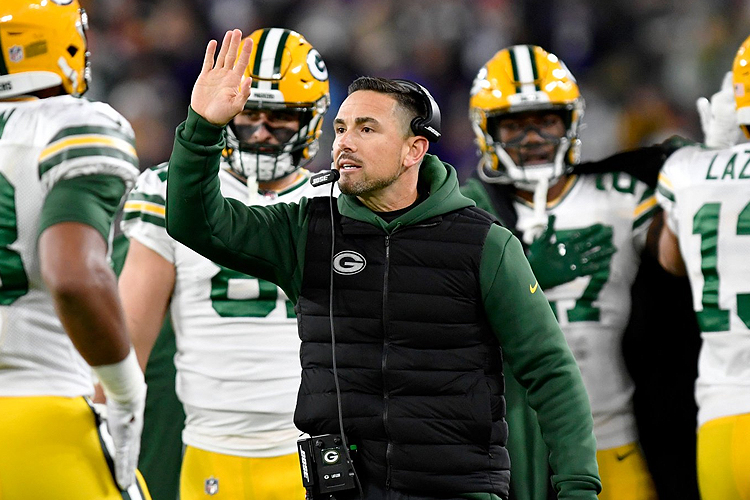 The good news: Green Bay has won 75 percent of its games and captured three consecutive NFC North titles in three seasons under LaFleur. The bad news is: The Packers haven't reached a Super Bowl in any of those seasons. Now, with reigning NFL MVP Aaron Rodgers uncertain about his future in Green Bay, LaFleur's job could get more difficult.
Still, LaFleur is a proven winner who devises an excellent offensive game plan. Remember, the Packers were under .500 in each of the two seasons prior to LaFleur's arrival. He must receive some credit for the work he's done in Green Bay thus far.
#5 Mike Vrabel, Tennessee Titans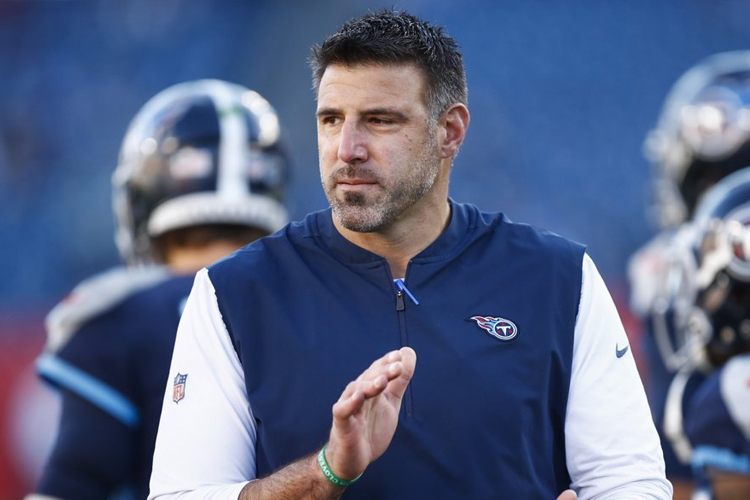 The 2021 NFL Coach of the Year earned that designation by putting together a phenomenal season. Vrabel's Titans won a second straight AFC South title and did so with star running back Derrick Henry out for more than half of the season.
Now, Tennessee failed to win a playoff game as the AFC's top seed, and the playoff disappointments are beginning to mount. He's 45-26 with three playoff appearances (2-3 record) in four-plus seasons at Tennessee, which most NFL coaches would dream of owning.
#4 Sean McDermott, Buffalo Bills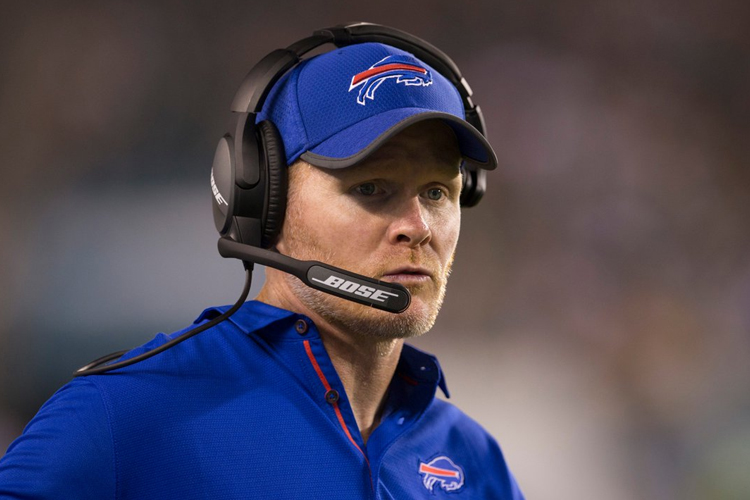 Three straight seasons of at least 10 wins and back-to-back AFC East titles. McDermott has certainly put the Bills in a position to possibly relive those glory days from the 1990s — except with a Super Bowl win this time around. However, Buffalo's defense folded down the stretch last year and McDermott's coaching decisions were questioned during that crushing divisional-round loss to Kansas City.
Still, McDermott has helped assemble one of the most talented rosters in football, and he's consistently allowed talented offensive coaches like Brian Daboll and Ken Dorsey to run their units.
#3 Bill Belichick, New England Patriots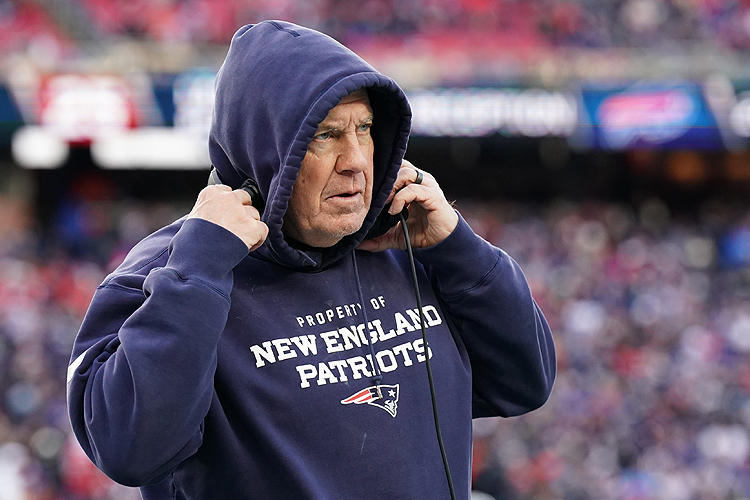 For Belichick, there is life after Tom Brady. Thanks to rookie Mac Jones and a cast of non-household names, plus a stingy defense, the Patriots returned to the playoffs in 2021 following a down '20. We don't know how much longer Belichick plans to coach, but it's still not wise to count his teams out.
New England has some young talent that's worth watching, and the defense will likely always play well under Belichick's watch. As long as he patrols the sideline, the Patriots will never be an easy out.
#2 Sean McVay, Los Angeles Rams
McVay has not endured a losing season during his five-year run with the Rams and totaled 55 regular-season victories plus his recent Super Bowl triumph. He may be more conservative than most think, and he's occasionally a streaky play-caller, but what else can you ask of him at 36?
His Rams' have won three division titles and reached the Super Bowl twice in four years.  The only reason you wouldn't "draft" McVay as both your short- and long-term leader is because his instant ascent has afforded him the flexibility to consider early retirement.
#1 Andy Reid, Kansas City Chiefs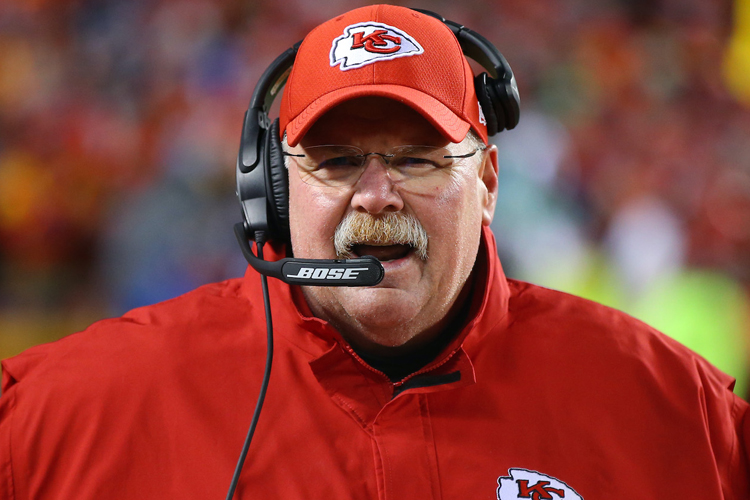 Andy Reid cemented his Hall of Fame case by winning Super Bowl 54, and he's continued to augment his legacy in the years since. The Chiefs have won the AFC West in each of the last six seasons and hosted the last four AFC Championship Games. He's in his mid-60s, so Reid still has a few more miles left in the tank. Reid is widely regarded as one of the great coaches in NFL history, and the 2020 Super Bowl victory all but confirmed that.
Head coaches clearly move the needle in a positive fashion and can make the best of a terrible situation. However, there is no position that is more hotly debated than quarterbacks. Taking statistical success as well as team accomplishments into consideration while acknowledging when they played, here are the greatest quarterbacks in NFL history…