Dogs That Could Be Twins With Celebrities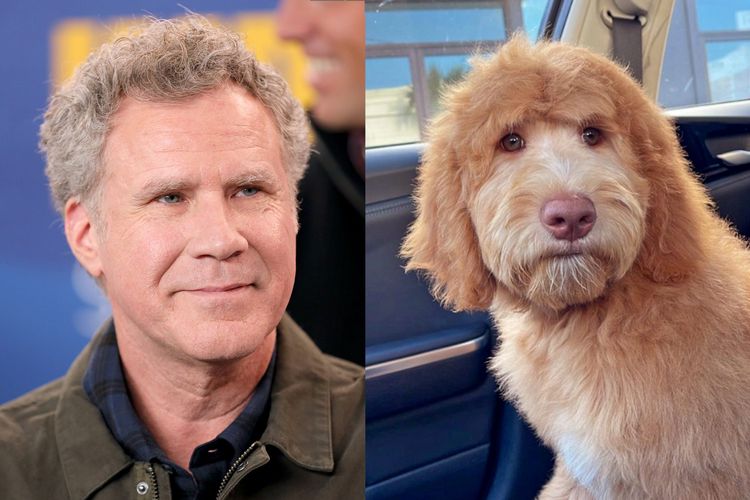 The Internet tends to have an obsession with finding near-exact clones of people, making you do a double-take that you've just seen a pair of twins separated at birth. The search for celebrity doppelgängers has become nothing short of a phenomenon at this point.
But since finding two humans that resemble each other became too easy, people have started finding other species that could easily be stand-ins for famous stars. Whether or not you believe that people can be reincarnated as animals, there's got to be something to it when you see these doggie doppelgängers. From Henry Winkler to Peter Dinklage, you'll be pretty impressed at how much these canines resemble some of the most-recognized faces today, and know it's proof that Mother Nature has a sense of humor…
Zach Galifianakis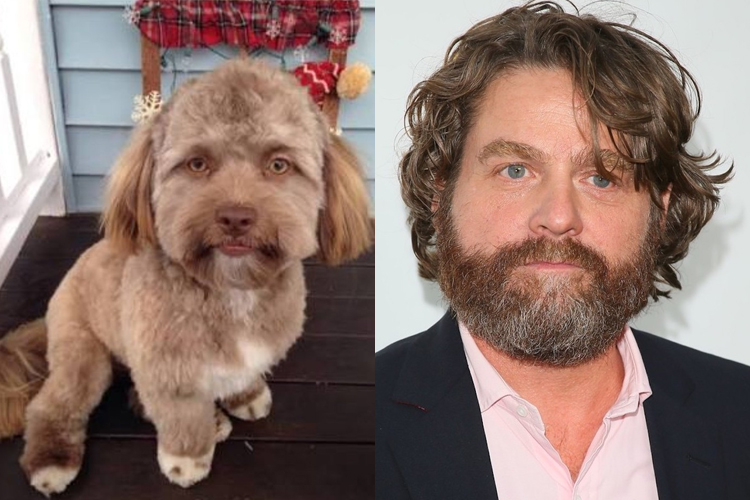 A good haircut and some preening can make all the difference for man and beast. This adorable spaniel shows off his new haircut, revealing his eyes and proudly displaying a countenance very much like comedian and actor Zach Galifianakis.
When Galifianakis first appeared on the Hollywood scene, his appearance in The Hangover and Due Date did not exactly scream "well-groomed." His loveably shaggy, unkempt look lent itself well to hilarious character portrayals, and he continues to make us laugh in everything he's cast in.
Steve Buscemi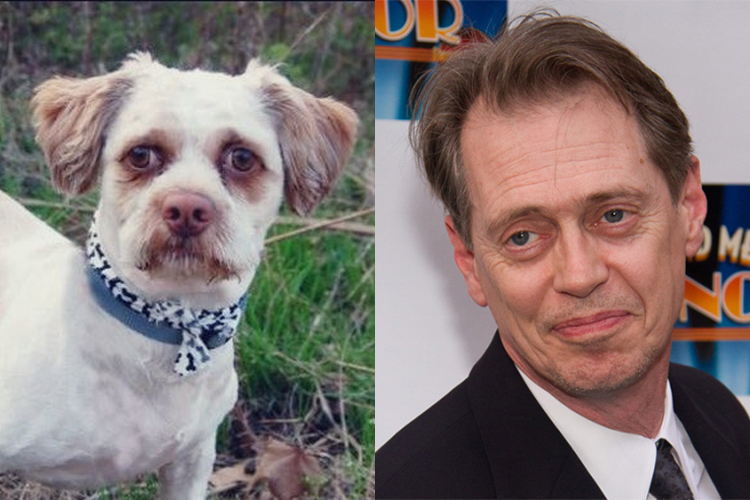 Another distinctive face in Hollywood film and television turns up on the canine scene. Steve Buscemi has found his twin flame in this pint-sized, sweet furry version of himself. A perfectly appointed Buscemi look is evident in the gaze these two share.
This former New York City firefighter landed breakout roles with Quentin Tarantino's Reservoir Dogs and Simon Wests's Con-Air. His work on the big screen and in television have earned him accolades, such as Screen Actors Guild Awards, Golden Globes, and Emmy Award nominations.
Richard Gere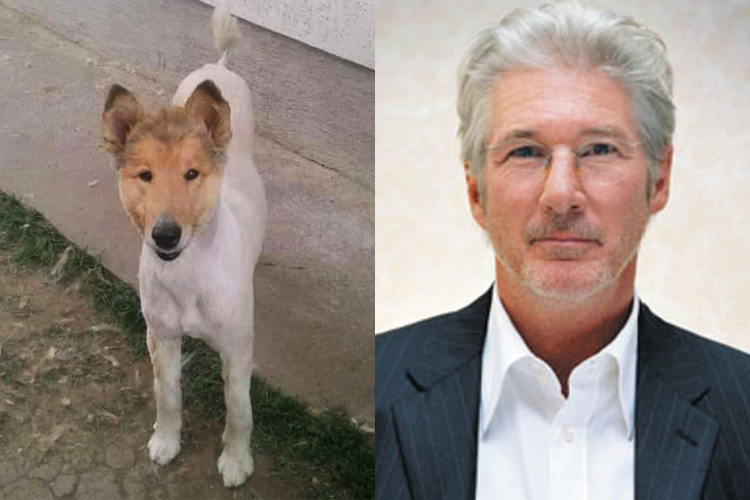 Hollywood stud Richard Gere and this dapper canine manage to have nearly identical facial expressions. From their subdued, yet piercing eyes all the way down to a small and confident smile that seems to say, "I know I've got that certain special charm."
Gere began his acting career in the '70s with Looking For Goodbar and Days of Heaven, before making it big with hits like An Officer and a Gentleman and Pretty Woman. These days, he splits his time between appearances on television hits like MotherFatherSon and advocating for human rights in Tibet and Indonesia.
John Travolta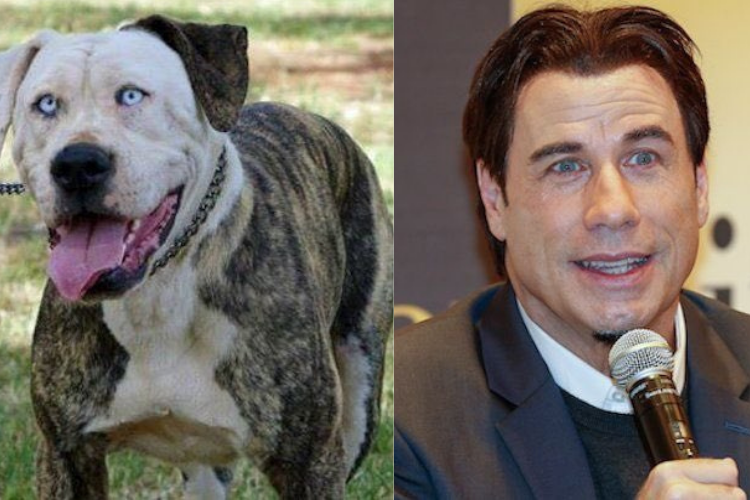 There's something about this dog's icy blue stare that can't help but make you think of acting talent John Travolta. Perhaps it's the similar expression of amusement they both seem to have on their face. But one thing is for sure, these two seem like quite the match.
After Travolta burst onto the scene and into our hearts with box office successes like Saturday Night Fever and Grease, he managed to carve out a significant place for himself among the Hollywood elite. Travolta, an avid member of the Church of Scientology, recently discussed coping with the passing of his longtime partner, actress Kelly Preston.
Harrison Ford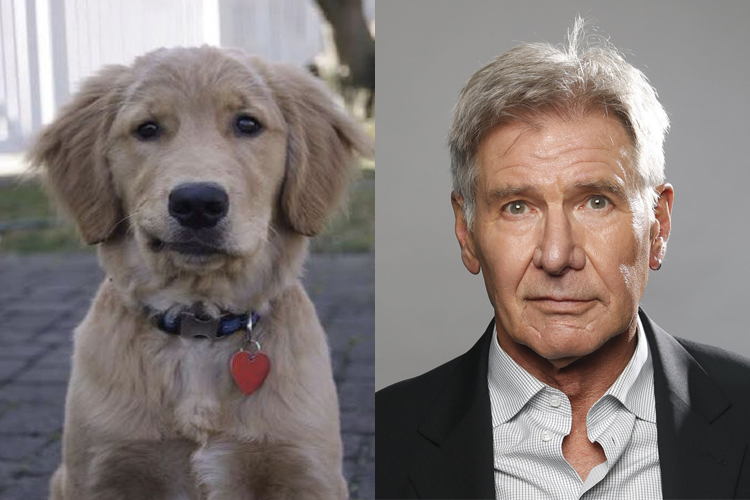 Nice guy Harrison Ford has this golden retriever's expression nailed to a T. Ford could have been considered America's golden boy himself at several points in his career, playing iconic characters like Indiana Jones and Han Solo. This subtle smirk from both is a nod to the actor's and canine's good looks, as well as natural charisma.
Aside from making blockbuster hits such as Air Force One and The Fugitive, Ford offers his services as a licensed pilot to assist in search and rescue missions near his Wyoming home. Also a dedicated environmental activist, he has served as the Inaugural Vice Chair of Conservation International since 1991.
Samuel L. Jackson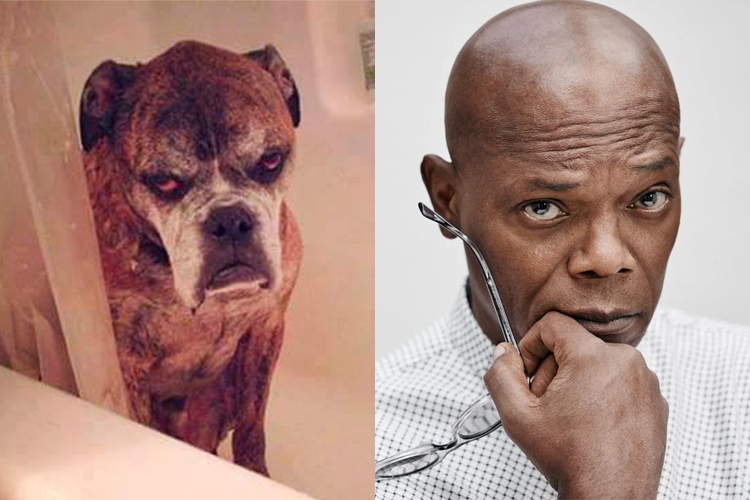 The side-by-side comparison of angry and intense encapsulates many roles in Samuel L. Jackson's career. The pitbull's frustration was with a recent bath, while it's anyone's guess what the iconic Pulp Fiction actor is thinking as he's staring down the camera.
Jackson's successful Hollywood run in film and television has grossed over $27 billion worldwide, elevating his status to one of the highest-grossing actors of all time. He's had recent cameo appearances as Nick Fury in many of the Marvel movies, as well as voiceover parts in The Incredibles 2.
Clint Eastwood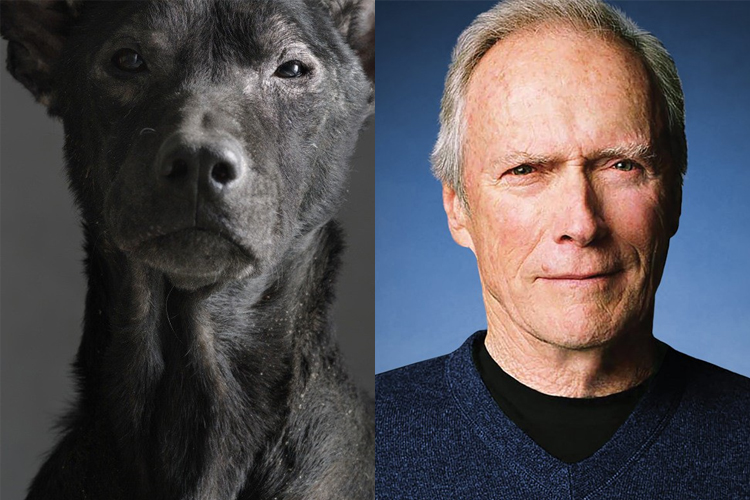 This gentle giant of a hound has the same wise look to his eyes that Clint Eastwood sports. They may be both revealing their age in this wisdom, but we might be up for seeing their collaboration on a future movie that showcases this star quality.
Thanks to some well-chosen roles in the '60s and '70s, Clint Eastwood became a cultural icon for being genuinely cool. His many achievements in front of and behind the camera include four Academy Awards, four Golden Globe awards, and an AFI Life Achievement Award.
William H. Macy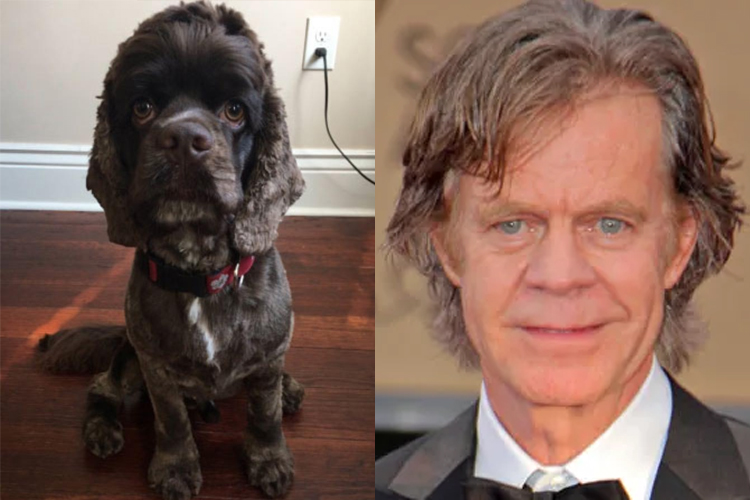 Few people in Hollywood are as distinctive and recognizable as William H. Macy. Until this cocker spaniel appeared on the scene, sporting the same unique hairstyle and large eyes, we thought Macy had the market cornered with his unique look.
While much of Macy's career has been centered around appearances in small independent films, he has appeared in some big films such as Fargo and Boogie Nights. In recent years, he starred on the hit TV show Shameless. His work has earned him two Emmy Awards and four Screen Actors Guild awards, including an Academy Award nomination for Best Supporting Actor.
Julia Roberts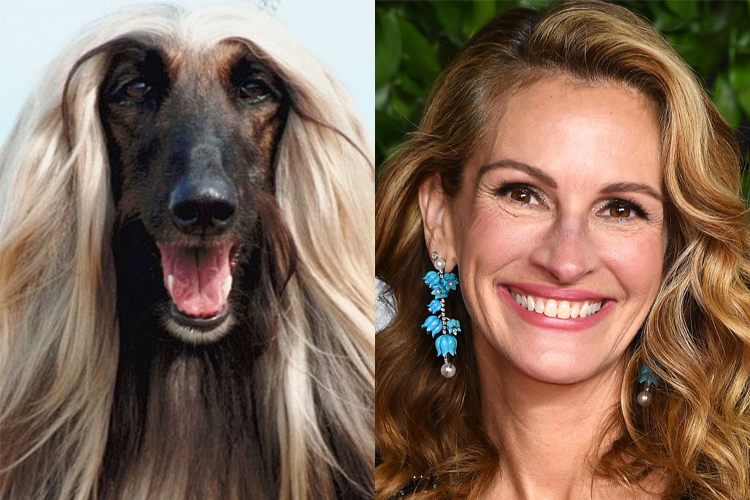 Women for decades have spent countless hours trying to emulate some of Julia Roberts' style. How unfair that a dog should be able to achieve this beautiful look with little to no effort. Afghan Hounds are known for their thick, lustrous coats of hair, so this match was made in hair heaven.
Those tresses may have gotten Roberts in the door to several auditions, but it was her acting prowess that allowed her to rise above her contemporaries and steal the show with performances in Steel Magnolias, Pretty Woman, and Erin Brockovich. She is set to star in Ticket To Paradise alongside guy pal George Clooney in October 2022.
Tilda Swinton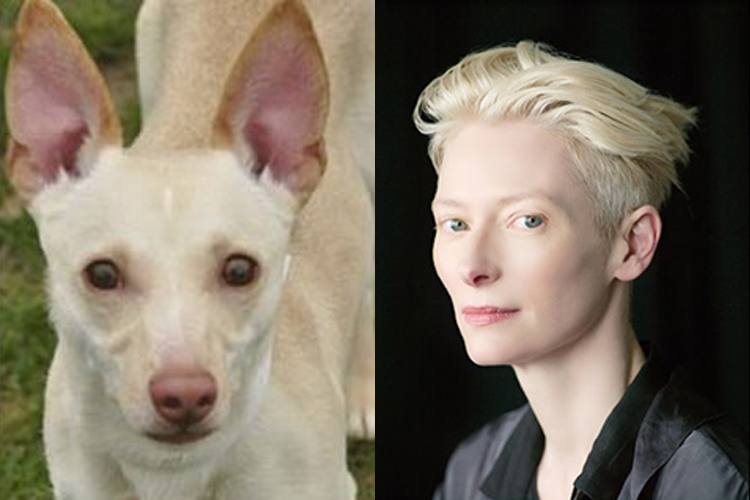 Tilda Swinton has a unique, ethereal beauty that makes her visage quite distinctive in nearly any show or movie that she appears in. Apparently, she has some competition for "best death stare" and "iconic haircut" in this canine companion, an alabaster German Pinscher.
Originally born Katherine Matilda Swinton, Tilda's breakout roles in Caravaggio and The Last Of England earned her critical acclaim. Unlike many big-time actors these days, she refrains from using social media.
Ron Perlman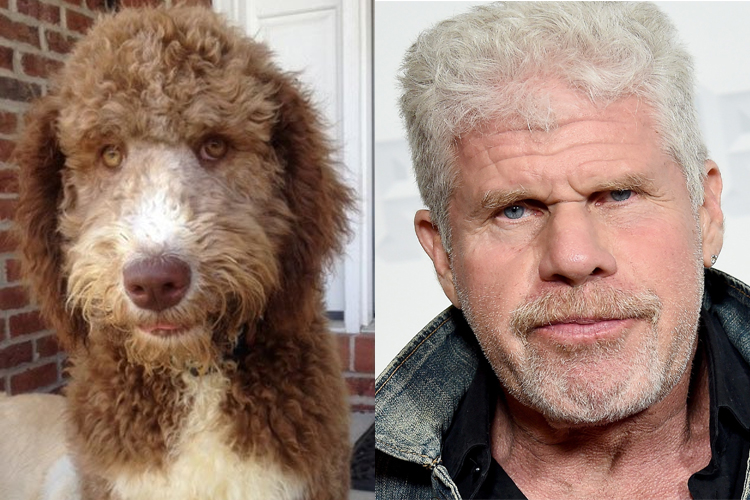 If Ron Perlman were to be in reincarnated as a dog, he'd most likely show up as this barbet. This breed of dog is a dead ringer for the star. Facial hair, eyebrows, and an icy stare to match are all proof positive that these two may be spiritually connected.
You might know Ron Perlman for his role as Vincent in the television series Beauty And The Beast. His work on the series earned him a Golden Globe and paved the way for much bigger projects to come, such as being the voice of hero Optimus Prime in the Transformers movies.
Whoopi Goldberg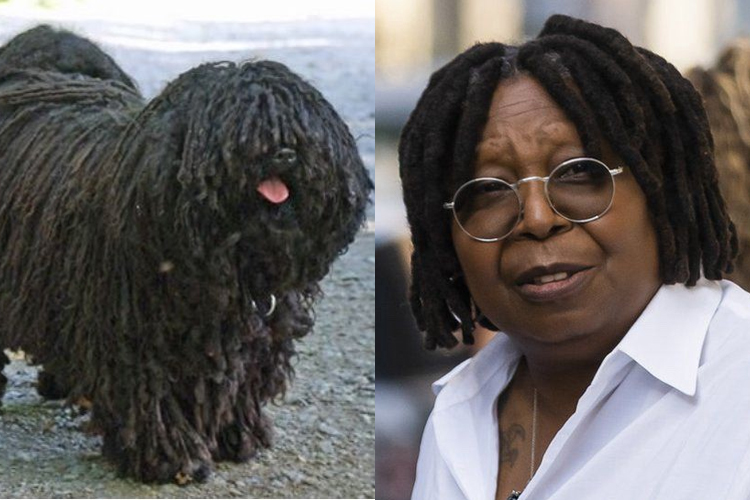 Whoopi Goldberg has always managed to have a distinctive style. Though she's had a few different hairstyles throughout the years, she manages to capture the same iconic look as this Puli, a perfect complement to her own unique look.
Goldberg began her career on stage and in film with a one-woman comedy show entitled Spook Show. It was so successful that the show was transferred to Broadway under the title Whoopi Goldberg, and her stratospheric success unfolded faster than she'd ever dreamed. She now spends most of her time on the daytime talk show The View, though in 2022 she landed in hot water for making some controversial statements on the show.
Snoop Dogg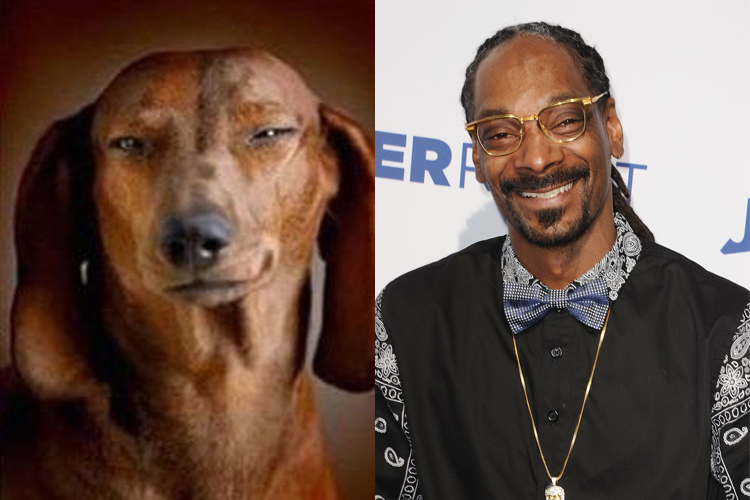 Snoop Dogg is so friendly with his canine counterparts that he's taken on their namesake for fame's sake. From a very first glance at the eyes, it would appear that both this little Dachshund and Snoop are either extremely sleepy or thoroughly unamused by the photo op.
Born Calvin Cordozar Broadus Jr., Snoop Dogg took on the persona to transform himself into one of the most successful rappers in American history. A distinctive melodic drawl and easy-going mannerisms make him a pleasure to watch onstage or in film. In 2022, he released his 19th studio album entitled BODR, which was actually the same day that he lit up the stage for the 2022 Super Bowl Halftime Show.
Richard Branson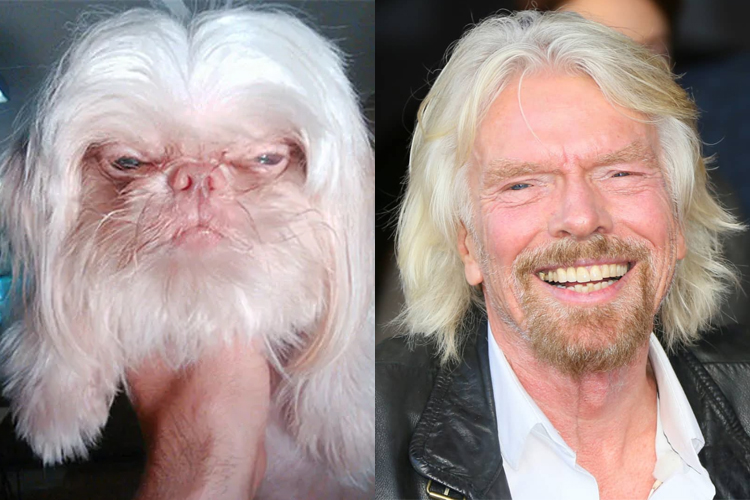 As you behold billionaire Richard Branson alongside this Pekingese, it's startling to note just how human our dog friend looks. The similarities that exist between the two are downright alarming, considering that the dog even sports the same skin tone and hair color as the cultural icon.
From a young age, it was evident that Richard Branson was destined to be an entrepreneur. His vision for and start of the Virgin Group has now grown to an organization that governs nearly 400 companies worldwide. His penchant for attempting to break world records has earned him an interesting reputation as an eccentric overachiever. He proved this even more by going to space in 2021.
 Peter Dinklage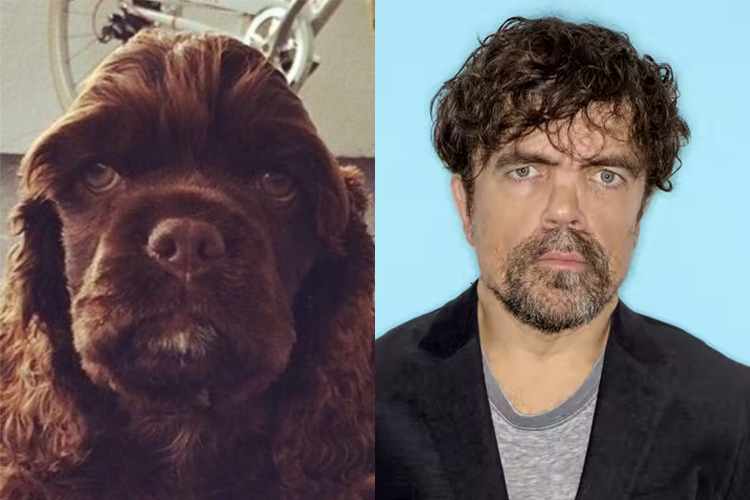 The spaniel breed has a very expressive face with many variations of hair color, eye color, and face shape. One aspect of this mahogany cutie that sets it apart from others is its uncanny resemblance to Hollywood actor Peter Dinklage.
Dinklage rose to worldwide fame as Tyrion Lannister on the hugely popular television series Game of Thrones. His work on the series earned him a Primetime Emmy Award, a Golden Globe, and a Screen Actors Guild award. In recent years, Peter has been focusing on voiceover work and advocacy projects for PETA and animal rights activism.
Helen Worth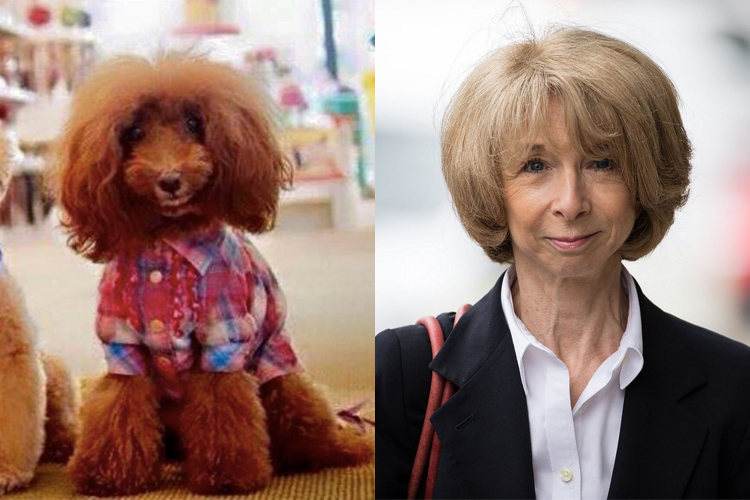 Gail Tilsley's distinctive look and dainty features mesh well with her canine counterpart, an impeccably dressed toy poodle with nearly identical hair and facial expression. Their shared hairstylist hit the mark when crafting glorious tresses, making both a sight to behold.
In actuality, Gail Tilsley is a fictional character on the British television series Coronation Street, played by actress Helen Worth. Worth played the part for nearly 40 years, receiving an Outstanding Achievement Award at The British Soap Awards 2014 for her crafty development of the character.
Patrick Stewart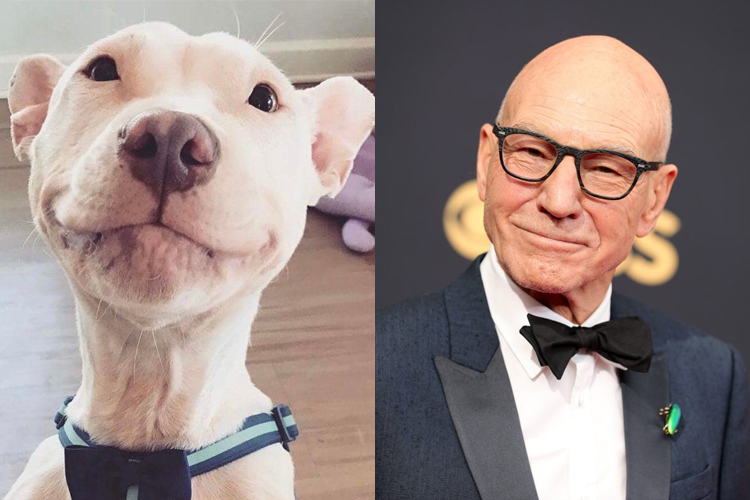 Patrick Stewart is a Hollywood icon, best known for his portrayal of Jean-Luc Picard in Star Trek: The Next Generation. His start with the Royal Shakespeare Company led to a television debut in Coronation Street, earning the attention of producers who would eventually lead him to space/time notoriety.
Stewart and this terrier have quite a bit in common. The smile, the trademark bald look, and that charisma can be seen in both man and man's best friend. The two make a charming couple and we understand why Stewart was the perfect choice to play Professor Charles Xavier in the X-Men series.
 Judi Dench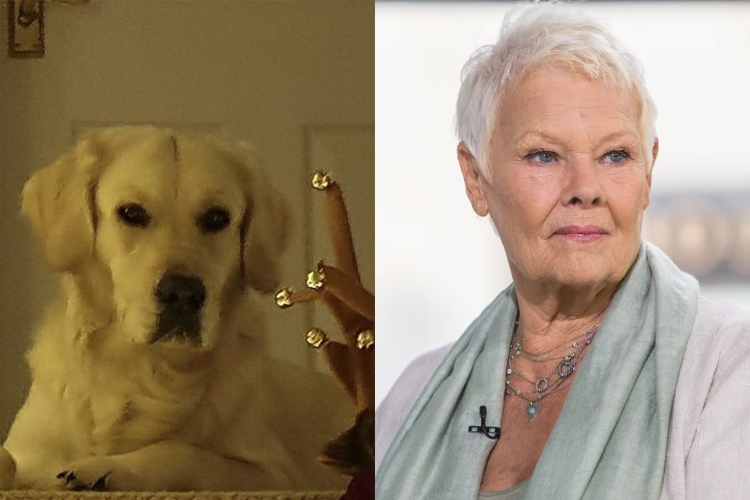 Some dogs just give an aura of attitude that resembles almost human qualities. Whether it's posture, poise, or facial features, this golden retriever's got some serious regal vibes going on, much like her female counterpart, Dame Judi Dench.
Judi Dench is regarded as one of Britain's greatest acting talents. Her nearly sixty-year career has earned her numerous accolades, including an Academy Award, a Tony Award, two Golden Globes, and numerous other distinctions. As of 2021, she was still immersed in film projects such as Off The Rails and Belfast.
Henry Winkler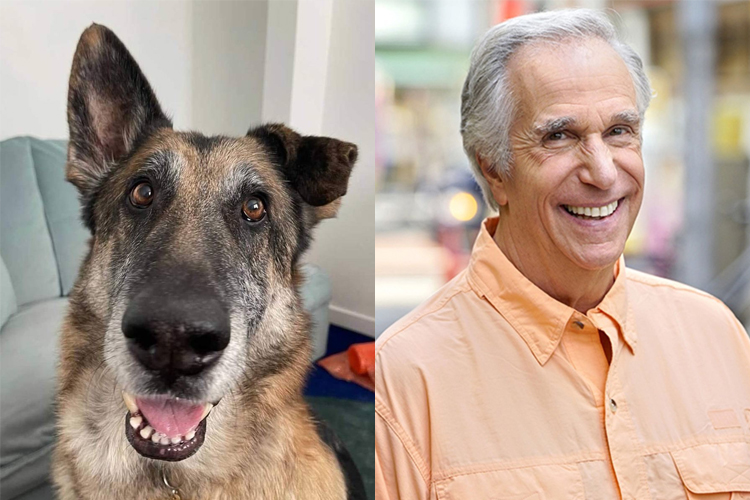 The very idea that a German Shepherd could embody the very same qualities as lovable Henry Winkler seems preposterous, until you see the side-by-side comparison of the two. Charming smiles, goofy demeanors, and a warm countenance have us marveling at the similarities.
Winkler's Hollywood career has been one of charm, luck, and an undeniable stage presence that created iconic characters such as the Fonz that will stand the test of time. Winkler made the smooth transition from acting to directing and producing, and has continued to stay front and center with films and television opportunities such as Scream, The Waterboy, Arrested Development, and the HBO hit series Barry.
Burt Reynolds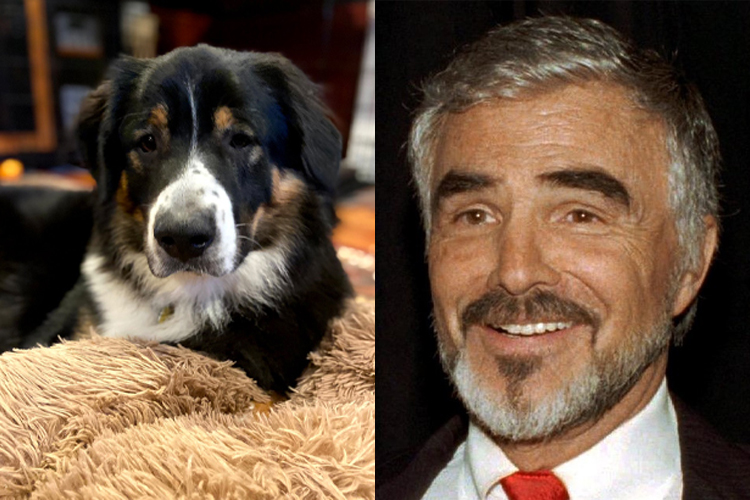 Burt Reynolds had, for the most part, managed to age gracefully under the scrutinizing eye of many adoring fans. Many appreciated his movement into the silver fox phase of life, and his coloring is quite similar to this Greater Swiss Mountain dog that sports the same smirk.
The actor who voiced the lead character in the cartoon movie All Dogs Go To Heaven had a larger-than-life personality and charming demeanor that helped carve out a distinctive spot in Hollywood. Sadly, Reynolds passed away in 2018, but his long list of Hollywood triumphs are a fantastic way to remember and connect to his talent.
Gene Simmons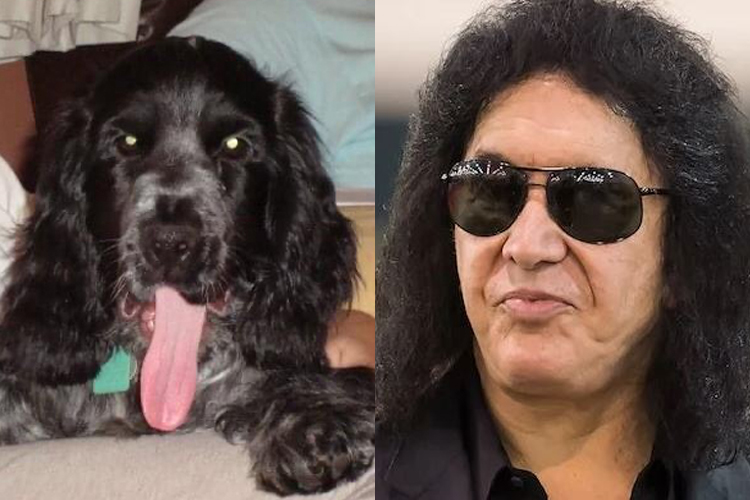 One only has to look at these two pictures to see what the photographer might be suggesting when it comes to man and dog. While the dog's tongue length is indeed impressive, we hear many more sordid stories about what Gene Simmons is sporting as he spits on the microphone.
As the lead singer of the band KISS, Gene led his makeup-clad cohorts to musical victory. Over-the-top theatrics, unique branding, and sublime harmonies made KISS one of the most successful and quirky bands in history.
Peyton Manning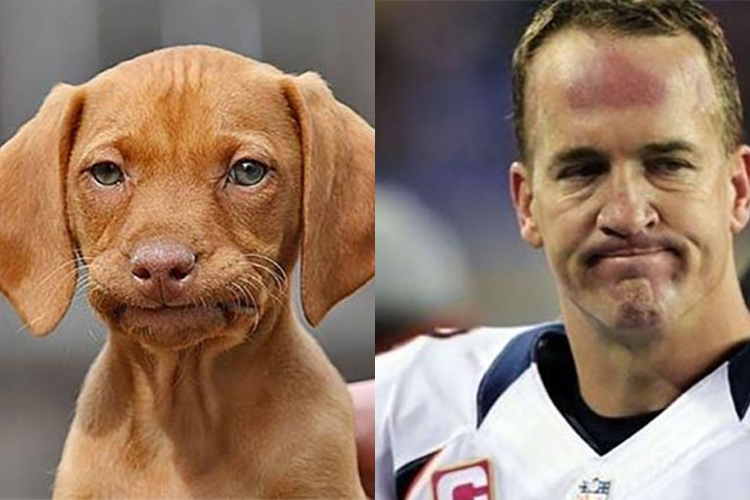 How cute is this? This dejected Labrador and disappointed quarterback Peyton Manning may be looking at the same scene, causing them to react in the same way. Chins are scrunched and bunched in a way that speaks volumes, yet in this case frustrating is pretty adorable.
Peyton may have scrunched up his face in distaste a time or two over his legendary football career. Following in the footsteps of father Archie and with his younger brother Eli right alongside him, he has procured many important distinctions in the NFL world, including an induction into the Pro Football Hall of Fame in 2021.
Eric Stonestreet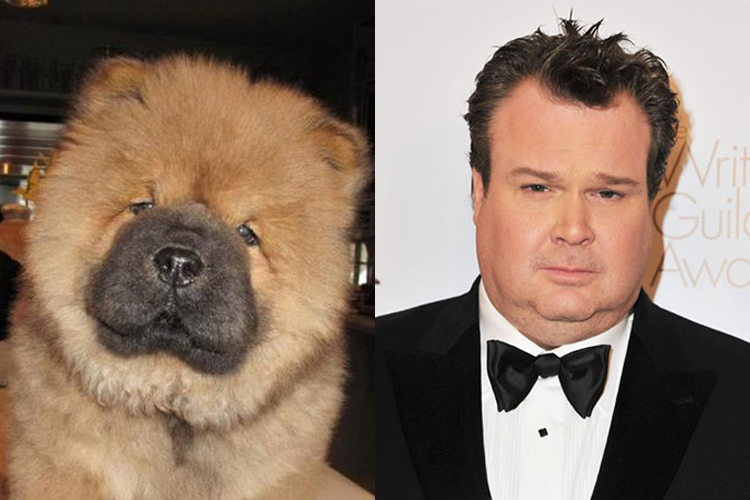 Chow Chows by nature are light-hearted and frivolous, sometimes downright blissful. Eric Stonestreet has been known to embrace the lighter side of life as well, and perhaps it's this happy-go-lucky approach to life that produces similarities between the two.
Stonestreet rose to prominence with his role as Cameron Tucker in the hit ABC sitcom Modern Family, for which he received critical acclaim and Emmy awards. He's most recently been seen collaborating with greats on America's Got Talent and singing sensations Ariana Grande and Justin Bieber in "Stuck With U."
Nicole "Snooki" Polizzi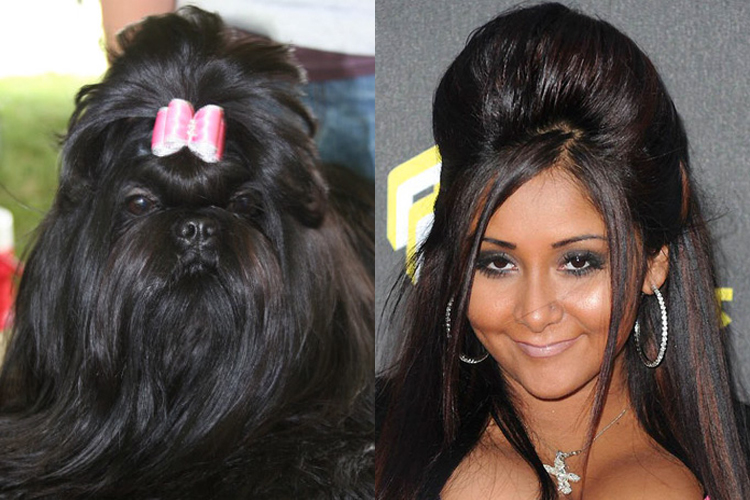 If you are a closet fan of reality television (and even if you're not), you likely became familiar with Nicole "Snooki" Polizzi in the MTV series Jersey Shore. Big hair, big makeup, and even bigger personalities contribute to an iconic look that this Maltese emulates almost effortlessly.
These days, Snooki is doing talk show appearances, web and television hosting, and has gained an impressive social media following. She is now seen lighting up the screen as a host on the show Messyness.
Cher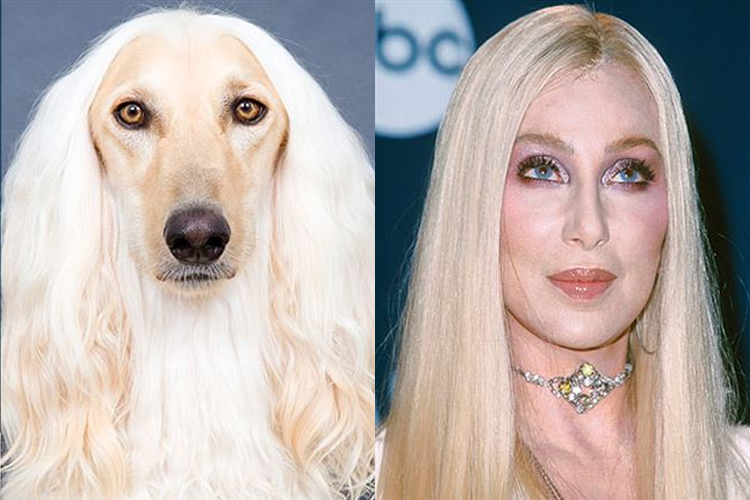 Even if we could turn back time, we wouldn't want to, for it seems that Cher maintains her youthful looks despite her age. We can only hope that the Afghan Hound opposite her in this picture will continue to age as gracefully while they both sport pristine blonde locks.
Cher has enjoyed a decades-long career of chart-topping singles, fashion-forward presentations, and quirky film performances that showcase not only her talent, but her timeless beauty. Still active as a performer, Cher divides her time these days between a passion for performing and philanthropy.
Brad Pitt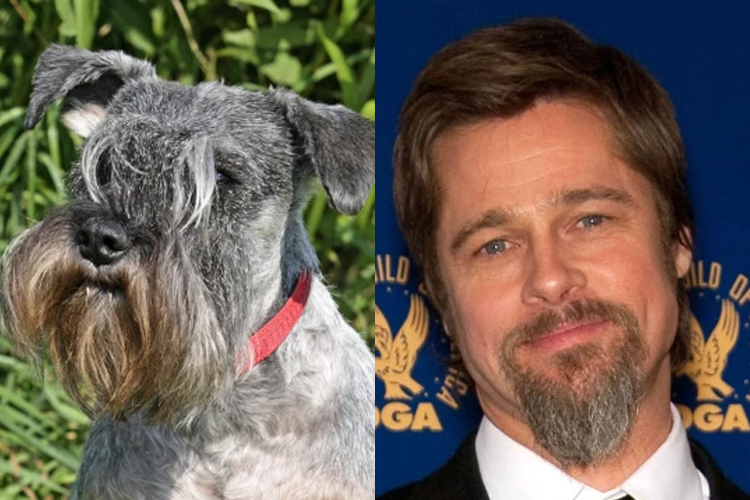 Schnauzers are handsome dogs, so it makes perfect sense that Hollywood hunk Brad Pitt should be likened to this goatee-clad canine in this list. Schnauzers are also known for their charming personalities and stellar work ethic, two other qualities that this man and beast share.
William "Bradley" Pitt stole hearts with his breakout role in the hit film Thelma And Louise. His film resume contains so many blockbusters, it's easy to see how one of showbiz's objectively most attractive men has gained a loyal following worldwide. When he's not making movie magic, Pitt is involved in a number of humanitarian causes and charitable organizations, including the infamous Jolie-Pitt foundation that he and ex-muse Angelina Jolie created in 2006.
Angelina Jolie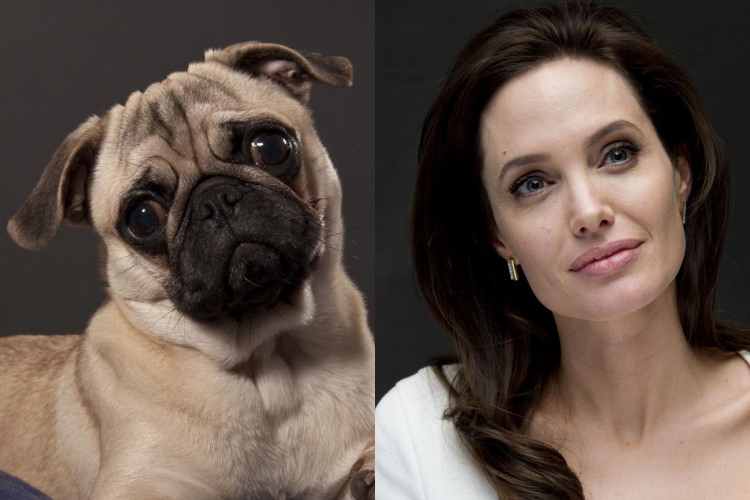 It's hard to conceptualize how the beautiful Angelina Jolie could be compared to any member of the canine class, yet this most adorable pug has the same luminous eyes and charming demeanor that could make them both leading ladies.
The other half of the Pitt-Jolie clan has had just as much success in film and television as her former partner. She's scored big with critics and at the box office with hits like Gia, Girl Interrupted, and Mr. & Mrs. Smith. Jolie is also very involved in raising her large family and participating in charitable giving worldwide.
Catherine, Duchess of Cambridge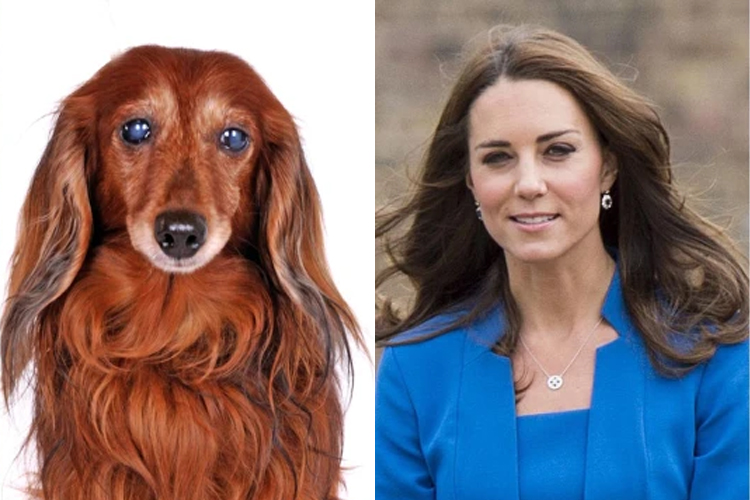 Kate Middleton, or as she's now known, Catherine, Duchess of Cambridge, is quite renown for her signature long locks that seem to be perfectly coiffed every time she steps out in public. This adorable dachshund is equally as impressive, sporting a long and luscious coat that closely resembles the royal.
Kate Middleton experienced a "happily ever after" moment when she married Prince William of the House of Windsor. Since their marriage, Kate and William have had their hands full with public appearances, charity work, and the business of raising three children–George, Charlotte, and Louis.
Clint Eastwood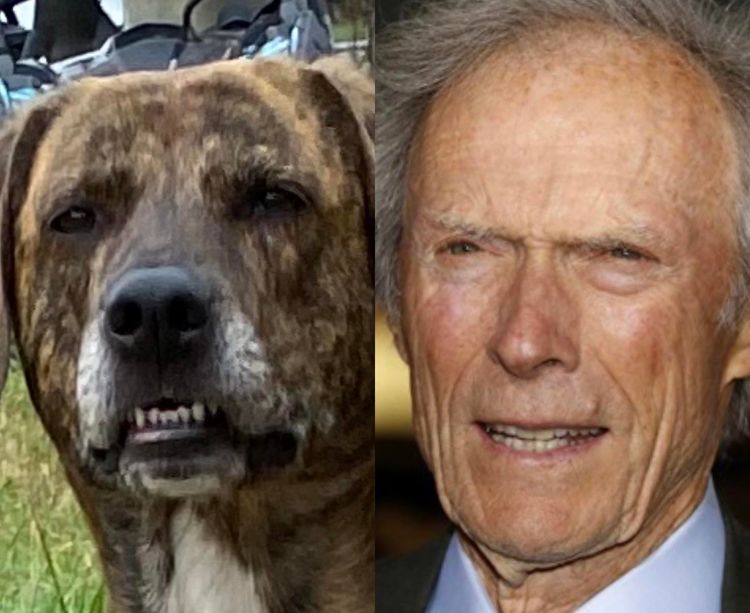 Yes, we may have cited Clint Eastwood's good-looking resemblance to another dog on this list, but we couldn't resist pairing him again with this Tennessee Brindle. Both look equally gritty, ready to deliver an evocative line that will likely go down in movie history.
Eastwood's career has spanned nearly six decades, with film credits that revolutionized the spaghetti Western and action genres. From The Good, The Bad, And The Ugly to Dirty Harry and beyond, his character variety and evolution as an actor has been a joy to watch. Eastwood is slowing as he's in his 90s, but he has maintained a solid presence behind the camera as a director for tons of critically-acclaimed films.
David Bowie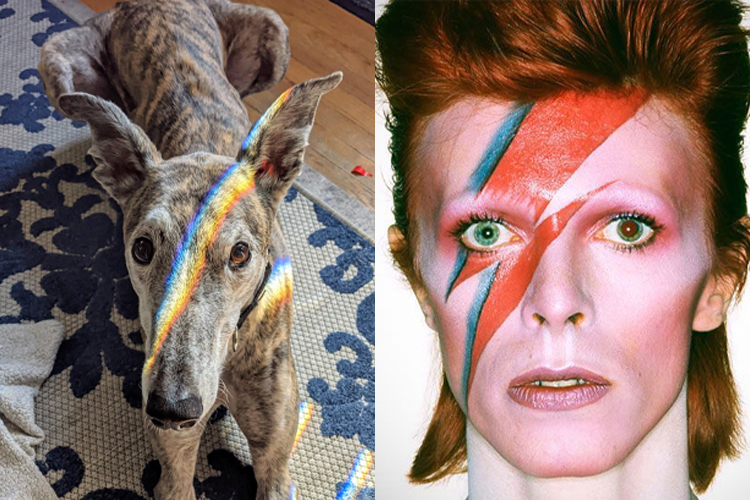 This picture is a one-in-a-million comparison, right down to the rainbow sunbeam falling across a beautiful greyhound's face. Music legend David Bowie's iconic album cover is a dead ringer for this canine, complete with long facial features, vivid colors, and an ethereal appearance.
David Robert Jones, or David Bowie, as he was known professionally, was a multi-talented singer, songwriter, and actor. Highly regarded in music circles as one of the most influential musicians of our time, he passed away in 2016, but his legacy still inspires millions of other quirky rockers to reach for the stars.
Gilbert Gottfried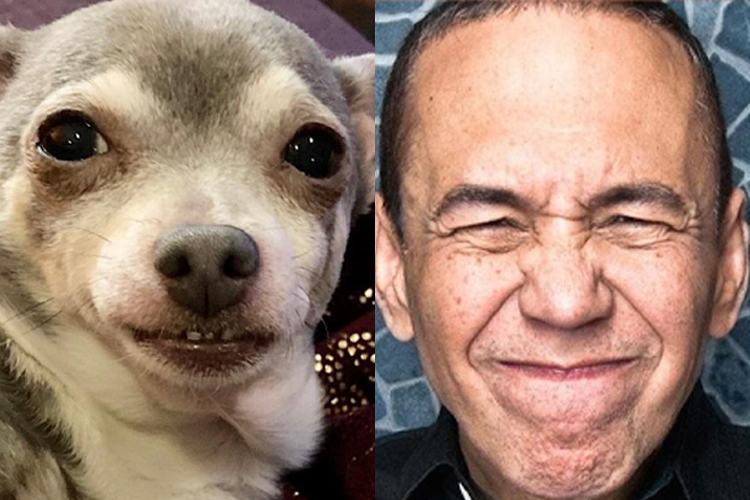 Gilbert Gottfried put distinctive voices on the map. With over-the-top facial expressions and mannerisms much like his dog companion, these two are almost a spitting image of one another. Wonder if the Chihuahua's bark is as distinctive as Gottfried's voice?
Gottfried was a national treasure, adding life and breath to the comedy community since his appearance at the famous club The Bitter End in Greenwich Village at the tender age of fifteen. He added his unique talents to several television and film roles, including Disney's Aladdin, cracking jokes until the very end. Gottfried's family reports that he was still making them laugh until he passed away from an illness in April 2022.
Betty White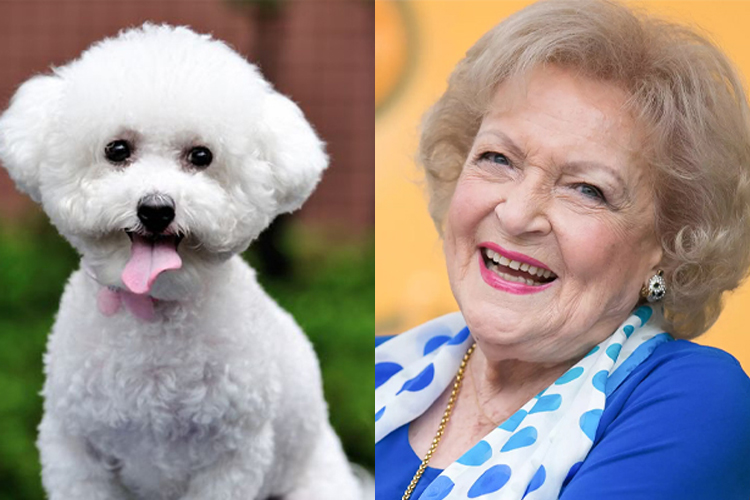 Betty White was yet another iconic comedy personality that changed the face of entertainment for women everywhere. Her adorable countenance was every bit as lovable as the Bichon Frise sitting next to her, equally perky and engaging.
This pioneer for women actresses and comediennes was perhaps most well known for her character of Rose on The Golden Girls, although she made many other significant contributions to the industry. Sadly, White passed away on New Year's Eve of 2021, just a few weeks shy of her 100th birthday.
Channing Tatum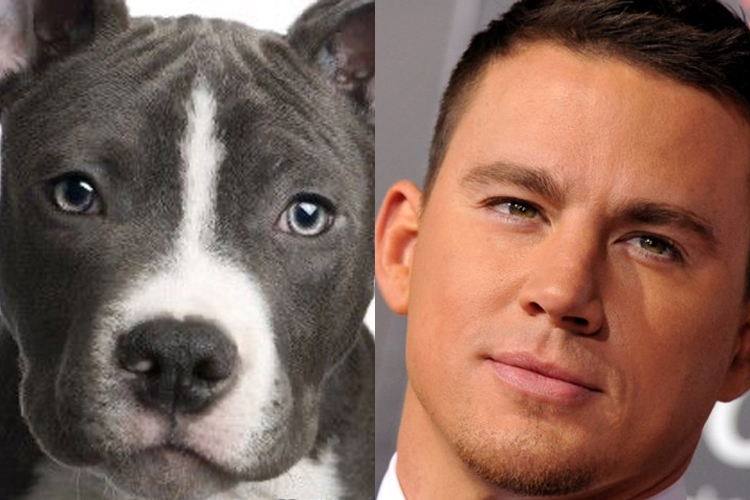 Regardless of how you know Channing Tatum, it's safe to say that he is easy on the eyes, regardless of any role he takes on. This pitbull is equally as pleasing, complete with innocent expression and puppy dog eyes to match.
Channing Tatum first made his mark as a dancer in a Ricky Martin video, eventually showing off his moves as a dancer in Magic Mike. Moving seamlessly into television and print ads, his big break came with a role in She's The Man. He's set his sights high in the entertainment world, expressing an interest in directing and producing future films in addition to acting.
Charo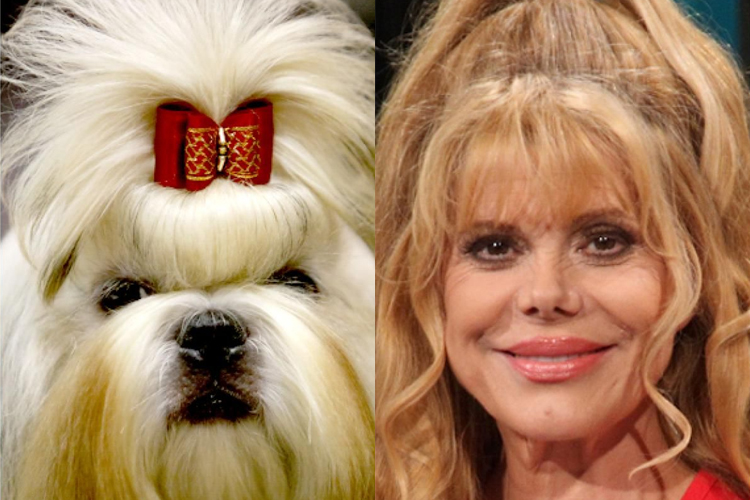 Charo is a vivacious performer known for her famous catchphrase "cuchi cuchi." She's got a penchant for singing, dancing, and playing various instruments. This sunshiny personality closely resembles a Yorkshire Terrier with her long, flowing locks and pleasant smile.
Maria Rosario Pilar Martinez Molina Baeza thought it was probably appropriate to shorten her stage name in order to break through into the entertainment scene. She became a formidable presence on television in the '60s and '70s, appearing on series such as Rowan & Martin's Laugh-In and The Love Boat. She continues making music and performing around the world, which is her first love.
Rick James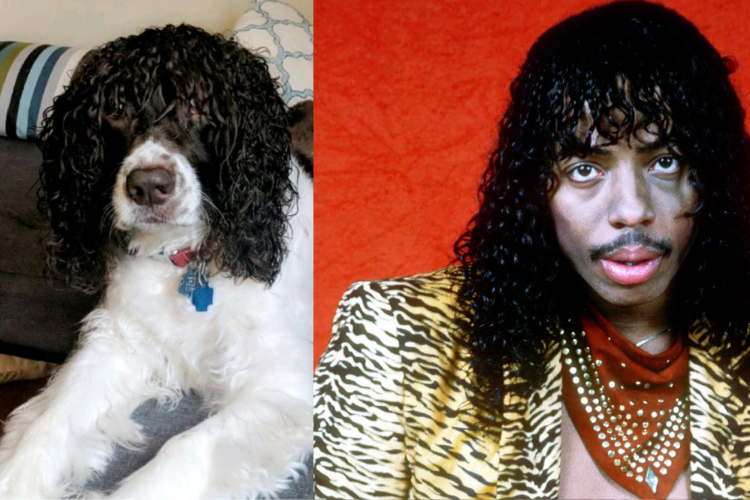 This likeness of Rick James and a poodle is pure magic. Both have enviable hair, intense expressions, and the ability to steal the show. We find ourselves envying those thick, lustrous tresses as we marvel at what type of hair products the poodle might need to use to maintain that do.
Rick James was a multi-faced singer and performer. Born and raised in New York, he began playing in the streets as a teen. His mainstream successes came with the release of an album entitled Glow and several appearances on the TV show The A-Team. He passed in 2004 from heart failure, but he left a legacy of high-quality entertainment and a famous Dave Chappelle sketch in his wake.
Martin Sheen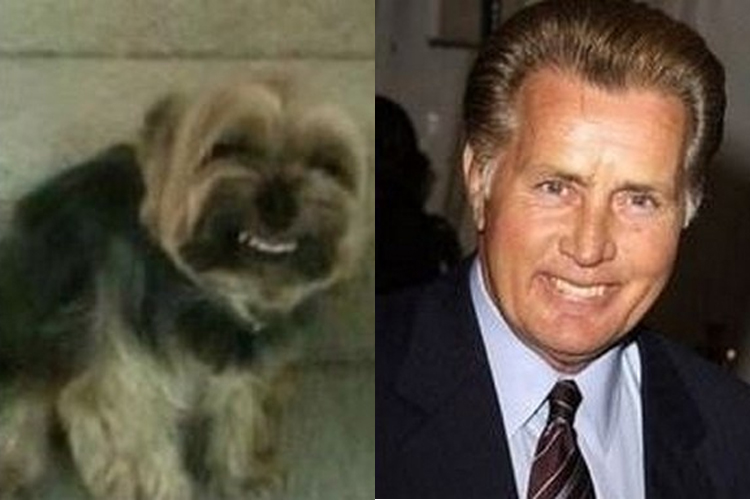 Martin Sheen has a definitively cheesy smile, as does the adorable terrier next to him. It's hard to imagine that either one of these brilliant smiles would not be camera ready if given the opportunity to shine.
Martin Sheen rose to Hollywood prominence with roles in films such as The Subject Was Roses and Badlands. He made his mark in showbiz in the movie Apocalypse Now.  He has won several awards and accolades for his work, particularly for his role as President Josiah (Jed) Bartlet on the hit show The West Wing. He currently has a starring role in the Netflix series Grace and Frankie.
Orson Welles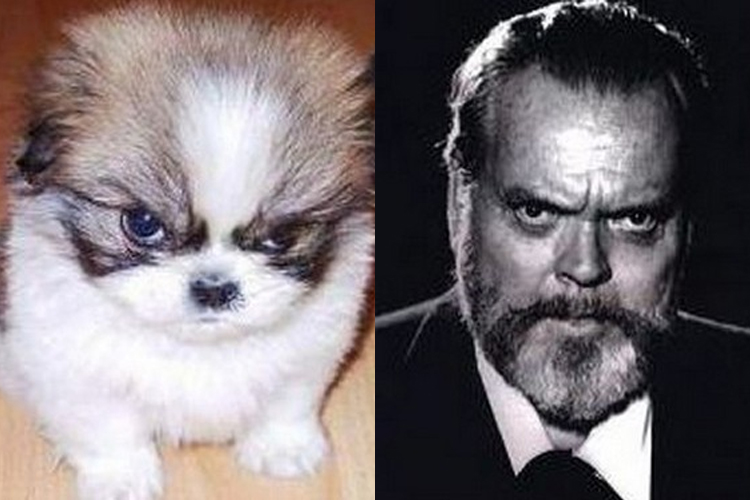 Orson Welles' storylines have a reputation of being dark and ominous, in fitting with his intense, moody personality. These side-by-side portraits of Welles and an adorably crabby pup portray them as kindred—and cantankerous—spirits.
Welles was considered to be one of the most influential filmmakers of all time. A directorial role in radio led to notoriety as delivered such a convincing performance of War Of The Worlds that he incited real panic in listeners. He worked in film and television until the '80s, delivering an interview on The Merv Griffin Show just hours before his death on October 10, 1985.
Gordon Ramsay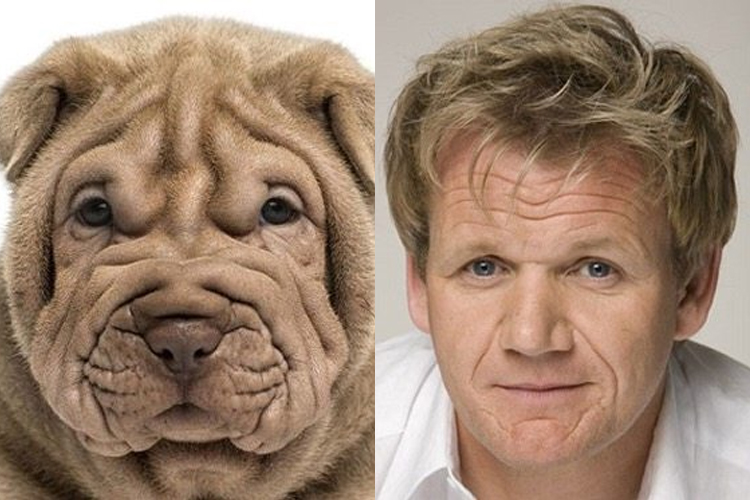 Those who love reality television and cooking shows know well the grimacing countenance of famed chef Gordon Ramsay. It's not surprising that he should be paired with this Shar-Pei, as the disgruntled and upset face shows they have more in common than just their coloring.
Ramsay is a successful chef, restaurateur, and television personality who founded the global restaurant group, Gordon Ramsay Restaurants. After rising to fame on Britain's Boiling Point, his fiery temper earned him the attention of American television executives. Despite his volatile personality, he's managed to earn accolades and awards for his work as a chef and creative director of several television shows such as Hell's Kitchen, Kitchen Nightmares, and MasterChef.
Nick Offerman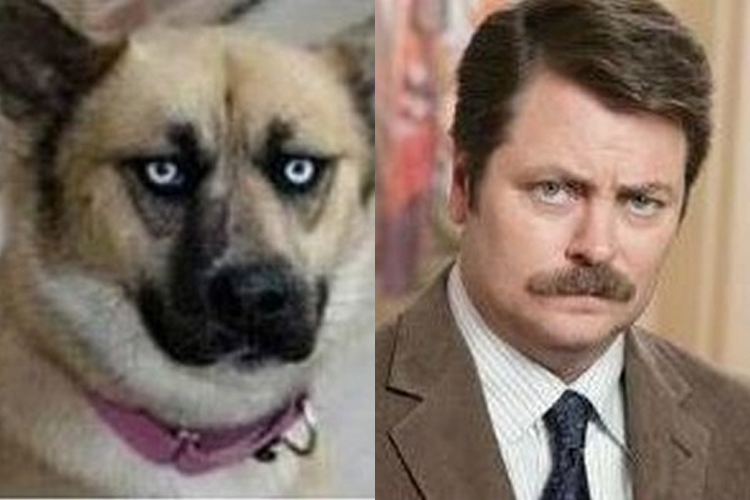 Nick Offerman gives off an air of comedic intensity as his breakout character Ron Swanson, as does this shepherd mix. Seeming to channel a bit of his own comedic timing, the dog and the actor have more than just a camera moment in common.
Offerman is an actor, comedian, writer, and carpenter most well-known for his role on the sitcom Parks and Recreation. His work in television and film has yielded him several awards and nominations for his high-quality work. Since 2018, he's thrown himself into his carpentry passion alongside Amy Poehler as the co-host of Making It.
Chewbacca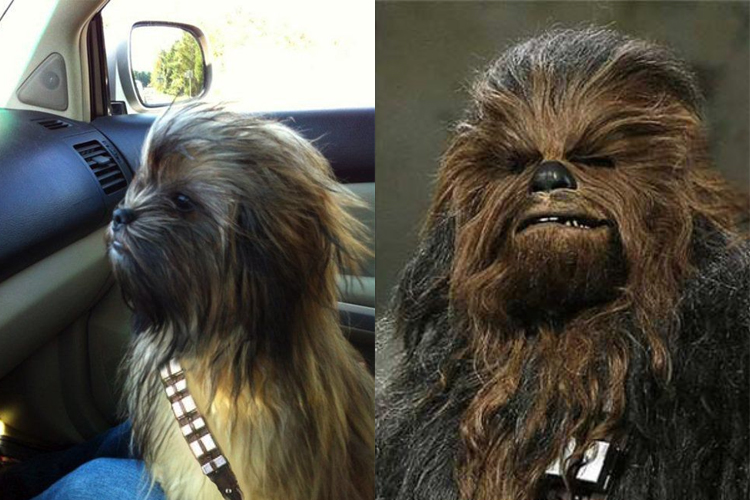 Yes, Chewbacca is a fictional character and cultural icon, but we cannot deny the uncanny resemblance between the larger-than-life character and the pint-sized likeness sitting in the passenger seat. This terrier is seriously committed to portraying the part.
Chewbacca is a fictional character that first appeared in the Star Wars franchise but became a legendary character for decades. This Wookie stands head and shoulders above his comrades, yet a gentle and quirky personality make him both comical and endearing. We love any appearance that he makes in film.