17 Elegant Low-Maintenance Hairstyles For Women Over 50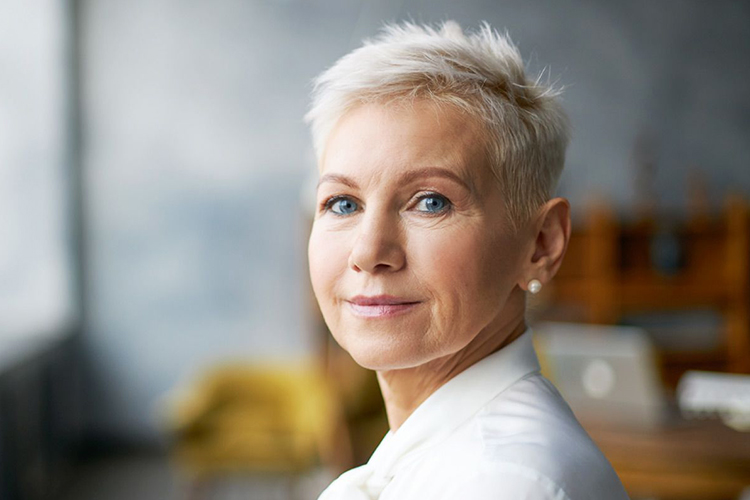 With age comes wisdom, elegance, a sense of peace, and an appreciation for ease. Each of these qualities can be applied to our haircare preferences, as a flattering hairstyle that's easy to manage can sometimes feel out of reach, especially past a certain age.
Truth be told, however, whether your hair is fine or thick, straight or wavy, there are low-maintenance options that don't sacrifice the 'wow factor' that most women are after. These are the top 17 low-maintenance, high-attractiveness hairstyles for women over 50…
Short Hair with Beautiful Brunette Balayage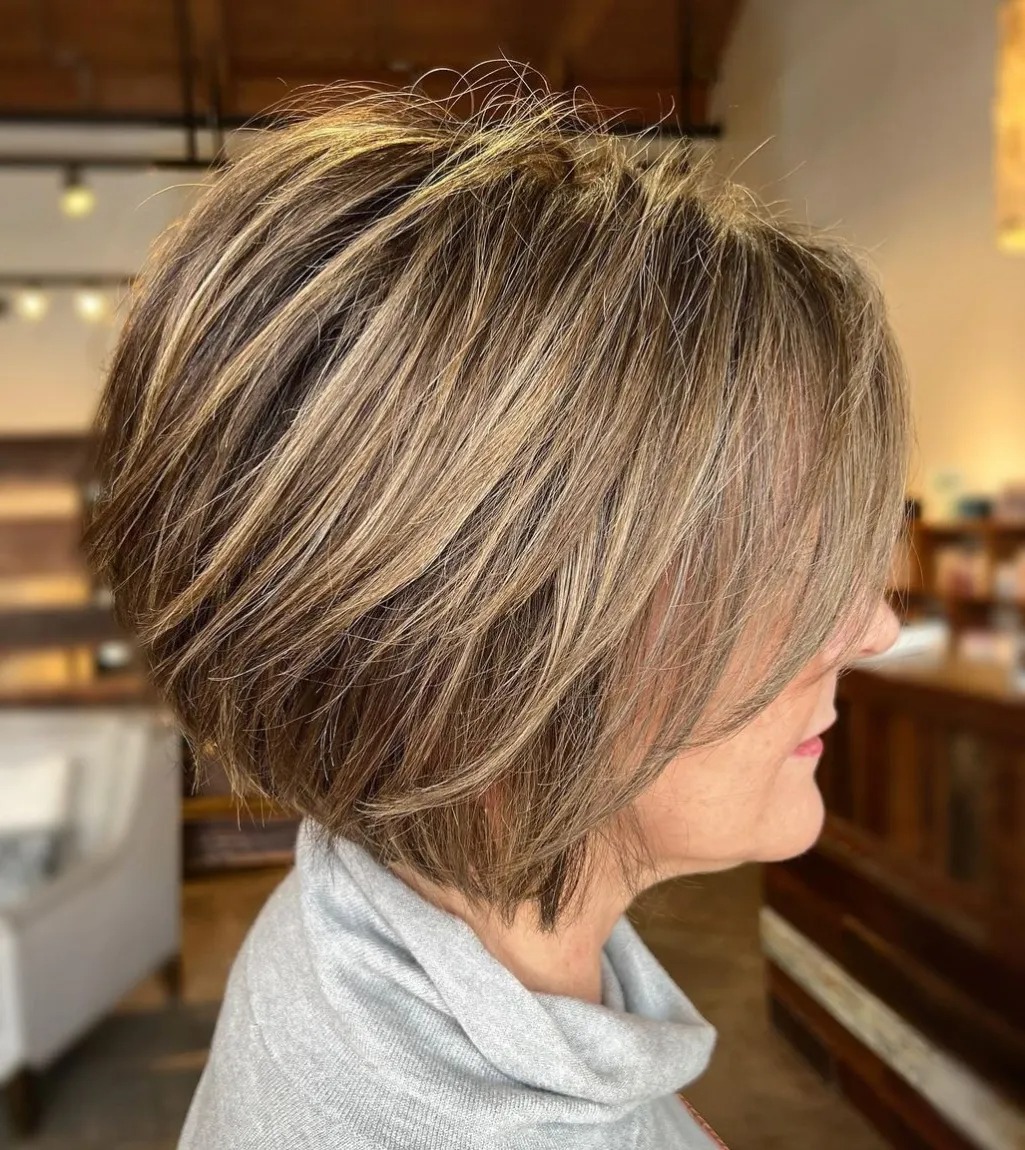 A beautiful balayage adds vibrant color to your hair, with loads of volume. The best part about a balayage is that you can cater it to your liking and control how vivid or subtle you want the highlights to be.
With a brunette base, the balayage easily ties everything together and displays a minimalistic and elegant look that can be done at any time.
Layered Bob With Bangs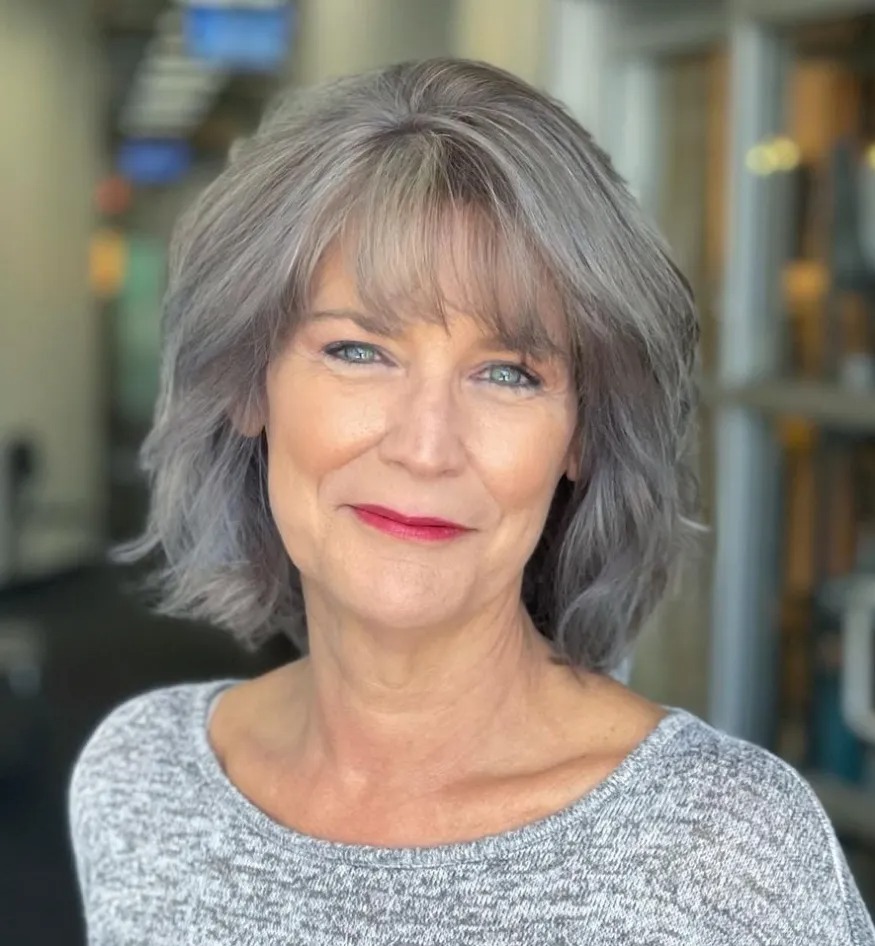 Get ready to walk out of the salon with a bang when you opt for an elegantly layered bob with bangs. This look will make your hair appear full and volumized. A go-to bob with layers adds a fun flare and frames your face beautifully.
This bob with layers and bangs is very low maintenance. You may need to consider getting a full haircut every few months and your bangs clipped every few weeks.
Feathered Bob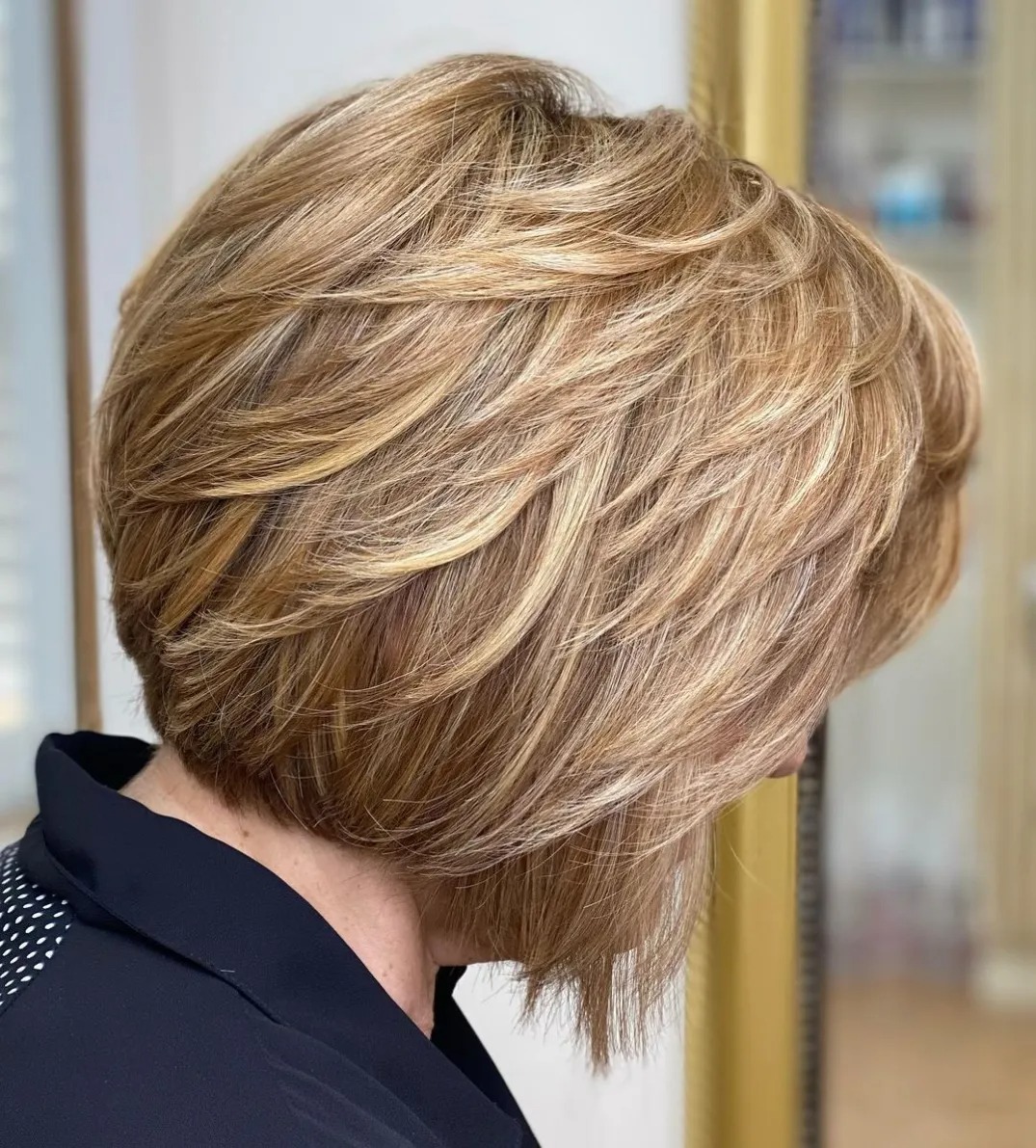 A bob haircut is timeless and elegant. Adding some angled layers to this classic haircut will liven up your straight hair. The bangs blend in nicely with the feathered layers; keeping your look fresh and fun, vibrant and volumized.
The short layers will give your hair more volume because of the way they stack on top of one another. To keep it looking new, a stacked feathery bob should be cut every 5 to 6 weeks.
When Color and Shape Collide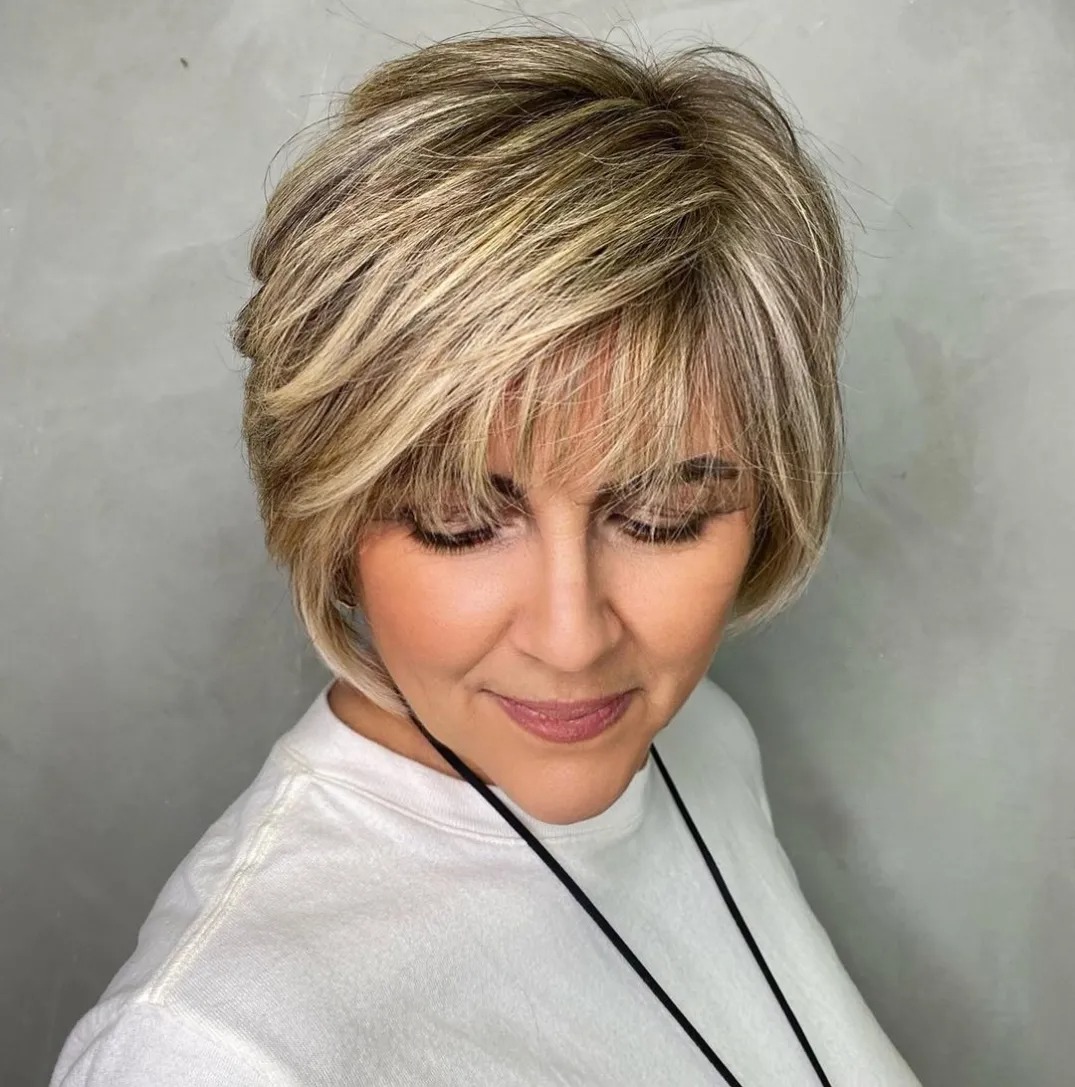 The color and shape of this haircut are divine. A jaw-length pixie bob is perfect for women over 50 who are seeking a shorter haircut, plus it is incredibly versatile and vibrant. Play around with colors and layers to add extra definition. This look is one for the books.
The haircut boasts plenty of volume even on fine hair. It's a fashionable haircut that never goes out of style.
Medium Length Feathered Cut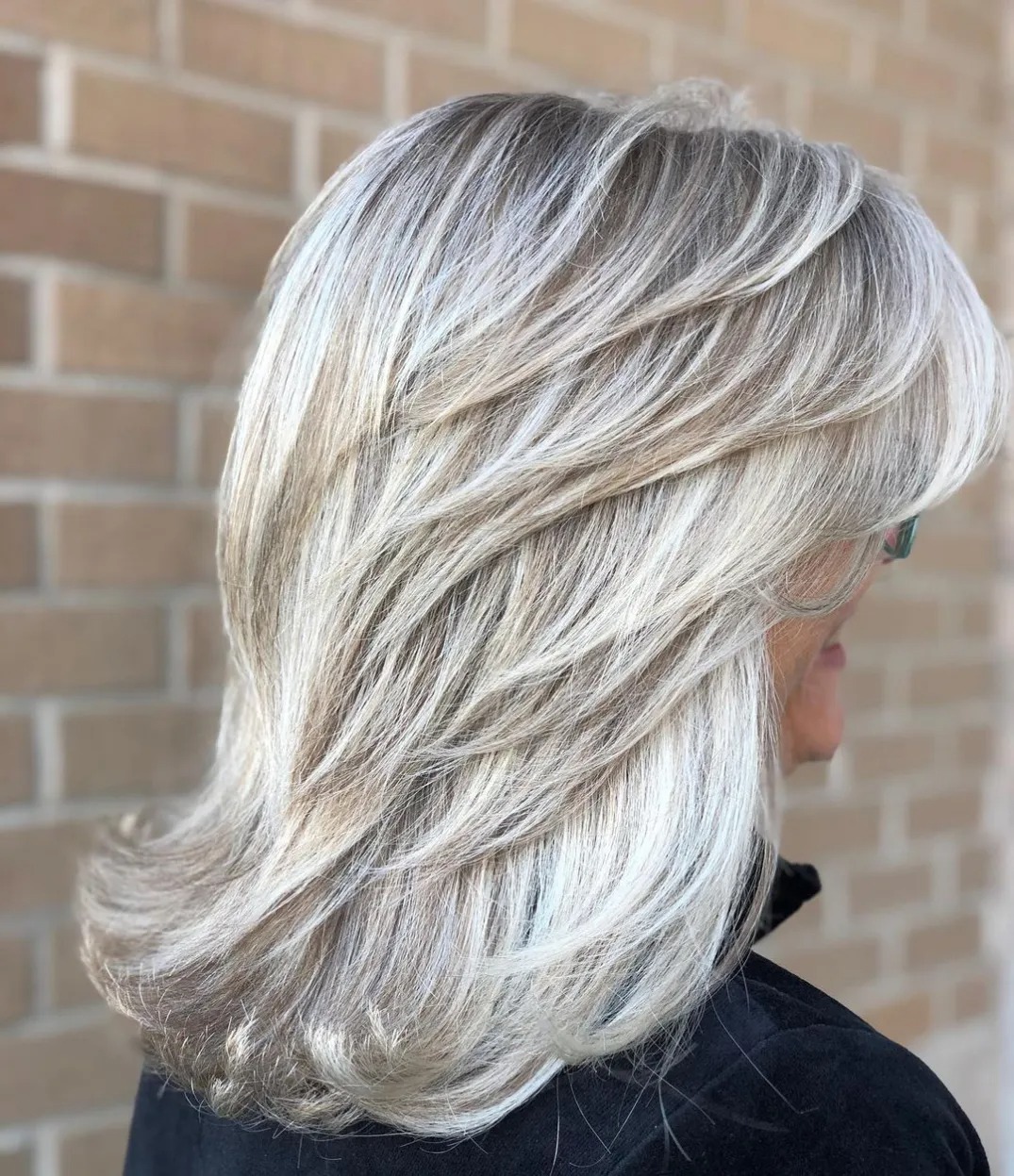 This medium hair with feathered layers and stunning white dimensional hue radiates beauty and grace. Cool and icy tones are an excellent option for highlights, and it allows your healthy and shiny hair to steal the show.
Many haircuts recommended for older women are cropped, but you can choose a longer length at any age. This look truly embodies a youthful glow.
 Collarbone Cut with Flipped Layers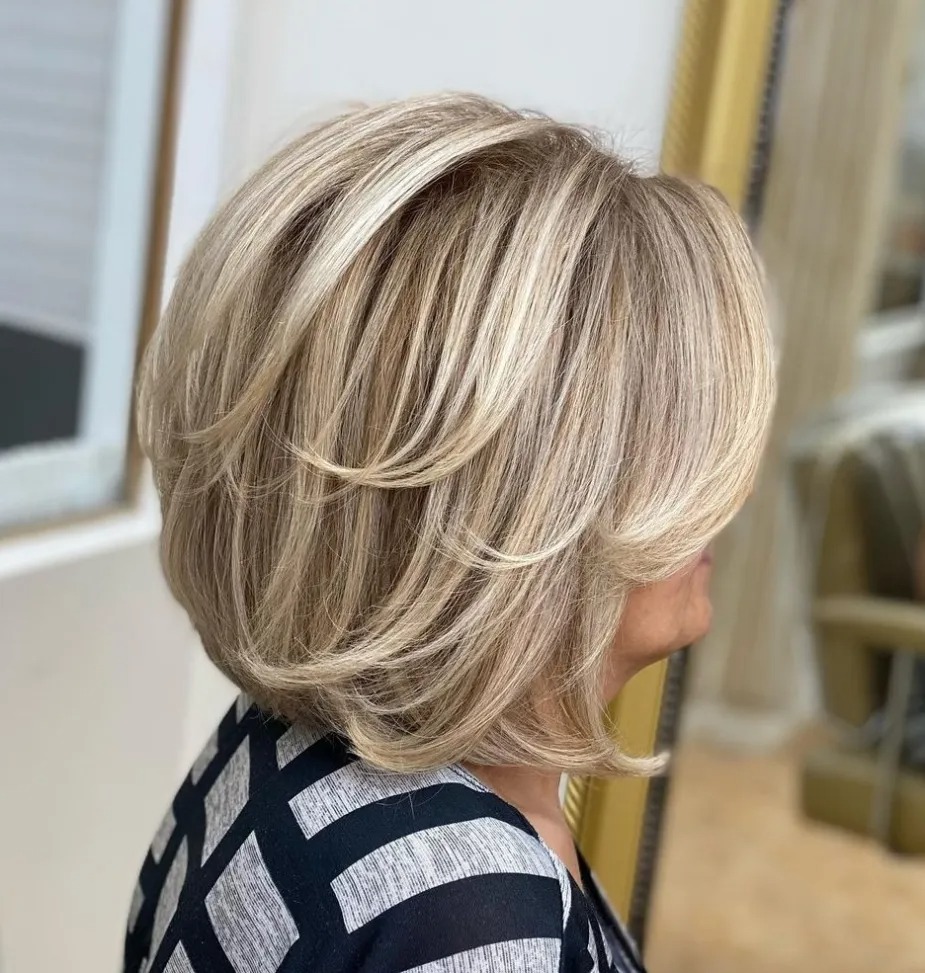 A collarbone cut pairs well with delicate layers. These hairstyles have shape, volume, and a feminine feel. A bob with flipped layers is flirty and fun. This haircut is low maintenance and youthful.
For an extra edgy look, add some dimension with bold highlights and lowlights to your hair!
A+ Modern Rounded A-Line Bob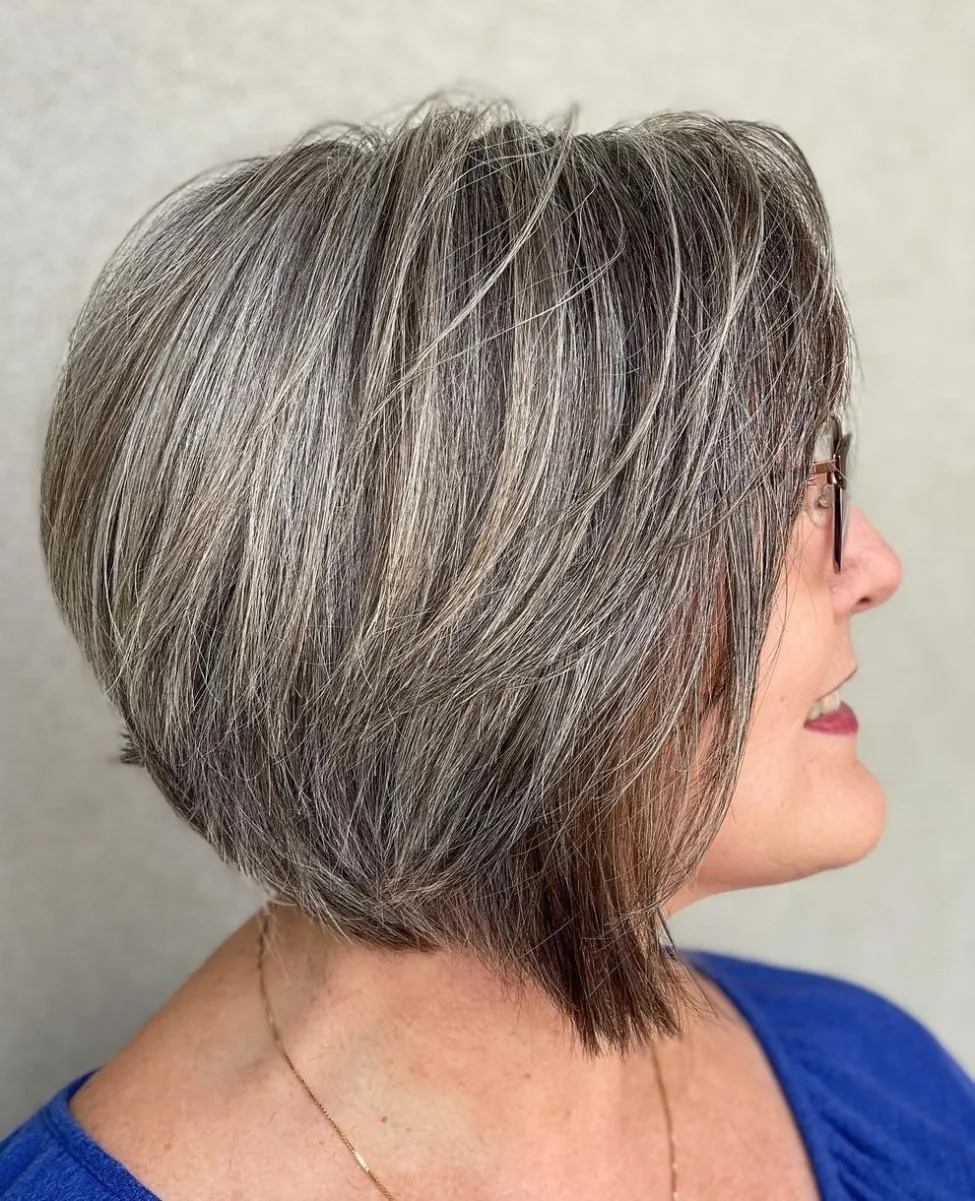 The A-line bob gets an A+ for its simple elegance. There is a reason it has remained a favorite haircut for years: it looks amazing. This modern rounded bob haircut is sleek and shiny.
It is highly attractive to a wide range of people, but notably to those with oval or heart-shaped faces. Anyone can rock this trendy look by tweaking their hair's color and contour to their face, as well as their cut's length and form.
Cropped Pixie Cut with Side Bangs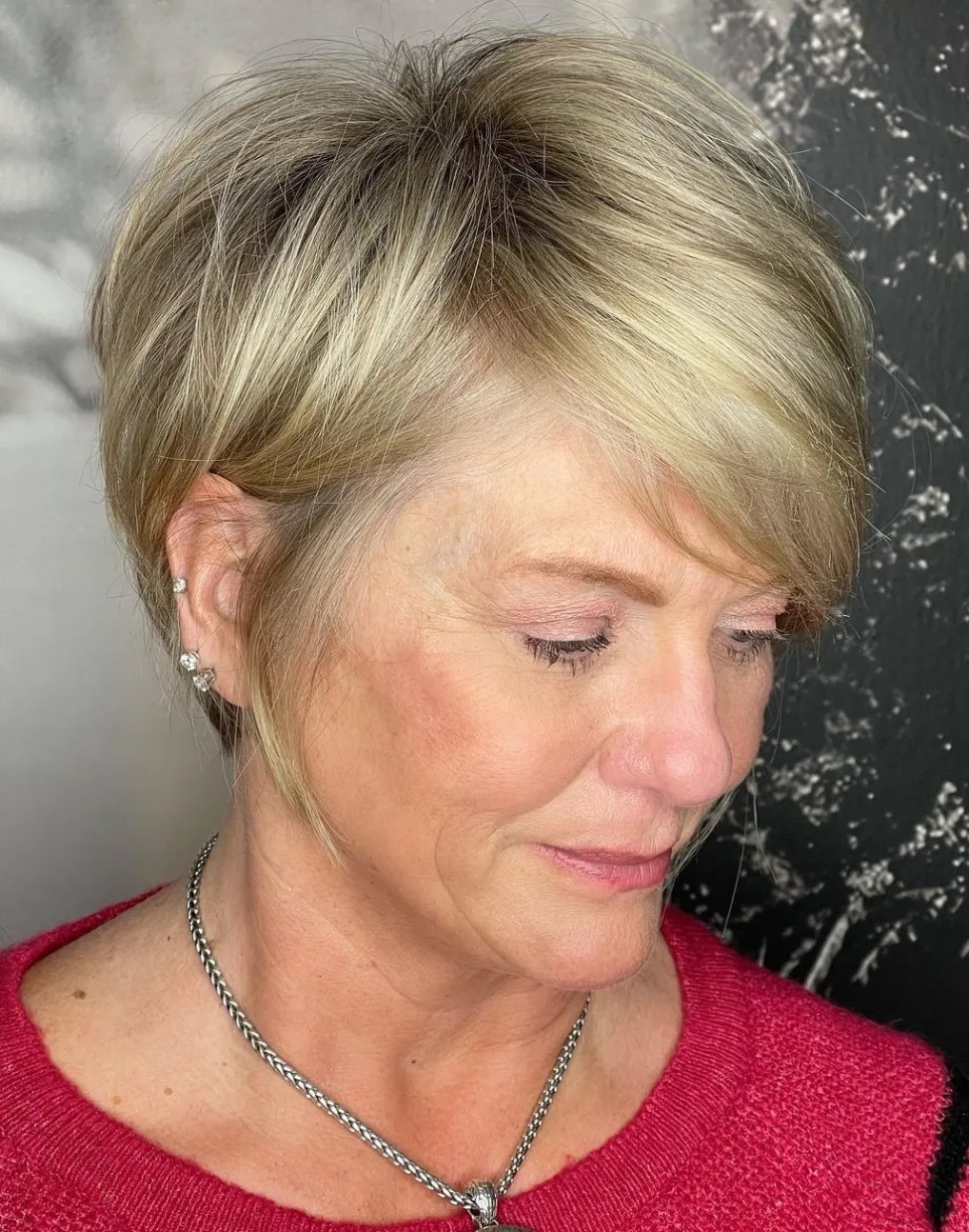 The pixie haircut with side-swept bangs is suitable for all face shapes. This style is popular because it's easy to style and features a lot of volume at the crown.
Achieve this hairstyle by choosing the best side to create your part. The key is to give more movement and volume to the hair. Easy to wear and maintain—who else is in love with this pixie cut?
Long Layers and Swoopy Bangs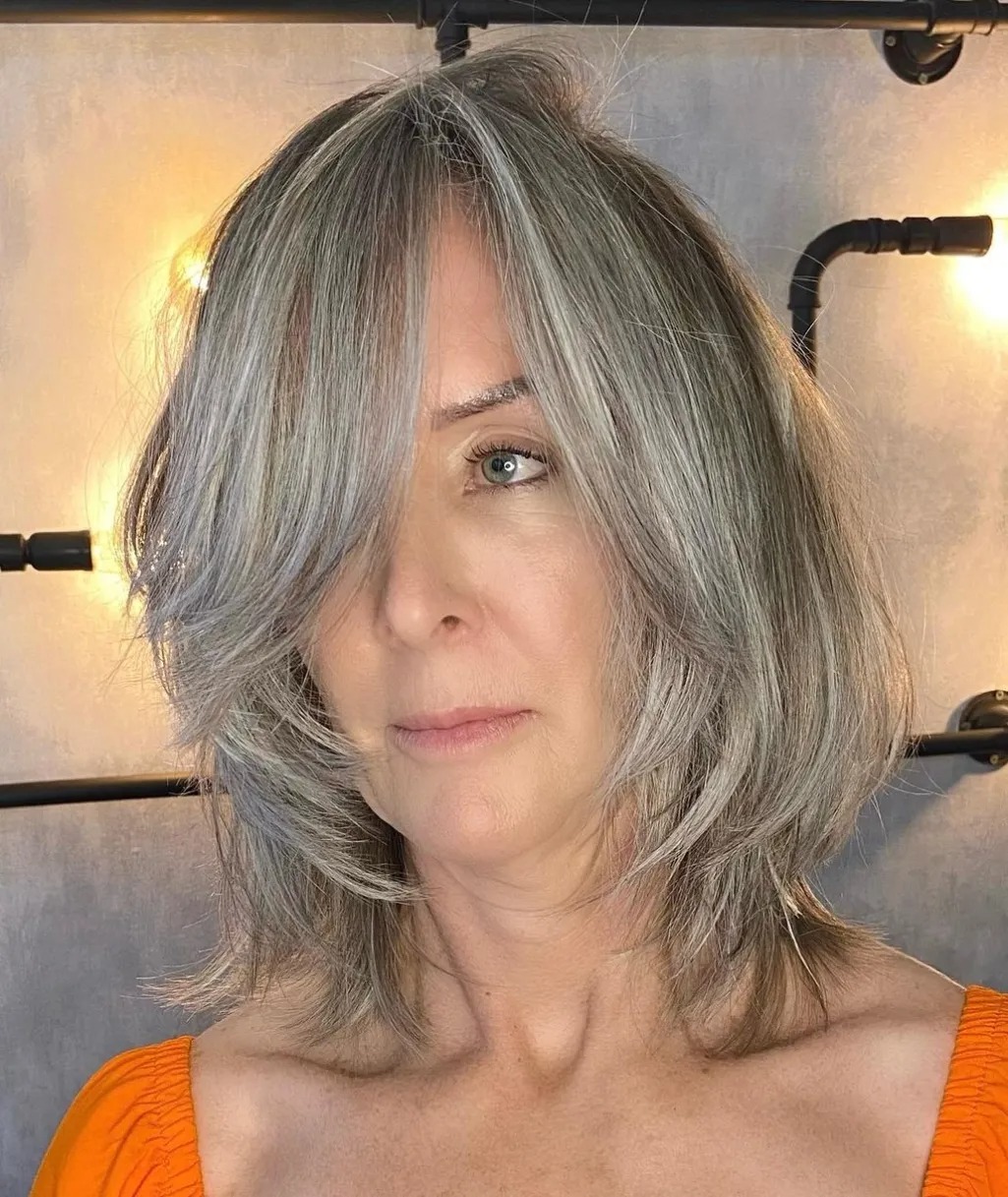 Show off your luscious locks with a haircut that features layers and long curtain bangs. This feminine look really emphasizes the texture and softness of your hair. The bangs increase the width of the face, giving it more volume.
It's a great option if your hair is thinning in the recession area. This is because you can let your hair sit forward to cover areas you may be conscious of. Shine on with this modern and low-maintenance haircut.
Icy Blonde Bob for Naturally Gray Hair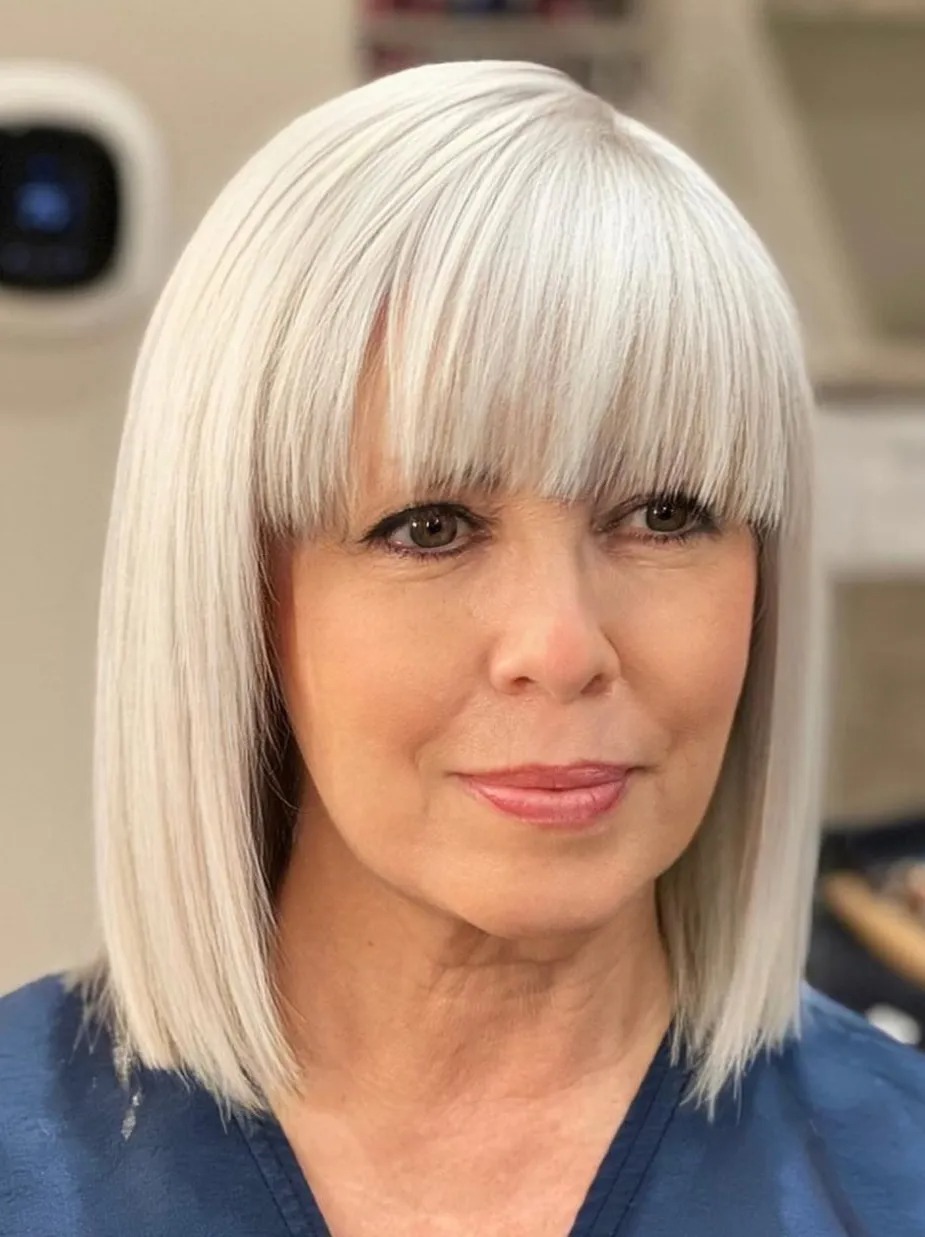 Getting older does not mean that we have to chop off all of our hair. If you have a preference for longer locks, try shoulder-length hair like this nice long bob with bangs that does some great face framings.
An added bonus of keeping hair long is that you will have more ways to style it with a curling iron, hair straightener, or a blow-dryer brush.
Medium Haircut with Warm Highlights and Bangs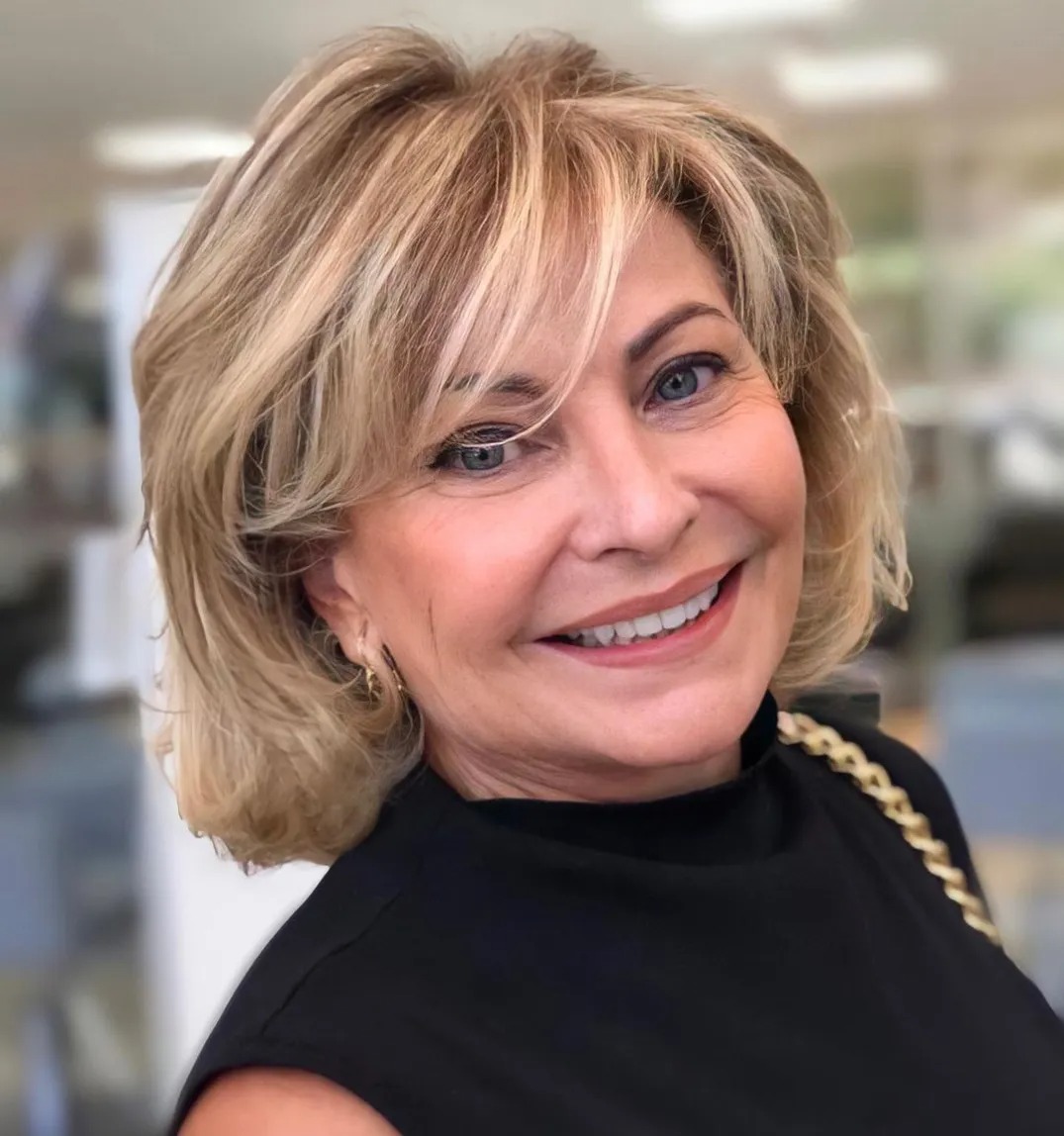 Warm highlights are always a popular hair color choice, and it works well whether you have thick hair or fine hair. Adding highlights and bangs to your look is an excellent way to maintain a youthful glow.
To help keep your hair hydrated and healthy, try using a hair mask weekly for the best results.
Blonde Pixie Bob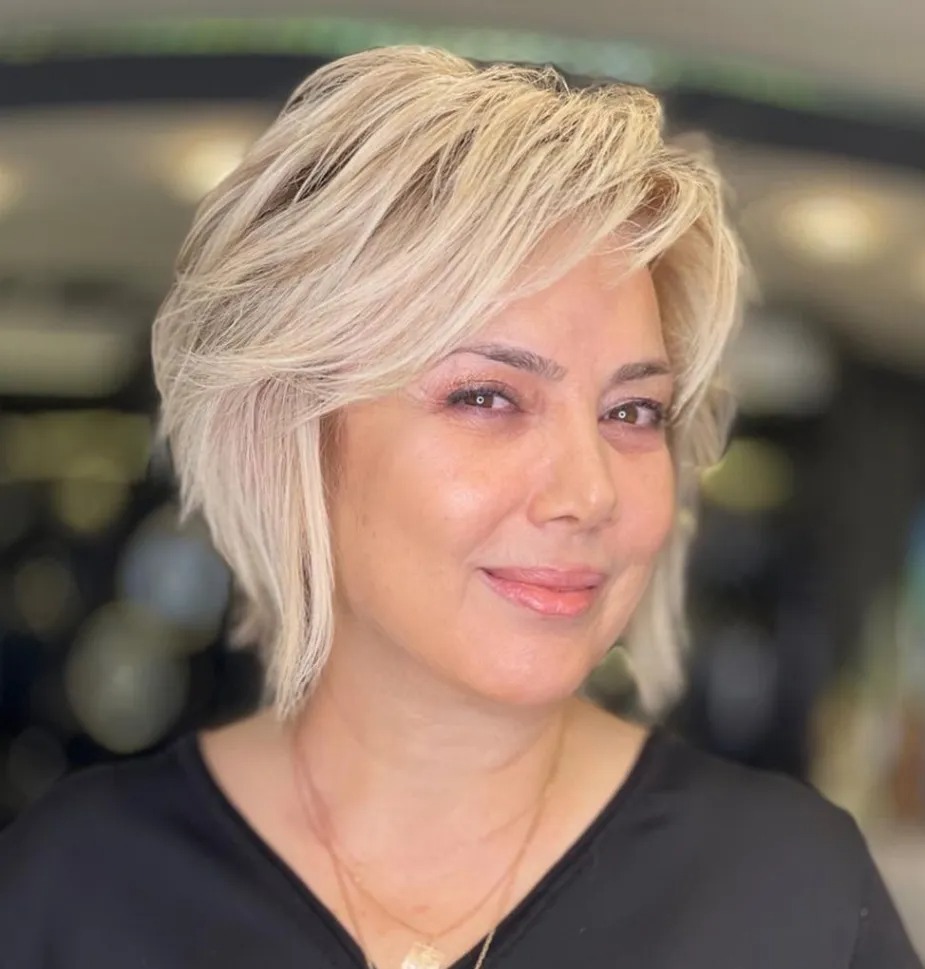 This haircut is the best of both worlds, it contains elements of both a pixie and a bob. Choosing longer feathered layers and an A-line bob silhouette will give off the perfect messy, effortless look.
If you need help deciding what hair color to choose, we suggest you opt for blonde hair with darker roots for added dimension.
Cute Tapered Pixie Cut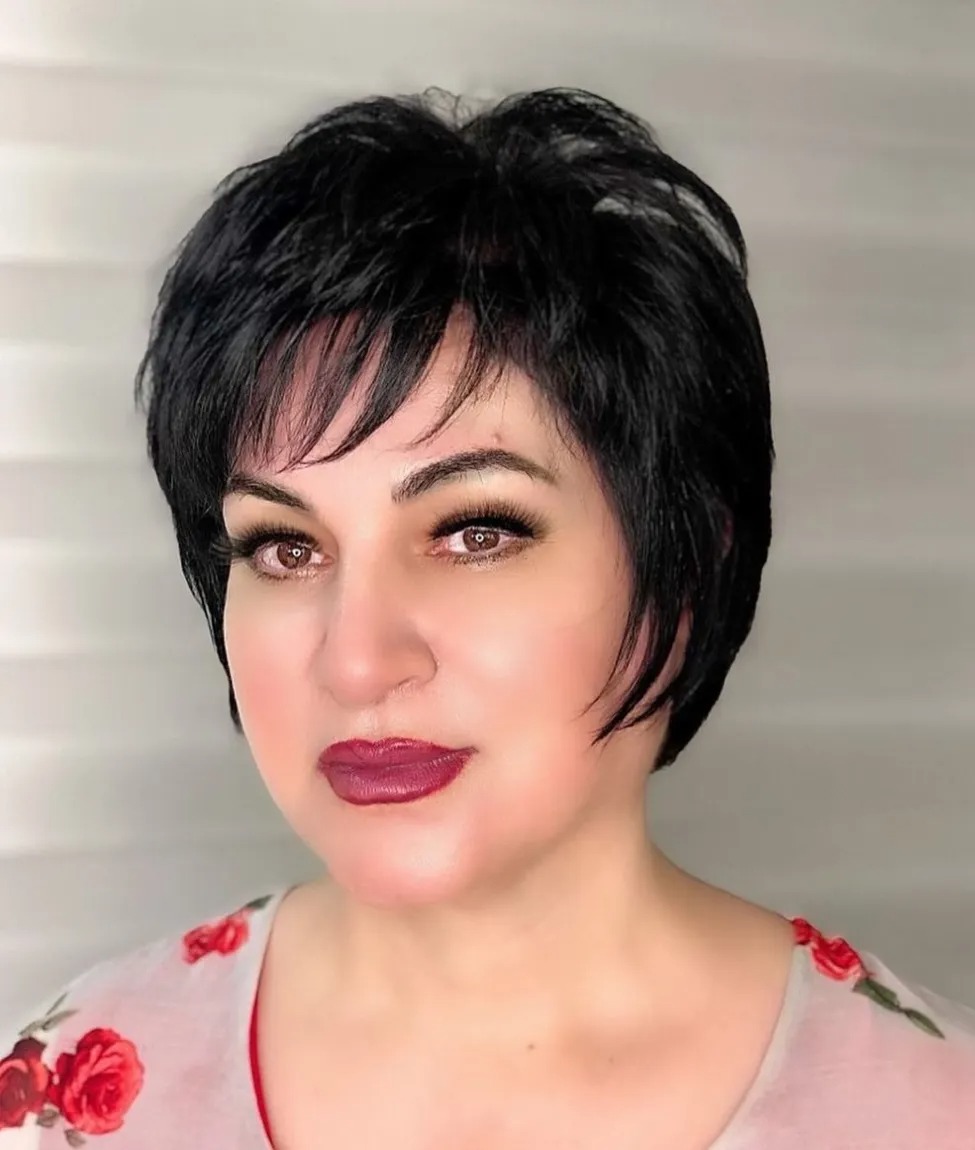 Short, shaggy pixie hair is the perfect way to show off a bold look. The tapered pixie cut will add more dimension and texture to your hair. Plus, the pixie cut with bangs creates the perfect frame for your face.
Feel free to play around with all of the ways to layer this classic cut, from choppy to lengthy.
Short Cut with Swoopy Layers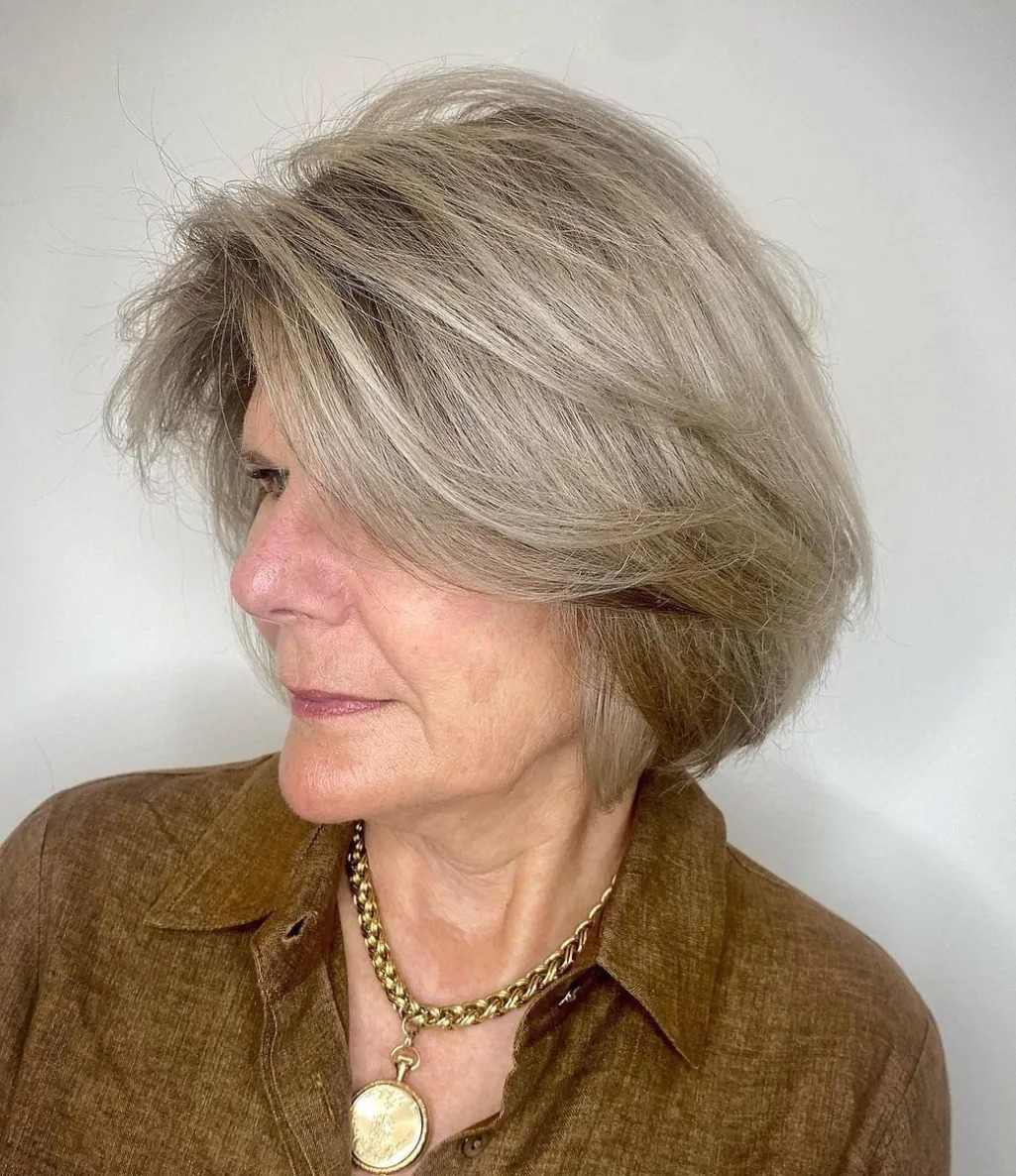 Create a dreamy look with a short haircut, feathered layers, and swoopy bangs. The longer layers will make your hair appear fuller, frame your face, and radiate elegance.
At the same time, this is one of the most low-maintenance hairstyles for women over 50 that's easy to style daily. Farrah Fawcett would definitely approve of this hairstyle.
Silver Pixie Cut with Razored Layers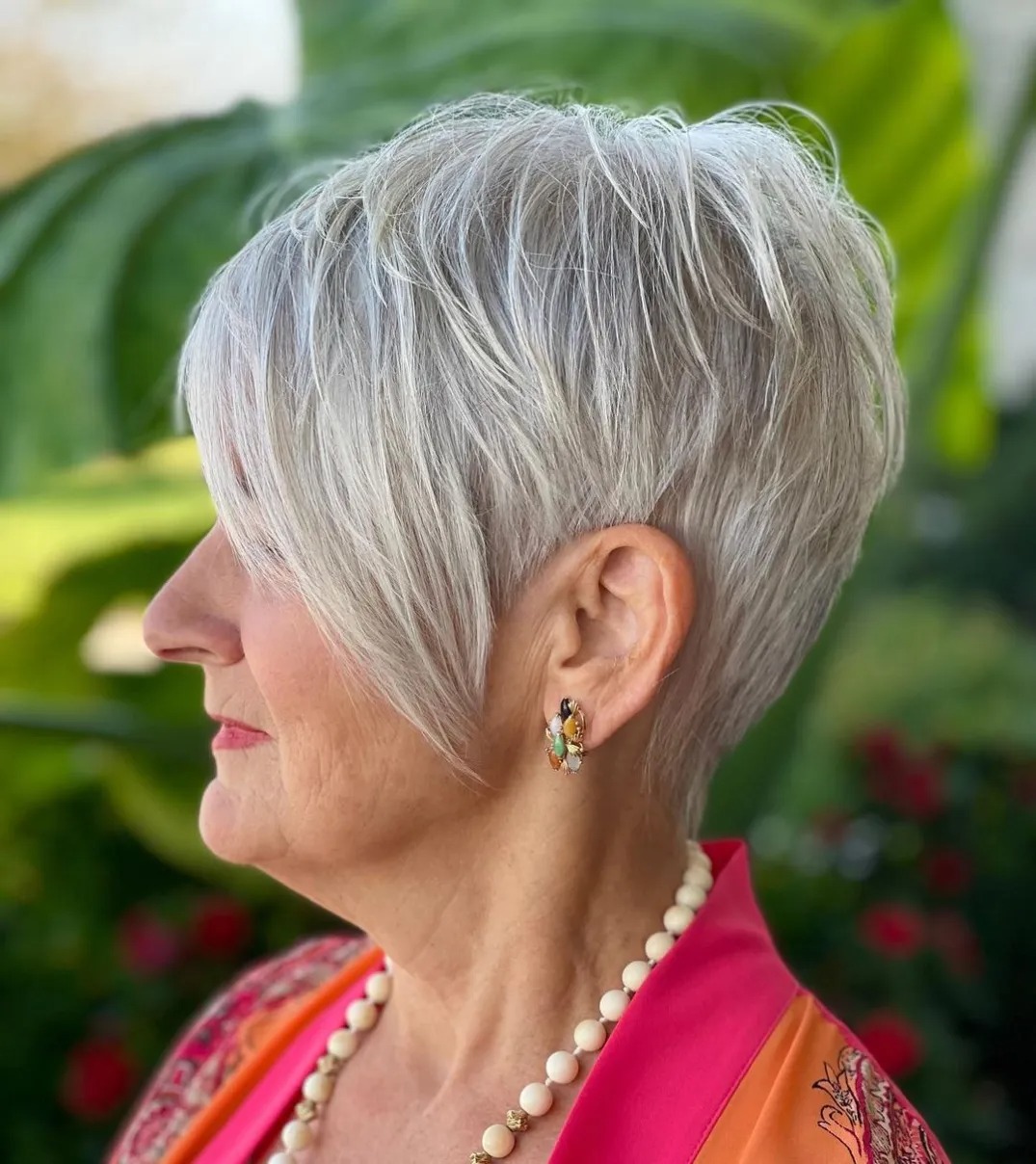 Razored layers are incredibly modern and trendy. Not to mention, they make low-maintenance hairstyles for women who don't like spending much time styling their locks.
Haircuts that blend bangs with the rest of the layers of hair create a bold and beautiful look for any age. Choosing to dye your hair silver is a great solution for hair that is naturally graying.
Caramel and Honey Highlights with Long Layers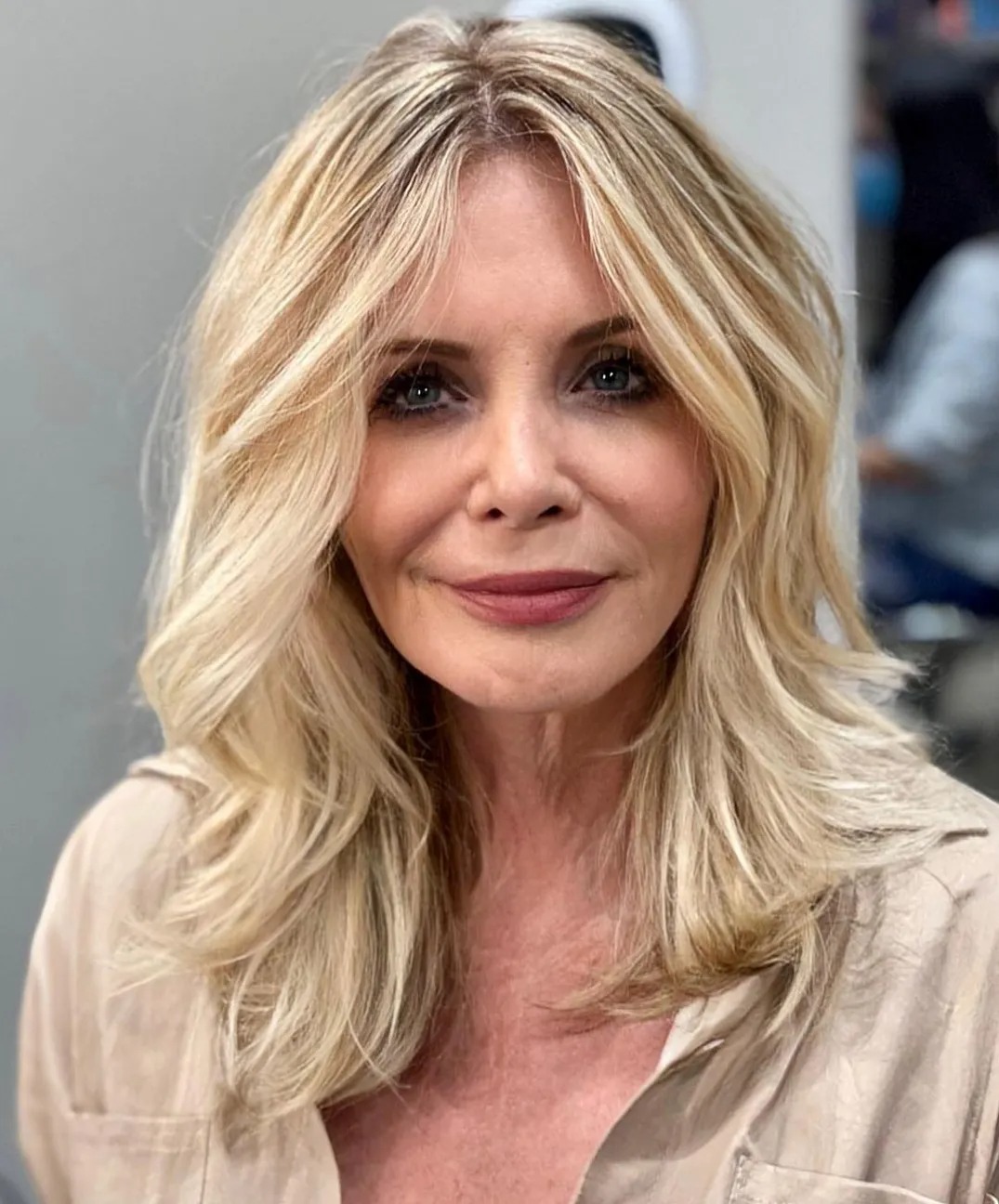 Adding dimensional highlights and long layers to your hair will add a lot of volume and life to your hairstyle. For a soft and sweet look, select colors such as caramel and honey for your highlights.
Create cascading curls and waves by utilizing your layers. Use a texturizing spray by Oribe or Ouai to lock in your look.
Choppy Highlighted Pixie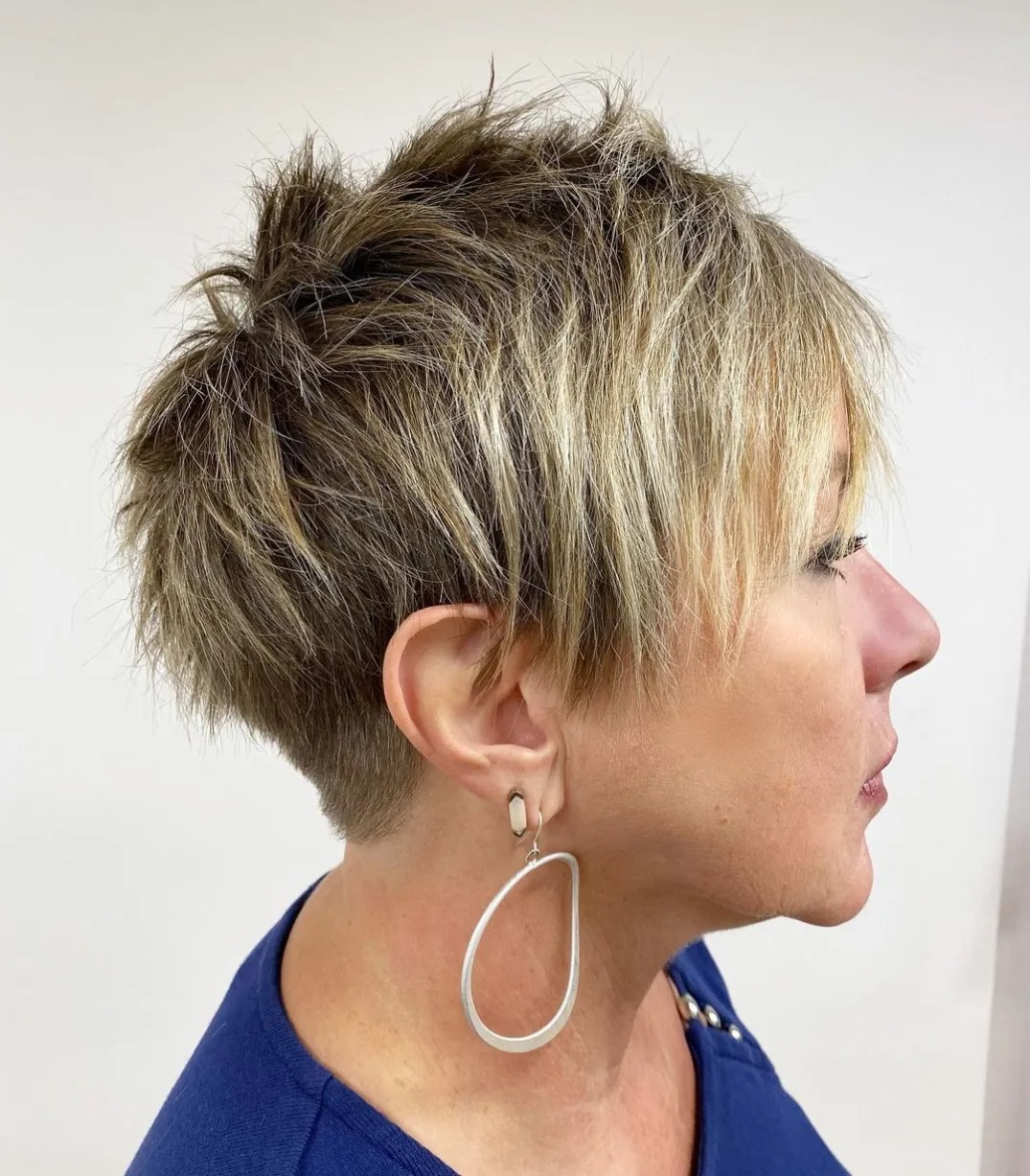 A choppy pixie cut with a nape undercut is the perfect low-maintenance haircut. Add loads of layers for a fun flare, and some highlights that will really pop from every angle.
Additionally, keeping the most choppy sections longer will help maintain a feminine look. For added height, dry your hair completely and use a molding paste to set your hair.
Short Cut with Asymmetrical Bangs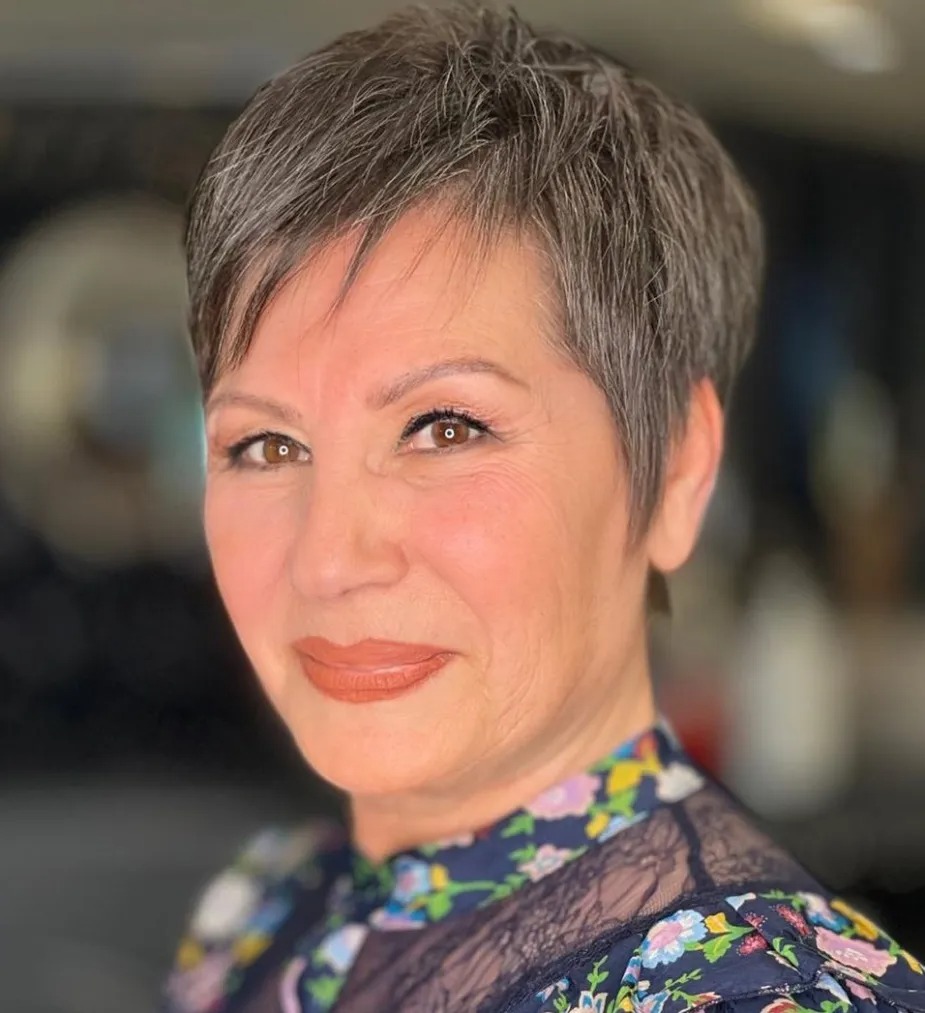 A short pixie cut with asymmetrical bangs will highlight your beautiful face and playfully draw attention to your gleaming eyes. This haircut is super easy to manage and will enhance your face shape and features in all the right places.
Additionally, this hairstyle is ideal for summer or whenever you feel like trying something new. It's the perfect hairstyle for those who are weary of long hair demands.
 Long Hair Don't Care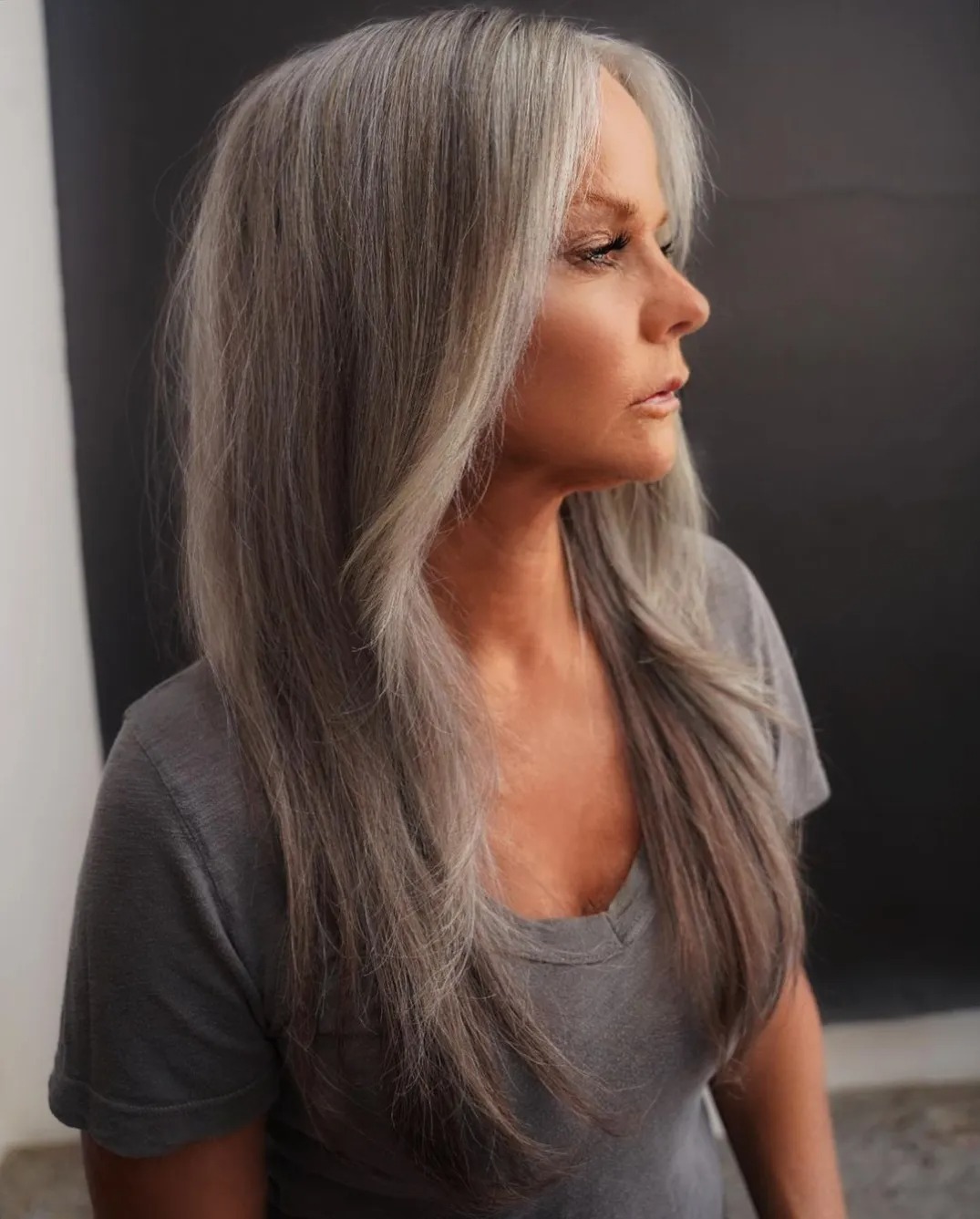 We do not have to chop off our hair if we don't want to just because we are getting older. Long hair can still be pulled off in our 50s and up: think Michelle Pfeiffer and Cher.
If you have thick hair especially, it is very likely that a long haircut will suit you well and be sustainable. For a mature and modern look, go with your natural gray tones.
Choppy Layered Pixie Cut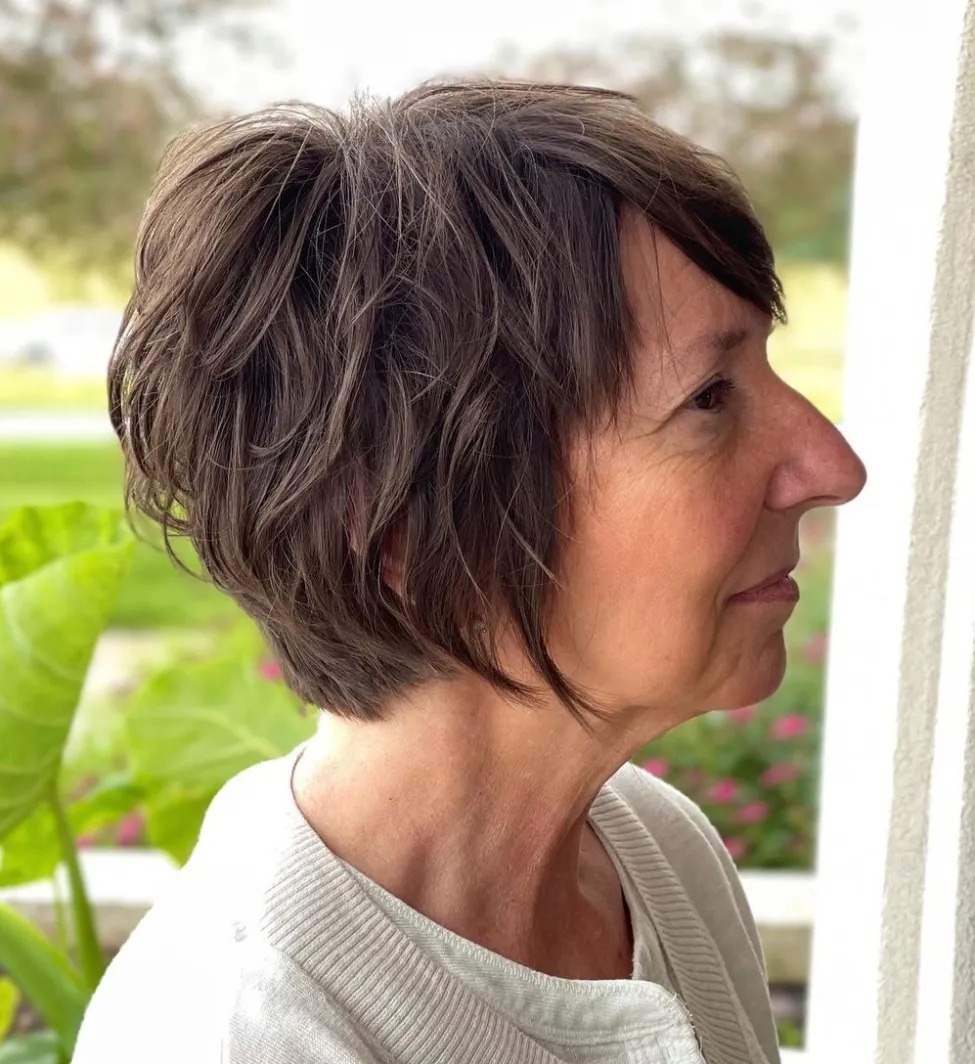 Shorter styles with layers are perfect if you are looking for a low-maintenance hairstyle. The layers and texture make it youthful and edgy for the best combination.
Use a styling cream, such as the finishing crème by Ouai to smooth dry ends, protect from heat styling tools, and add some shine. If you can, 4-6 week maintenance will be needed to keep things tidy and from overgrowing.
Cool-Toned Pixie Cut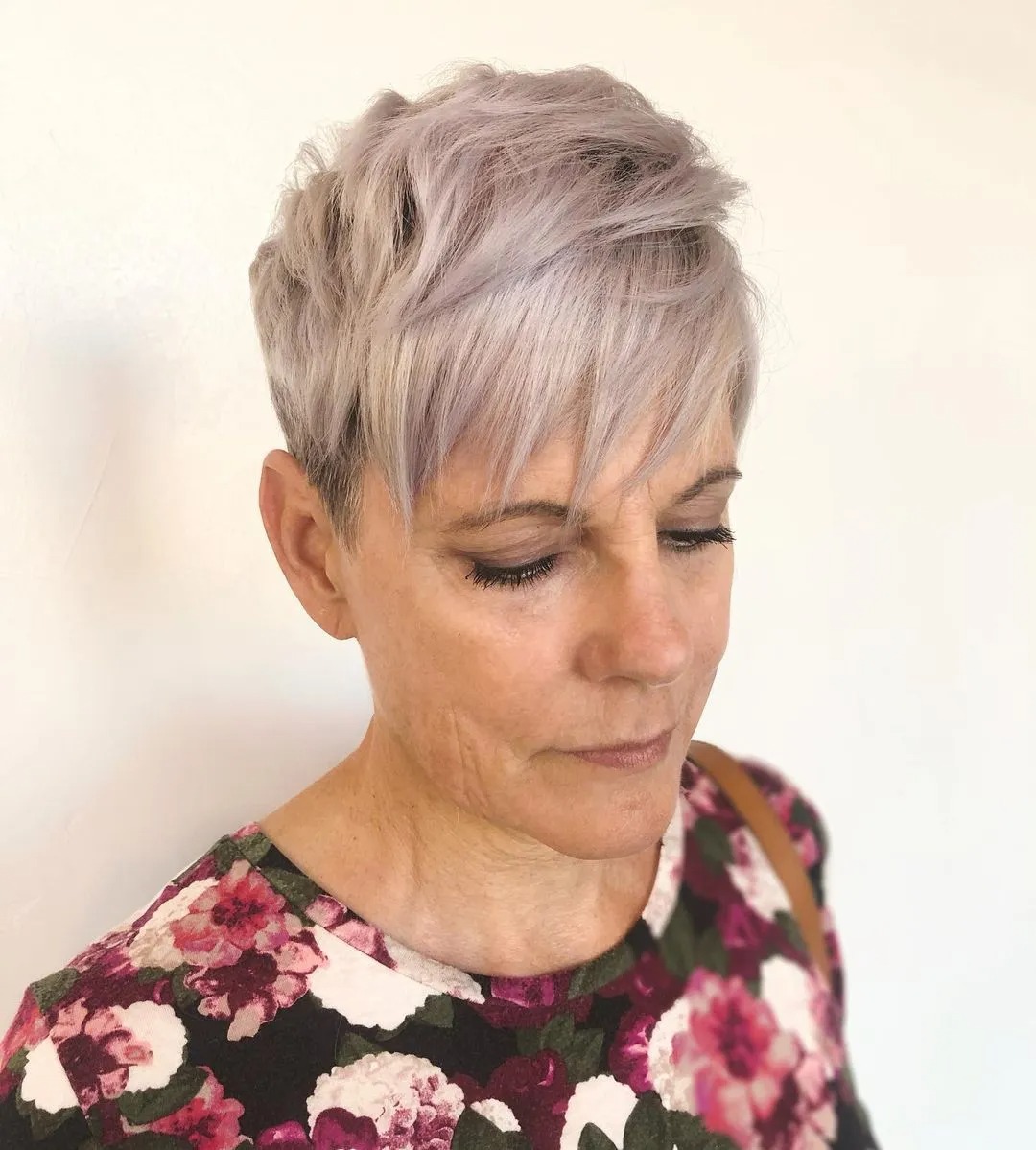 A pretty pixie haircut is easy to maintain and style and it helps your thin hair look healthy and volumized. If you have fine hair, this is a great option to add that extra oomph to your hair.
This style looks incredible on all facial features of an oval face shape. The cool tones and razored layers add a bold and more empowered look.
Short Pixie Cut with Nape Undercut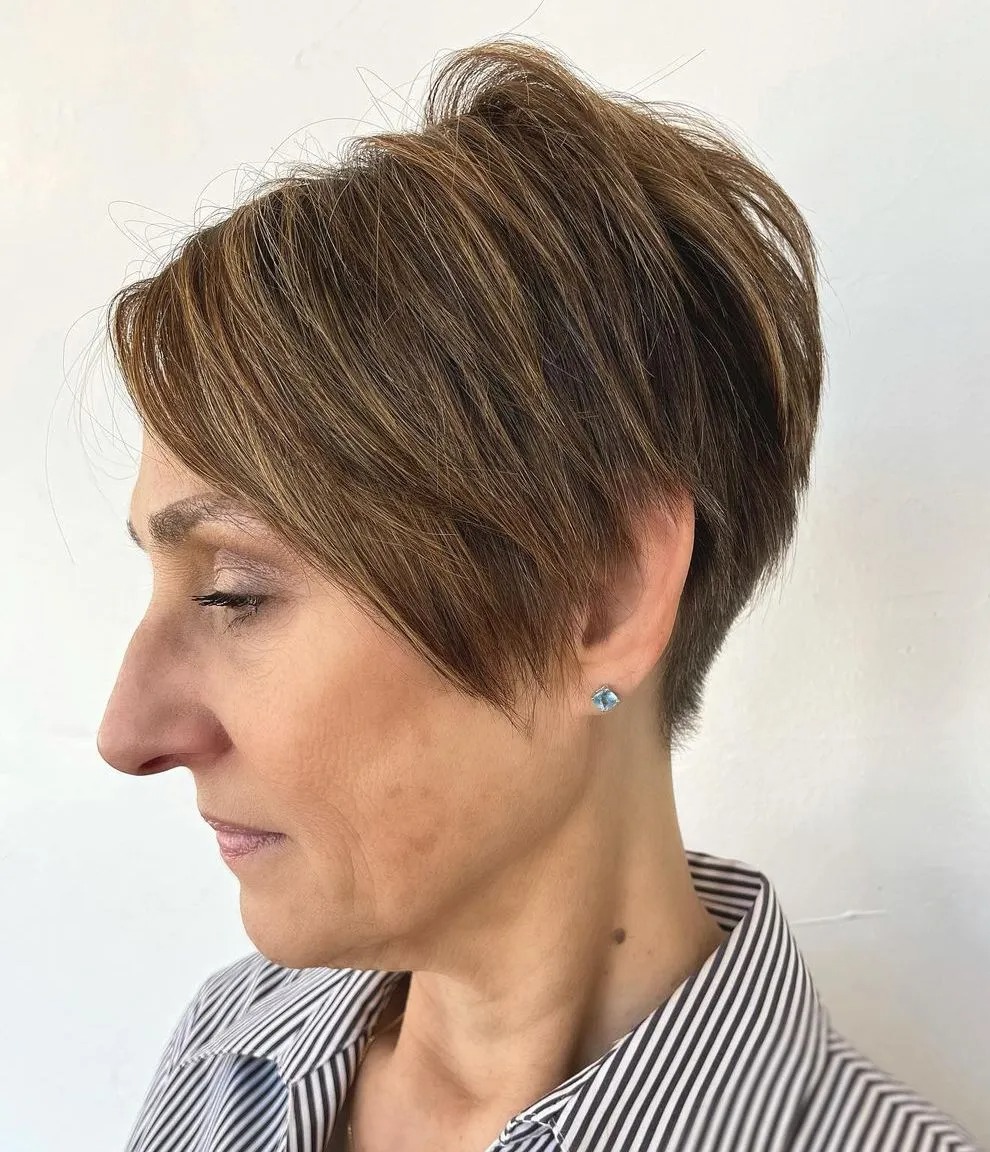 Opting for a short pixie cut with longer bangs in the front will have your hair looking voluminous as can be. For an edgy look, you can play around with the undercut and even have a design added.
If you choose to go with longer bangs, they will blend in smoothly with the rest of your hair for a put-together, polished look.
Effortless Short Bob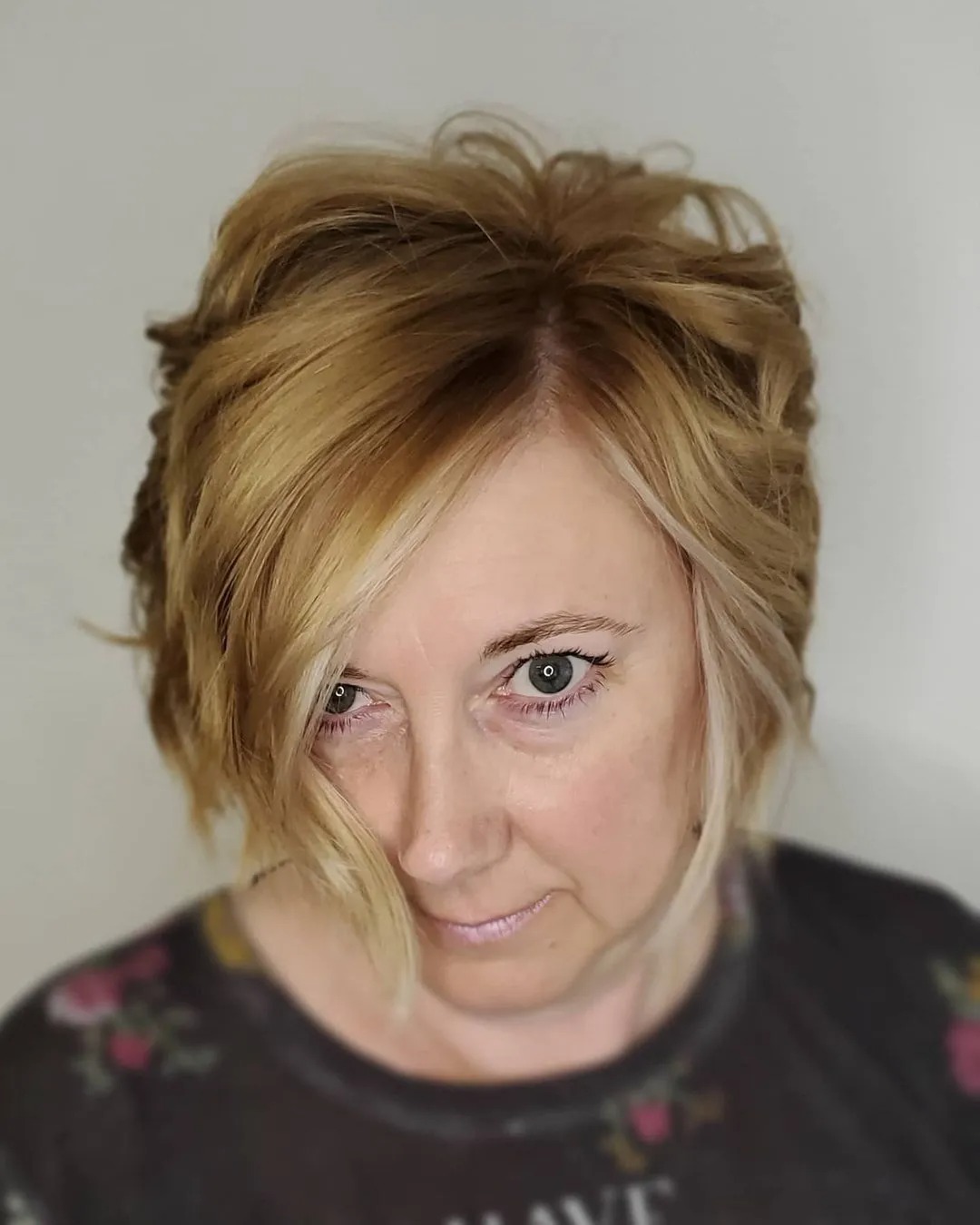 Opt for a messy bob with face-framing highlights to achieve that model-off-duty effortless look. Add some subtle waves by using a small-barrel curling iron to create this chic look. The tousled layers will help your hair look fuller and more voluminous.
If you have dense hair, ask your stylist to remove some weight. Dry your hair naturally with some salt spray and you're good to go.
Straight to the Point Short Pixie Cut
A short pixie cut is sassy, contemporary, and powerful. Choosing a silver or gray color, or a salt and pepper style, are all great options if you want to obtain a natural, mature look.
It's short all over and looks well on most facial types while still making a strong fashion statement and does not require a lot of styling or upkeep in general.
Keep It Wavy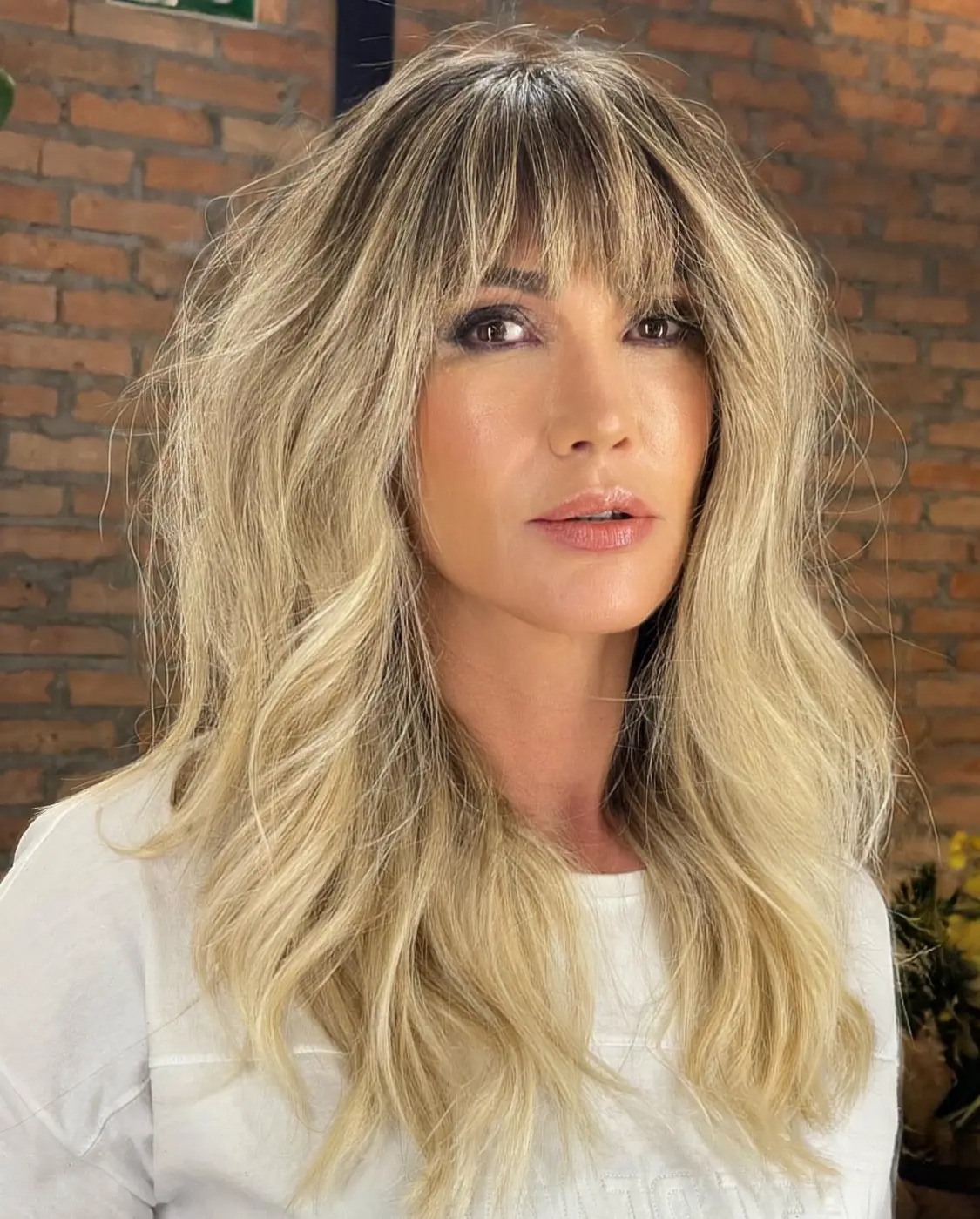 This voluminous hairstyle screams "bombshell." A medium or long haircut that features longer layers will add loads of volume and hair texture. An added bonus: the ways you can style your hair are endless!
Add some glamour to your look by incorporating wispy bangs and lived-in roots as shown with this style.
 Long Curtain Bangs and Brown Highlights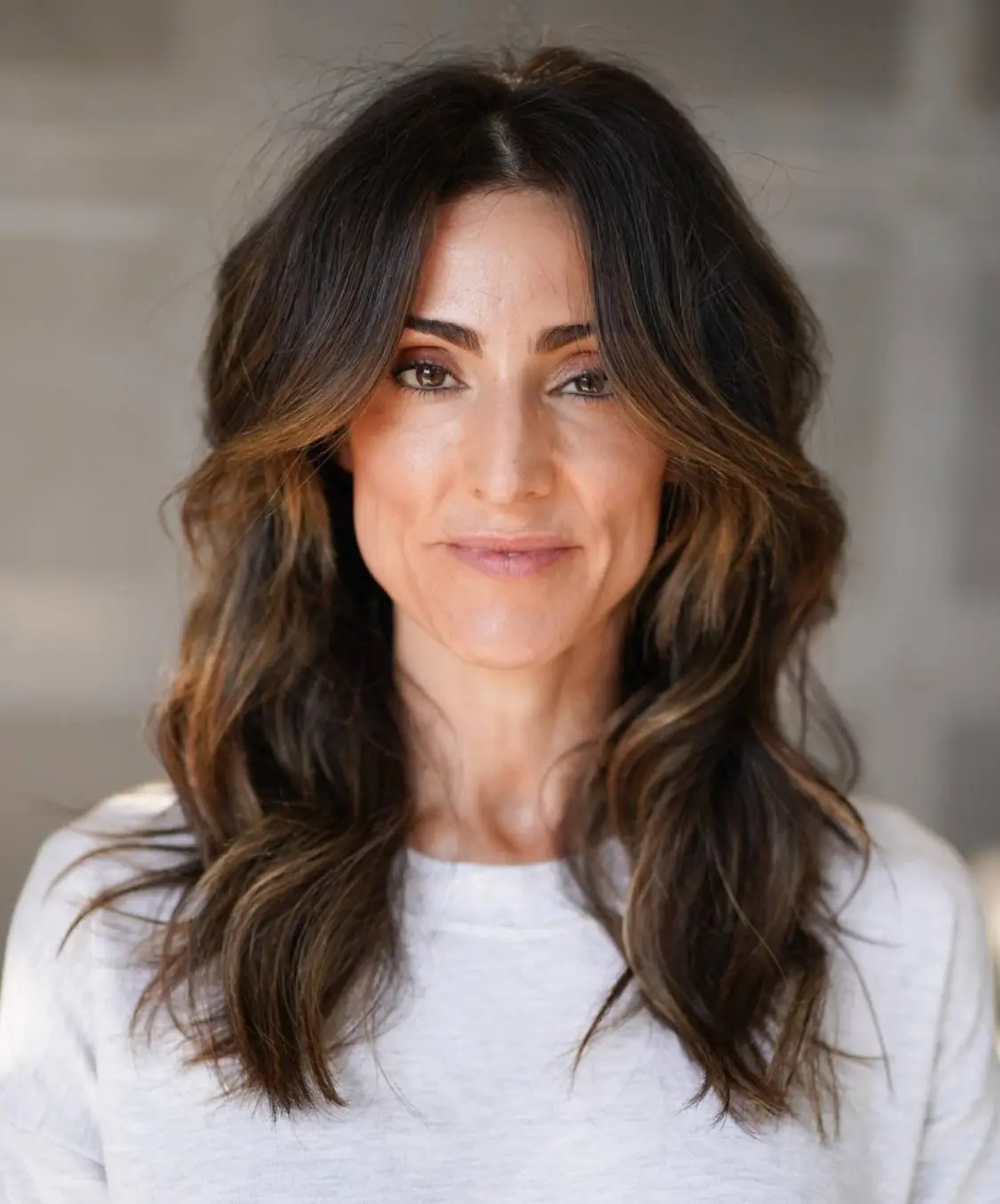 Dynamic face-framing layers and elegant brown balayage color will do wonders for your hair and create a flattering look at any age. This bouncy blowout can be achieved at home with a straightener or a curling iron.
Pro tip: use a blow-dryer cream such as the one from Kerastase before you begin to style. This look really turns up the volume!
Tousled and Textured Hairstyle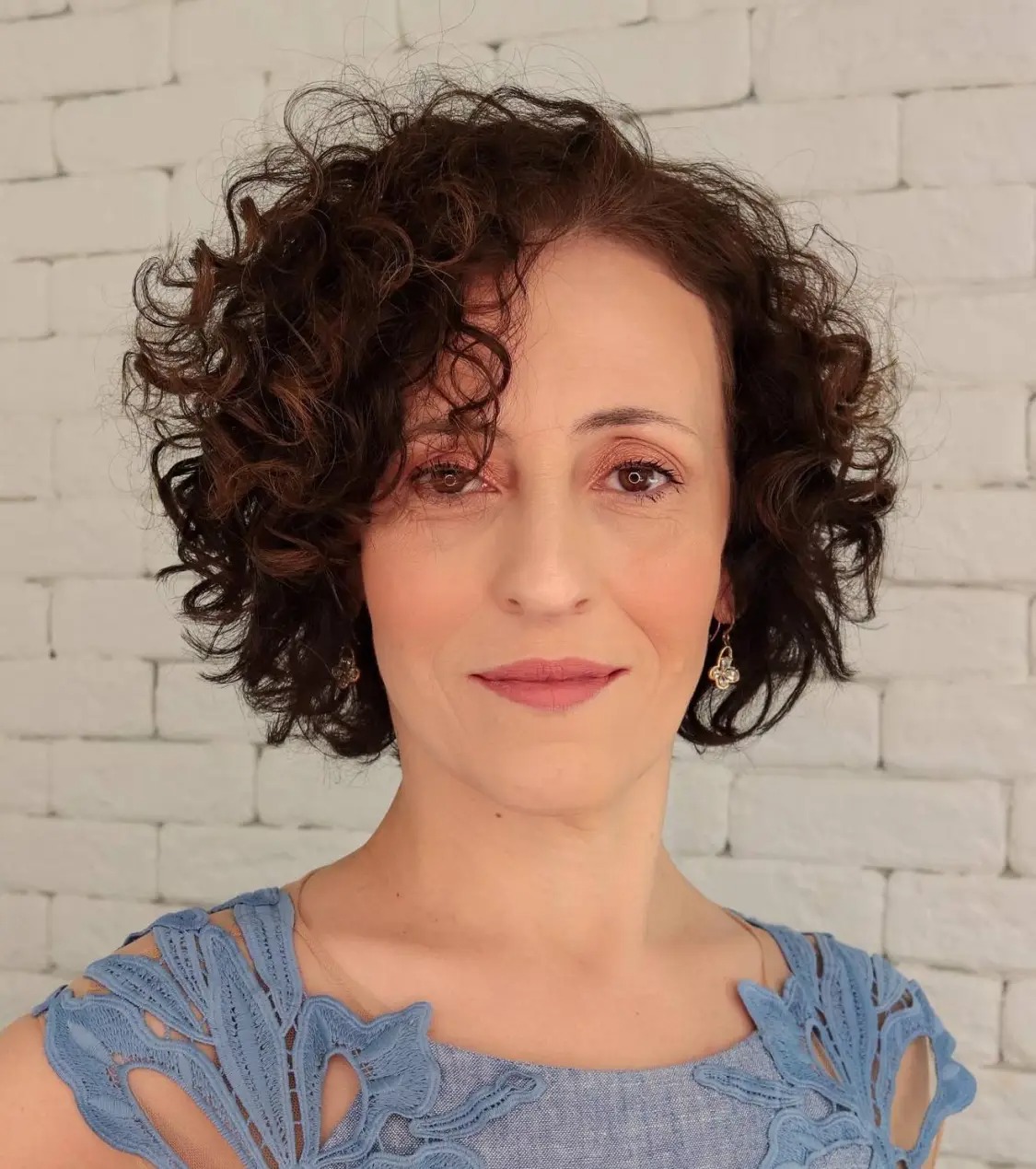 Side bangs and a neck-length bob for wavy hair create a stylish and modern look. To keep your voluminous curls in place, apply a mousse to your roots after washing your hair.
The 'Southern Belle' volume-boosting mousse from Drybar is a great option. A tousled and textured hairstyle is the ultimate low-maintenance haircut.
Short Bob for Naturally Wavy Hair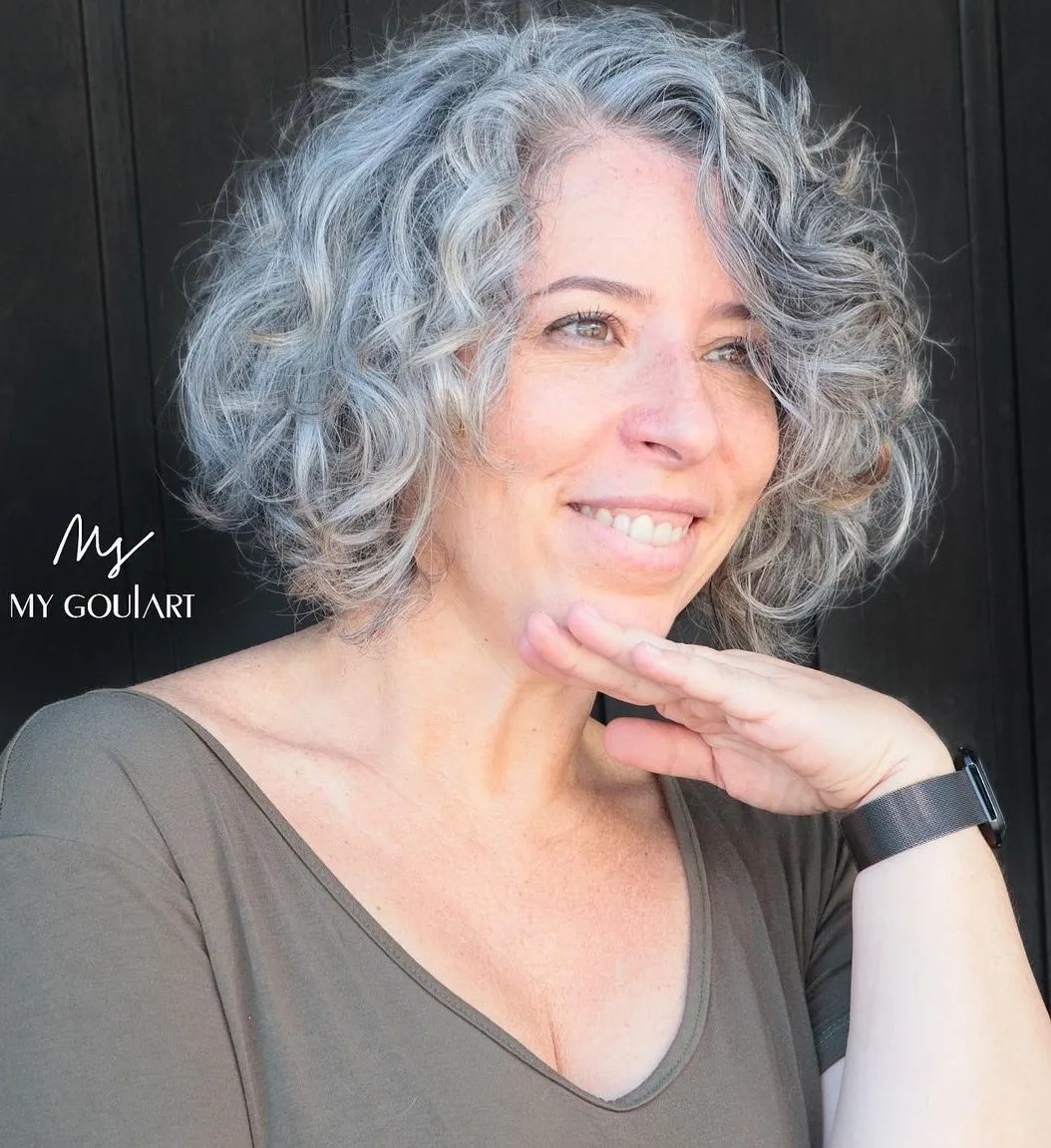 Embrace your natural hair color and texture by going with a short, curly bob. This tousled low maintenance hairstyle appears effortless and sophisticated.
You may consider going with blonde highlights as it adds extra texture and dimension that works best for fine to medium hair densities. The wash-and-go look is easy to achieve and looks great!
Tapered Pixie Cut with Long Bangs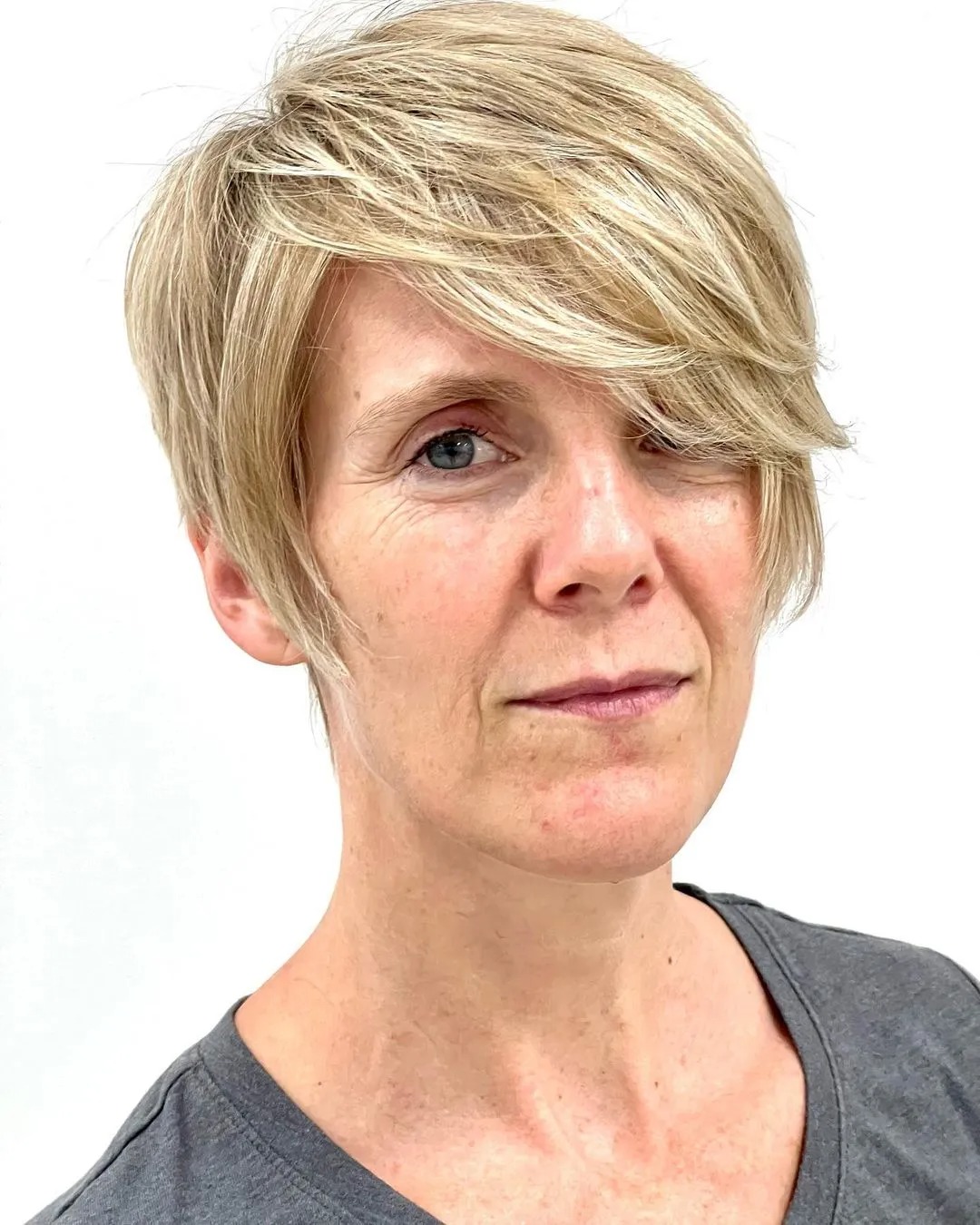 Side swept bangs to swoon over! This tapered pixie cut with subtle highlights adds volume and height at the crown while creating a feminine feel with the nape-length cut.
The face-framing pieces on each side add definition and showcase your cheekbones. A quick wash and spritz of hairspray or styling creme and you're good to go!
Natural Color and TWA Cut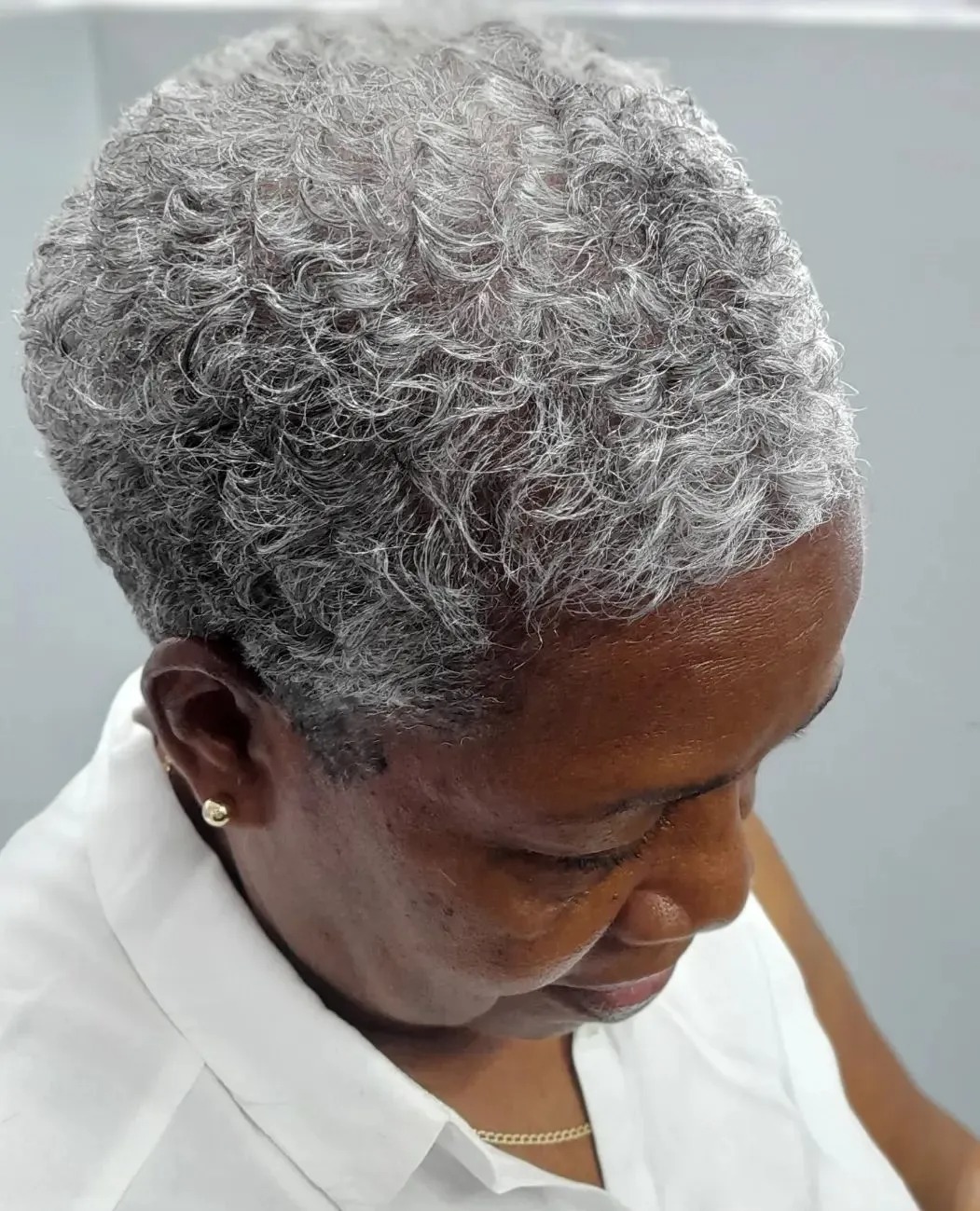 Natural color and cut are always chic! Style your edges and define your natural curls, or go back to the basics and keep it simple with an elegant look that never goes out of style. You may let your curls grow out a bit if you want and color them buttery blonde. You will be amazed how the golden curls will frame your face perfectly and bring out your natural features.
Or opt for a soft warm shade if you want to make your look brighter as it will accentuate the tones of your skin and eyes. Auburn, copper, or cherry bronze should be your first choices.